Rumours: Samsung Galaxy C7 AnTuTu benchmark showing great promise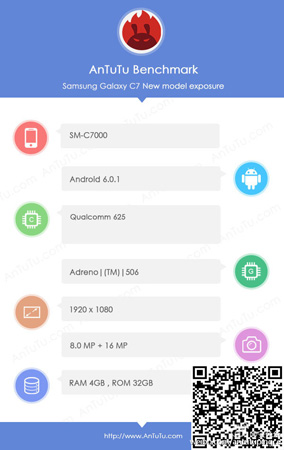 Recently we mentioned about the Samsung Galaxy C7's probable existence in our Galaxy C5 article but thanks to someone on Weibo (a Chinese social media portal), we can now get screenshots of the Galaxy C7 AnTuTu benchmark. From the screenshots, it looks like the Galaxy C7 tech specs and features will include a Qualcomm Snapdragon 625 SoC, 4GB of RAM, 1080x1920 display resolution, a 16 MP rear camera and 8MP front camera. Furthermore, the results also show that the device is running Android 6.01 Marshmallow, and the phone model is as we guessed earlier, known as the SM-C7000.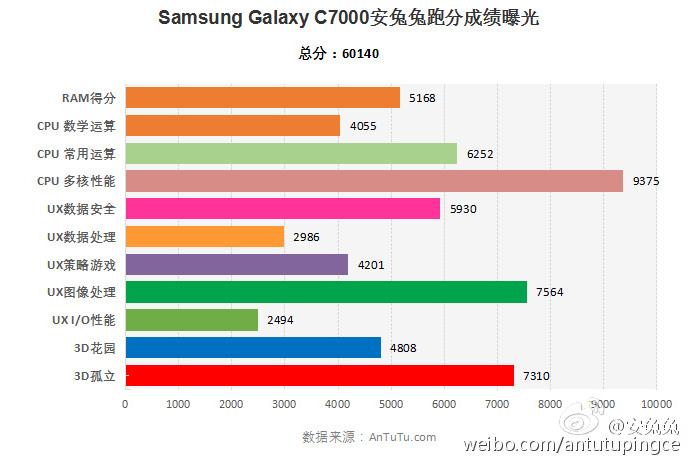 The Galaxy C7 benchmark test received a score of 60140, which is around 7k short from Samsung's previous flagship of last year the Galaxy S6. This phone might be a good alternative for those who cannot afford the high-end Samsung phone like the S7 and the S7 Edge. But like all rumours, this is not official, so take it with a pinch of salt. In the previous article, we also mentioned that this device, along with the Galaxy C5 might be released somewhere in May, targeting the China market. As for now there is no telling whether this phone will reach Malaysia or not but stay tuned for more information.
[Source]