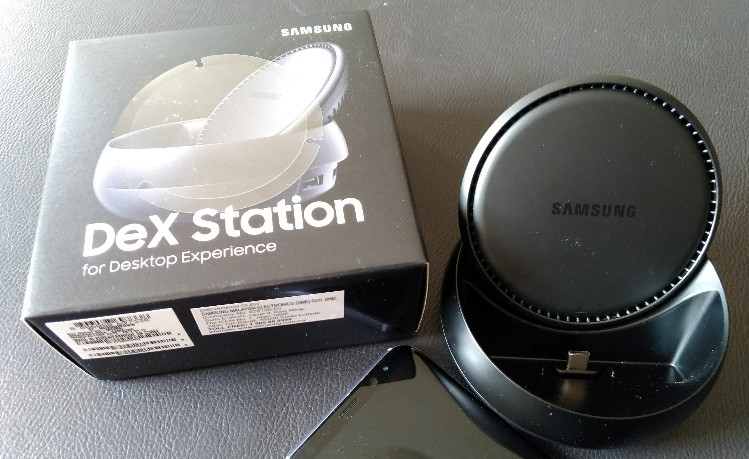 When it first came out, the Samsung DeX Station seemed like an obvious evolution for the Samsung Galaxy S8 and Galaxy S8 Plus, which is to turn it into a fully working desktop PC complete with a windows-based interface and network, HDMI and USB ports. Does this hockey puck sized device deliver a complete desktop PC experience? Find out in our review of the Samsung Dex Station below.
Design ~ Like a thicker wireless charger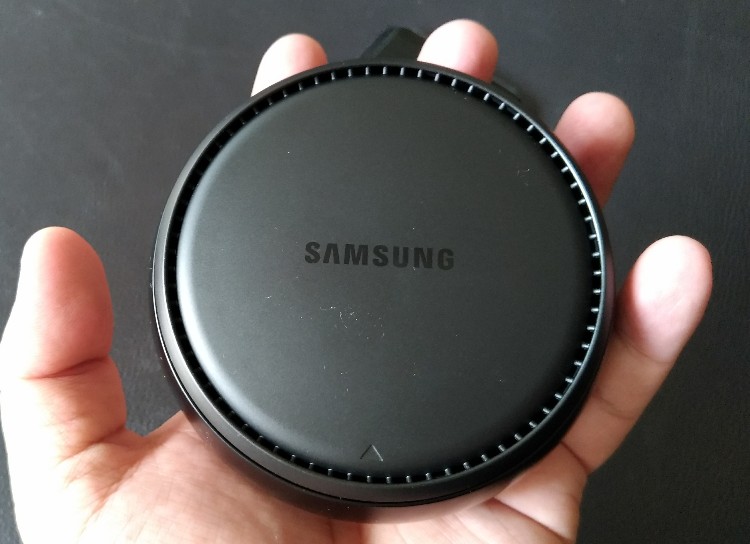 Like a large hockey puck or wireless charger
Building off of the overall rounded hockey puck look of Samsung's wireless charger the DeX Station is thicker and the rounded inner part slides up to become a stand of sorts. A fairly silent fan is built into this stand with cooling vents on the underside along with a USB Type C connector placed below this stand to place the Galaxy S8 or S8 Plus. There are a number of ports on the backside including 3x USB ports, 1X HDMI port and 1X RJ45 network port.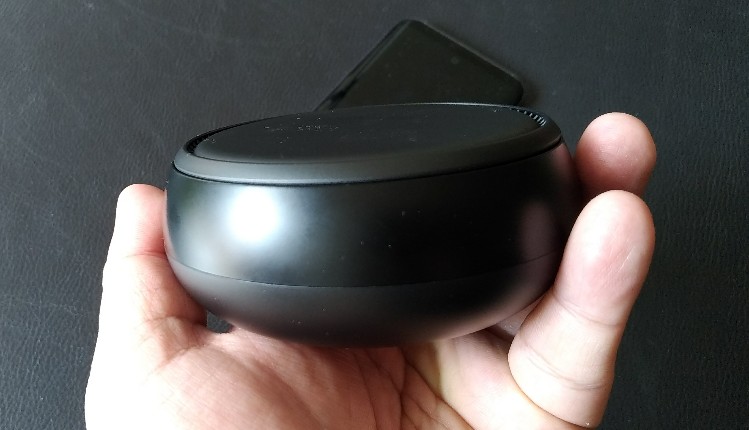 Quite thick on the side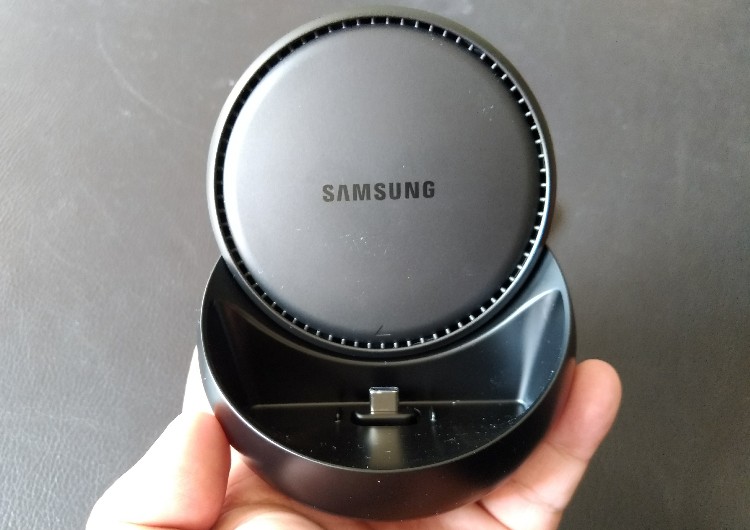 The top flips open to become a stand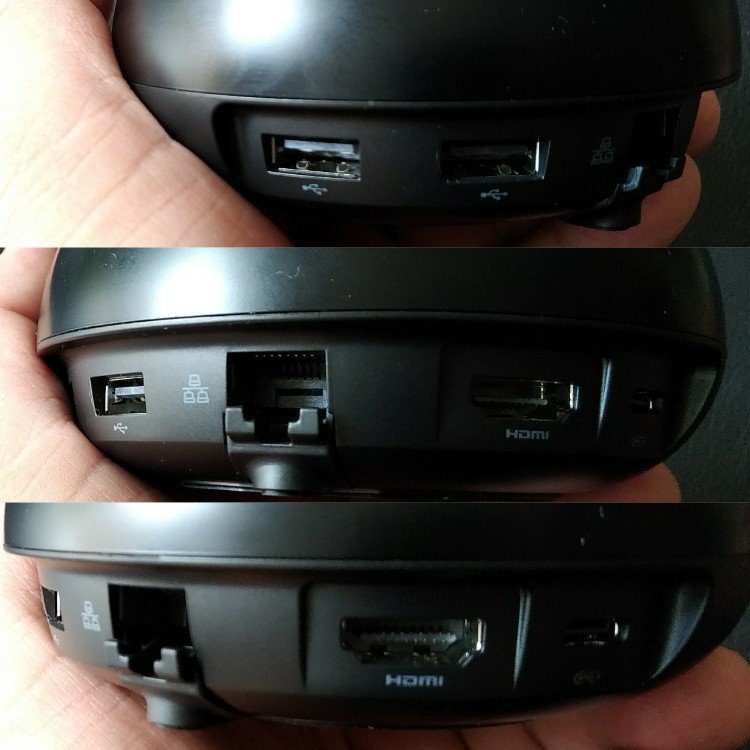 There are 4x USB ports (1 for powering the DeX Station), 1x HDMI and 1x RJ45 ports
When placed into stand mode, you can only put the Samsung Galaxy S8 or S8 plus in an upright position. By itself, the overall design is fairly ergonomic and should fit into most backpacks but probably not all handbags or pouches.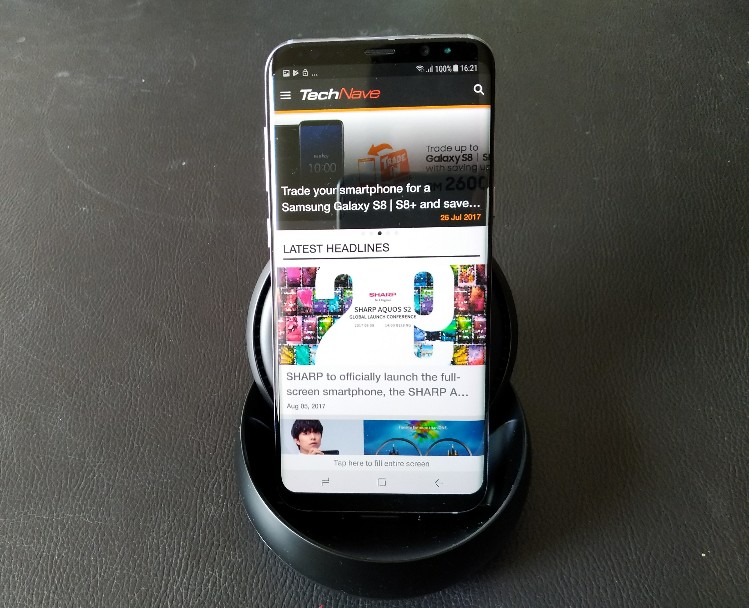 Only works with the Samsung Galaxy S8 and S8 Plus for now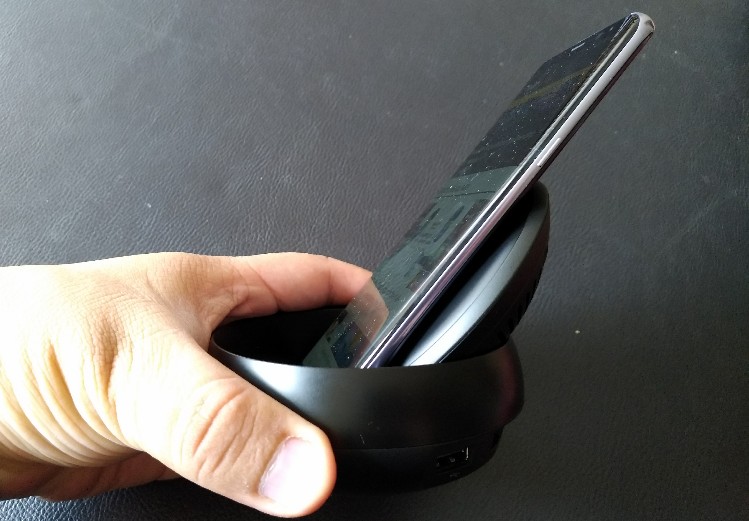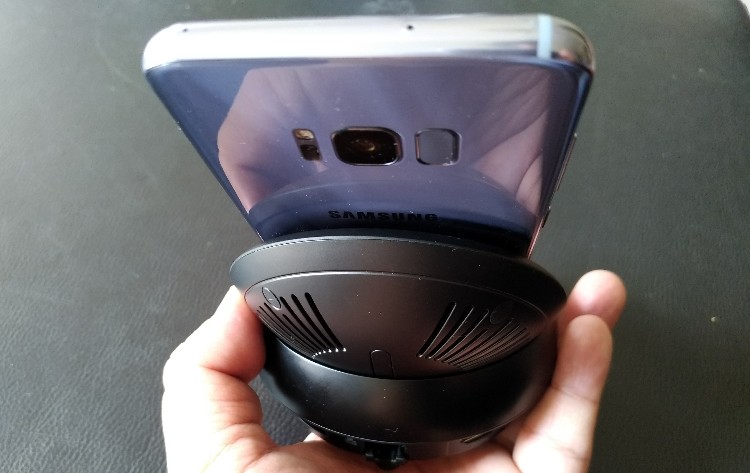 Cooling vents on the back coupled with a fan keep the phone cool
Tech Specs and Features - Almost a complete Windows environment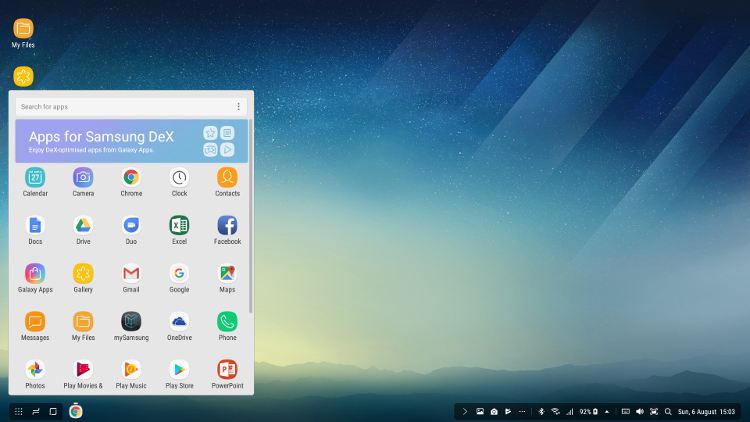 Looks very familiar doesn't it?
The Samsung DeX Station offers a windows-based environment created by Samsung where you can drag and drop items from different windows and apps, open multiple windows and apps and access all your photos, videos and documents on your phone in this environment. There is a Home button in the lower left corner which opens up your app drawer and the desktop where you can place app shortcuts, documents, files and more. An app taskbar (which is probably the most useful) is placed right next to the Home button while shortcut bars line the bottom along with recent notifications and main shortcut keys like screenshot placed on the bottom right.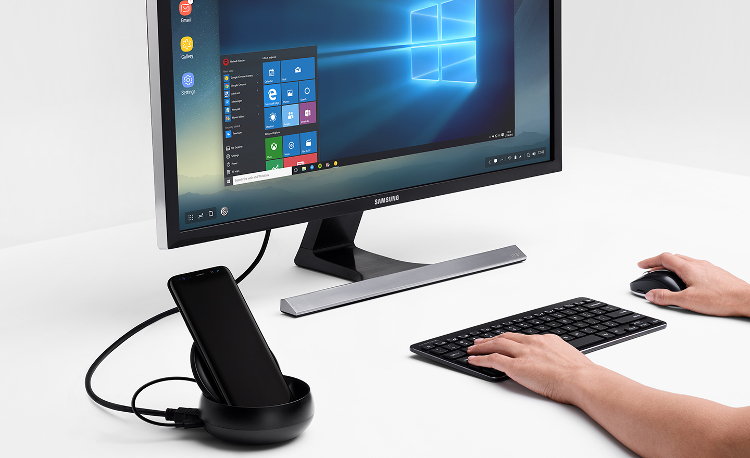 Needs a license but you can use native Microsoft Windows on the DeX Station
Granted, the DeX Station only works with the Samsung Galaxy S8 or Galaxy S8 Plus for now, but it could probably work with other USB Type C Samsung phones in the future as well (like the upcoming Samsung Galaxy Note 8). While it does offer a windows-like environment, apps are opened in Android smartphone mode by default so if you want to get the desktop look on certain apps like Google Chrome, you will have to enable desktop mode. Samsung says you can also open up actual Microsoft Windows remotely using a VDI(Virtual Desktop Infrastructure) solution such as Citrix Receiver, VMware Horizon Client and Amazon WorkSpaces (which needs a license).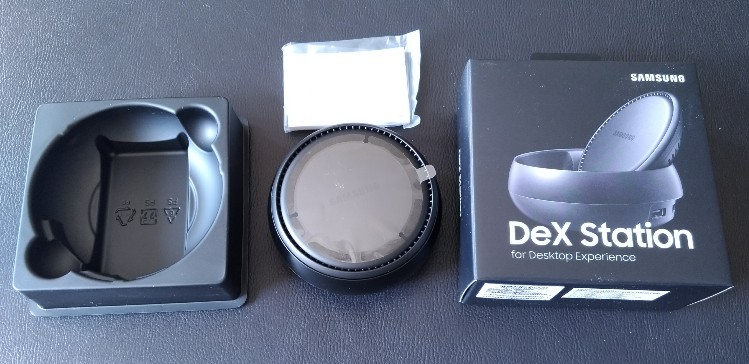 What you'll get in the box
The Samsung DeX Station only comes with a USB cable, so you'll have to supply the other stuff which includes:
A Bluetooth or USB keyboard

A Bluetooth or USB Mouse

A HDMI connected display (can be TV or monitor)

A HDMI cable

A USB power adaptor

An RJ45 network cable (only if you need a wired connection)

A Microsoft Office license (if you want to use Microsoft apps like Word or PowerPoint)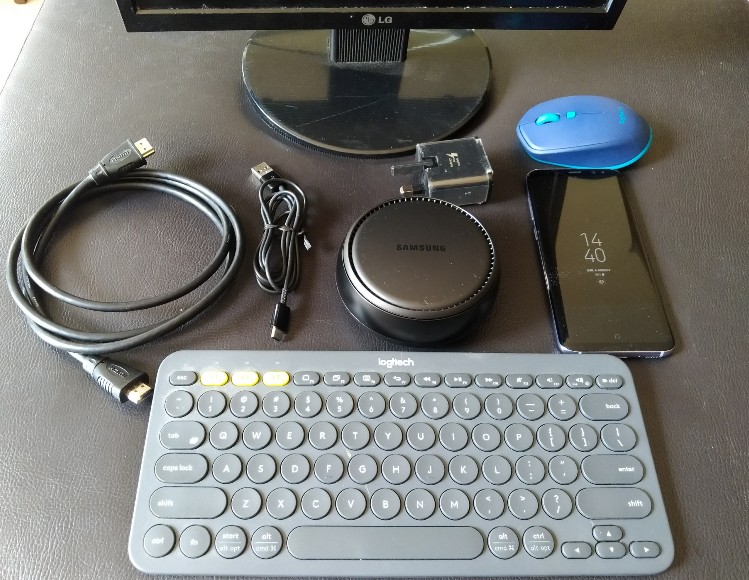 What you'll need to get it running
Performance - Mostly plug and play
Once you connect all the cables, pair all the Bluetooth devices (which you have to do beforehand) you can plug in your Galaxy S8 or Galaxy S8 Plus, which automatically loads the Samsung DeX Station interface. After a few intro screens, you will be prompted to adjust your screen or display so make sure to not go trigger happy and keep clicking OK. Even though we tried it with a Samsung LED HDTV you still have to adjust this or you may end up with the interface outside of the screen, obscuring buttons and so forth. Sound comes from the Galaxy S8 or S8 Plus, which is loud enough for the most part while the cooling fan is silent yet powerful enough to waft a breeze out the back.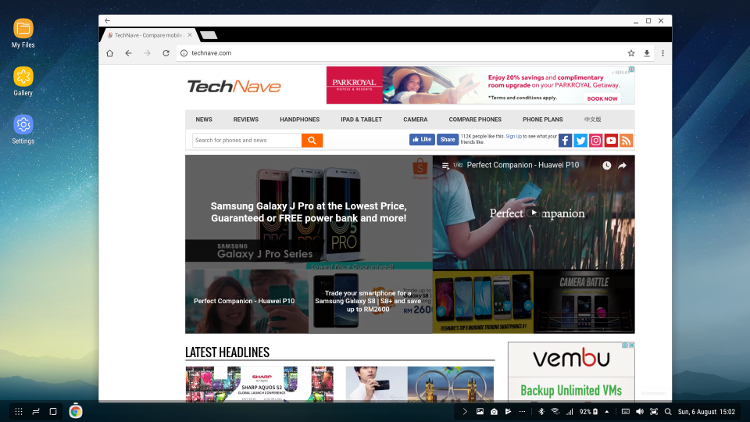 Opens up Internet browsers like Google Chrome just fine
Trying it out with my Logitech K380 Bluetooth keyboard (which worked just fine on other Android and Windows based systems before) resulted in some hiccups but the good thing about the Samsung DeX is that the 4 USB ports work perfectly fine, just plug and play even with a USB keyboard, no drivers required. Since we didn't have any issues with the Logitech Bluetooth mouse, we didn't switch it out but it probably would have worked just as easily with any other USB mouse or other USB device.
Trying out face recognition (too many no matches) and fingerprint scanning (difficult to reach, and end up mistaking the rear camera too often) to unlock the S8 Plus was a bust but the Iris Scanner worked great. However, as usual, you'll have to remove your glasses and glare at it to unlock it smoothly. I also found out that working at a distance with a 720p HDTV is not very easy as the text becomes somewhat pixelated sometimes.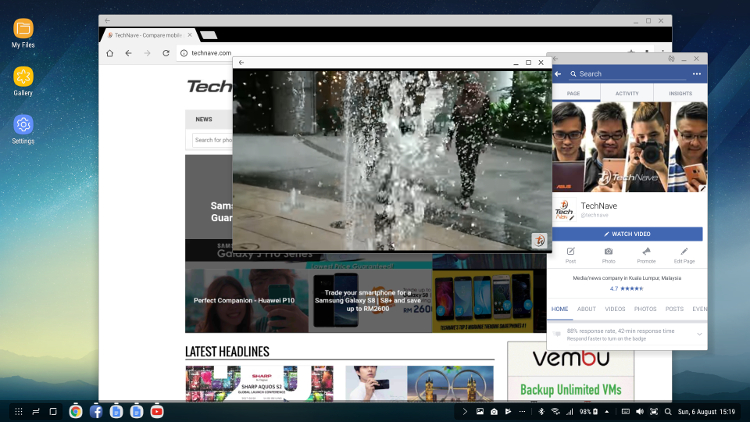 Opens multiple windows with relatively no lag
Even with multiple windows open, there doesn't seem to be any lag and both YouTube and other video player apps seem to work just fine. Surprisingly enough we had some issues with the Microsoft Word window, which was the only one that suddenly refused to work (didn't want to close and couldn't be moved) but other windows such as the ones for Google Chrome, Google Docs, YouTube and Facebook worked just fine, albeit in smartphone or mobile version unless otherwise specified.
That being said, the DeX Station doesn't have any clear cut instructions on how to deal with hanging windows but you can easily close them in the app bar next to the home button. While productivity apps don't seem to have any major issues, gaming is fairly limited. We'd have loved to play an FPS (First Person Shooter) like Nova Legacy or Modern Combat 5 with a mouse and keyboard but neither work with the DeX Station. Most apps work including Picsart and other photo editors along with my usual video editor.
Conclusion - Best smartphone to PC desktop yet but... still flawed
As a technology showcase the Samsung DeX is excellent, showing off how you can replace your desktop PC with your Samsung Galaxy S8 or S8 Plus with ease. As an actual work device for that mobile road warrior on the go though, I feel that you're better off with just a bluetooth keyboard or thumb-typing with the phone by itself. Here in Malaysia, there aren't always HDMI capable displays available to plugin at most cybercafes or work spaces. Hotels would likely have HDMI capable TVs but not all of them allow you to plugin your device to the TV. You also have to consider bringing along a keyboard, mouse and all the cables along with you, just to make it work, so quite a lot of extra stuff to bring if you do intend to go mobile.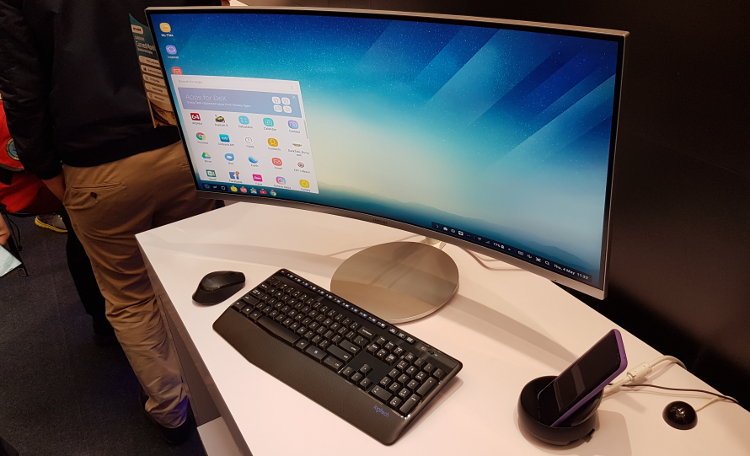 Quite a lot to lug about
The windows-based interface, 4x USB hub and network cable ports make interesting and useful additions, but they are not useful enough for me to ditch my actual desktop PC as all the extra additions and licenses required to make it work well plus the RM499 asking price of the DeX station literally amounts to the same price as an actual entry-level desktop PC set or a refurbished laptop. It might be useful for the phone only user who already has a spare monitor, keyboard and mouse around though.
Compatibility remains the big issue here though as I'd be more likely to recommend it if it could do more than just work. There are plenty of great looking games on Android now and the Galaxy S8 or Galaxy S8 Plus are both powerful devices, so it seems a darn shame not being able to play most of these games on the DeX Station. Samsung have told us that they are working on making more apps compatible with the DeX Station but no news when that might be.