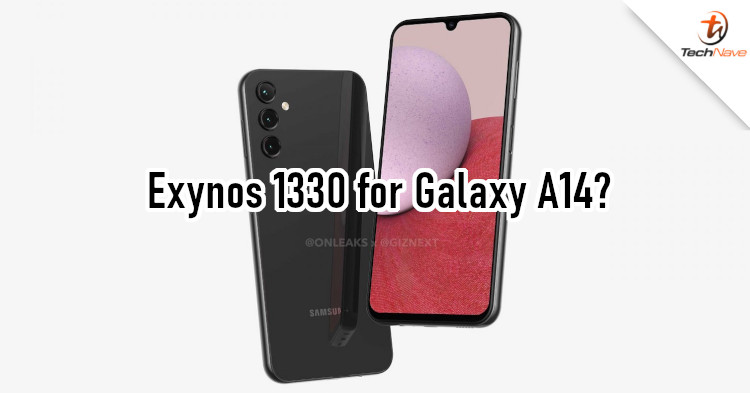 Render from Giznext
Renders for the Samsung Galaxy A14 leaked online early last month, revealing a lack of changes for the upcoming model. While the design isn't expected to change, there should be some upgrades to the hardware. Well, it has been confirmed that the chipset will be new.
Recently, a benchmark record for a Samsung SM-A146B was spotted on Geekbench. There's also a Samsung SM-M146B variant that posted similar benchmark scores. According to GalaxyClub, these are the Galaxy A14 5G and Galaxy M14 5G, respectively. Both feature the 's5e8535' chipset, which is believed to be the Exynos 1330.
Exynos 1330 chipset spotted
As you can imagine, the Exynos 1330 is an entry-level chipset. It comes with an 8-core CPU with 2x 2.4GHz CPU cores and 6x 2.0GHz CPU cores, plus a Mali-G68 GPU. Besides that, the two devices will have 4GB of RAM. As usual, Geekbench doesn't provide much info other than chipset and RAM. But based on the Galaxy A13 5G, the two phones should also have at least 64GB of RAM, a 5000mAh battery, and a 90Hz refresh rate screen.
In terms of upgrades, the new models will come with Android 13 pre-installed instead of Android 11. For cameras, it's rumoured that Samsung will upgrade the front camera from 8MP to 13MP, but retain the 50MP+2MP+2MP triple camera setup at the back. It was also suggested that the display will be a larger 6.8-inch panel.
If the above is true, the Samsung Galaxy A14 5G and Galaxy M14 5G would be marginal upgrades over their predecessors. If you've been skipping generations, they could be good options to pick up. But what do you think? Let us know in the comments, and stay tuned to TechNave for more news about it.