Samsung Galaxy A7 (2018) review - Affordable ultra wide-angle triple rear camera smartphone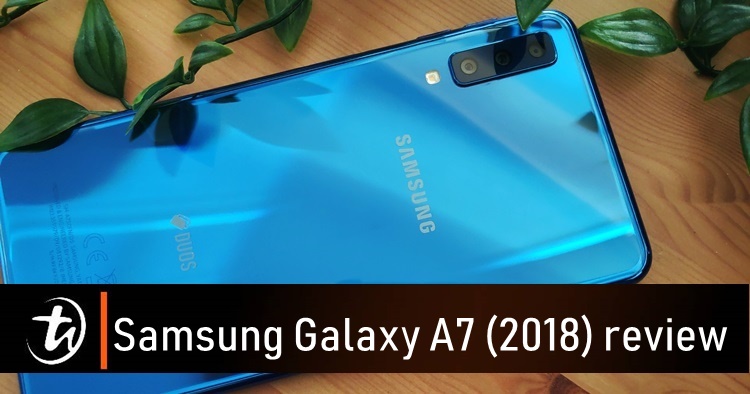 As we move towards the end of 2018, we have definitely witnessed the trend of the battle of the mid-range smartphones in Malaysia. A keen observer would notice that smartphone brands are catering to selfie lovers with aggressive prices and respectable tech specs. Samsung is no stranger to this as they are starting to shift towards its Galaxy A series on this, and the Samsung Galaxy A7 (2018) is certainly an eye-catching device.
It was with great honour that Samsung has chosen Malaysia as the official global launching spot for the Galaxy A7 (2018) and the Galaxy A9 (2018) with a triple camera and quadruple camera setup respectively. However, at the time of writing we only had the Galaxy A7 (2018), so here goes the review!
Design - Exquisite
Knowing Samsung, it's no surprise that they have done a fantastic job on the design. I know we have mentioned this a couple of times, but people could easily mistake it as a premium device when it's actually not since it's only RM1299 (fantastic price). Samsung used a 2.5D glass to sandwich the body and to ensure a good grip on the device, they made it in such a way that the glass is not so slippery like other devices with the help of the side metal frame, complementing each material.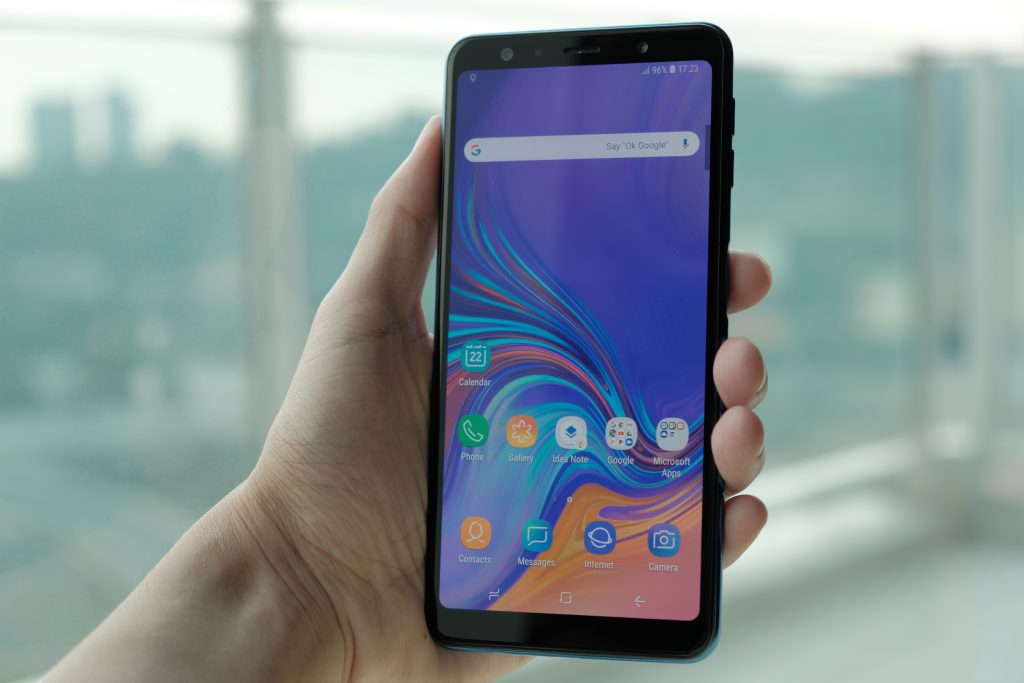 Also, thank God there's no notch on top of the display so that the screen integration is properly ingrained unlike most Android devices that are jumping on the bandwagon because it's trendy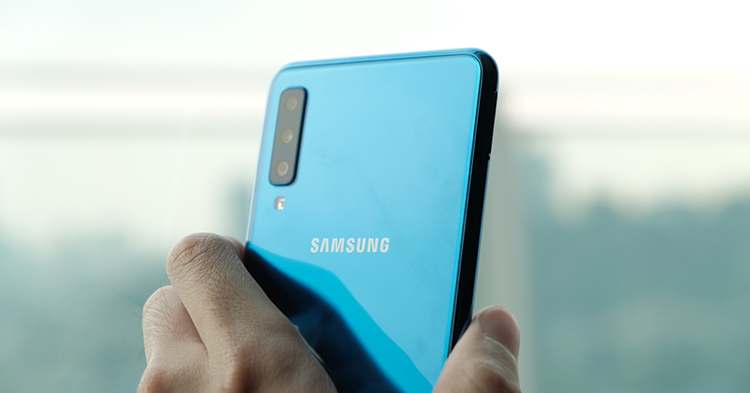 The triple camera set behind with the LED flashlight, the glass-back is quite prone to fingerprint smudges, though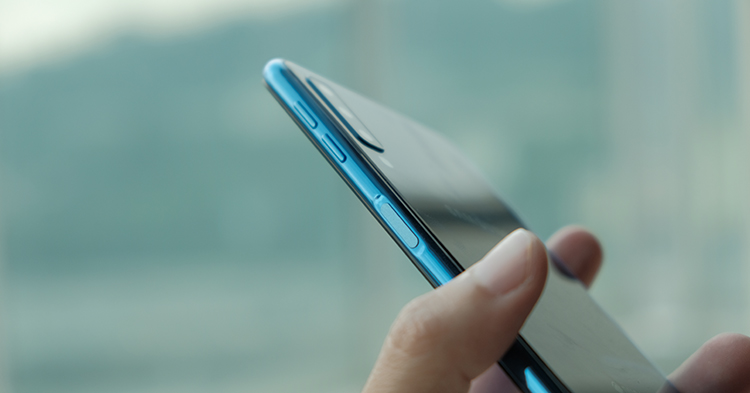 The volume rockers and the power / fingerprint button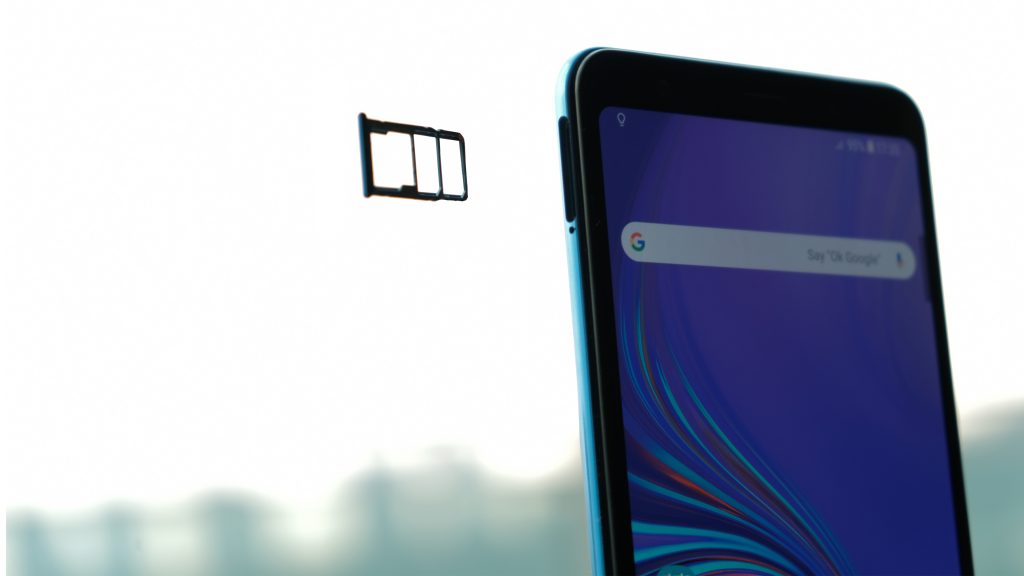 Triple SIM card slot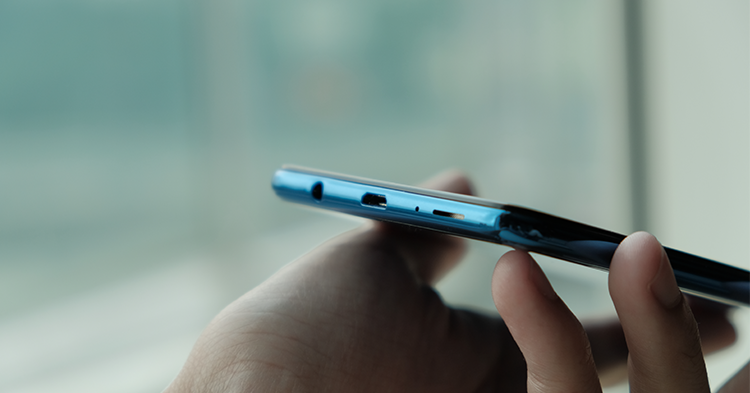 The standard 3.5mm headphone jack, microUSB 2.0 and speaker grill
That said, Samsung is still continuing that rectangular-ish body shape that they love doing which some users might not like (because it's too long). There's also a fingerprint scanner located on the side beneath the power button, something we don't usually see in most midrangers.
It's a pity that the Galaxy A7 (2018) did not retain the water resistant feature and USB Type-C port from the Galaxy A8 (2018) series for some reason, but I'd like to assume that it has something to do with the manufacturing cost. Also, your sweaty fingerprints will definitely smudge on the back a lot, but then again, most users are likely to cover it up with a protective casing anyway.
Tech-specs and features - Ultra wide-angle lens is useful
Here are the specifications for the Samsung Galaxy A7 (2018):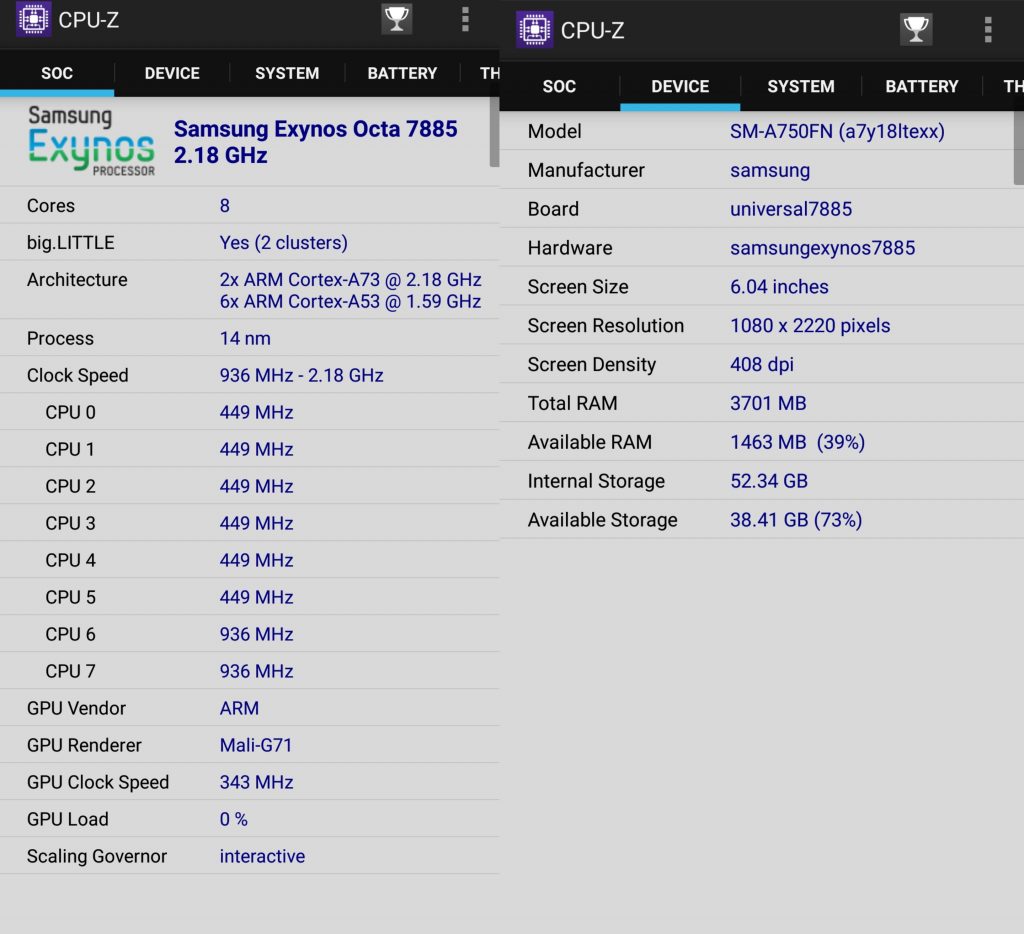 Exynos 7885 processor
4GB of RAM
128GB internal storage (expandable memory available up to 512GB)
6-inch Super AMOLED display
24MP (telephoto) + 8MP (ultra wide-angle) + 5MP (depth sensor) triple rear camera
24MP front camera
Features fingerprint sensor (side), Scene Optimiser, triple SIM slot tray, Samsung Pay
Supports Wi-Fi 802.11 a/b/g/n/ac, Bluetooth 5.0, NFC, microUSB connectivity
Android 8.0 Oreo
3300mAh battery
As a mid-range tier device, the Galaxy A7 (2018) features an Exynos 7885 processor with 4GB of RAM and a pretty big 128GB storage there. If that's not enough space for you, there's still expandable memory up to 512GB. Not to mention, with that 6-inch Super AMOLED display and a triple camera setup with a respectable 3300mAh battery, the RM1299 price tag has a lot going for most consumers.
The highlight of this device is obviously the triple camera setup which consists of a primary 24MP sensor, an 8MP ultra wide-angle lens and a 5MP depth sensor. On paper, the 8MP ultra wide-angle lens doesn't sound impressive but it still does the job quite well, just that the resolution won't be on par with the primary sensor. Although that's the case, you'd be glad to know that there's a Scene Optimiser technology inside so that the colour quality won't drop so much. It can detect up to 19 different scenarios and automatically adjust the white balance, colour saturation and shadows on the image. If you just want to see the photo samples, you can skip to the performance section below.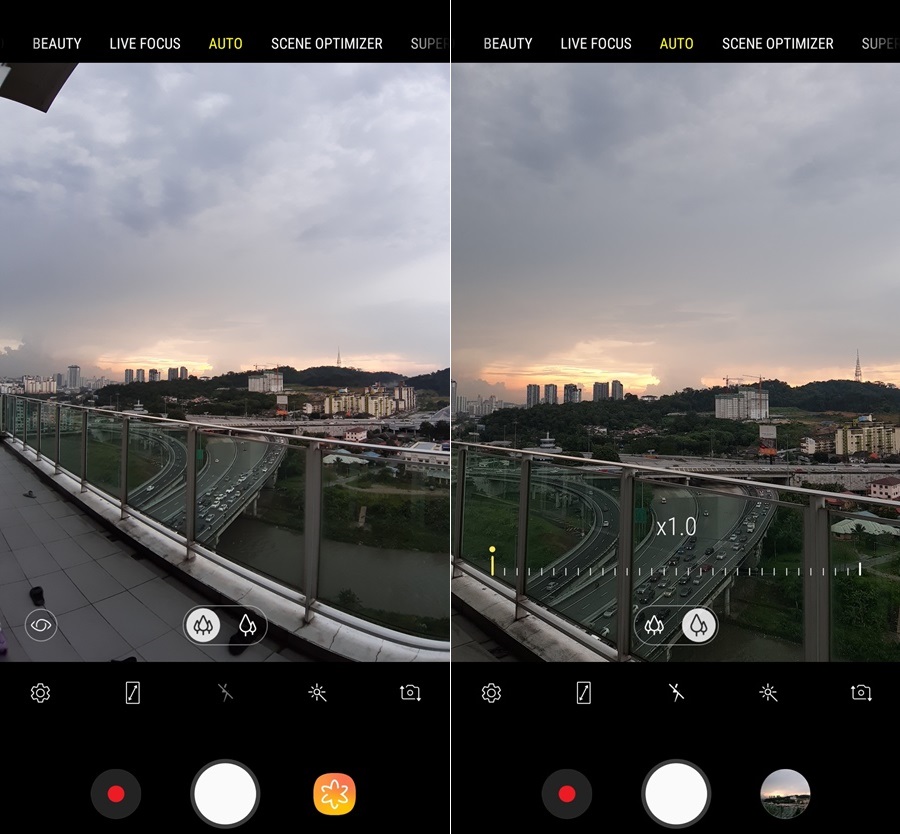 The Samsung camera UI doesn't have much changes, but on this phone, you can see the "Trees Icon" which allows you to switch between ultra wide-angle and normal mode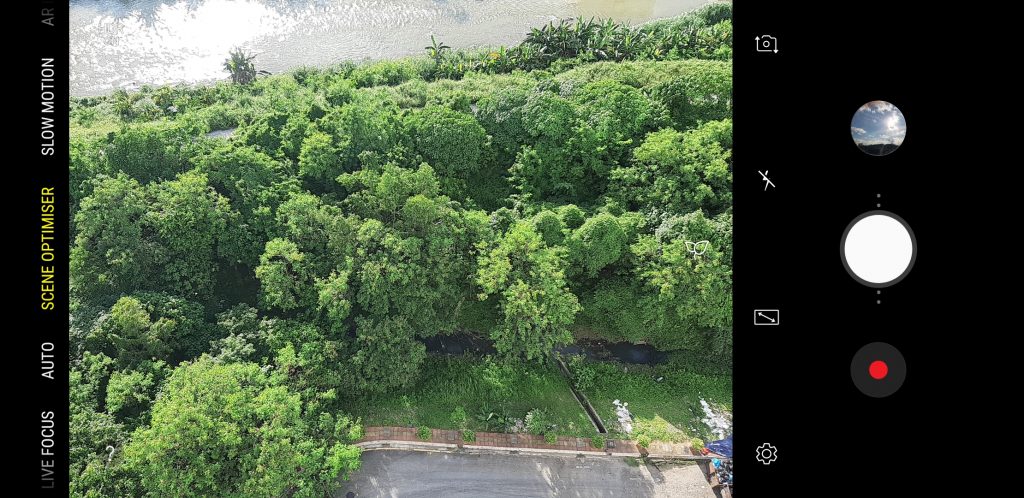 There's also a dedicated Scene Optimizer option in the camera UI
Other than that, there's nothing much to look at since this is a camera-centric smartphone, but I guess we can talk about the side-mounted fingerprint scanner. It's a minimal change from the standard front or rear scanner, and also not the first but if you have been following my reviews for awhile - I really love the side-mounted fingerprint scanner. The accuracy is good but the unlocking speed somehow feels a bit slow, this goes the same for the face unlock so it might be good for Samsung to improve it via a software update in the future.
Performance - Subpar performance, but great photo quality
In terms of performance, the Galaxy A7 (2018) is not exactly one of the best mid-range devices we have seen, it's not even in the top 50 spot but then again... it's a camera-centric phone so it's understandable. On AuTuTu, it scored 122814 points and that's not too shabby. Thankfully, its Dolby Atmos audio system and FHD+ Super AMOLED display provides a great entertainment experience (best if you have an earpiece or headphone) for video playback and gaming, even though it only has a single speaker.
Playing games on the Galaxy A7 (2018) is commendable enough. When my colleague was playing PUGB Mobile, the setting for the game was set by default according to its tech specs and it wasn't really nice at first. It was only after experimenting with the graphics and frame settings did the game become much more playable with a HD and High FPS combination. In other words, perhaps it's best to manually do your own video settings in whatever games you're playing.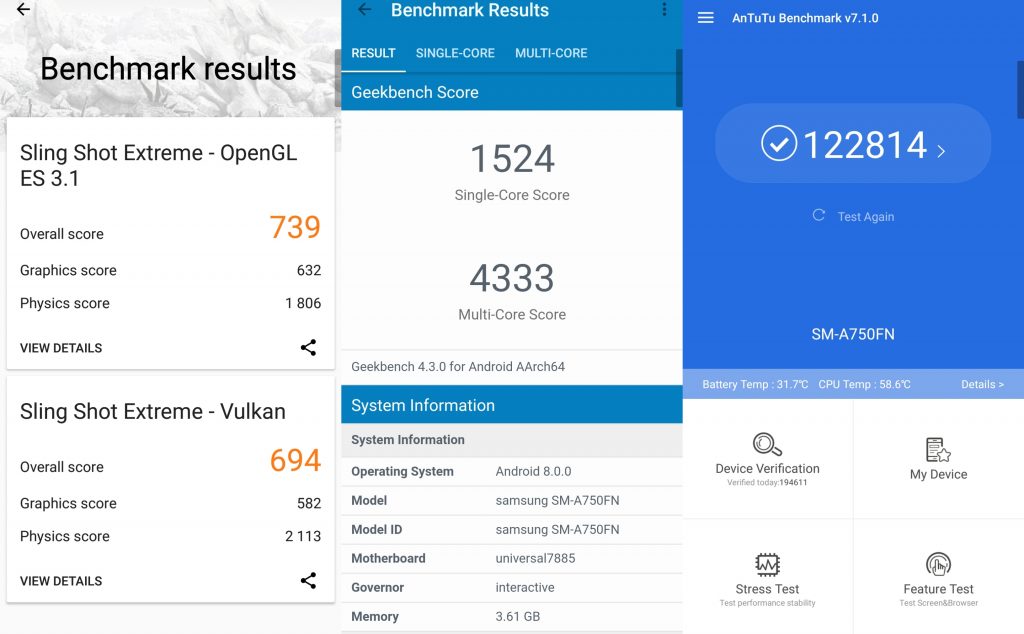 From left to right - 3DMark, Geekbench and AnTuTu score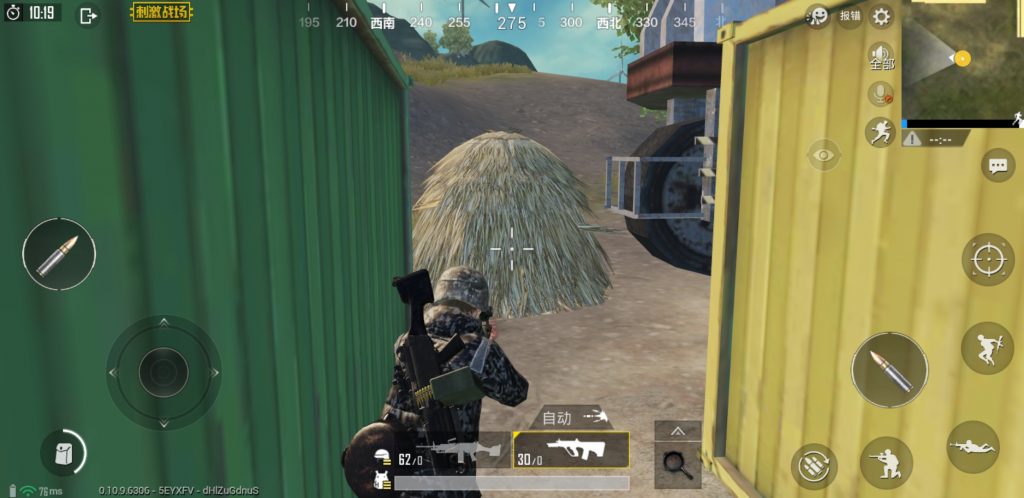 PUBG Mobile is best played with HD and High FPS setting on this phone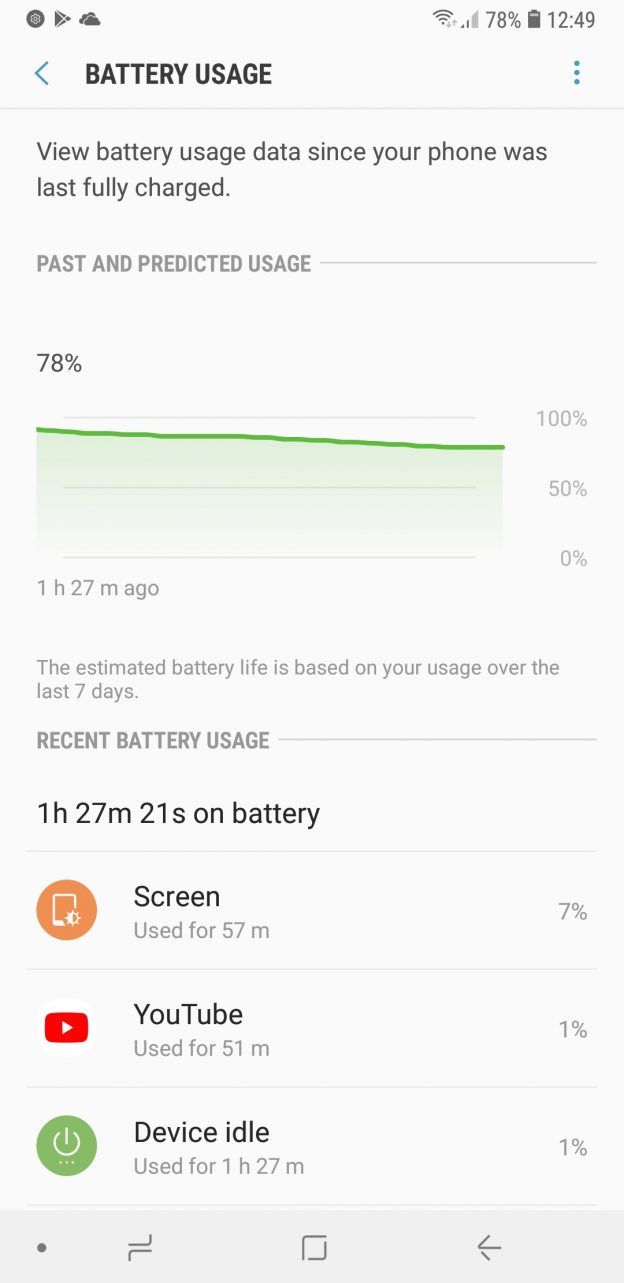 Battery flow is quite steady for an average usage
Since it does not give the best performance in the mid-range, this is a blessing in disguise because it doesn't bring up any heat issues even after messing around with the graphics settings. Average usage of daily social tasks is enough to get by for a day, but the charging speed is quite slow. From our experiment, it takes 2 hours and 10 minutes to fully charge the phone from 0% to 100%.
Finally, we have reached the camera performance section. As we mentioned, the 8MP ultra wide-angle lens won't give the "best" picture quality for some mobile photographers, but this is a really good option for people who like to shoot landscape photography or group shots. You no longer have to keep stepping back to make space but for some reason the ultra wide-angle lens will almost always give off a fisheye effect. Some users might not like it, but some are alright so... it depends on your preference.
While daytime shots are pretty good, night shots are the opposite. Noise appears quite regularly, while the colours become dull, and the Scene Optimiser does not help a lot by "digitalizing" the darkness. But you know, some people may actually find this "artistic" although we hope Samsung will be able to provide a software update in the near future. Anyway, check out the photo samples below!
Before and after using the ultra wide-angle lens from the same position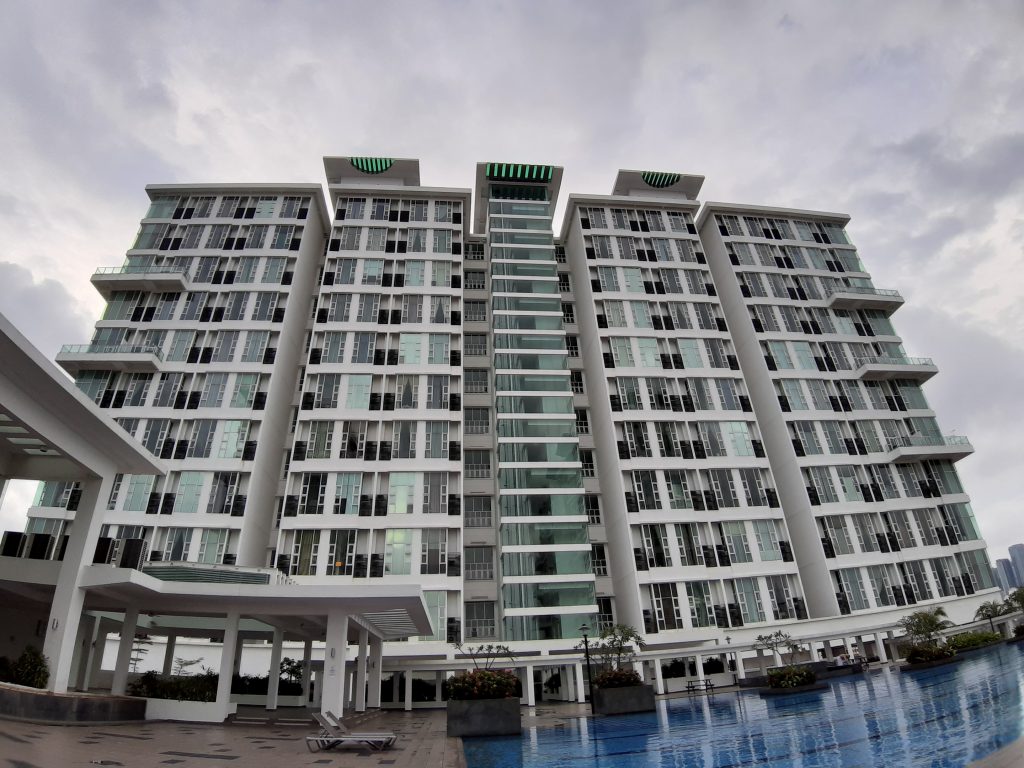 Another ultra wide-angle shot, you can see the fisheye effect there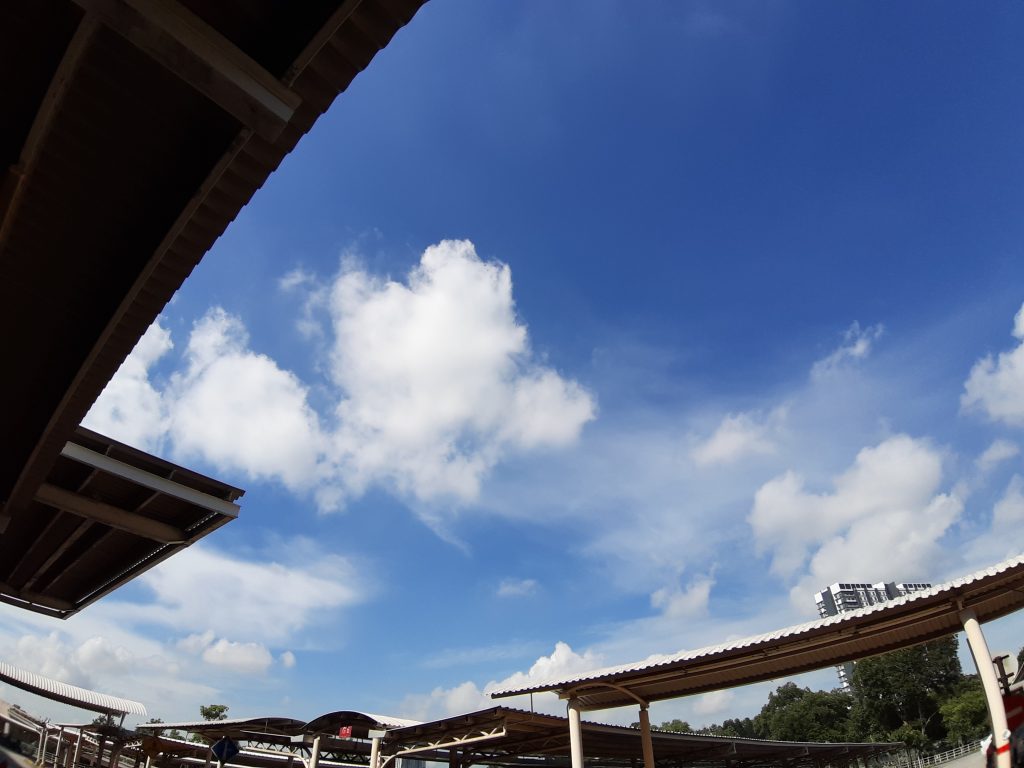 Like most smartphones, as long as there's light, there's no problem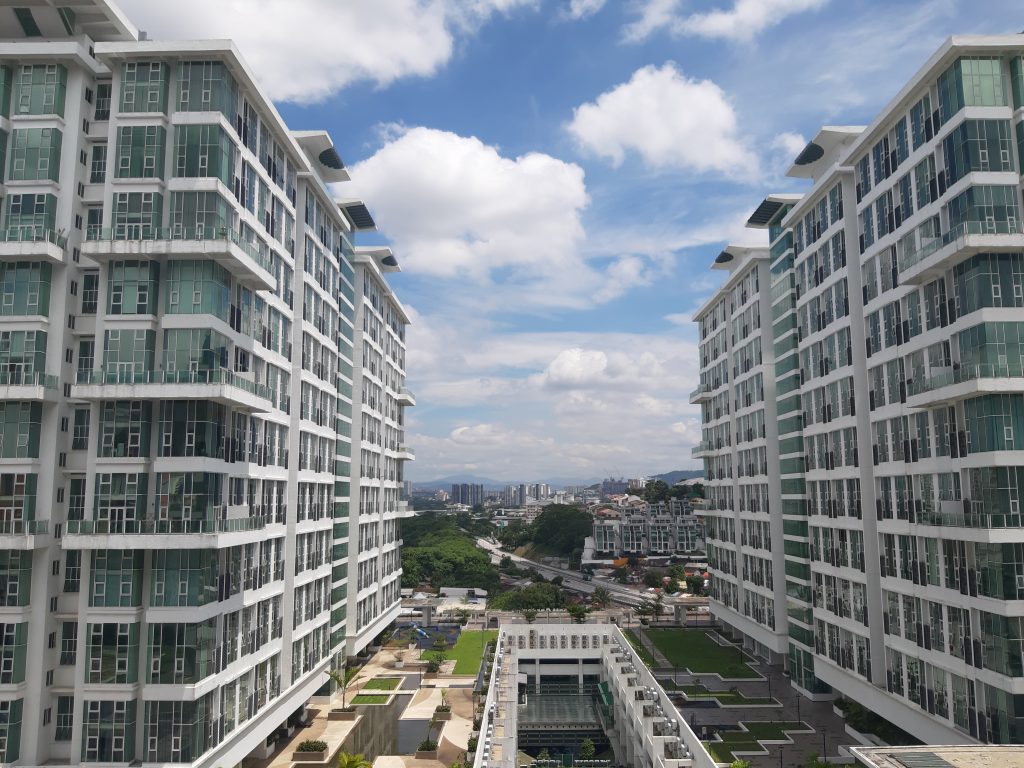 This one was taken with HDR mode, not too bad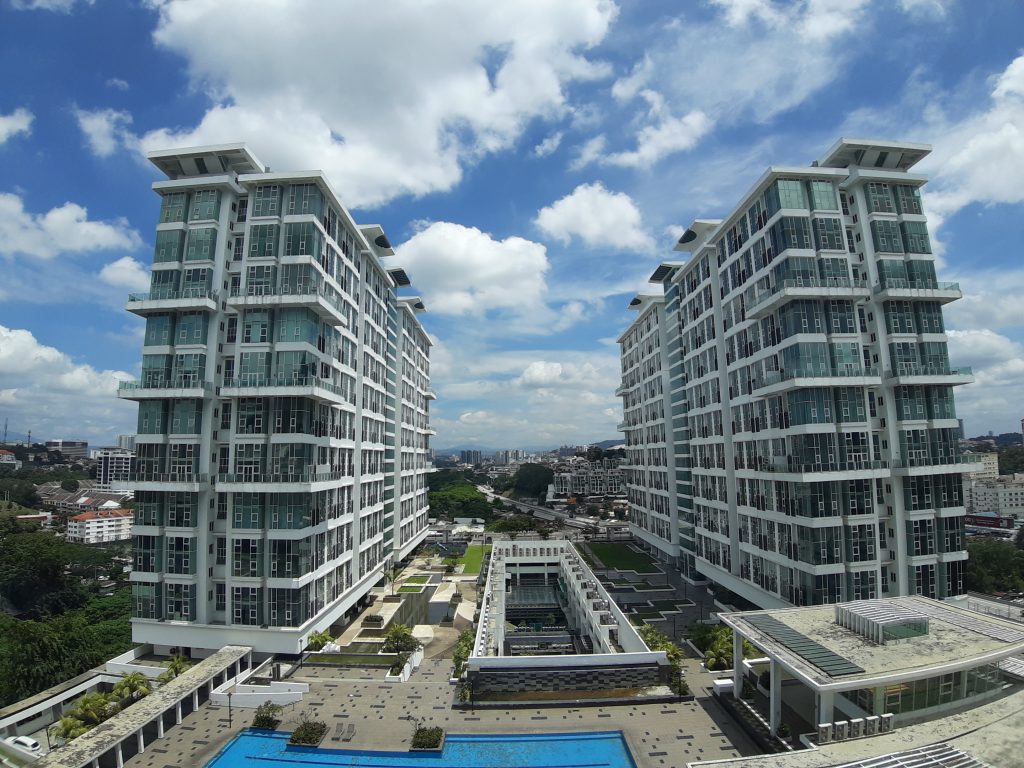 Depending on your perspective, the fisheye effect can either be annoying or "artsy", the two buildings are a bit "bengkok"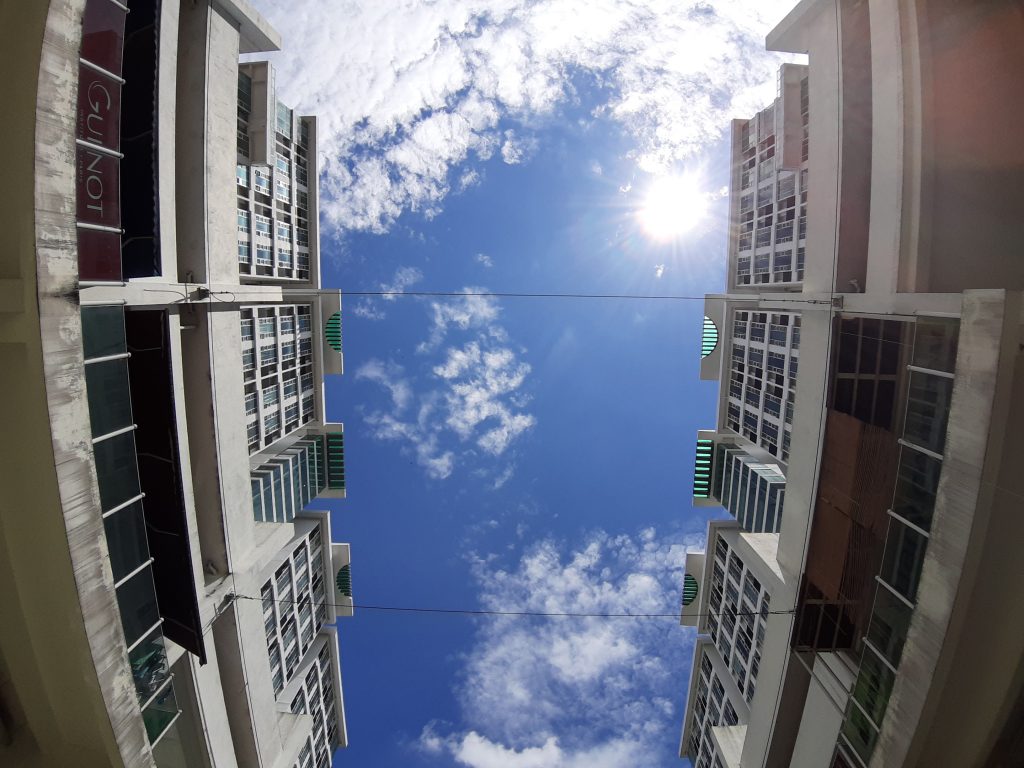 If you're artistic enough, taking conceptual photography like this can be an advantage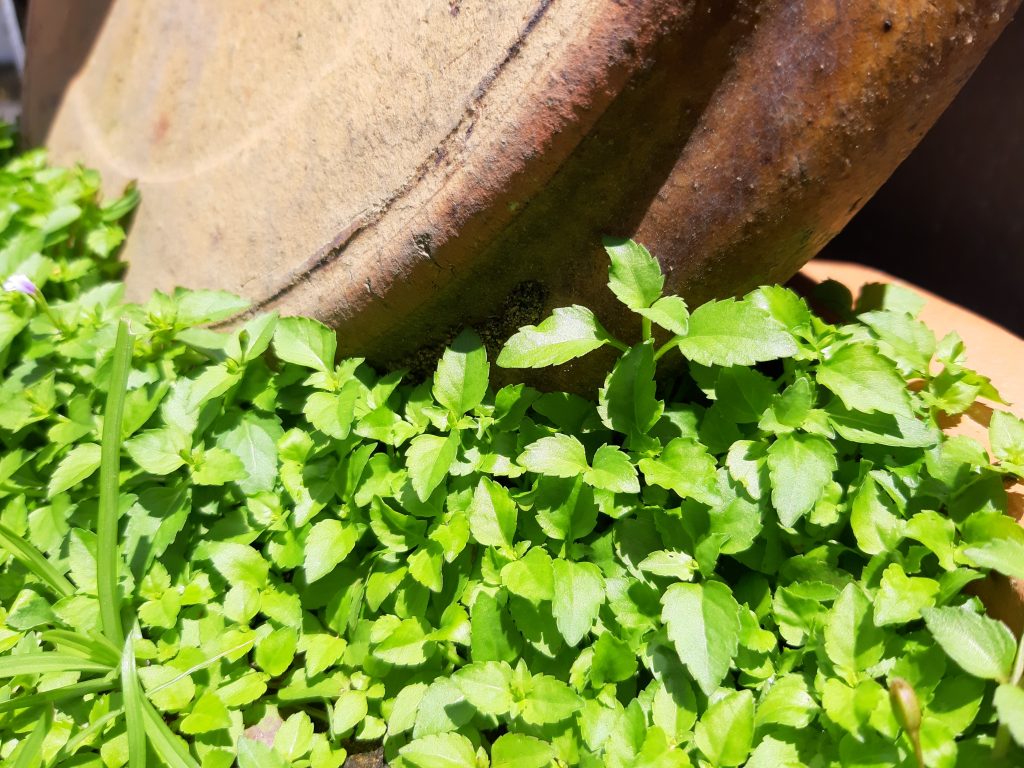 Taken with Scene Optimizer mode, looks great but a bit too overexposed there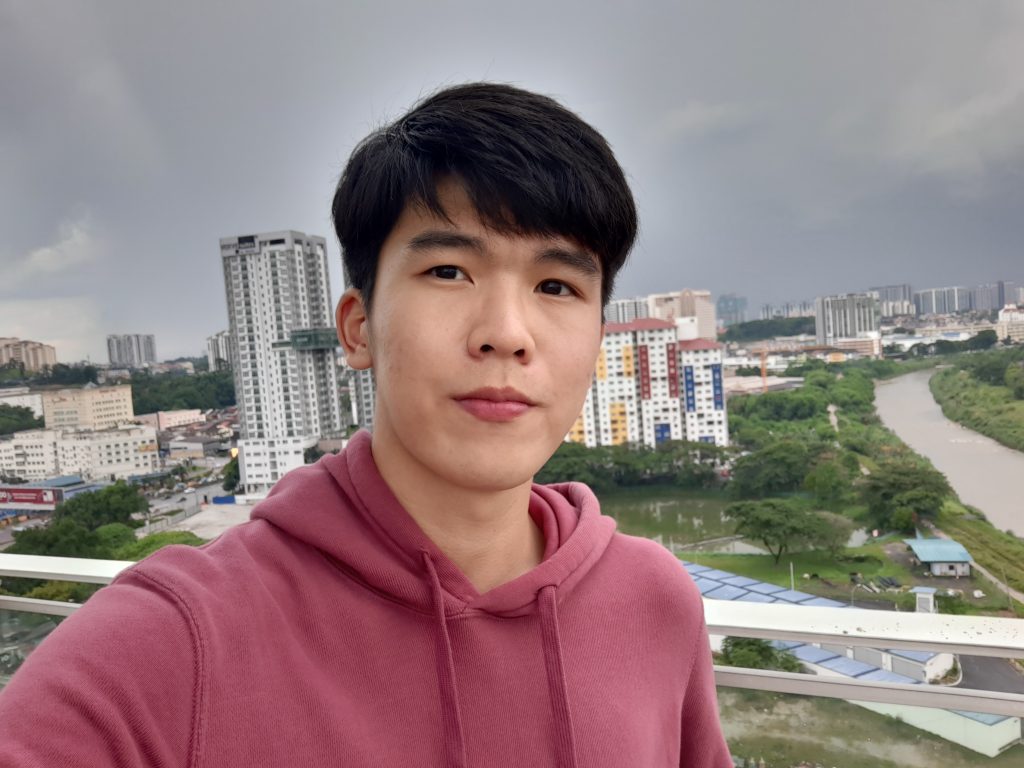 Selfie with HDR, so "hensem"
Selfie Focus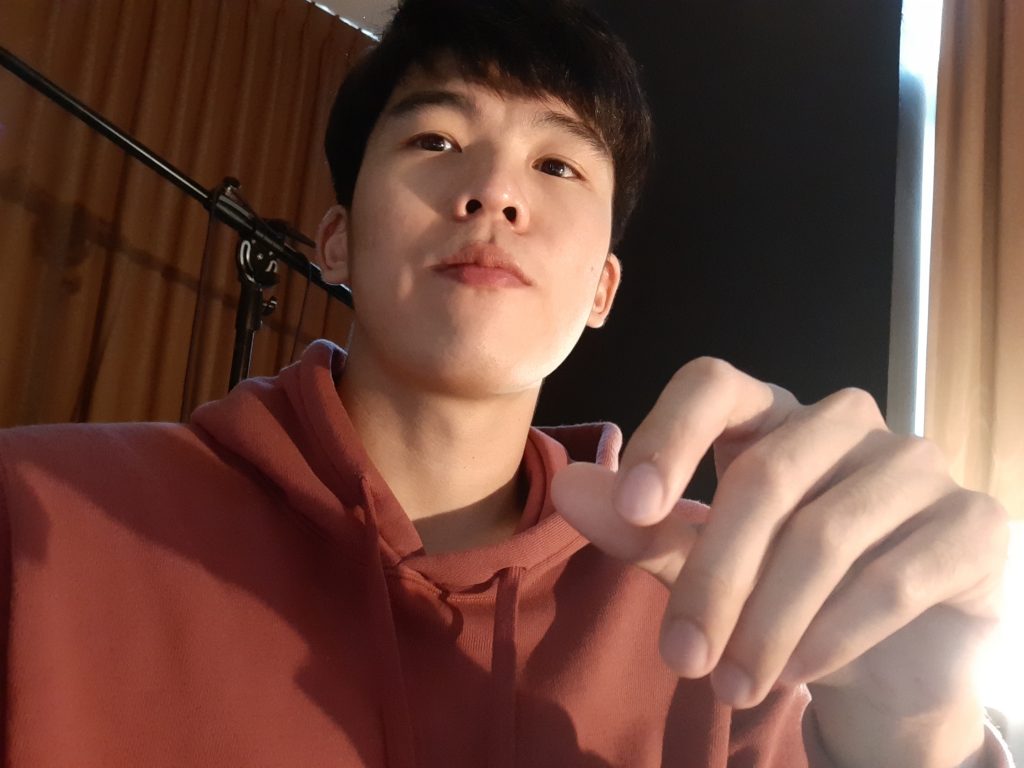 Selfie with LED flashlight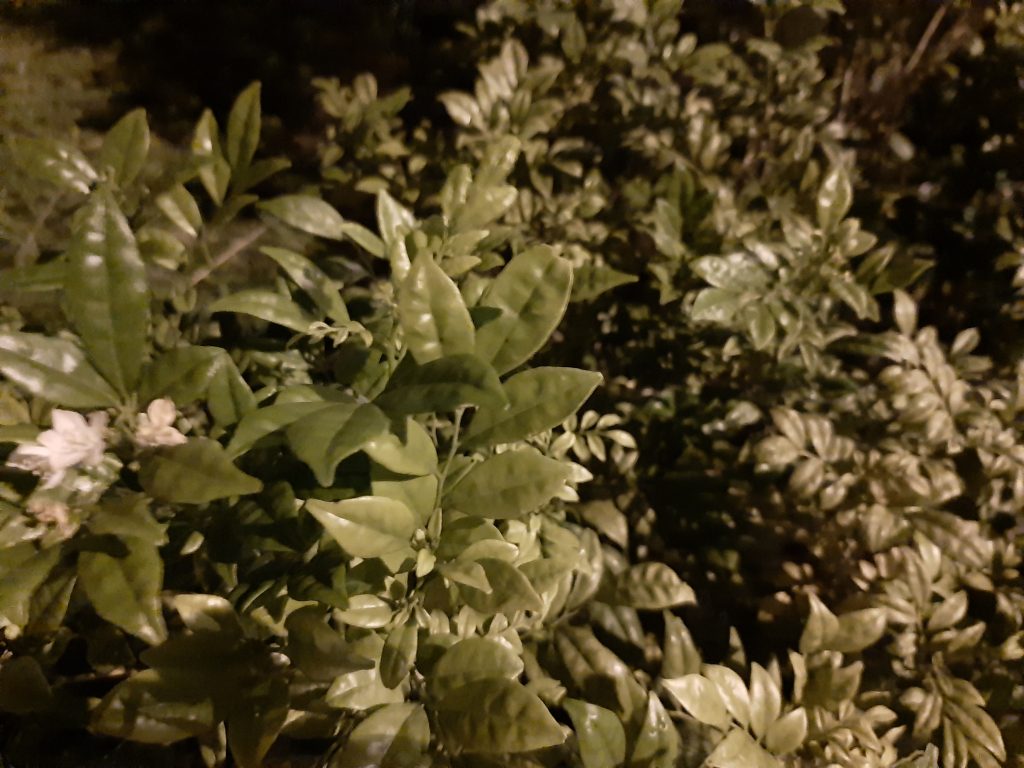 Night shot, dull colours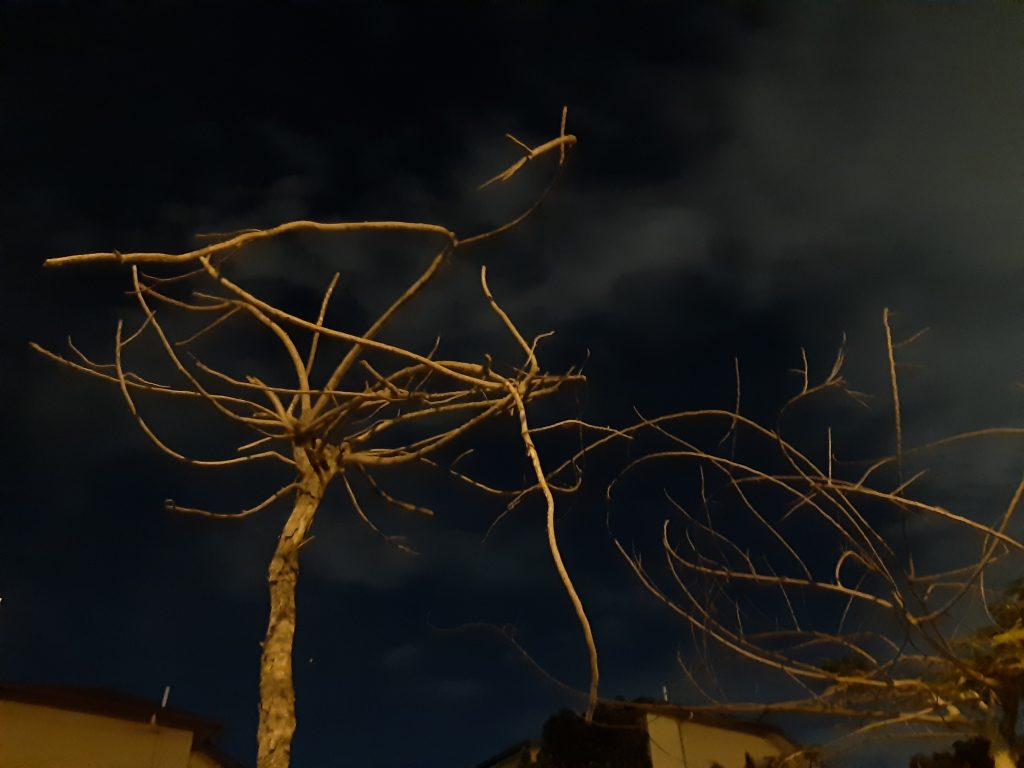 Details lost in translation during low-light shots
Conclusion - A camera-centric phone for the youngsters
With all the pros and cons mentioned above, it's clear that the Galaxy A7 (2018) is made for users with different needs, particularly those who love going to the outdoors and taking landscape photography with the ultra wide-angle lens. The side-mounted fingerprint scanner is a bonus and entertainment for both games and video playback is fairly good as well. Not to mention, the design is very well done and this will surely attract young people.
Of course, that's not to say there are no challengers. Take the Pocophone F1 and honor Play, for instance, both are priced at RM1299 and take better pictures even though they are meant for gaming. On the other hand, the Huawei Nova 3i (RM1099) also takes better pictures, particularly at night. However, all three phones are lacking the ultra wide-angle lens and the Galaxy A7 (2018) is the most affordable triple camera device on the market now. So it depends on what you need.
So what do you think? Is Samsung going in the right direction for its mid-range Galaxy A series? Let us know in the comments below and stay tuned for more gadget reviews at TechNave.com and Merry Christmas!
Samsung Galaxy A7 (2018) Specs & Price >