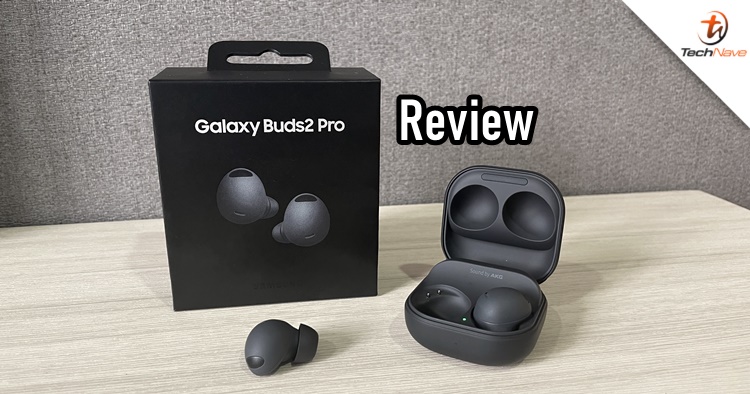 Besides making smartphones, Samsung is also known for releasing some good audio products thanks to its partnership with AKG. However, the Galaxy Buds lineup was just average (at least to me) until the Galaxy Buds 2 Pro. After trying it for two weeks, I can finally say that the Galaxy Buds series quality is going somewhere but with some limitations. Let me explain.
Before I get to the audio performance, I want to talk about the design first. At first glance, the Galaxy Buds 2 Pro and the Galaxy Buds Pro are strikingly similar with the same outline design. Despite that, you can also tell there's a difference between the two (image below). One is glossy-looking, whereas the new Galaxy Buds Pro looks cleaner.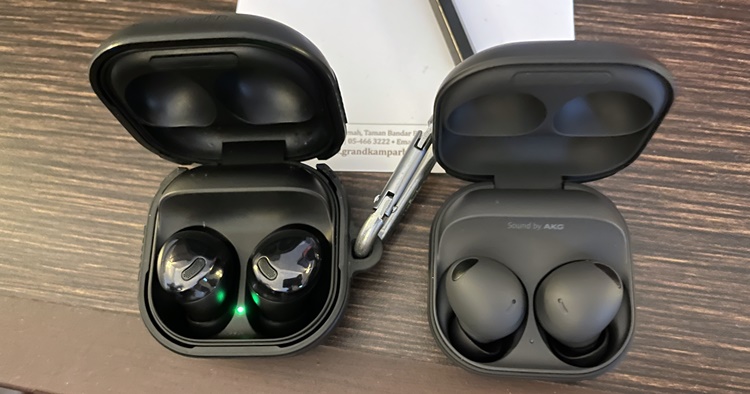 The Galaxy Buds Pro (left, with a casing) and Galaxy Buds 2 Pro (right)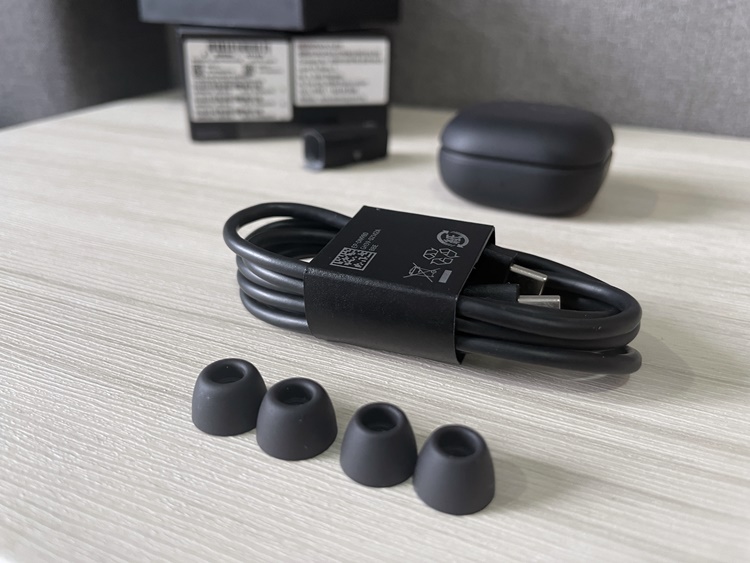 As usual, it comes with two extra sizes of silicone ear tips as well as a USB-C cable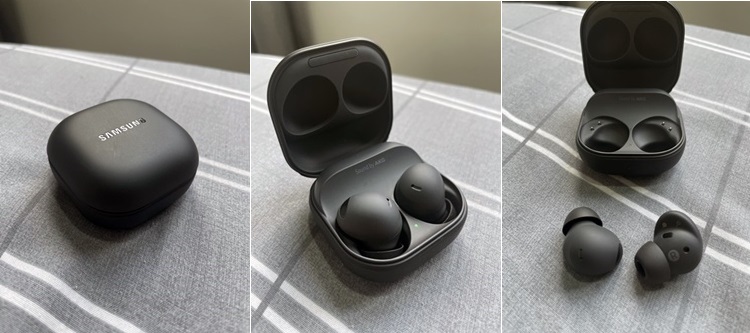 The matte finish is a nice touch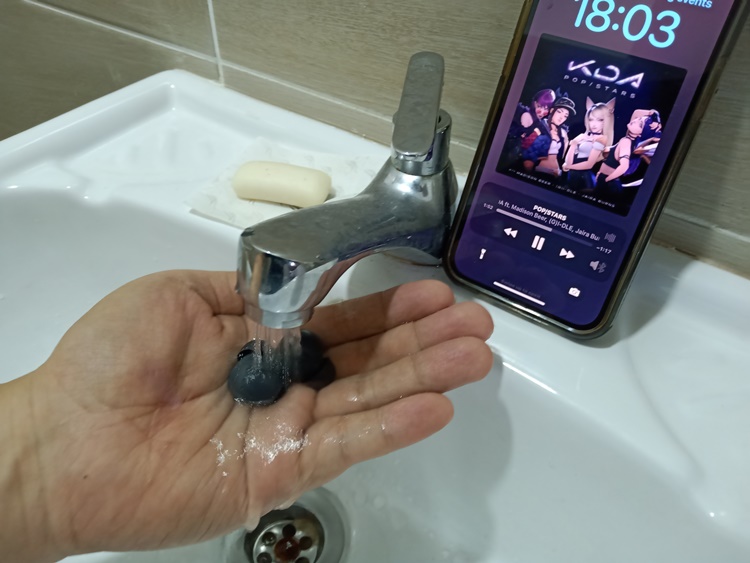 Proving that it's water resistant
On the surface of the charging case and the earbuds, you can see that the texture is a matte finish. And believe it or not, the Galaxy Buds 2 Pro is slightly smaller than its predecessor! It's also good to know that these wireless earbuds are IPX7 water resistant, so whether it's raining or you're washing it on the water tap, there's no problem.
The review unit we received was the Graphite type, which looks solid with its matte finish. But I also imagine the White and Bora Purple would look refined. As for compatibility, the Galaxy Buds 2 Pro works for both Android and iOS devices. Of course, it works best for Samsung devices, so if you don't have one, you will need to download the Galaxy Wearable app.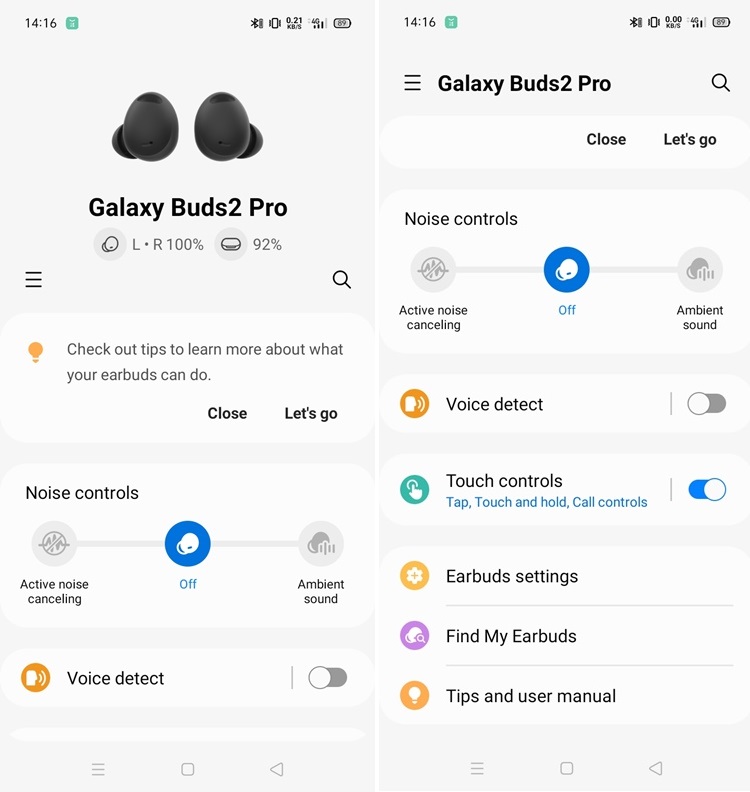 The main page of the Galaxy Wearable app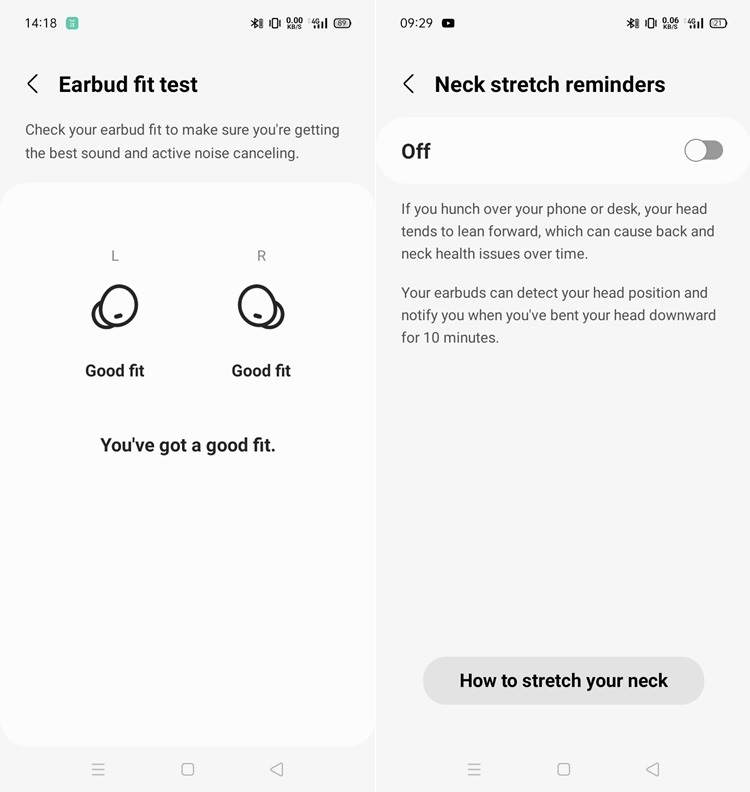 Some extra features in the app
Here is where things get interesting, the Galaxy Wearable app is only available to download on the Google Play Store, not the Apple App Store. You can still connect the Galaxy Buds 2 Pro on your iPhone, but you would miss out on features like the touch control gestures. Also, it seems the previous Galaxy Buds Manager app has remained dormant.
In the Galaxy Wearable app, you will have the usual user interface for activating Active Noise Canceling (ANC), Ambient Sound, Touch Controls and many others. One highlighted feature is the Voice Detect which can help lower music volume automatically when you're talking to someone. Sounds useful on paper, but in practice...that's a different story. I don't really use it a lot because Voice Detect activates even when I clear my throat, thus disrupting my music leisure time.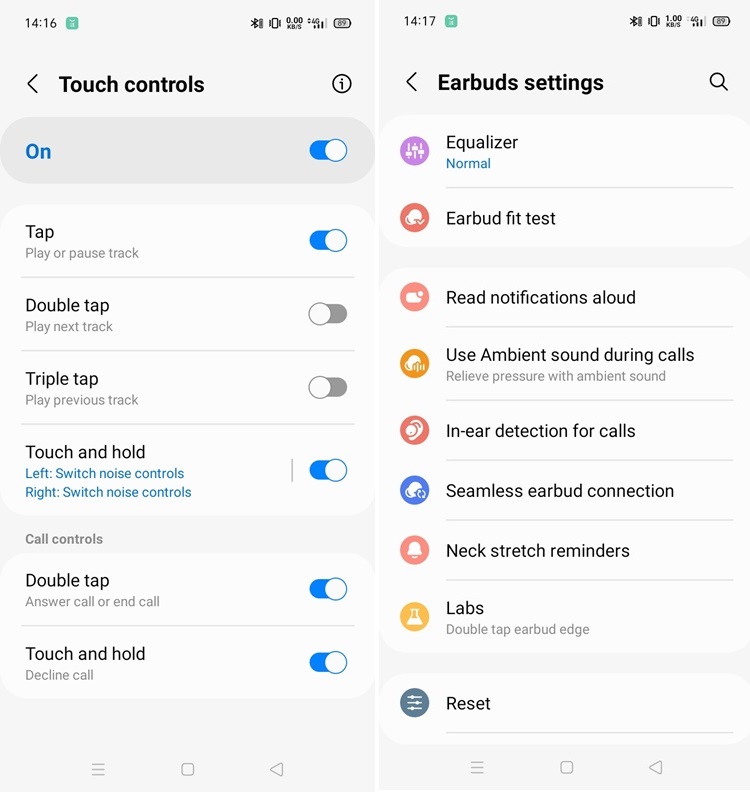 Touch Controls (left) and other settings (right)
I mentioned before that the Touch Controls are limited on the iPhone, especially for skipping and repeating a song (Double and Triple Tap). Did Samsung intentionally do this? Perhaps, but this makes accessibility limited. Furthermore, the Double and Triple Tap is only accessible in the Galaxy Wearable app on other Android phones. It's like Samsung really wants you to use the Galaxy 2 Pro only with Samsung devices (or so it seems, more on that later).
Speaking of the Touch Controls, it works flawlessly to start/pause a song, replay, and receive calls. The gesture commands are convenient, but I find the sensitivity too high. For example, a touch of my shirt when taking it off over my head can actually pause the song. Unfortunately, there is no sensitivity control. Even when I put the Galaxy Buds 2 Pro on, it would often start a song from where I last played. A friend of mine who also has the Galaxy Buds 2 Pro didn't bother installing the Galaxy Wearable app, so he wouldn't have to deal with the extra sensitive Touch Controls.
The Galaxy Buds 2 Pro fits quite nicely for me, network calls are smooth too
Besides the Galaxy Wearable app, another convincing piece of evidence is the 24-bit audio quality sound on the Galaxy Buds 2 Pro. In layman's terms, this is great audio stuff. But once again, you can only access this only if you have the Galaxy Z Flip 4 and Galaxy Z Fold 4. This is because these phones have a new Samsung Seamless Codec. So yeah, doesn't matter if you have a Galaxy S22 series model or not, as you would only get 16-bit audio.
Since I don't have a Galaxy Z Flip 4 or a Galaxy Z Fold 4, I can't really tell you how good the 24-bit audio is. That said, I think it's something that you wouldn't really miss. Because the fact of the matter is - most casual users won't be able to tell the difference between 24-bit and 16-bit and trust me, the latter is more than good enough.
After 5 hours, the battery only went down to 82% from 100%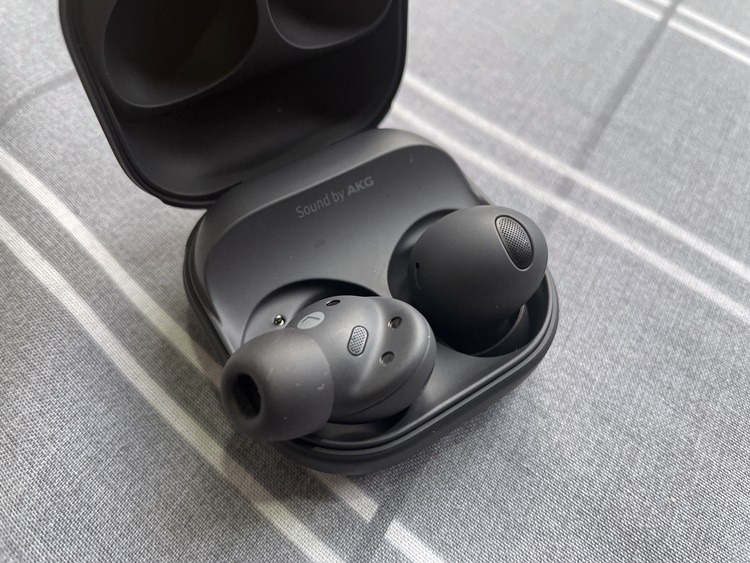 The high SNR (Signal-to-Noise Ratio) microphones
There is also another minor issue with that. Since streaming music is the way to go for music lovers nowadays, 24-bit might be quite redundant for Galaxy Buds 2 Pro users. This is because the wearable is simply too good for music streaming platforms like YouTube Music and even Spotify, which support 16-bit. Only Tidal and Apple Music offer music playback in 24-bit, and both services require a paid subscription. Personally, I'm unsure if you can actually take advantage of Tidal and Apple Music for the 24-bit feature since it requires Samsung Seamless Codec.
At this point, it sounds like the Galaxy Buds 2 Pro isn't reaching its full potential. But that's not true. As I mentioned earlier, these wearables are easily the best of the bunch from the Galaxy Buds lineup. If you pay attention, you might hear some extra musical instruments you've never heard before while listening to your favourite songs.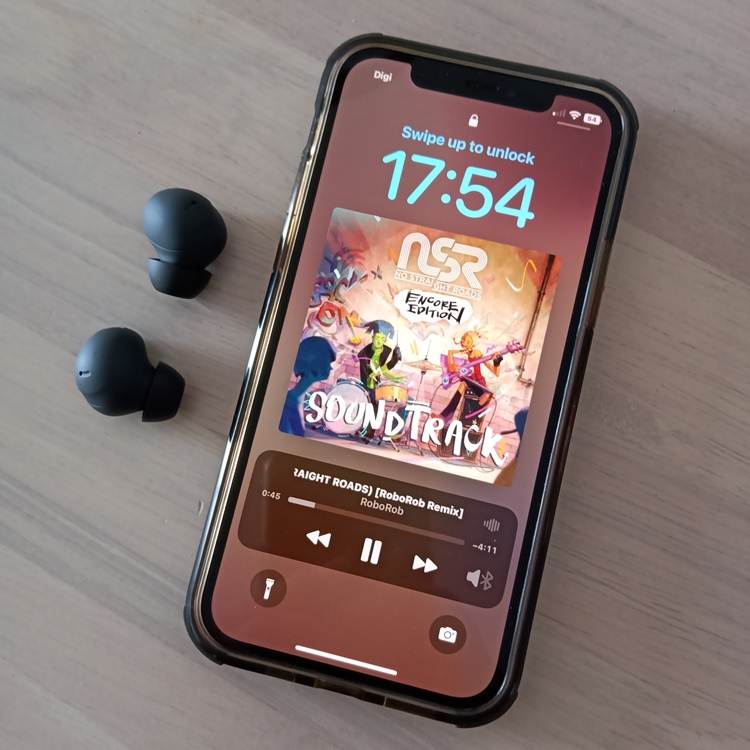 It's perfect for the Galaxy Z Flip 4/Fold 4, but not so much for the rest
Case in point, as "noisy" as Yen by Slipknot may sound, you can hear the various background musical instruments a lot clearer. Then on Silver Landings by Mandy Moore, the cello plucking sounds are more precise. Finally, you can hear Marie Hsiao (Mree) subtly moving her chair at the end of her May song. Of course, having ANC turned on complimented the audio performance and HiFi listening experience.
So, is the Samsung Galaxy Buds 2 Pro worth RM899? That really depends on you, honestly. Your ears may or may not hear much difference between 24-bit and 16-bit. But you might as well go for it if you're diving deep into the Samsung ecosystem with the Galaxy Z Flip 4 or Galaxy Z Fold 4. Otherwise, there are other great options with the likes of Sony (the WF-1000XM4 and LinkBuds S) and OPPO (the Enco X2) at a similar or higher price range.
Tech specs and features of the Samsung Galaxy Buds 2 Pro
Up to 24bit Hi-Fi sound via Samsung Seamless Codec

Bluetooth 5.3

Features ANC with 3 high SNR microphones, 360 audio with Direct Multi-channel (5.1ch, 7.1ch, Dolby Atmos), Voice Detect, IPX7 water resistance

Auto Switch between a Samsung Galaxy phone, tablet, watch, and TV

Up to 5 hours of continuous playback with ANC on, and up to 18 hours via charging case
Pros - The best audio performance yet in the Galaxy Buds lineup, IPX7 water resistance rating, durable battery life, nice matte finish design
Cons - Casual users may not be able to tell the difference between 24-bit and 16-bit, extremely sensitive and limited Touch Control accessibility, 24-bit only on the Galaxy Z Flip 4/Fold4
Conclusion - Get this if you're into the Samsung ecosystem with the Galaxy Z Flip 4/Fold4
So what do you think of the Samsung Galaxy Buds 2 Pro? Anything else we missed out on? Let us know in the comments below. Thanks for reading, and stay tuned for more trending tech gadget reviews at TechNave.com.