Samsung Galaxy Buds Pro Review - A complete wireless earbuds package for Samsung fans
Last January, Samsung also launched its latest wireless earbuds, the Samsung Galaxy Buds Pro. This is the successor to the Galaxy Buds Live (read our review here) and comes with some new features that can provide a better listening experience. But how much has it improved from the last one? And is it worth RM799? Read on below to find out more.
Samsung decided to go back to the basics with the design this time, ditching its predecessor's bean-shaped look. While the Galaxy Buds Live may have been one of the most original designs we've seen, it resulted in poorer noise cancellation. These days, that's a big no-no. The Galaxy Buds Pro also has a more pronounced curve that gives it a more ergonomic fit than the Galaxy Buds+.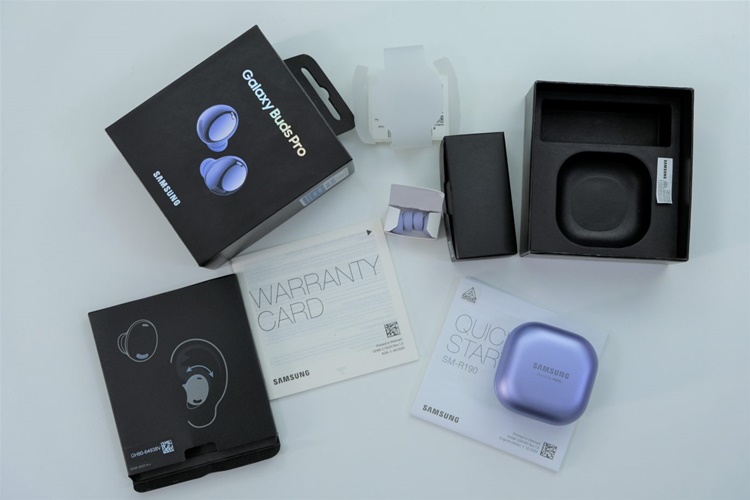 Inside the box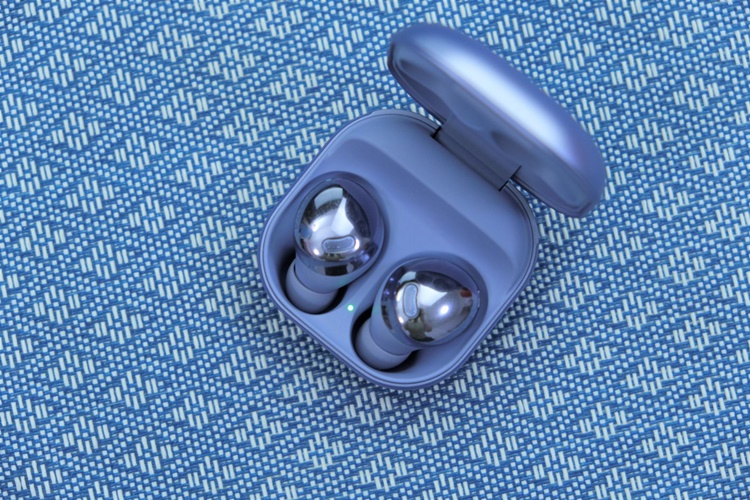 Phantom Violet, mhmm macam yes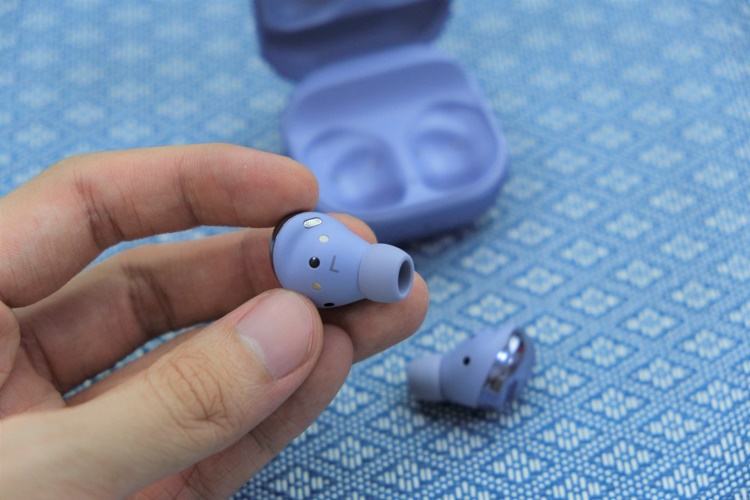 Ergonomic design to fit nicely into your ears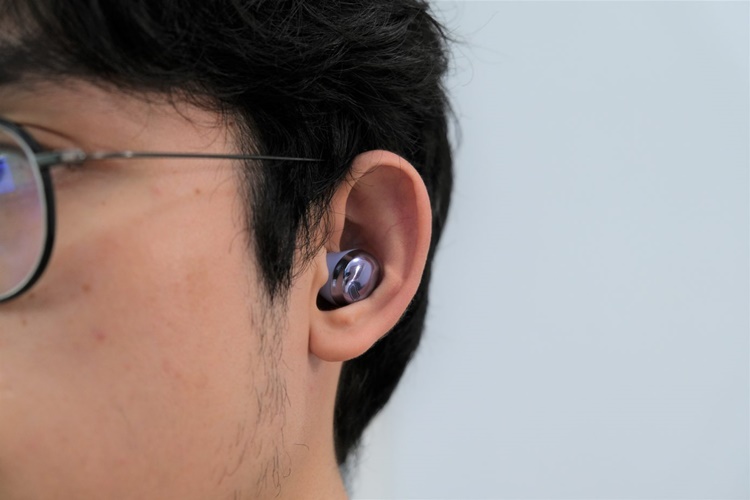 It's quite comfortable
Thanks to this design, we're glad to report that we had nothing to complain about its comfort level. It's comfortable enough to wear and wouldn't fall off easily even if you shake your head. However, some of you may want to remove the earbuds after long hours so that your ears can "breathe".
Like its predecessors, the Galaxy Buds Pro comes with touch controls on earbuds. It's definitely convenient, but sometimes we feel that the touch controls can be a bit sensitive. During our use, we often paused a song by accident instead of executing another function. By the way, you can download the Galaxy Wearables app on both the Apple App and Google Play Store to take full advantage of these wireless earbuds.
Speaking of features, the highlight for the Galaxy Buds Pro is none other than its Intelligent Active Noise Cancellation. So how intelligent it is, you ask? While it may sound like a fancy name for the ANC, it proved to be much better than its predecessor's ANC. At the same time, you could argue that its ANC isn't as good as other wireless earbuds' ANC. However, we were quite satisfied with its overall improvement.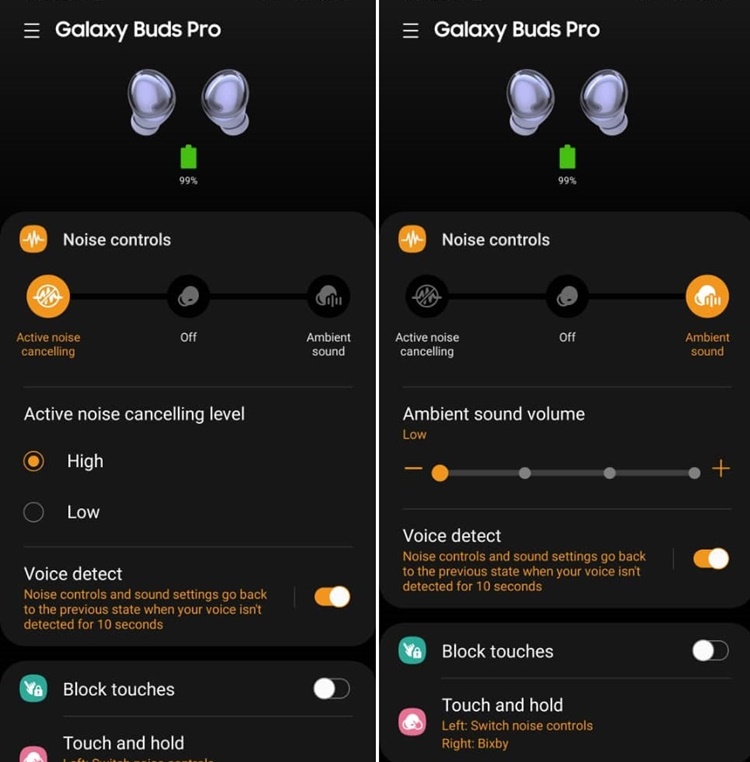 The settings in the Galaxy Wearables app
If you don't use ANC, then you would be using the ambient sound mode by default. As you may know, this feature lets you hear your surroundings when wearing the Galaxy Buds Pro. From our experience...the ambient sound doesn't sound natural and is a bit awkward. Regardless, you would get used to it eventually, so it's not a big issue.
The feature we found weird would be ambient sound control. I mean, who would want the ambient sound to be louder? It's technically impressive, but it's much easier to take the earbuds off instead of adjusting the ambient volume. Perhaps this feature can help users with hearing problems? Who knows.
Another feature of the Galaxy Buds Pro is the voice detection mode. If you turn it on, the audio output slows down when you speak. In our opinion, this is a better alternative to controlling the ambient sound. For example, if you are talking with your friends, you don't need to take the earbuds off. Instead, the songs will just slow down without pausing. From our experience, the volume reverts 10 seconds after the last detected voice.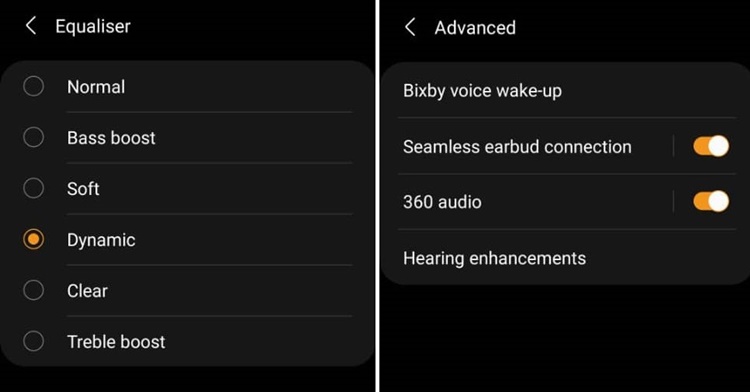 Sound settings at your disposal
Like most premium audio products nowadays, the Galaxy Buds Pro comes with a 360 Audio feature. You can activate it if you use the Samsung Galaxy phone while watching videos only, and it's great if you're binge-watching a drama series. The surround sound experience is quite immersive and even comparable to a gaming headset. However, it won't work for music playback.
If you happen to lose one of the earbuds, you can still track them with the Find My Earbuds feature. Eligible only for Samsung Galaxy phones, this feature can detect your missing earbud from its last location and alert you when it's nearby. The Galaxy Buds Pro also has IPX7 water-resistance, as well as an Auto Switch function that lets you change swap the output from one Samsung device to another.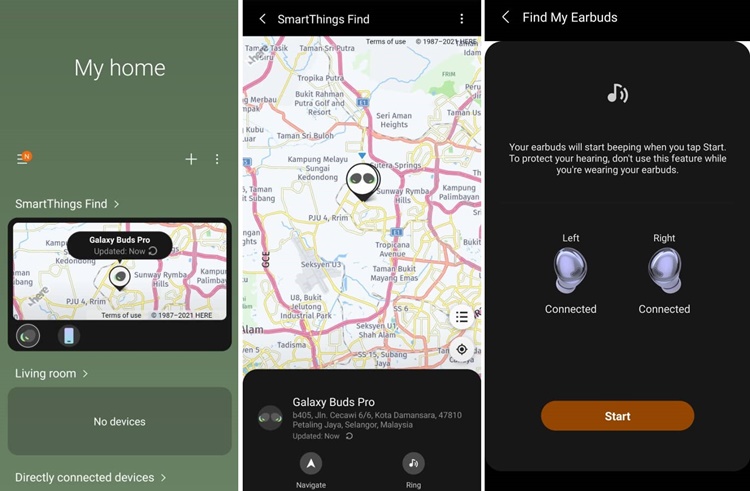 Find My Earbuds
Let's move on to sound quality, which we found to be clear, loud and pleasant! Of course, you can customise the sound to your liking via the app's equaliser. It also has a fantastic bass boost setting, which delivers some deep and powerful bass. If you are using Clubhouse, you can also reset the sound settings for better voice clarity.
In terms of battery performance, the Galaxy Buds Pro can last up to 5 to 6 hours with ANC. With ANC off, then it can even last up to 8 hours with ambient sound mode only. The charging case can provide an additional 10 to 12 hours of usage, so in theory, you can use the wireless earbuds for a long time before needing to recharge. The casing can be charged wirelessly as well.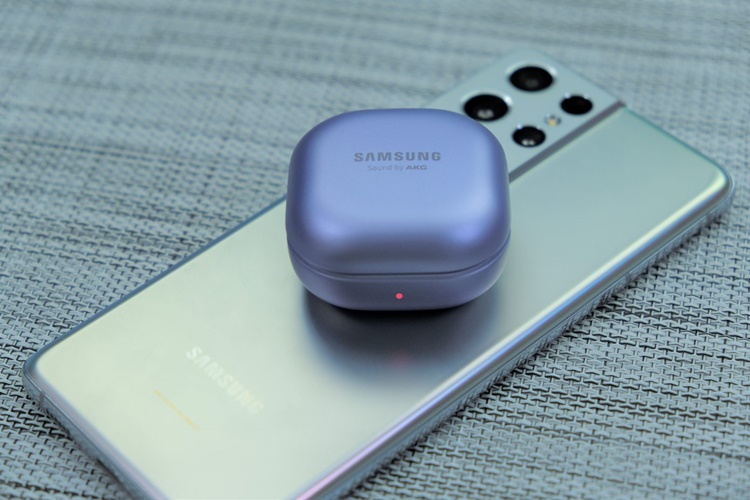 Wireless charging
All in all, the Galaxy Buds Pro is a relatively better model. Good sound quality, durable batteries, water-resistant, neat ANC and other interesting special features. But while you can download the Galaxy Wearables app on iOS, the Galaxy Buds Pro is not available as an option yet.
For RM799, we think it's worth buying if you're looking for the best Samsung wireless earbuds for your Samsung Galaxy device. It may be more expensive than other TWS earbuds, but hey, you get what you pay for. Plus, not many models come with this many cool features. But what do you think? Let us know in the comments below, and stay tuned for more tech gadget reviews at TechNave.com.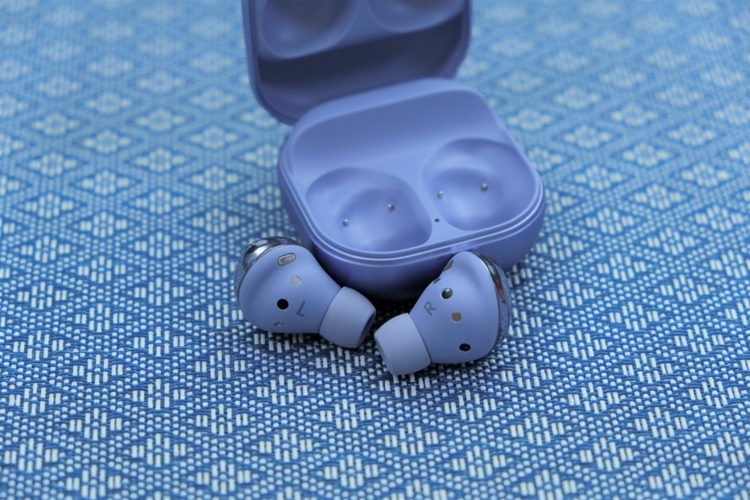 What do you think?
Tech specs and features of the Samsung Galaxy Buds Pro
BCM 43015 chipset

2-way speakers (11mm Woofer & 6.5mm Tweeter)

Weight: earphones (6.3g), charger container (44.9g)

Supports AAC, SBC, HFP, A2DP, AVRCP

Features Intelligent Active Noise Cancellation, Ambient Sound Mode, Voice Detection, 360 Audio, Find My Earbuds, IPX7 rated water-resistant

Bluetooth 5.1 connectivity

Battery: 3 min charge (30 minutes usage), 5 hours (with ANC), 8 hours (without ANC)

Available in Phantom Violet, Phantom Black and Phantom Silver
Pros: Charming design, excellent audio quality, and has plenty of special features
Cons: Noise cancellation may not be as good as other competitors, plus many of its features are reserved for Samsung Galaxy smartphones
Conclusion: Packed with various features, it's worth buying for Samsung fans