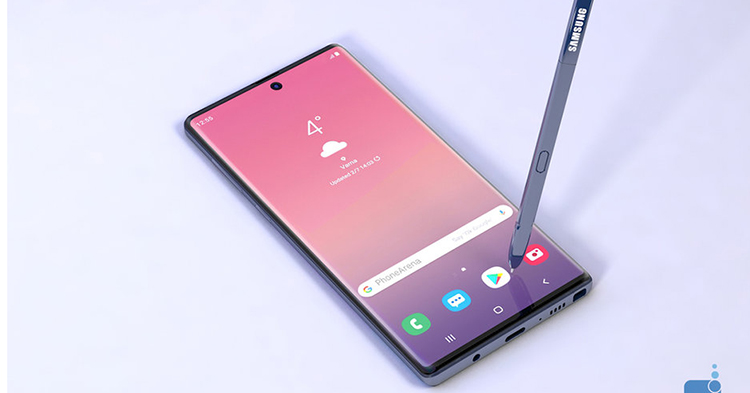 If you're a Samsung fan and didn't grab the Samsung Galaxy S10 series which were released earlier this year, chances are you're waiting for the Samsung Galaxy Note 10. A steady stream of leaks have started to emerge for the device which include a curved display and an Infinity-O display with the punch hole placed on the top and center of the device (yikes).
Popular leaker, @IceUniverse claims that the Note 10 would have an Infinity-O display but it won't be similar to the S10 series'. He noted that many wanted the camera to be centered - mostly for symmetry sake. With the Note 10 code named Da Vinci, this may just happen. Now, recently there's been rumours of a Redmi phone device with a cutout similar to what the Samsung Galaxy Note 10 is planning which we hated. Let's just hope Samsung wouldn't butcher their flagship phone this way, even if it is symmetrical (shudders).
Whether you like curved display or not, it's still the flagship phone logo, especially in the second half of the year, you'll see a very superb curved design, a more aggressive curved display than Note7 will appear, and more than one brand will do so.

— Ice universe (@UniverseIce) April 30, 2019
Besides that, IceUniverse also claimed that the Note 10 would come with curved screens. By curved he meant more aggressively curved than the Samsung Galaxy Note 7 which wasn't that drastically curved. Perhaps Samsung has a trick up their sleeve to enhance users' experiences with the curve. As of right now, the company has implemented some pretty neat features which utilizes the curved display.
In the tweet, he also notes that more than 1 brand will be following in the Korean manufacturer's footsteps. A few companies have indeed adopted the curved screen feature, with the most recent rumoured upcoming device being the OnePlus 7 Pro. Personally, I'm not a big fan of a punch hole placed right smack on the top and center of my device's display. Its distracting and ugly. Might as well have a dew drop notch there altogether as it is less hideous and intrusive. What do you think of the rumoured design of the Note 10? Keep up the the latest Note 10 rumours on TechNave.com!