Samsung Galaxy Note 8 is RM3999! Plus Pre-Order Bundle of RM888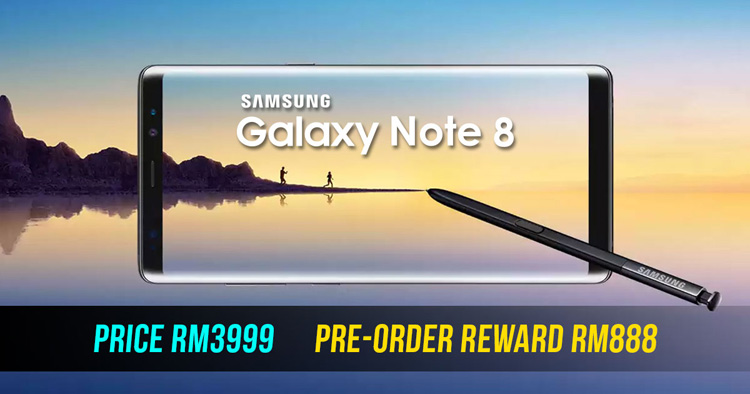 Hey TechNavers, as speculated, the Samsung Galaxy Note 8 is gonna cost RM3999! Yeah, that is a big sum to take in (we feel your pain) and it's one of the most expensive Android phones to date in the smartphone market. But remember that we said customers who pre-order will get a special package? Initially, it was first leaked from our friendly Internet neighbour Mr Anonymous about the special package, it seems that the news is official now.
According to Mr Anonymous, anyone who pre-orders it will get a cash rebate of RM321, a 5100mAh power bank, a Clear Cover casing, and an extra warranty for the screen for 12 months (exactly like Samsung Protection Plus). This bundle package is worth RM888 overall and the best part is you will only spend RM3678 overall. We know it's still expensive, but it's something (lol).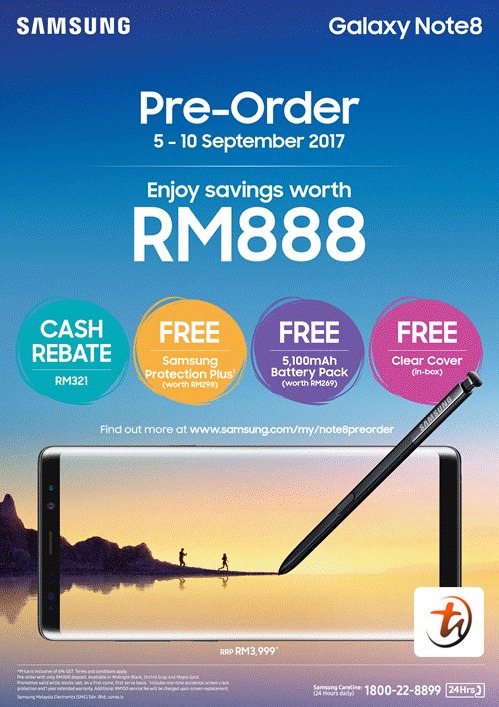 To refresh your memory, the Note 8 is featuring its first dual rear 12MP camera accompanied by Optical Image Stabilization for each sensor, 6GB RAM, with a memory storage up to 256GB, Snapdragon 835 processor, a S-Pen, Bixby A.I. digital assistant, IP68 water and dust resistant grading, biometric security (fingerprint and iris), wireless charging, 3300 mAh battery, Android 7.1.1. Nougat out of the box and much more.
Pre-order for the Note 8 will start on 5 September until 10 September 2017, and it will officially go on sale on 15 September 2017. Thanks, Mr Anonymous for the tips and stay tuned for more Samsung news at TechNave.com.
Samsung Galaxy Note 8 Specs & Price >