Samsung Galaxy Note20 Ultra performance test - A closer look at the Exynos 990 chipset

Wait a minute, didn't we write this before? Nope, that was the Samsung Galaxy S20 FE performance test. We've also done a refresh rate test on the Samsung Galaxy Note20 Ultra before. In this article, we will go more in-depth with the Galaxy Note20 Ultra performance in mobile gaming and battery.
Maybe you're rolling your eyes over the fact that it's using an Exynos 990 chipset. Granted, it's not on the same level par as the Snapdragon 865 chipset, but it doesn't mean it's as bad as many say it is. Anyway, if you want to know more about the performance of the Galaxy Note20 Ultra 5G, read our analysis below.
Benchmark scores
Benchmarking a smartphone is one way to find out how powerful a chipset is and is standard practice for us gadget reviewers. While that's the case, we also have to remind everyone that scores aren't everything and the Exynos 990 chipset didn't affect our user experience overall. With that said, below are our screenshots from 3DMark and Geekbench 5.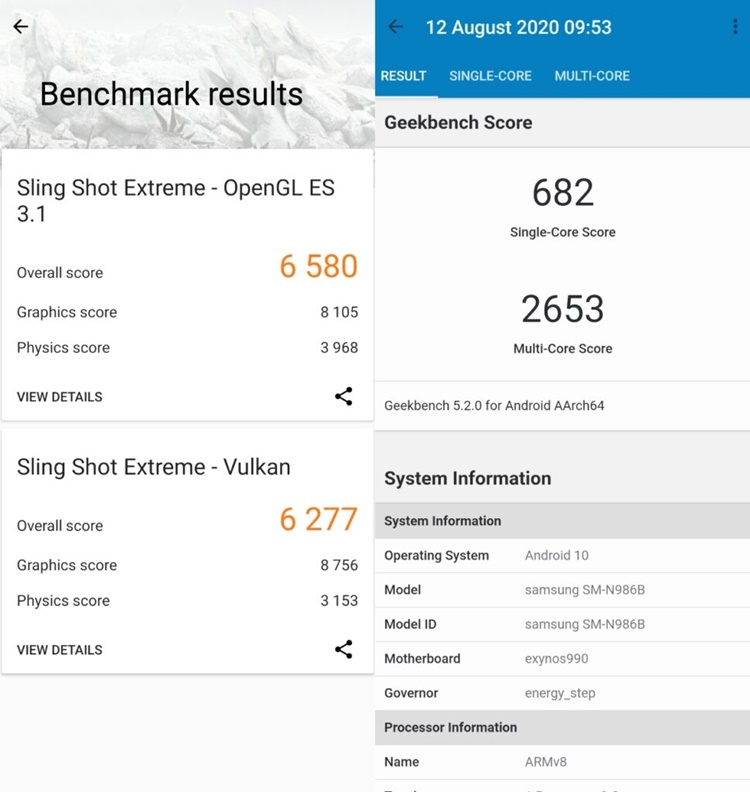 The benchmark results from 3DMark (left) and Geekbench 5 (right)
In 3DMark, the device scored 6580 and 6277 points for Sling Shot Extreme (OpenGL ES 3.1) and Sling Shot Extreme Vulkan respectively. Then in Geekbench 5, its Single-Core score was 682 points, while the Multi-Core score was 2653 points. If you compare that with the Galaxy S20 FE, the Galaxy Note20 Ultra performed better in the Sling Shot Extreme Vulkan and the Single-Core tests but loses when it came to the Sling Shot Extreme (OpenGL ES 3.1) and Multi-Core tests.
Mobile gaming testing
Onto the mobile gaming experience, we previously talked about whether playing in 120Hz + 1080p or 60Hz + 1440p is better. For us, we think adjusting the game settings to 60Hz + 1080p is more than good enough because of two reasons: Most mobile game apps can't pass 60Hz refresh rate and it's hard to tell 1080p and 1440p apart. On top of that, this setting is better at keeping battery consumption low, which we will get to later.
Yup, you can max the refresh rate setting in Call of Duty: Mobile
In addition to mobile gaming, Samsung's Game Launcher app is available for this phone and it's good. For those who don't know, the app helps optimise any mobile game and can enable a "do not disturb" mode when you need it. You can check out our Call of Duty: Mobile gameplay on the Galaxy Note20 Ultra to see how the phone performs in games.
Battery performance
Since we have tested many smartphones this year, we can somewhat gauge battery performance. The Galaxy Note20 Ultra has a typical battery drain of just 10% within 30 minutes on any mobile games, so that's a good sign. To refresh your memory, the Galaxy Note20 Ultra features a 4500mAh battery and supports up to 25W fast-charging. But how fast does it 25W charge? Well, you can fill up the battery to 50% within 30 minutes and a full charge is just over an hour.
If you want to prolong the battery life, you can also set it to just 60Hz refresh rate even in 2K resolution. Moreover, if you're just focusing on your work and not playing any mobile games, the phone will last you a day (or two) easily. This is a productivity gadget at its best!
Interested customers can visit the nearest Samsung Experience Store (SES), authorised dealers, and its official online store now to choose any of the Galaxy Note20 series variants they want. The variants include the Galaxy Note20 (RM3899), Galaxy Note20 5G (RM4299) and Galaxy Note20 Ultra 5G (RM5199). For more information, you may refer to this website.
Samsung Galaxy Note 20 Ultra Specs & Price >