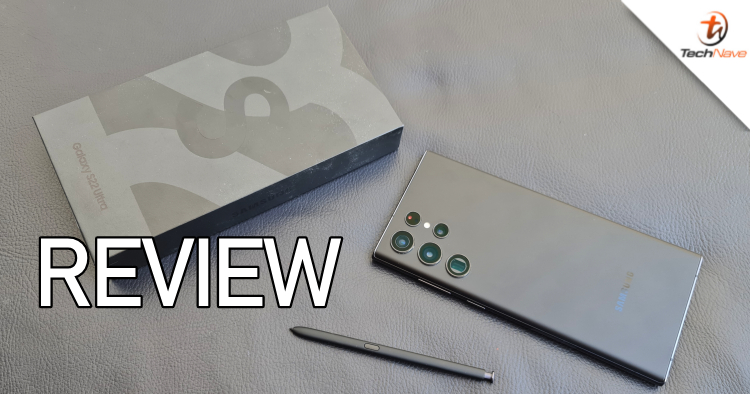 The much rumoured Samsung Galaxy S22 Ultra is finally here and yes, it not only has a built-in S Pen stylus but it also features flagship level tech specs like a Qualcomm Snapdragon 8 Gen 1 chipset, up to 12GB of RAM, a 6.8-inch Dynamic AMOLED 2X display with 1Hz ~ 120Hz adaptive refresh rate and more. We find out what else it can do in the full review of the Samsung Galaxy S22 Ultra below.
Design - Let's just say it's a Galaxy Note smartphone
Let's face it, the Samsung Galaxy S22 Ultra looks nothing like the rest of the Samsung Galaxy S22 series (it definitely doesn't look like the Galaxy S21 Ultra either). Instead, it looks almost exactly the same as the Samsung Galaxy Note 20 Ultra, right down to the flat top and bottom, curved sides and it even has a built-in slot for an S Pen stylus on the bottom left.
However, there are some very good improvements. The large camera hump is gone, replaced with slightly protruding individual camera rings on the back. While these don't make the S22 Ultra wobble as much as the Note 20 Ultra we'd recommend you put it in a casing to help solve this.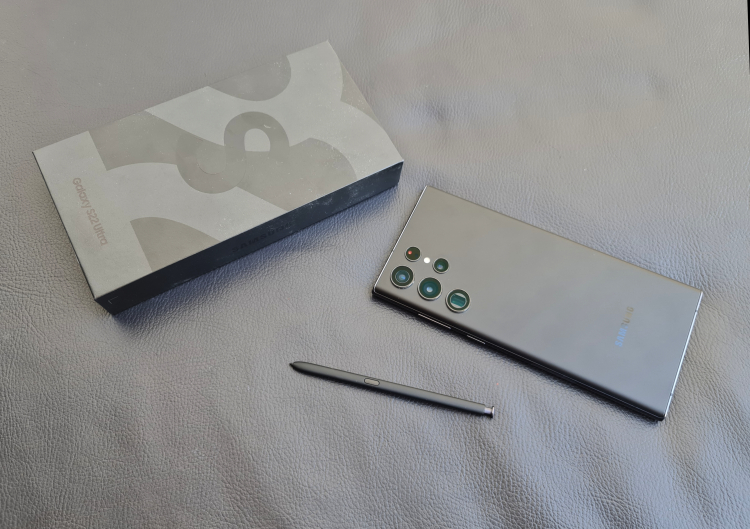 Yep, the Samsung Galaxy S22 Ultra does have a built-in S Pen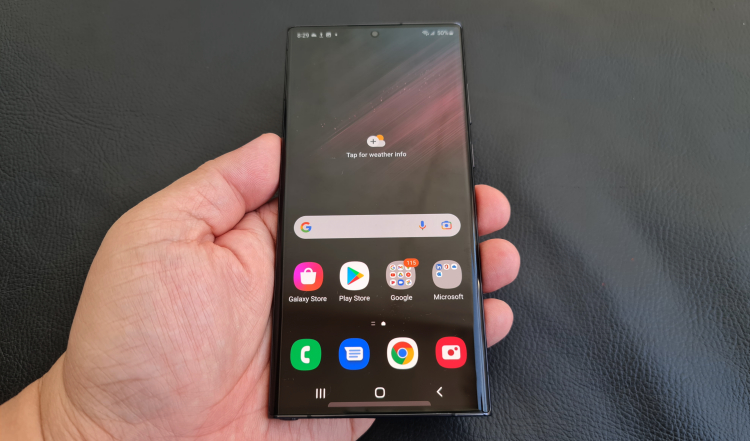 The 6.8-inch Dynamic AMOLED 2X display has dual curved sides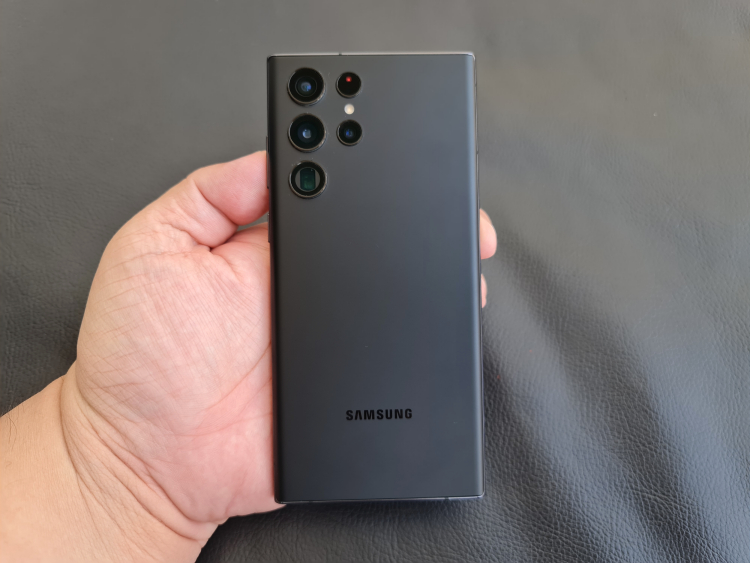 The S22 Ultra has a matte back so it won't get smudges or fingerprints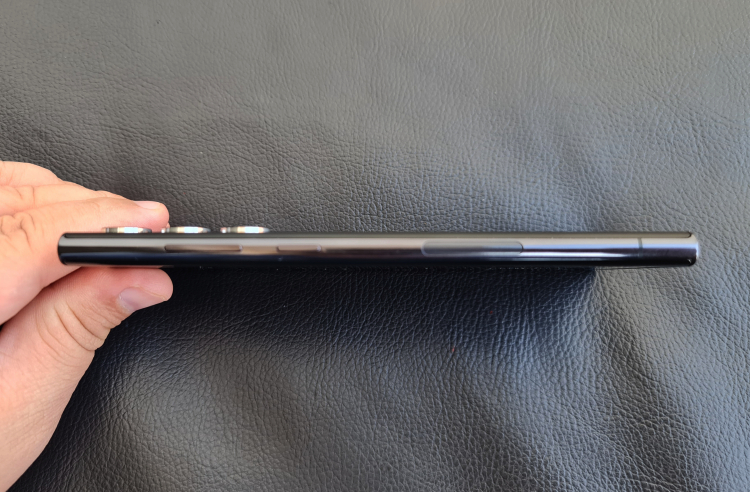 The power button and volume rocker are on this side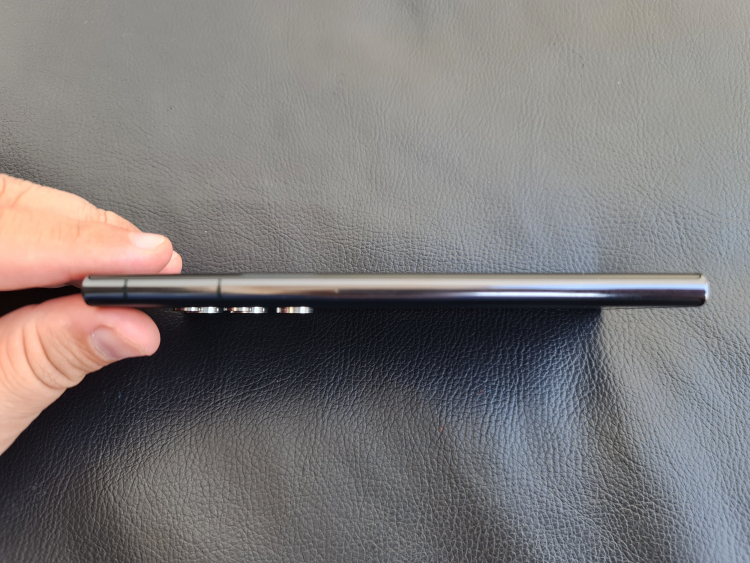 Just a curved side here
Unfortunately, the S22 Ultra does not come with a free casing. Following the trend of reducing wastage that some other phone brands started, the S22 Ultra doesn't even come with a fast charger or headphones, so it's just the smartphone, charging cable, SIM tray tool and the documentation.
However, the S22 Ultra is apparently built tougher with a layer of Gorilla Glass Victus+ for better drop and scratch resistance on the screen and a stronger Armor Aluminum frame. The phone is also IP68 water resistant so you can wash off any dirt or dust without any worries.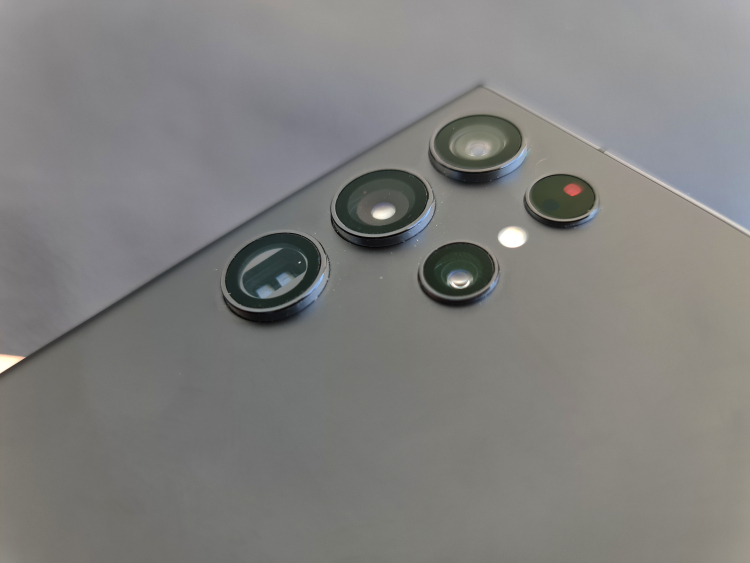 The individual protruding camera rings are at least better than a larger camera hump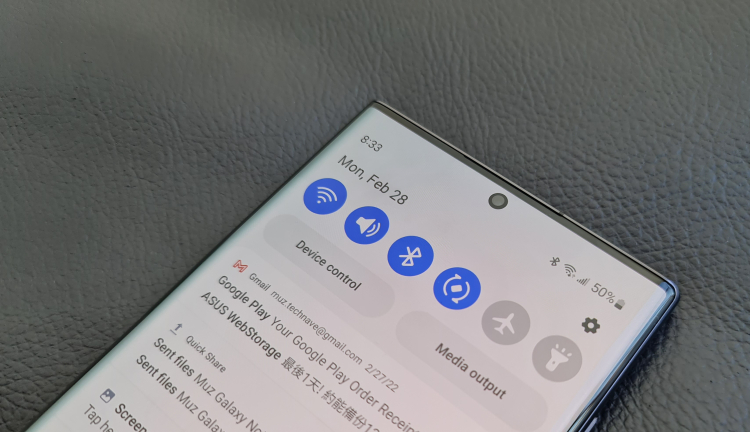 There's a 40MP front camera in the punch hole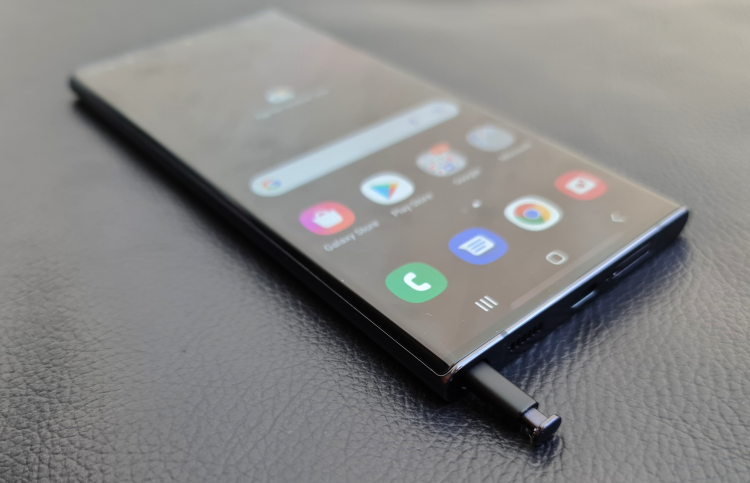 The S Pen stylus goes here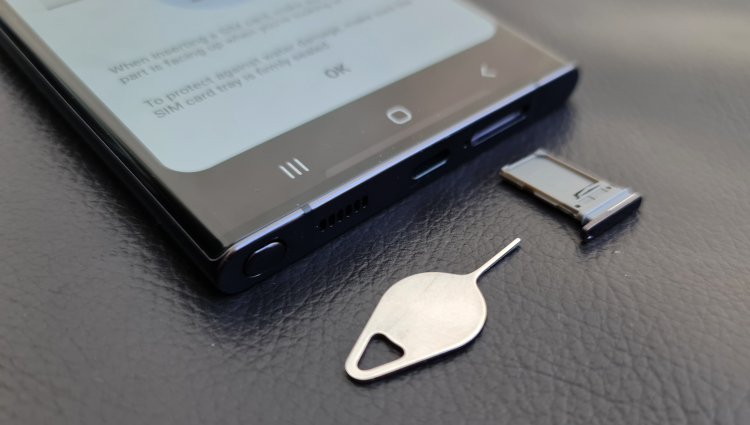 There's a dual nano SIM tray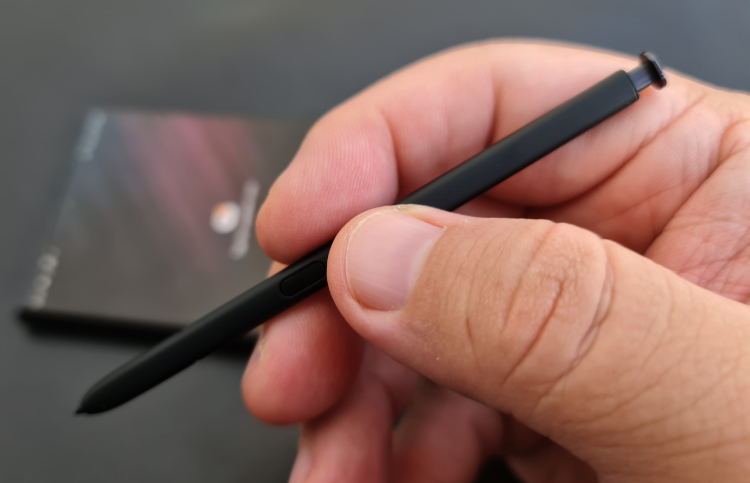 The built-in S Pen now has 2.8ms latency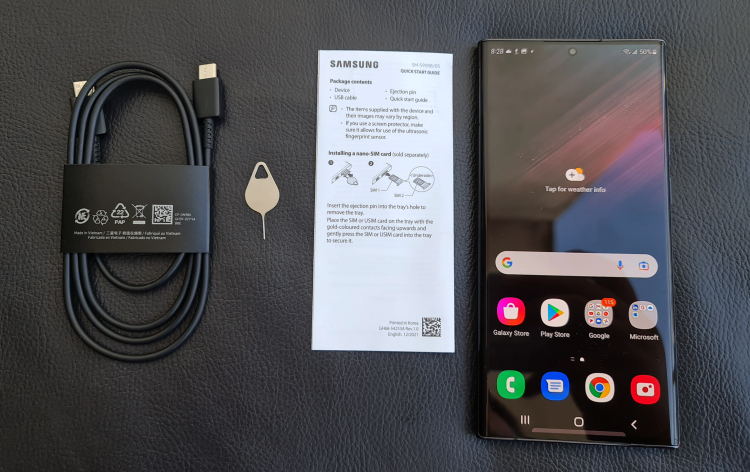 This is what you'll get in the box of the Samsung Galaxy S22 Ultra
Coming back to the improvements, Samsung have somehow managed to make the S22 Ultra feel the same as the Note 20 Ultra despite being 0.8mm thicker and 20g heavier. This extra space was apparently used for the battery as it is now 5000 mAh which is 500 mAh more than the Note 20 Ultra (but the same as the S21 Ultra).
While the built-in S-pen shape and feel is still the same as the one in the Note 20 Ultra, the stylus itself is matte black with the back tip matching the colour of the phone. Since our review unit was black, the S Pen it came with is all black, which looks good, but if you were to choose one of the other colours like burgundy, green or white, the body of the S Pen for those colour variants would be black while the back tip would be a matching colour.
Tech specs and Features - Flagship features all the way
Here are the tech specs and features for the Samsung Galaxy S22 Ultra:
Qualcomm Snapdragon 8 Gen 1 chipset

8GB or 12GB of RAM

128GB, 256GB, 512GB and 1TB of storage

6.8-inch Dynamic AMOLED 2X QHD+ display

Quad rear camera - 108MP (main) + 12MP (ultrawide) + 10MP (telephoto) + 10MP (periscope)

Front camera - 40MP

Measures 163.3 x 77.9 x 8.9 mm | 228g

Features 120Hz refresh rate, 240Hz sample rate, Samsung Pay with NFC, USB Type-C, Ultrasonic Fingerprint Unlock, S-Pen, IP68 water and dust resistance, 45W fast charging and 15W wireless charging technology

Supports 5G, WiFi 6E, Bluetooth 5.2, UWB (Ultra Wide Band)

5000mAh battery (no charger included)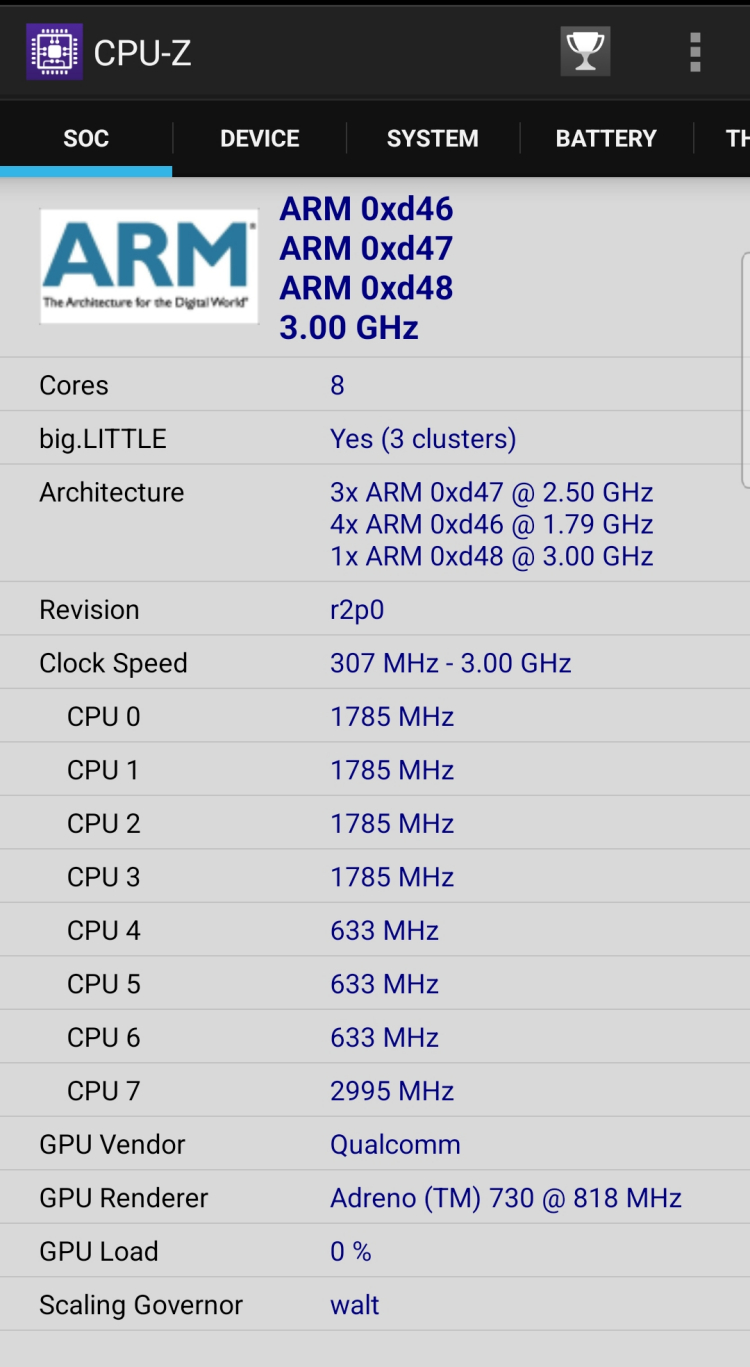 The tech specs of the Samsung Galaxy S22 Ultra
Stand out tech specs and features for the Samsung Galaxy S22 Ultra include the Qualcomm Snapdragon 8 Gen 1 chipset and built-in S Pen but the 6.8-inch Dynamic AMOLED 2X display is no slouch either. This is because on top of being LTPO 2.0 and having 1750 nits brightness, it also has Vision Booster and an adaptive refresh rate that ranges from 1Hz to 120Hz. According to Samsung this will save energy when the display is static yet still provide a buttery smooth scrolling experience from the higher refresh rate at the same time but the higher brightness also means the screen is easily visible in direct sunlight.
While the S Pen features are more or less the same as the previous Galaxy Note 20 Ultra (Air Actions, remote control S Pen, and so forth) Samsung have further improved the latency down to 2.8ms from 9ms. We asked Samsung how and they said that this is possible through AI improvement but wouldn't go into the details on how exactly this works. I'm not an artist so perhaps I don't have the sensitivity needed to detect this but it definitely feels just like real-life pencil and paper when drawing.
Same old Samsung OneUI and S Pen menu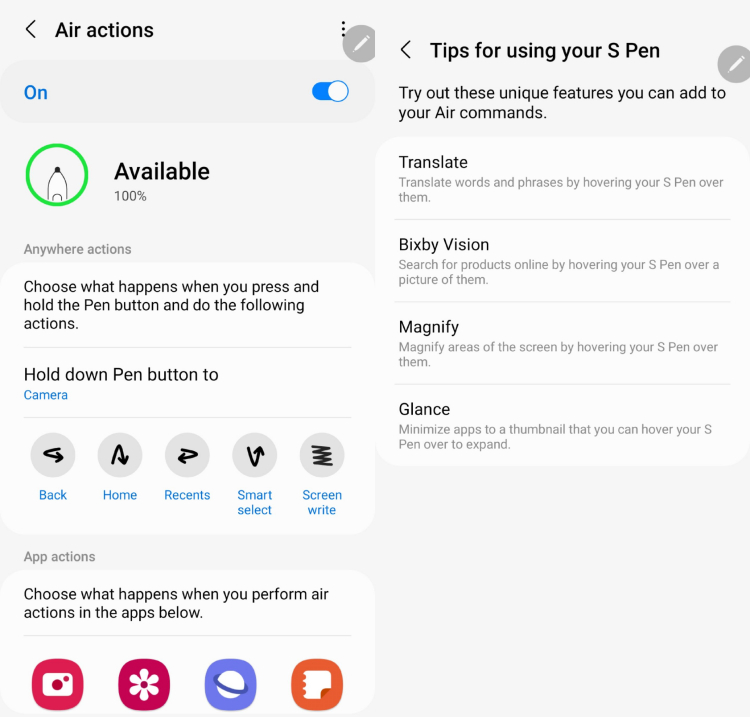 You can customize almost everything about your S Pen on the S22 Ultra
Other S Pen features like Air Actions are still there so you can basically control your S22 Ultra using your S Pen stylus. This whole experience is entirely customizable so when combined with the wireless screen mirroring and Samsung DeX, you can basically do a presentation with just the S22 Ultra as your laptop and the S Pen as your pointer.
While the S22 Ultra officially can go up to 1TB in internal storage, here in Malaysia we only have access to up to 512GB storage, but even this should be enough for most uses, even 4K video recording. There is a tray for dual nano SIM cards or a single card and an embedded SIM but no space for extended memory or a microSD flash card.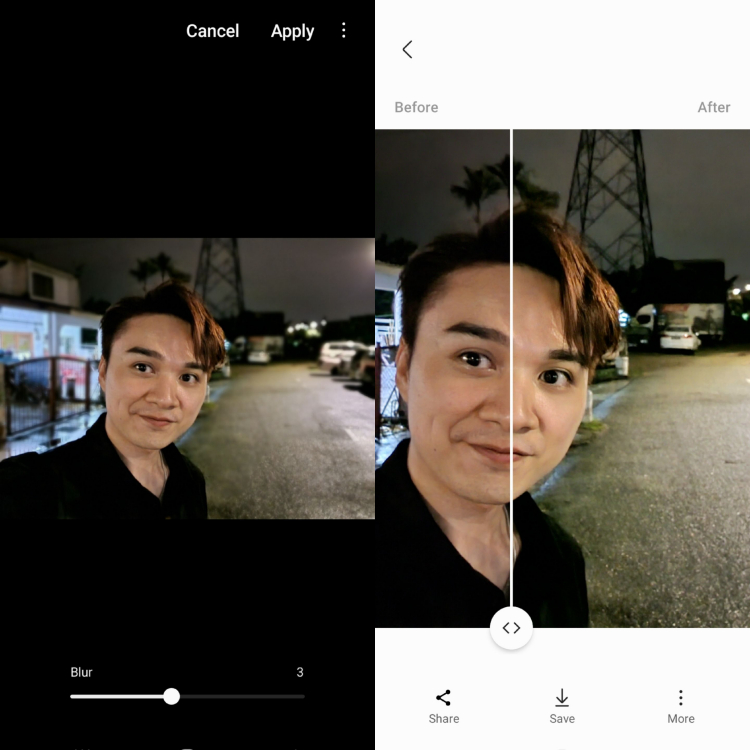 The built in image editor is surprisingly capable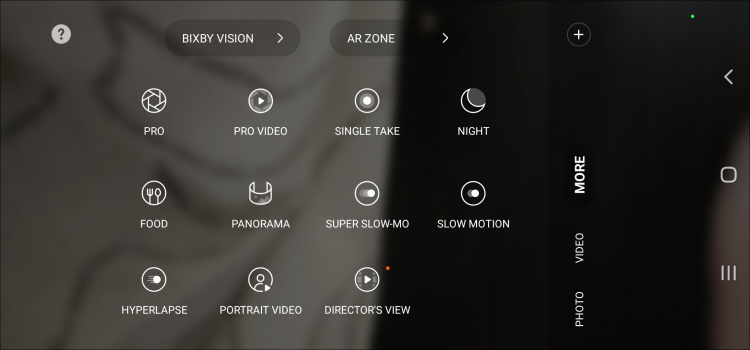 There's plenty of camera functions
For cameras, there are similar 108MP (main) + 12MP (ultrawide) + 10MP (telephoto) + 10MP (periscope) quad rear cameras while the front camera has a 40MP sensor upgrade from the previous S21 Ultra. New features for the cameras include better RAW format manipulation but you'll have to download the Expert RAW app, AI Autoframe rate which automatically adjusts frame rates based on how bright the situation is and AI Autoframing which automatically keeps your subject in frame while recording video. Video recording can go as high as 8K but only at 24fps for the rear cameras. 4K recording at 60fps is available for both front and back cameras with stabilization.
While there's a 960fps super slow motion mode on HD and 240fps on full HD, the cameras also come with a more stable 100x Space Zoom. According to Samsung they've also included Adaptive Pixel technology and a Detail Enhancer function on top of the better Night Mode for improved night photography or "Nightography". All of these functions are readily available from the Camera UI, so you can switch to them on the fly as you're taking photos without having to mess around with the menus. In addition, the front camera has been upgraded to a 40MP sensor. This can be used in tandem with the Portrait mode for impressive selfies with bright lights in the background or low light conditions.
The 5000 mAh battery can now support up to 45W fast charging but as mentioned before, you have to buy the charger separately. You can also charge Qi compatible devices like the Galaxy Buds 2 or other smartphones wirelessly using the S22 Ultra's wireless PowerShare. The S22 Ultra supports 5G and WiFi 6 but as usual, the only wired connection is via the USB Type C port on the bottom.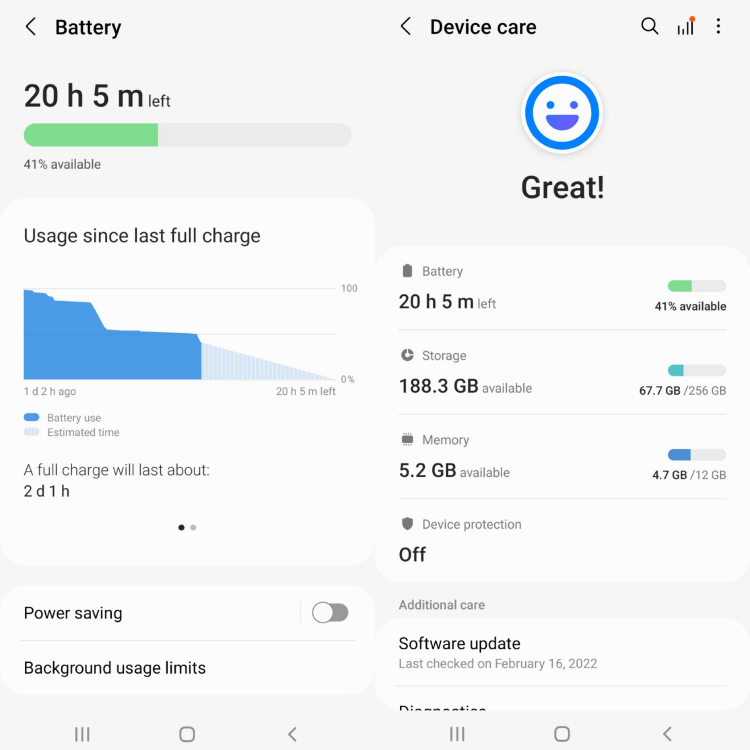 The Samsung Galaxy S22 Ultra can last for a full day and still have 40% left over
Performance - #1 in almost everything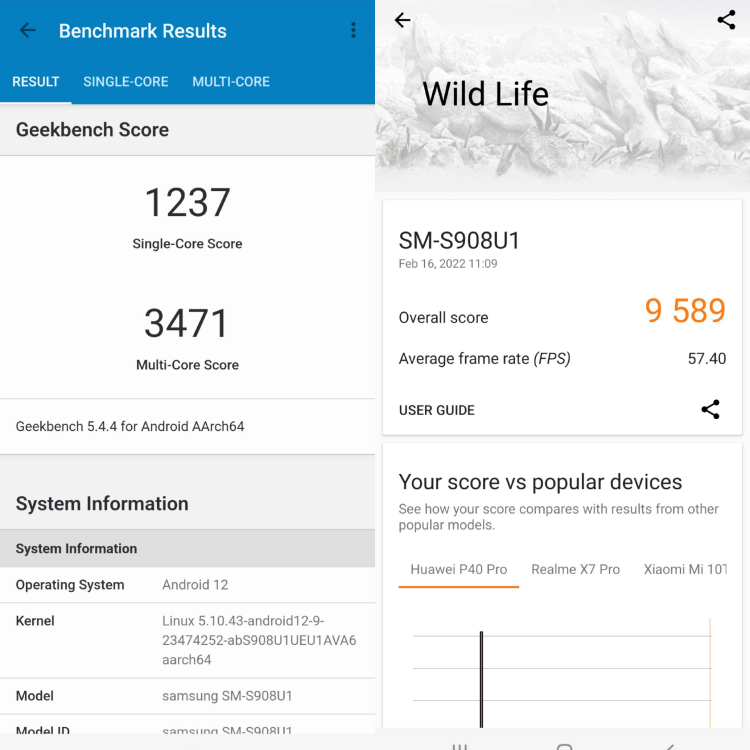 Geekbench 5 and 3DMark benchmarks were very high
Thanks to the Qualcomm Snapdragon 8 Gen 1 and 12GB of RAM, we can safely say that the S22 Ultra is #1 in all our benchmarks. It also managed to play Genshin Impact at 60 fps on the highest settings without getting overly hot (previous generation devices would get quite toasty after a while) so you can easily play any game or use any app on the S22 Ultra. While reports of the Snapdragon 8 Gen 1 overheating have appeared, that has never happened during our testing with the S22 Ultra, even when we tested it repeatedly under stress for long periods of use, so we assume that Samsung have tuned the chipset accordingly.
While I'm not a fan of the S22 Ultra's dual curved screen (it does nothing for productivity), the 6.8-inch Dynamic AMOLED 2X display still looks awesome enough to make other smartphone displays pale in comparison. Audio is loud enough to fill the room on maximum and clear enough to enjoy orchestra music, much less do a presentation. Battery life is also fairly good, lasting about 1 day and a half on normal to heavy usage with the phone usually having 30% to 40% after a full day. While we didn't get to test the 45W supercharger, even with just the 25W charger, the S22 Ultra went back to 100% in 1 hour and a bit more.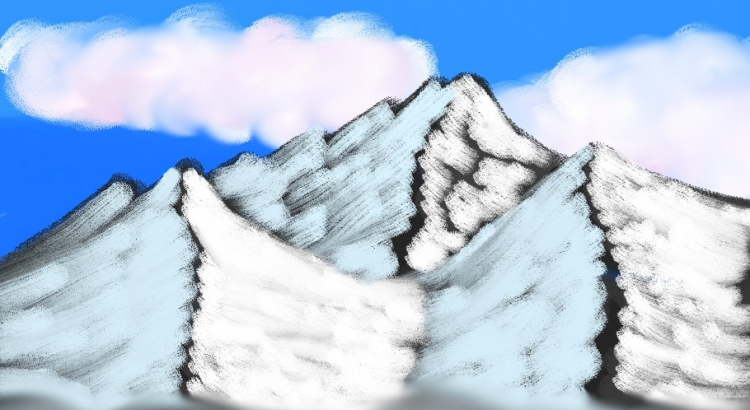 I'm no artist, but these could be snow-capped mountains drawn entirely with PENUP and the S22 Ultra SPen
On to the cameras, the S22 Ultra does not disappoint as it took shots and videos smoothly in all situations with almost no problems. It certainly delivers in most low-light conditions, but not when there's almost no light, resulting in a drop in stabilization for video recording. The improved Night mode delivers as promised though, but does tend to over expose at times, resulting in some noise the darker it gets.
Trying out the AI Edit features of Photo Remastering, we found that to a certain extent it does work, but the most that it does is auto tones and contrasts the original picture. In some cases, it manages to make a night picture look better after remastering compared to if you were to use the Night mode function from the start. In other situations when it's just too dim, it might occasionally create more noise though. If you want to take advantage of the RAW format just download the Expert RAW app from the Samsung Galaxy Store (which appears to be just for the S22 series for now).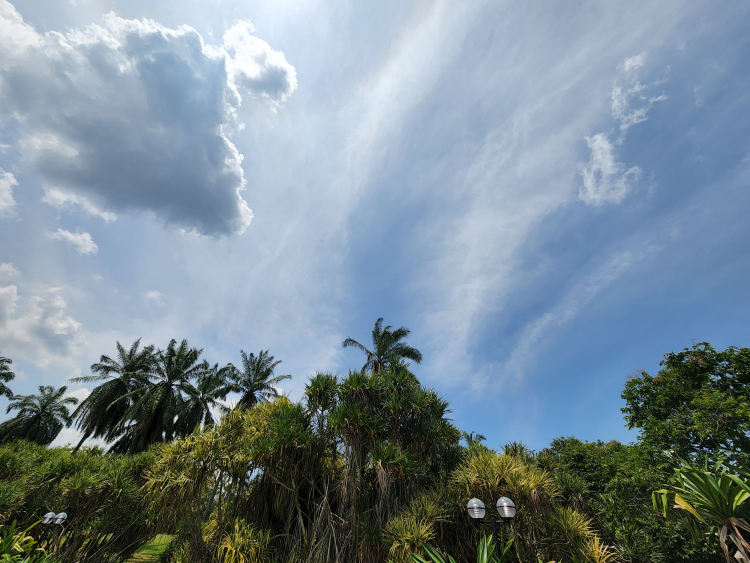 Auto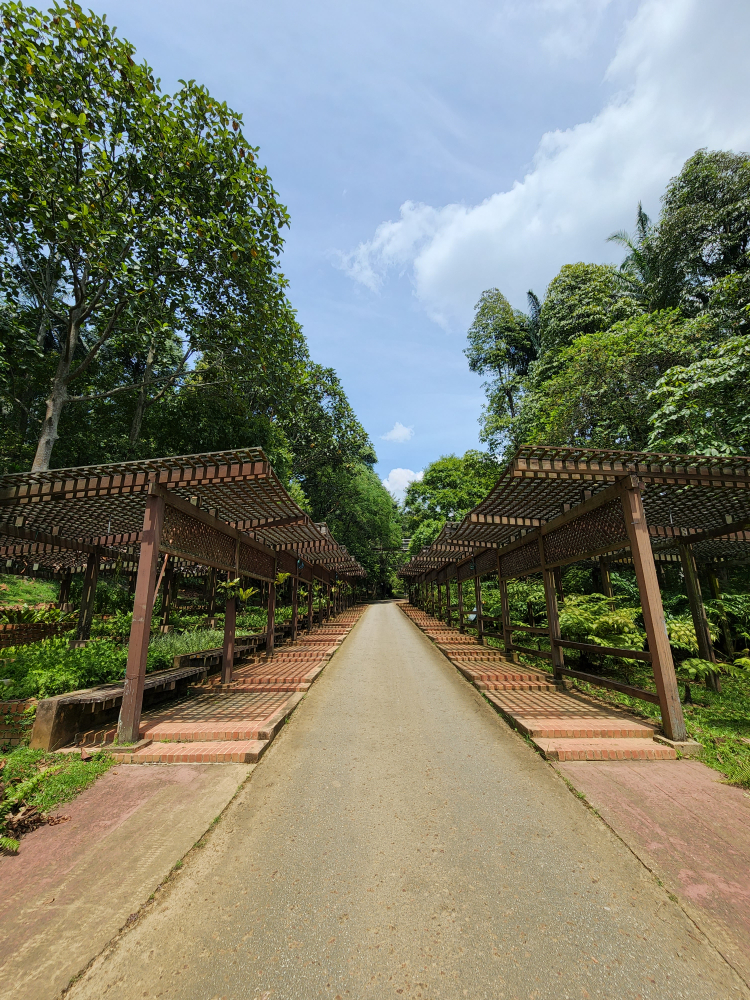 Auto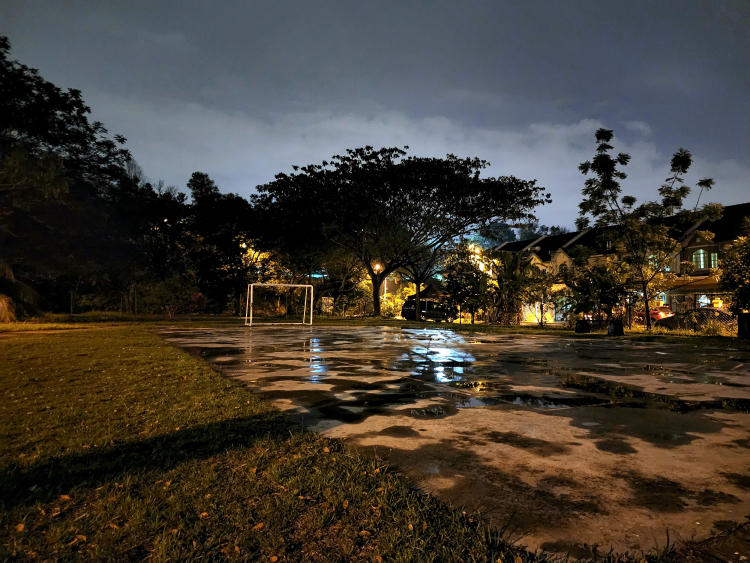 Auto, Night Mode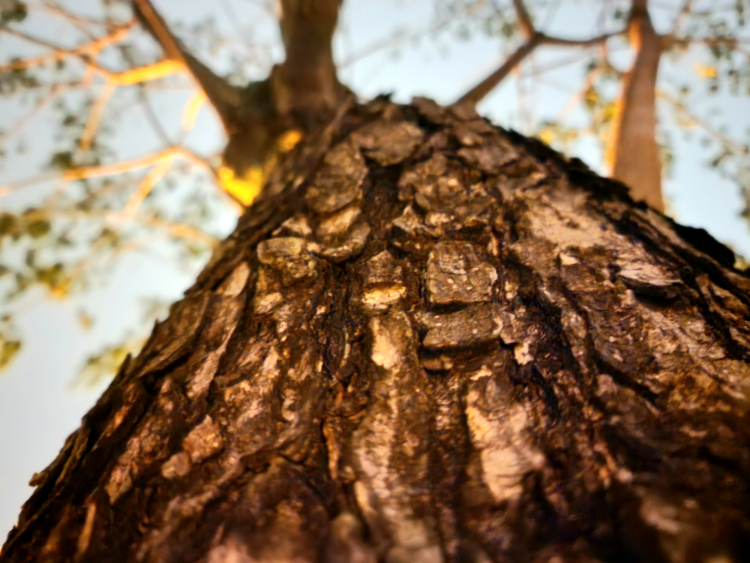 It's actually a lot darker than it looks in this remastered picture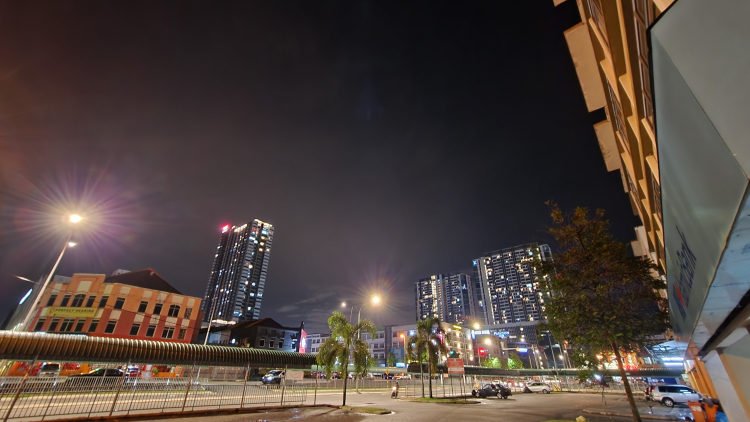 Auto, Ultra Wide screen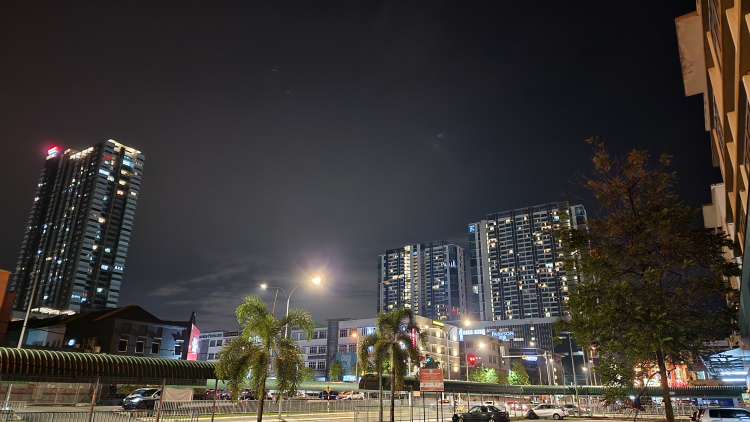 Auto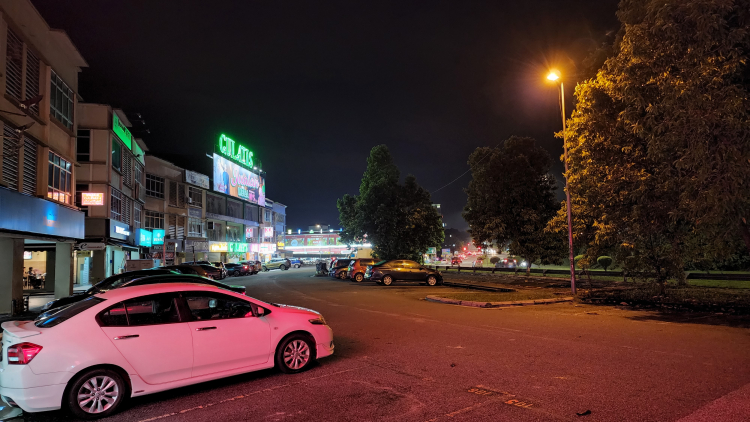 Auto ~ Note the clear colours and sign lights even though it's at night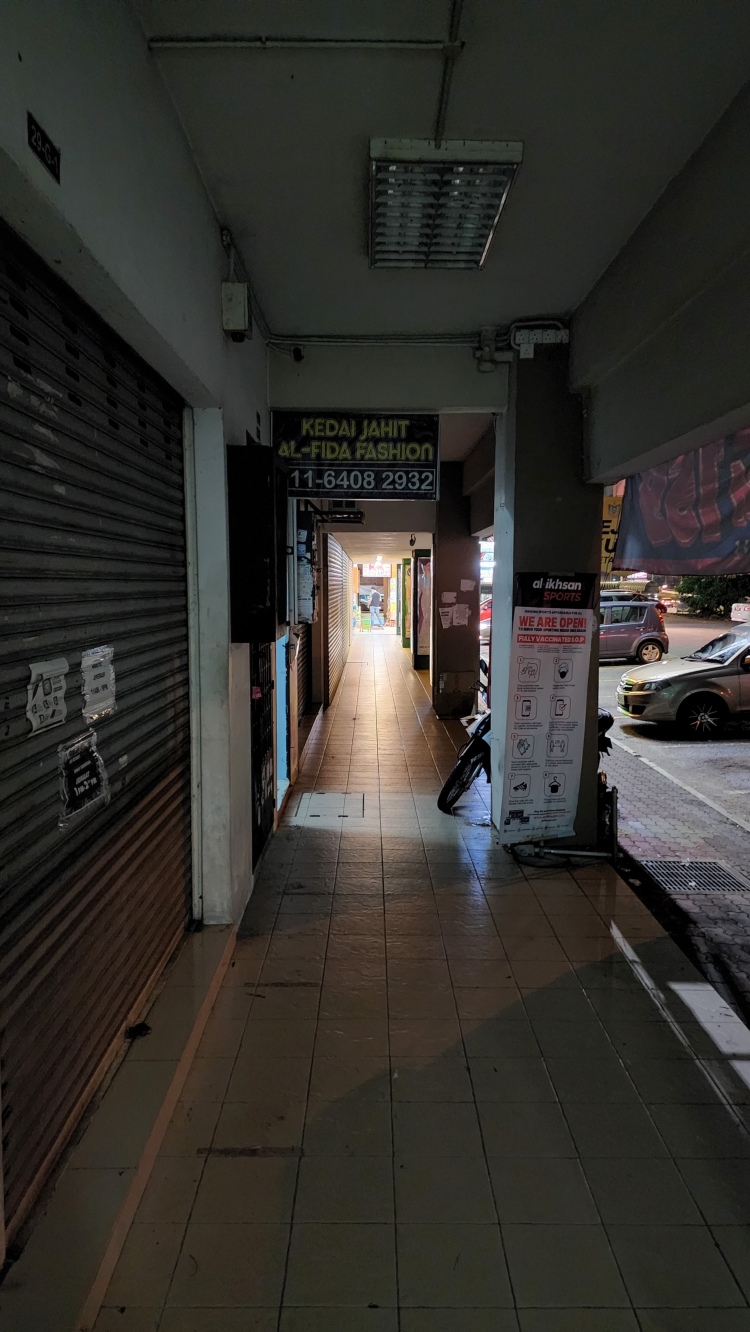 Auto, down a dark corridor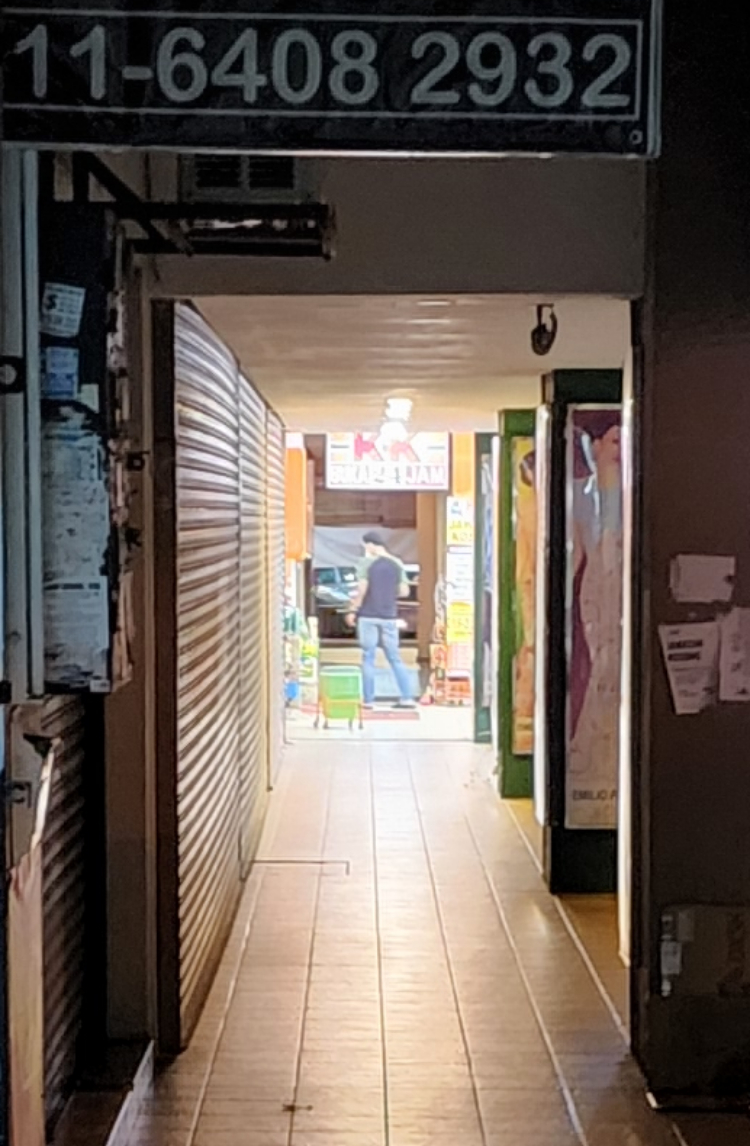 Zoom ~ you can still clearly see details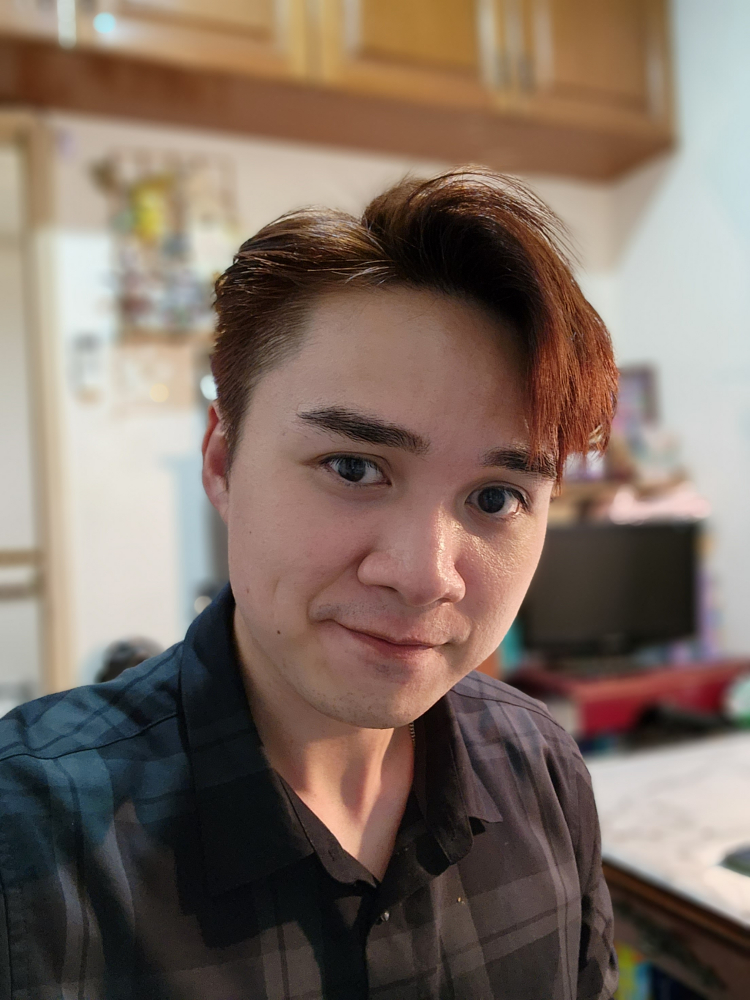 Auto ~ the Portrait mode works quite well in this selfie of Joshua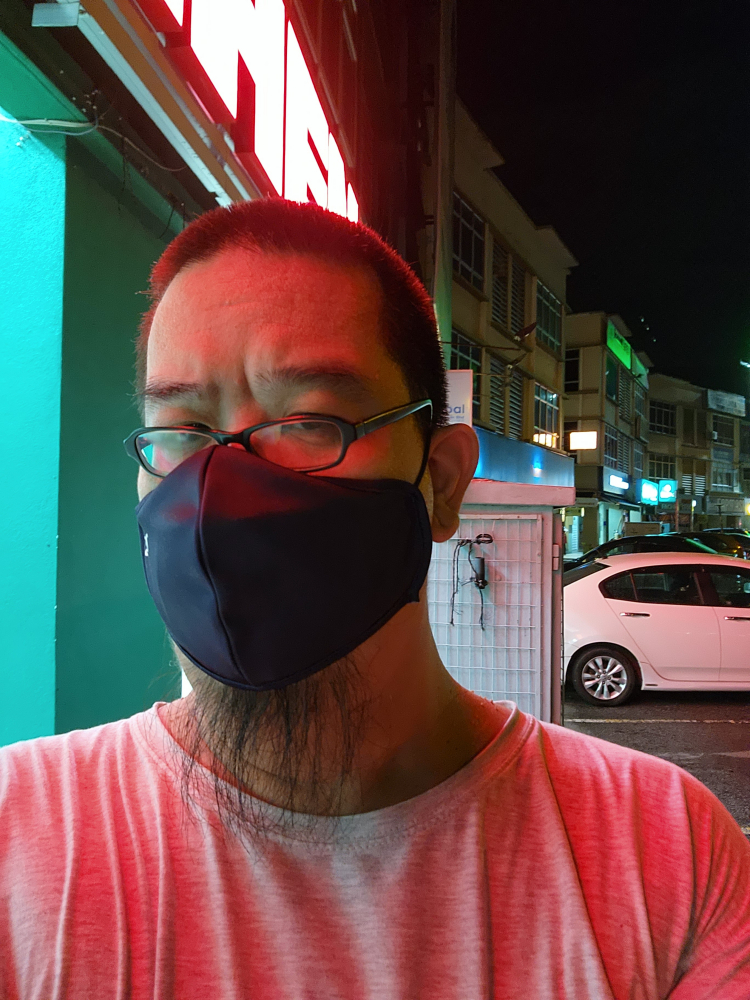 The 40MP front camera still works just fine in low-light even without portrait mode
You can easily blur the background in Portrait mode for the S22 Ultra even though it has bright lights
Auto Framing works but it reacts quite slowly and always centers on the object it is tracking. It works better with faces or things in motion though but we would have liked it better if we could perhaps customize the Auto Framing feature a bit more to our liking. Perhaps even an Auto Framing feature based on the Rule of Thirds and other photography techniques (The Golden Ratio, Fibonacci spiral, leading lines etc.)? As it is, we think it would make for much better cat and baby videos, especially for those with less video recording experience.
That being said, our resident vloggers have noted that the Auto Framing should be especially useful for those videographers who are out and about solo. This means you could place the S22 Ultra in a tripod and then walk into a scene and just let the Auto Framing do the rest (yes, you could do the same with certain gimbals or stabilizers, but it is a nice feature to have).
The Auto Framing in action on the S22 Ultra

We put all the graphics settings on max for Genshin Impact, Call of Duty Mobile and Asphalt 9 for the S22 Ultra
Is the S22 Ultra really a multimedia studio as Samsung claims it is? Well.. let's just say that the gaming hands-on video we made in this article was produced entirely using Samsung's built-in video editor and this article was written in Google Docs using Samsung DeX. It's certainly possible to edit and splice together video, complete with transitions, video speed adjustments and text but there's no helpful tutorial to walk you through it if you're a first timer.
As someone who does use their smartphone to edit videos and do work, the Samsung Video Editor is not as fully featured (text can't be placed for more than one frame, there's no video timeline, you can't do chroma green screen, etc) as say Cyberlink's PowerDirector app. But, it is one of the better video editors out there and you pay nothing for it (Cyberlink PowerDirector has a yearly subscription). The same could be said about the Photo Editor in the Gallery so, it'd be great if Samsung keeps working on them both, especially since they work great in Samsung DeX too.
Conclusion - Samsung's best smartphone yet… but mostly for Note users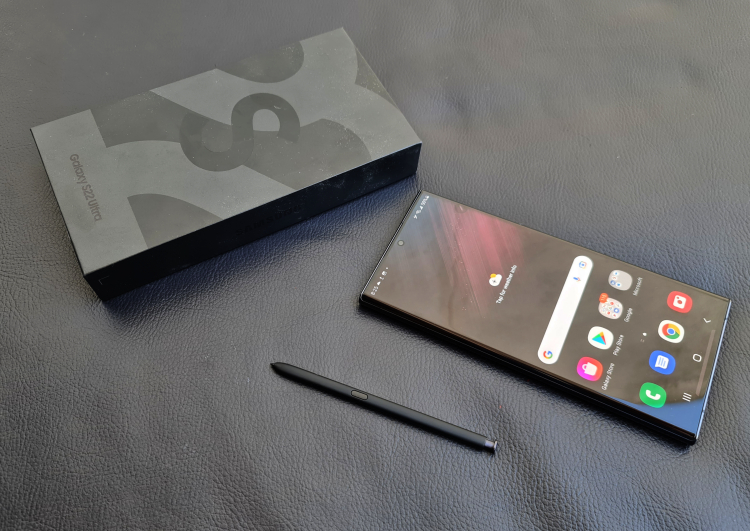 The Samsung Galaxy S22 Ultra has everything you need
Overall, the Samsung Galaxy S22 Ultra looks and feels awesome and in terms of features and performance will beat any Android phone out there in nearly every category. We would have liked it more if it actually looked like an S22 series smartphone but then, perhaps this is Samsung's way of answering to their Galaxy Note fans who haven't seen a new Galaxy Note phone for at least 1 year and a half.
On that note, I have to say that the S22 Ultra is best for those Galaxy Note users looking for an upgrade from the Note 20 Ultra and not so much for those S21 Ultra users from last year. The fact that the S22 Ultra comes in at RM5099 for the 8GB RAM + 128GB storage version reinforces this conclusion, but if you're already going to get a phone for RM5K, then you're better off paying more for the 12GB RAM + 512GB storage version at RM5899. If you are interested in getting the S22 Ultra there's still some time to cash in on all the bonuses as the pre-order time ends on 3 March 2022.
At this price point, practically any phone could be a contender, but there's almost no other device in the Malaysian market with the same features except for Samsung's own Galaxy Note 20 Ultra which doesn't have the improved chipset, tech and S Pen as mentioned above. It does cost less (RM3689) and comes with a charger and accessories, but if you're an old Galaxy Note user who didn't buy the Galaxy Note 20 Ultra yet, then we'd say the Galaxy S22 Ultra is the more Note-worthy phone to get. What do you think? Let us know on our Facebook page and stay tuned to TechNave.com