Samsung Galaxy S4 / S IV Mini Confirmed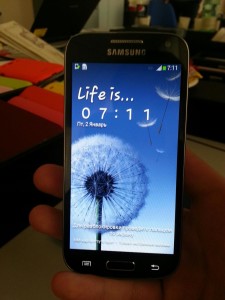 While there have been plenty of rumours about the Samsung Galaxy S4 / S IV Mini going about, we finally have confirmation that it will actually be produced. From Lee Keon Hyok, Senior Vice President at Samsung Electronics who talked to BusinessWeek recently, the quote goes like this, "the Galaxy S 4 doesn't come out until late April. It's fast, has a big, bright screen, and will probably be another huge hit for Samsung, as will the S4 mini that will go on sale soon after".

Earlier Bloomberg was also credited with a similar slip of the tongue and while Bloomberg's credibility is very high it also helps that we get confirmation straight from Samsung itself. You can read earlier Samsung Galaxy S4 / S IV Mini rumours here and here or check out an estimated tech specs sheet at Mobile Mega Mall here. This quote from Samsung also confirms when we'll probably see the Samsung Galaxy S4 / S IV in the flesh despite preregistration going on throughout the world which including Malaysia as well.
Samsung Galaxy S4 Mini Specs & Price >