Samsung Galaxy Watch4 Classic Review - The classic rotating bezel is back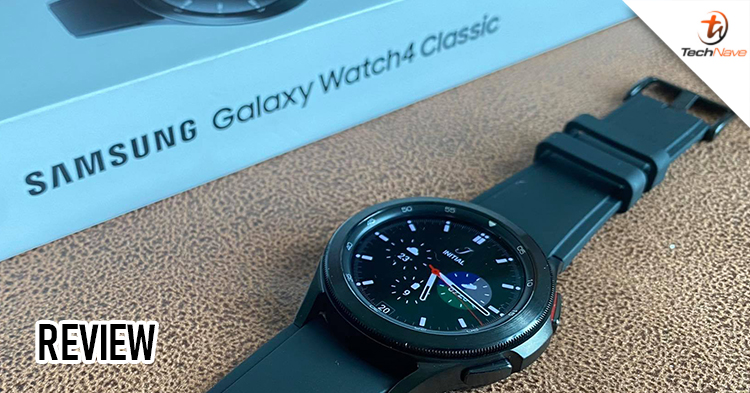 A few weeks ago, I reviewed the Samsung Galaxy Watch4 Bluetooth (40mm). Today, we proudly present to you its bigger brother, the Watch4 Classic Bluetooth 42mm. If you have no idea which model to go for or you are struggling to decide which suits you better then do read on.
The Galaxy Watch4 Classic 42mm features a 1.2-inch Super AMOLED display that supports Full Color Always On Display and comes in two color variants - Black and Silver. It comes with a silicon strap and a solid stainless steel body with 2 side buttons (Home Key and Back Key). At 47 grams, it's quite a heavy watch for me, however those with a bigger wrist e.g. a guy would probably find it more suitable especially with the chunkier stainless steel body.
As for the design, the first thing you will notice is the signature rotating bezel that you can find on the Samsung Watch3 series. Besides that, the two side buttons have now become flat buttons instead of round ones compared to the previous model. Speaking of the rotating bezel, it works very well and it can help to scroll through results and apps faster and easier than manually scrolling through.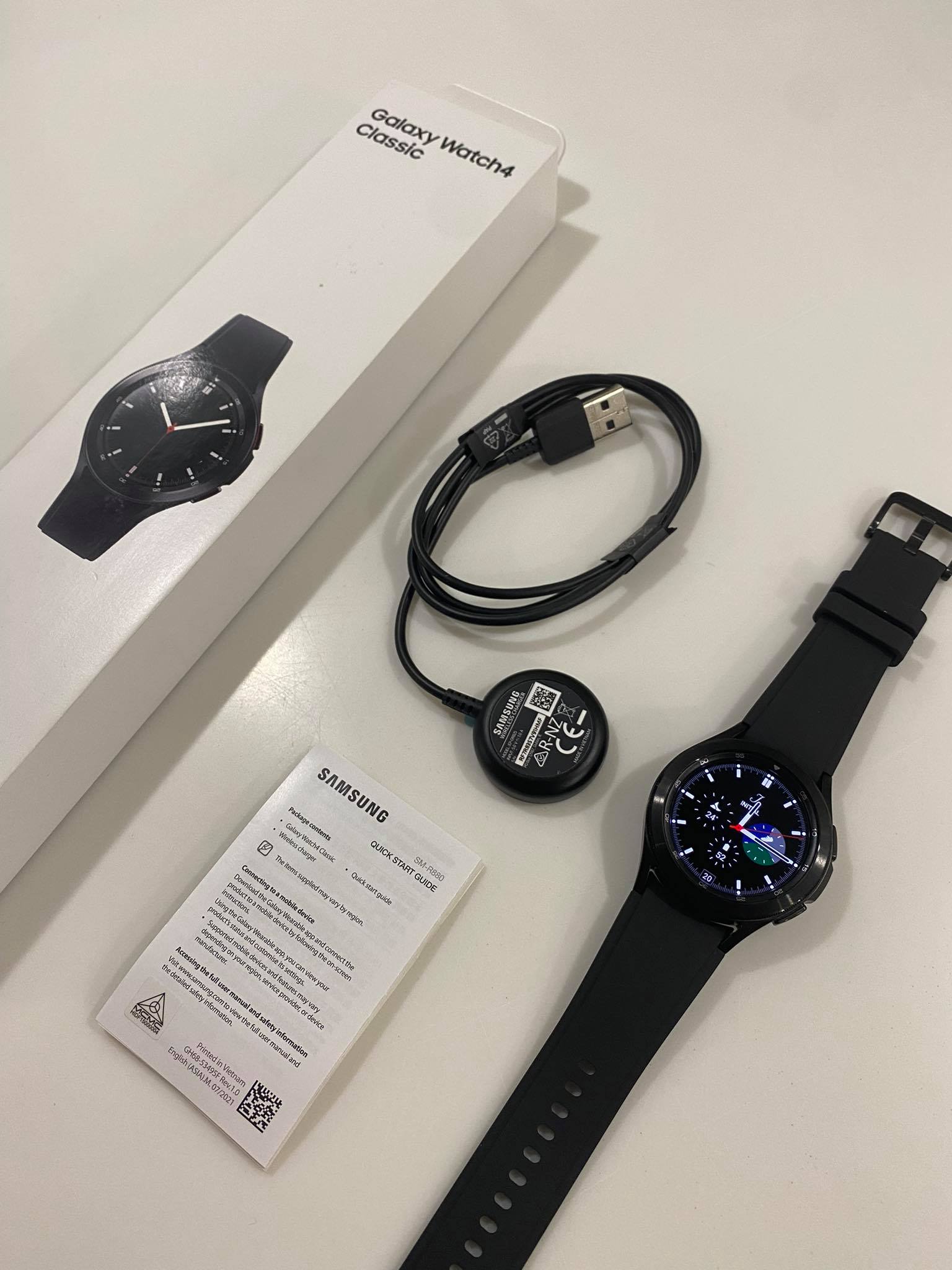 What is in the box? A Samsung Galaxy Watch4 Classic, magnetic charger, quick start guide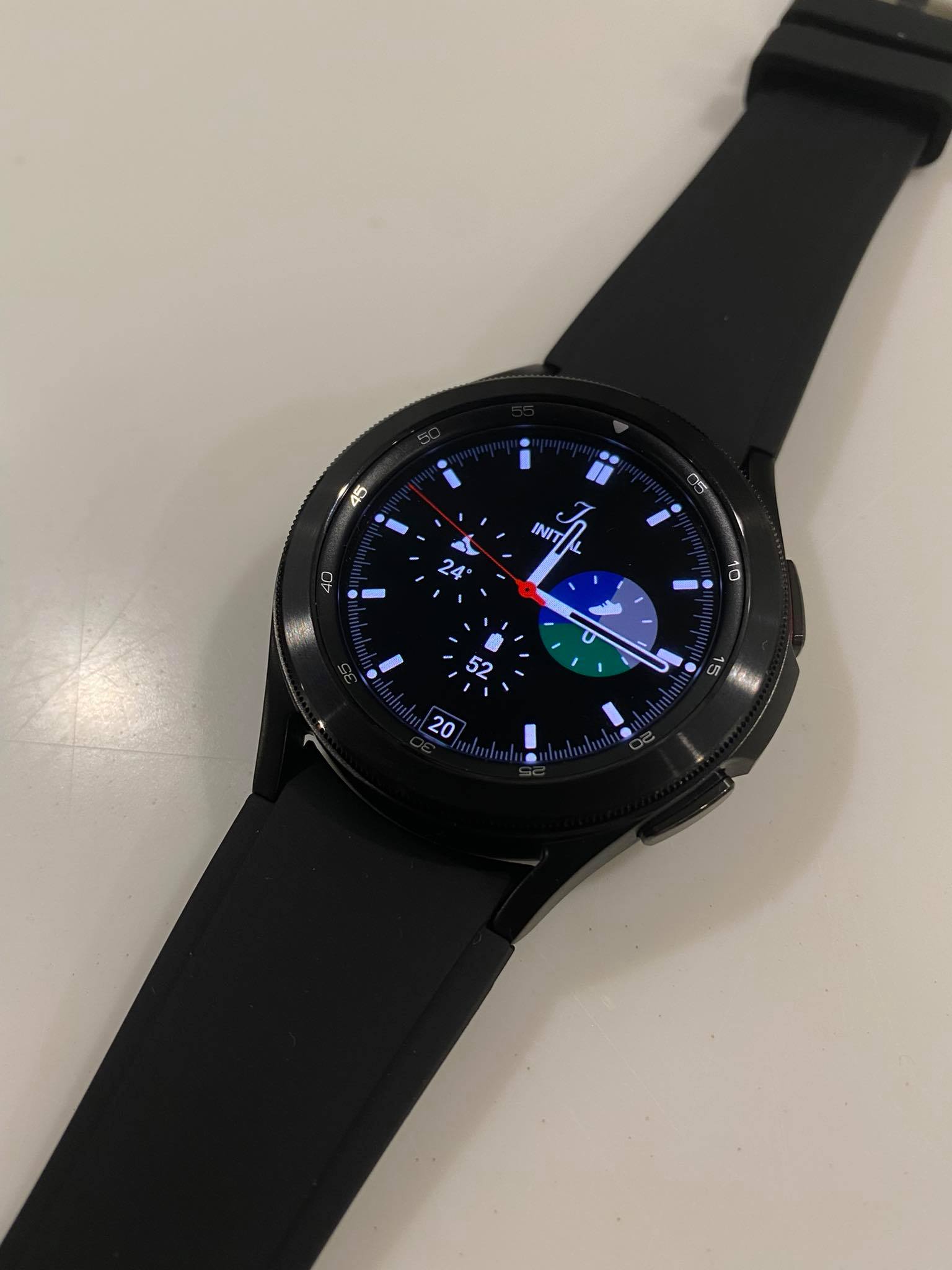 Close up of the Galaxy Watch4 Classic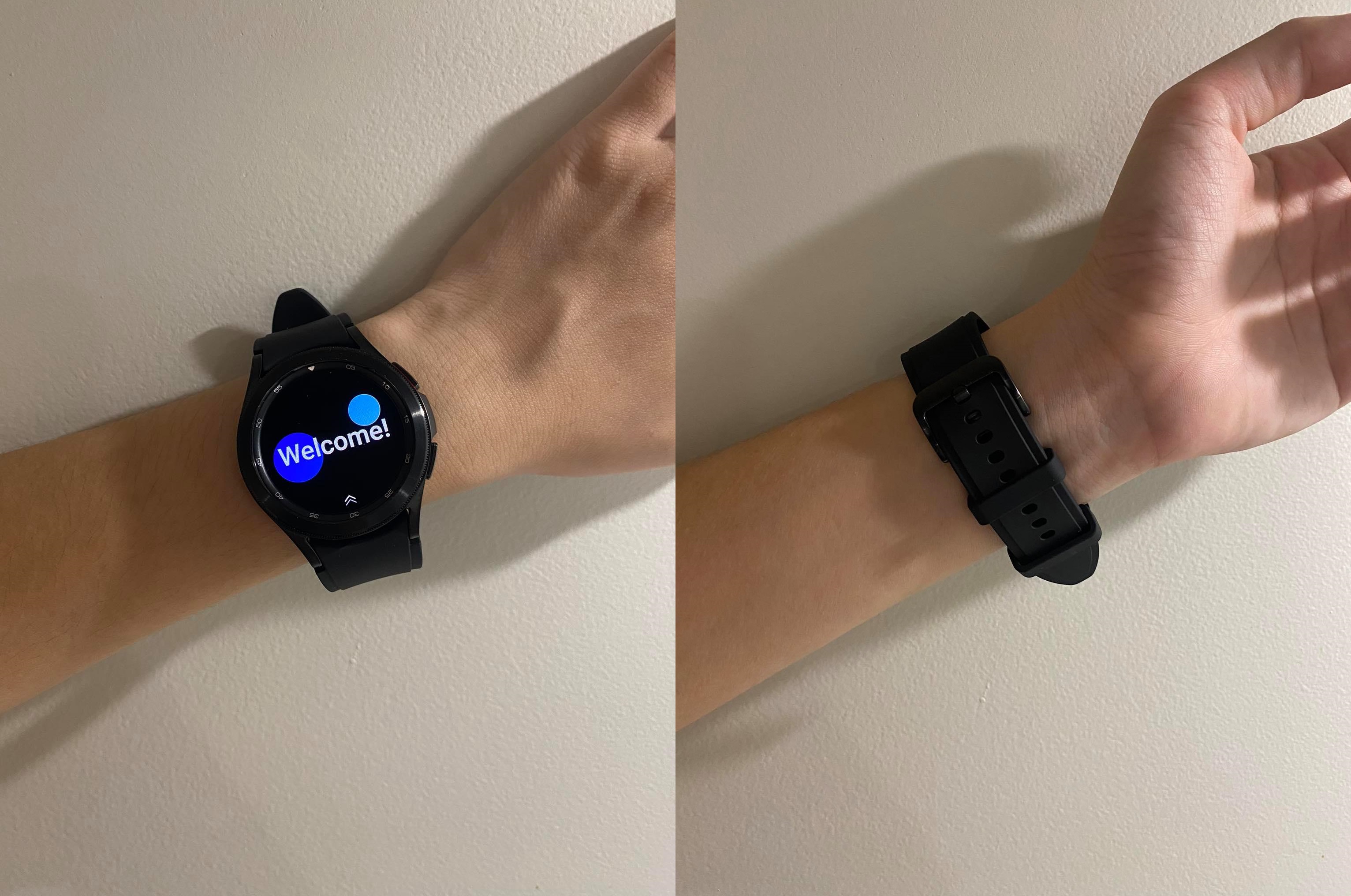 The 42mm variant is quite big on my small wrist
Although the watch's body is big, the display is the same as the Galaxy Watch4 40mm but build quality is still solid. Personally, I think that the rotating bezel can also protect the display because the bezel is raised relative to the face of the watch. The bezel therefore forms a kind of protection when placing the watch face down on a flat surface.
Well, if you plan to wear this smartwatch for workouts or swimming, we have got news for you, go right ahead because the watch is protected by a Corning Gorilla Glass with DX+ and rated up to 5ATM + IP68 water resistance. There is even a MIL-STD-810G drop and shock rating certification as well.
As for the technical specifications, it is the same as the Galaxy Watch4 that sports an Exynos W920 Dual Core chipset, 1.5GB of RAM, and 16GB of internal storage. According to Samsung, the smartwatch has improved the CPU to be 20% faster, while the GPU is 10 times faster with 50% more RAM compared to the previous model. This smartwatch is also the first smartwatch with Wear OS Powered by Samsung and it runs on the One UI watch interface.
What is so special about this upgrade? You can now access your favorite apps on your wrist by going through the Google Play store, where you will find a collection of music streaming apps, health and fitness apps, or even Google Maps. All of the apps that you install on your smartphone will automatically also be installed in the Galaxy Watch4 Classic as well.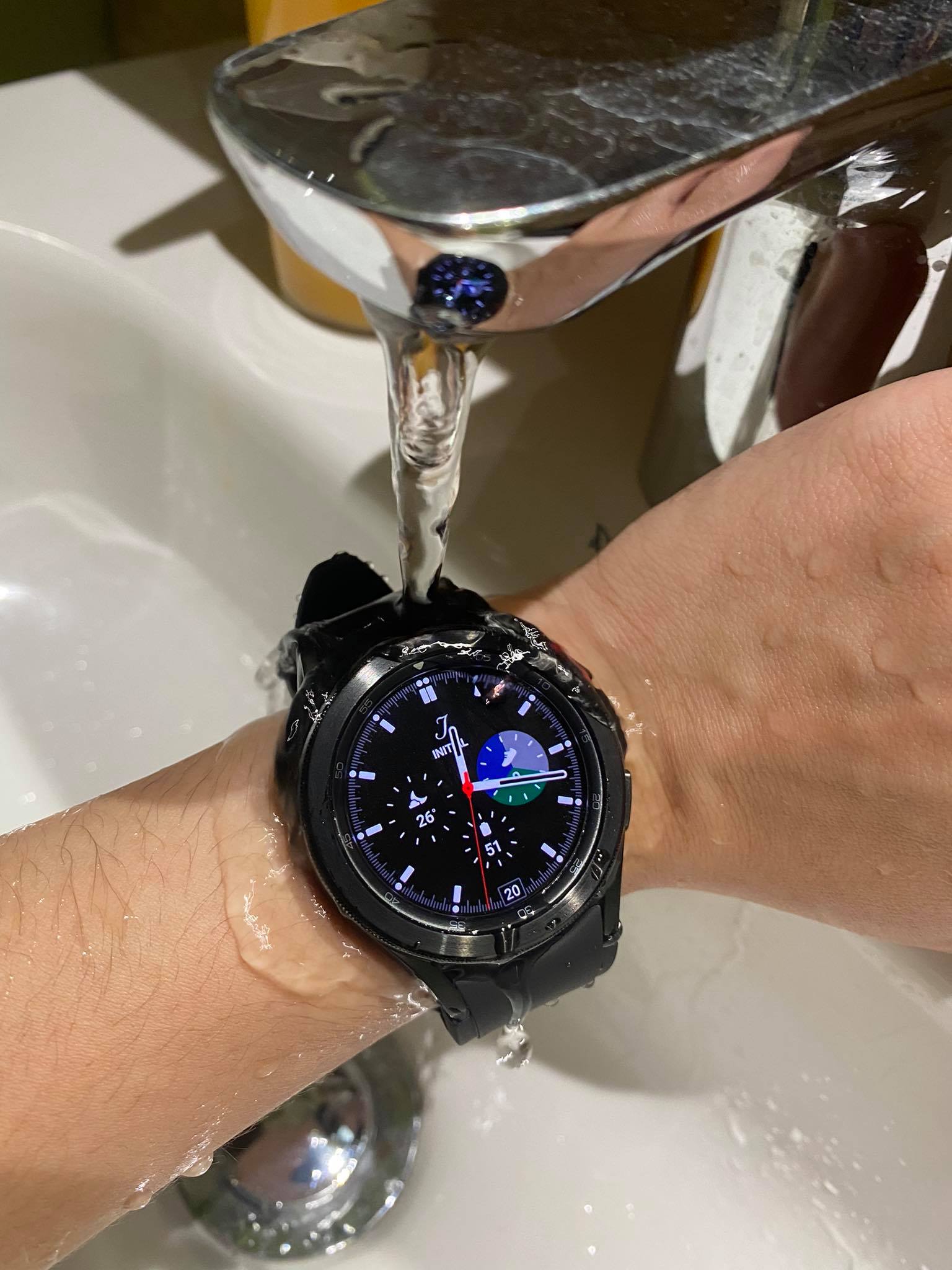 It works well under running water

Now the smartwatch can lead you the way

You may download more songs into the smartwatch and listen to them via wireless earbuds
If your hands are dirty or occupied, there is a Bixby Voice Assistant while Gesture Controls let you access the smartwatch. To activate Bixby, long-press the Home button for about 1-2 seconds and you can start giving it commands. As for the gesture controls, you can move your forearm up and down twice to receive calls, whereas rotating your wrist twice rejects or dismisses the call. Overall, the smartwatch's responsiveness is quite sensitive when carrying out these gestures.
However, you will still have to end phone calls by physically pressing the end call button. Hopefully, the company will work on a gesture for that in future updates as well. By the way, this smartwatch is a Bluetooth variant which means that you still have to ensure your smartphone is always connected to the smartwatch to receive notifications or calls.

The gesture to pick up a call or dismiss a notification and more
As for the sport modes, it offers up to 90+ exercises, while the previous model only came up to 40+ workout modes, that's an increase of about 150% extra sports modes! To enhance your home workout, you may share your smartphone screen via Screen View and wear the smartwatch to track your workout. On the screen, you also can spot your heartbeat, calories burned, and duration of the workout.
Besides that, you can also compete with your family and friends via group challenges. With this function, you can track your steps with your loved ones through a live message board. Commemorative badges and a point system makes exercising fun, motivating, and socially rewarding.
For the Watch4 Classic there is also a new feature called BIA technology that can track body composition. You can use it to track your body fat percentage, skeletal muscle, body water, and BMI in just 15 seconds. All you need to do is place two of your fingers on both of the side buttons (Home Key and Back Key) and it will show the results in the smartwatch, it then automatically updates the Samsung Health app (before this, you would need to have a specialized machine do this at a hospital nutritionist's office).

The way to measure body composition
Additionally, this smartwatch can also help to enhance the quality of your sleep thanks to the new snoring pattern upgrade that you can find in the sleep tracker. All you need to do is just wear it to sleep and the next morning you can check the result through the app or on the smartwatch.

The smartwatch sports a 247mAh capacity battery while the 46mm variant uses a 361mAh battery. It took me more than an hour to fully charge and according to the official website, the smartwatch can stay running for up to 40 hours where 30 minutes of charging provides up to 10 hours of battery life. In our tests, it lasted me for a day and a half. If you're looking to save battery life, turn on the power-saving mode or the option for the Watch-only feature.
Connectivity-wise, the Bluetooth will automatically connect to the smartphone once the smartwatch detects the smartphone. It will also automatically update the workout history and health data. Unfortunately, the Galaxy Watch4 Classic also had issues pairing with smartphones from other brands asides from Samsung. Maybe another fix for further updates?

Tips to save more power
Overall, I personally think that this smartwatch gave me a classic and stylish look whereas the Galaxy Watch4 offered a more minimalist yet simple design. Besides that, I also feel that the rotating bezel did make it easier to access the apps instead of scrolling through the 1.2-inch display (42mm), allowing me to avoid unnecessary fingerprints smudges.
As for the price tag, the 46mm variant is priced at RM1399 while the 42mm model is going for RM1299, so probably only if you have the money for it. For myself who is on a tighter budget, I'd rather go for the Galaxy Watch4. While there are quite a few other smartwatches below and around these prices, none offer Samsung's rotating bezel, so it's very subjective.
What do you think? Is this the smartwatch that you have been looking for? Let us know in the comments below and be sure to stay tuned for more tech reviews on TechNave.com.
Tech Specs and Features
These are the Samsung Galaxy Watch4 Classic official tech specs:
42mm (1.2-inch), 47 grams ; 46mm (1.4-inch), 52 grams

5 ATM + IP68 water resistance, MIL-STD-810G

Super AMOLED, Full Color Always On Display

1.5GB of RAM, 16GB of internal storage

WearOS Powered by Samsung

Bluetooth 5.0, Wi-Fi, GPS, NFC, LTE (only available in LTE models)

Android 6.0 above and with more than 1.5GB of RAM (only available after connecting to a smartphone that supports Google Mobile Services)

Corning Gorilla Glass DX+

Samsung BioActive Sensor (Optical Heart Rate + Electrical Heart + Bioelectrical Impedance Analysis), Accelerometer, Barometer, Gyro Sensor, Light Sensor, Geomagnetic Sensor
Pros and Cons
Pros: Classic, great display, BIA technology
Cons: Looks bulky and heavy on a small wrist, not compatible with other smartphone brands
Conclusion: Great for those who want the latest stylish smartwatch to complement their Samsung Galaxy phones