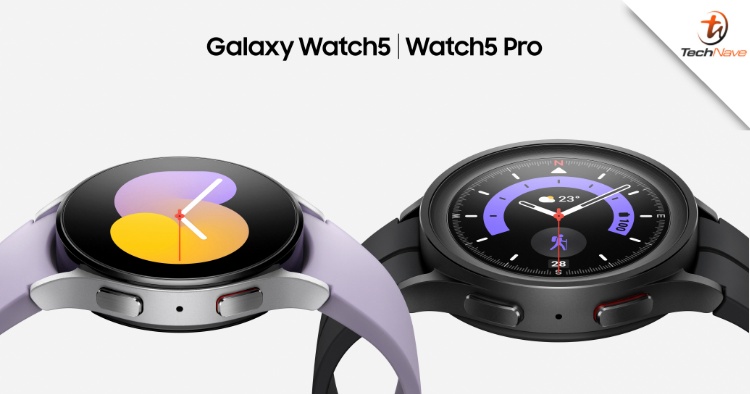 Besides unveiling the Galaxy Z Flip4 and Galaxy Z Fold4, Samsung also released its latest wearable, the Samsung Galaxy Watch 5 Series during its Galaxy Unpacked 2022 event today. Moreover, for the very first time ever, the series includes a 'Pro' variant - the Samsung Galaxy Watch5 Pro.
Dubbed as the most durable and feature-packed watch it has released yet, the Galaxy Watch5 Series comes in 40mm and 44mm variants for the regular version and in a singular 45mm configuration for the Pro version. Samsung asserted that the smartwatch series provide in-depth monitoring and practical data which offers users the information they need to help them along their health and wellness journey.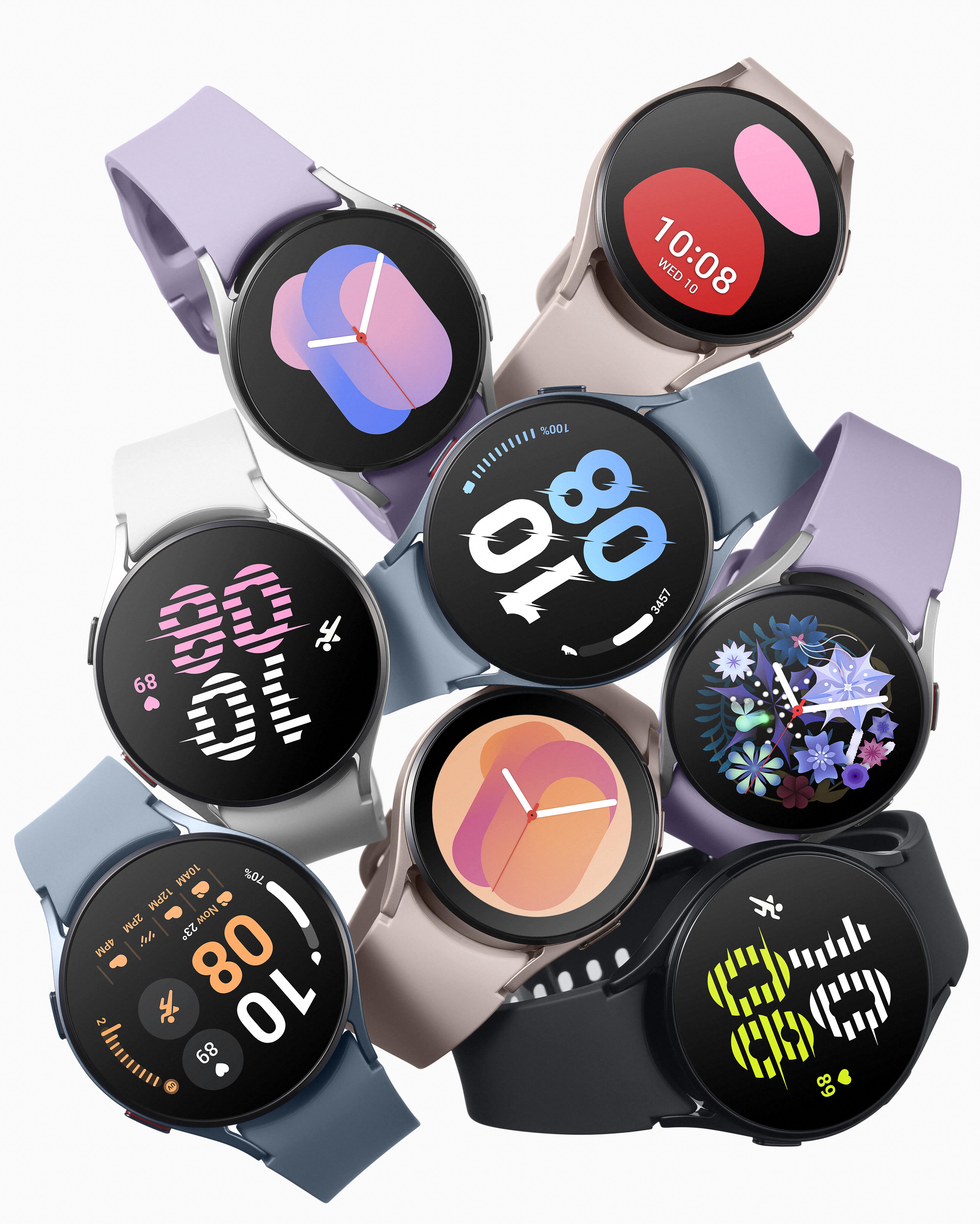 During the presentation, the standout feature of the Galaxy Watch5 Series has got to be its ability to check temperature via an infrared temperature sensor. According to Samsung, the sensor is accurate even when your surroundings change, which is quite impressive. Both the base and Pro variants are powered by the Exynos W920 chip paired with 1.5GB of RAM and 16GB of storage. Furthermore, all of the variants run on Wear OS Powered by Samsung (Wear OS 3.5) with the One UI Watch 4.5.
As for the Galaxy Watch5, it has an Armor Aluminium case with Sport Band. For the 40mm version, its dimensions are 39.3mm x 40.4mm x 9.8mm and weighs 28.7 grams, while the 44mm variant's dimensions are a 43.3mm x 44.4mm x 9.8mm with a weight of 33.5 grams. On the other hand, the Galaxy Watch5 Pro has a titanium case with D-Buckle Sport Band and measures at 45.4mm x 45.4mm x 10.5mm, weighing at 46.5 grams.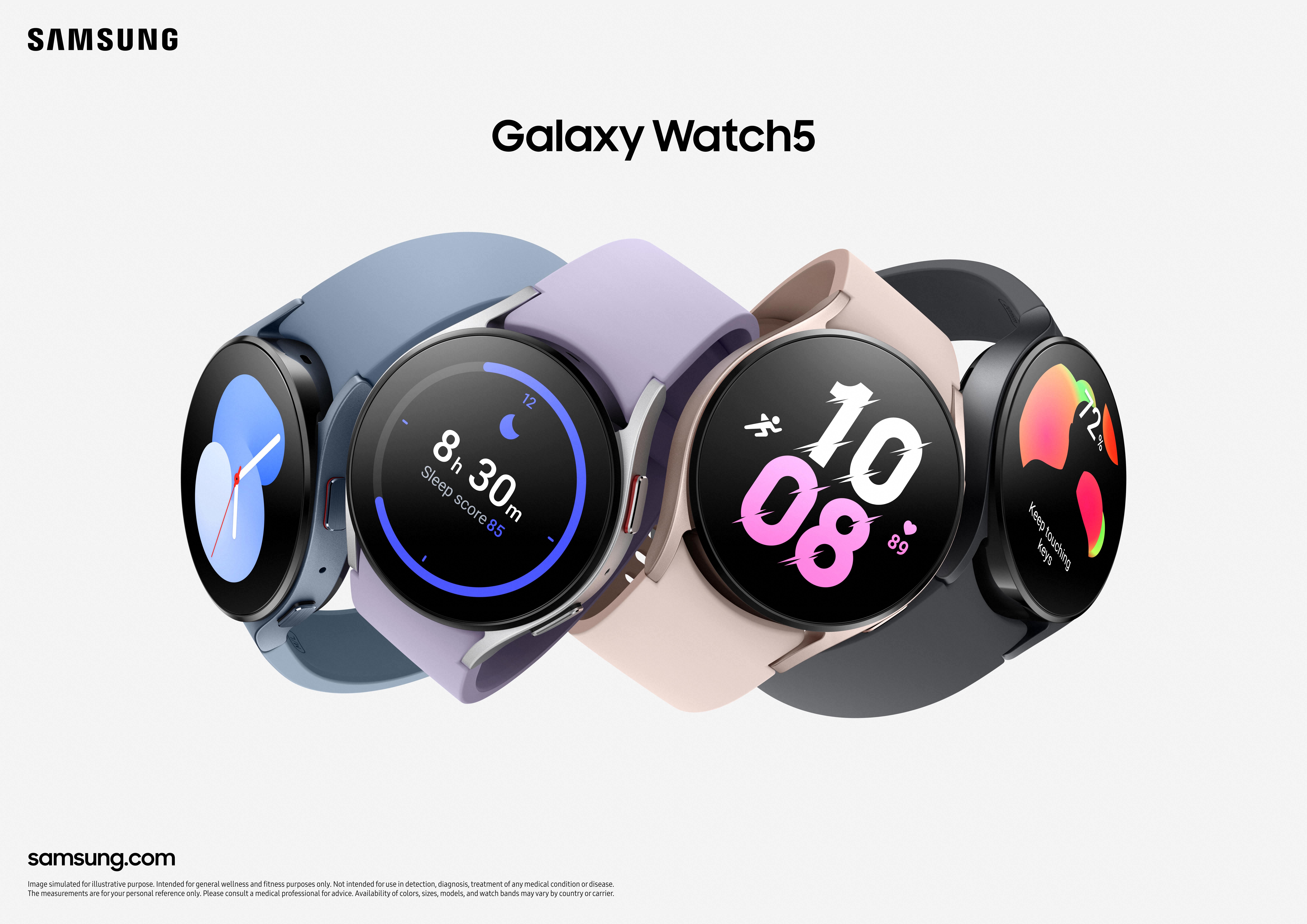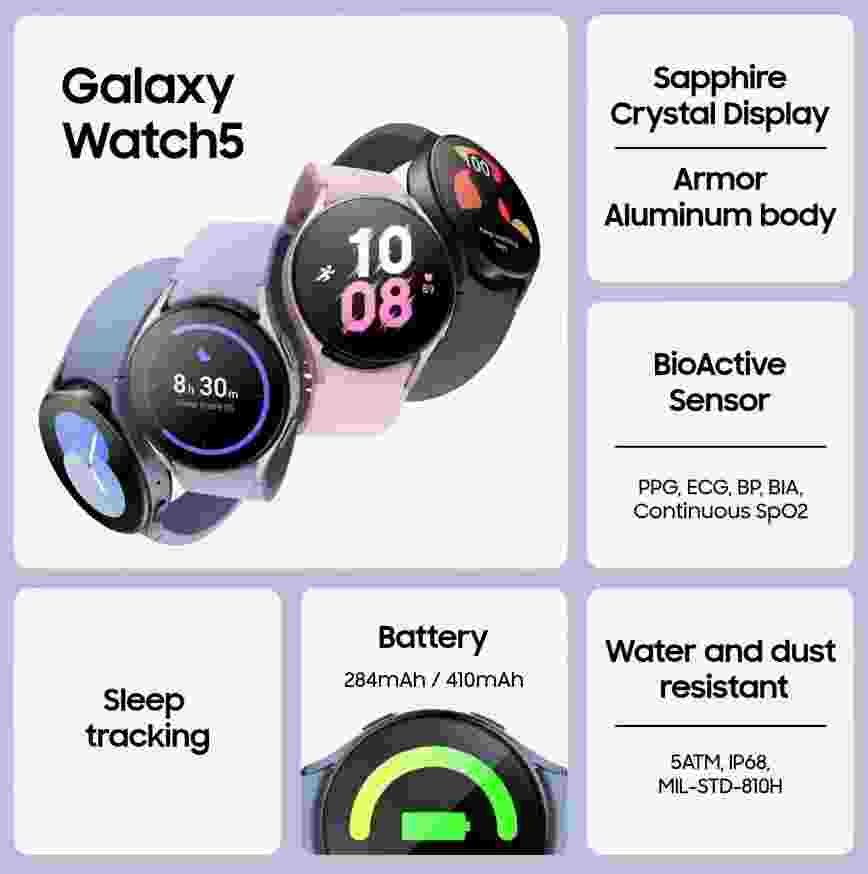 As for the display, all variants feature enhanced Sapphire Crystal for better resistance to wear as well as a Super AMOLED, Full Colour Always On displays. For the 40mm Galaxy Watch5 version, the screen is 1.2-inch (396 x 396 pixels) while the Galaxy Watch5 44mm and Galaxy Watch5 Pro displays measure at 1.4-inch (450 x 450 pixels).
The variants also have varying battery sizes, with the Pro version having the largest at 590mAh while the 40mm base model features a 284mAh battery and the 44mm Galaxy Watch5 model sports a 410mAh battery. Other notable specs shared by all models are faster charging with Samsung's WPC-based wirless charging, option for an LTE version for each variant, 5ATM + IP68 water resistance and MIL-STD-810H certification.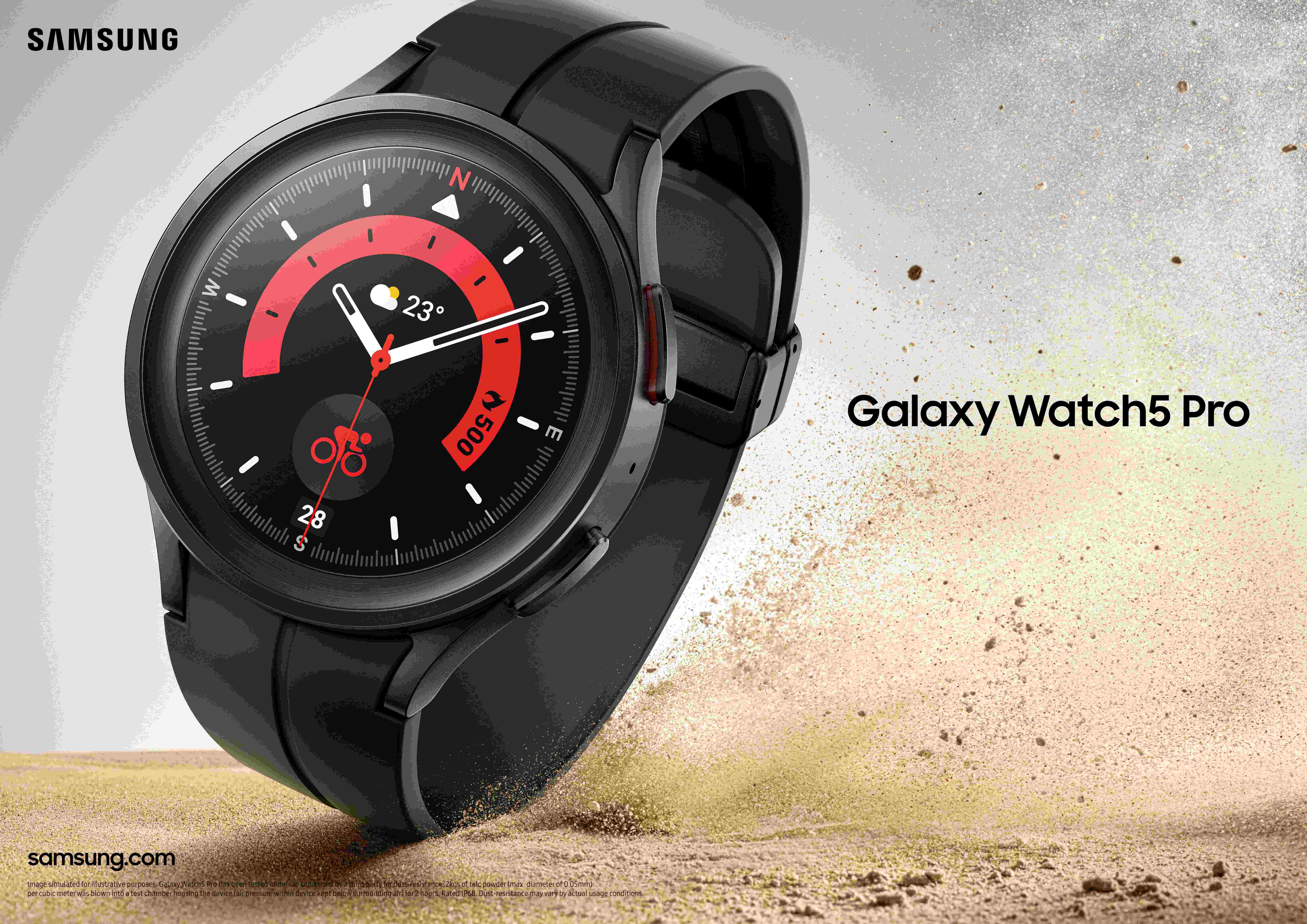 In terms of fitness and health tracking, the Galaxy Watch5 Series features Samsung BioActive Sensor (Optical Heart Rate + Bioelectrical Impedance Analysis), Accelerometer, Barometer, Gyro Sensor, Geomagnetic Sensor and Light Sensor. First introduced on the Galaxy Watch4 series, the BioActive Sensor uses a single unique chip to deliver extensive readings that include heart rate, blood oxygen level, and even stress level.
Besides that, with an increased surface area and more direct contact with your wrist, Galaxy Watch5 tracks health metrics now with even greater accuracy than Galaxy Watch4. The new Samsung wearables also offers a comprehensive end-to-end experience that goes beyond fitness activities and into the post-workout, rest, and recovery process.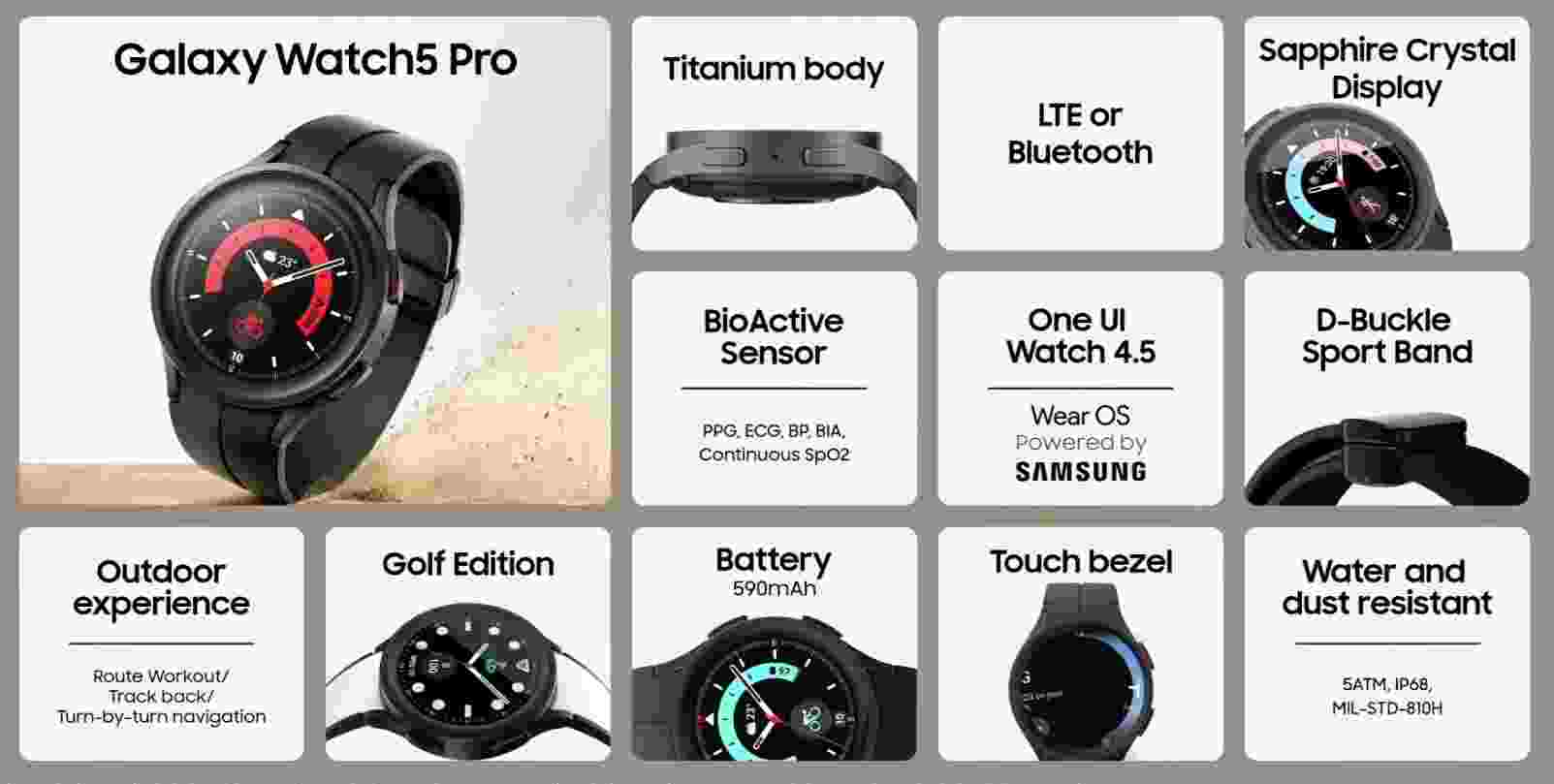 For example, the Body Composition measurement tool provides a complete snapshot of the user's overall health, providing them with a tailored approach to set goals, guide them through personalised workouts, and track progress. And when it's time to rest, the Galaxy Watch5 series provides users with recovery data, including post-cardio heart rate after an intense workout, and customised recommendations on water consumption based on sweat loss.
Sleep tracking is also improved, whereby users can understand their sleep patterns better through Sleep Scores that monitor stages of sleep, along with snore detection and blood oxygen levels. In fact, through SmartThings integration, Galaxy Watch5 can even automatically set connected lights, AC units, and TVs to predetermined settings that make for an ideal sleep environment. Moreover, there's also an enhanced fall detection feature which ensures an emergency contact is notified if you or your loved one stumbles at home or falls out of bed.
The Galaxy Watch5 is offered in a variety of colours, with the 44mm option available in Graphite, Sapphire, and Silver and the 40mm option available in Graphite, Pink Gold, and Silver which features a Bora Purple strap. As for the Galaxy Watch5 Pro, it is available in Black Titanium and Gray Titanium, as well as a special Golf Edition with white bands.
As for pricing, the Galaxy Watch5 starts at RM1099 for the Bluetooth version while the Galaxy Watch5 Pro starts at RM1899 for the Bluetooth version. For more information on the Galaxy Watch5 Series, do visit these official Samsung links: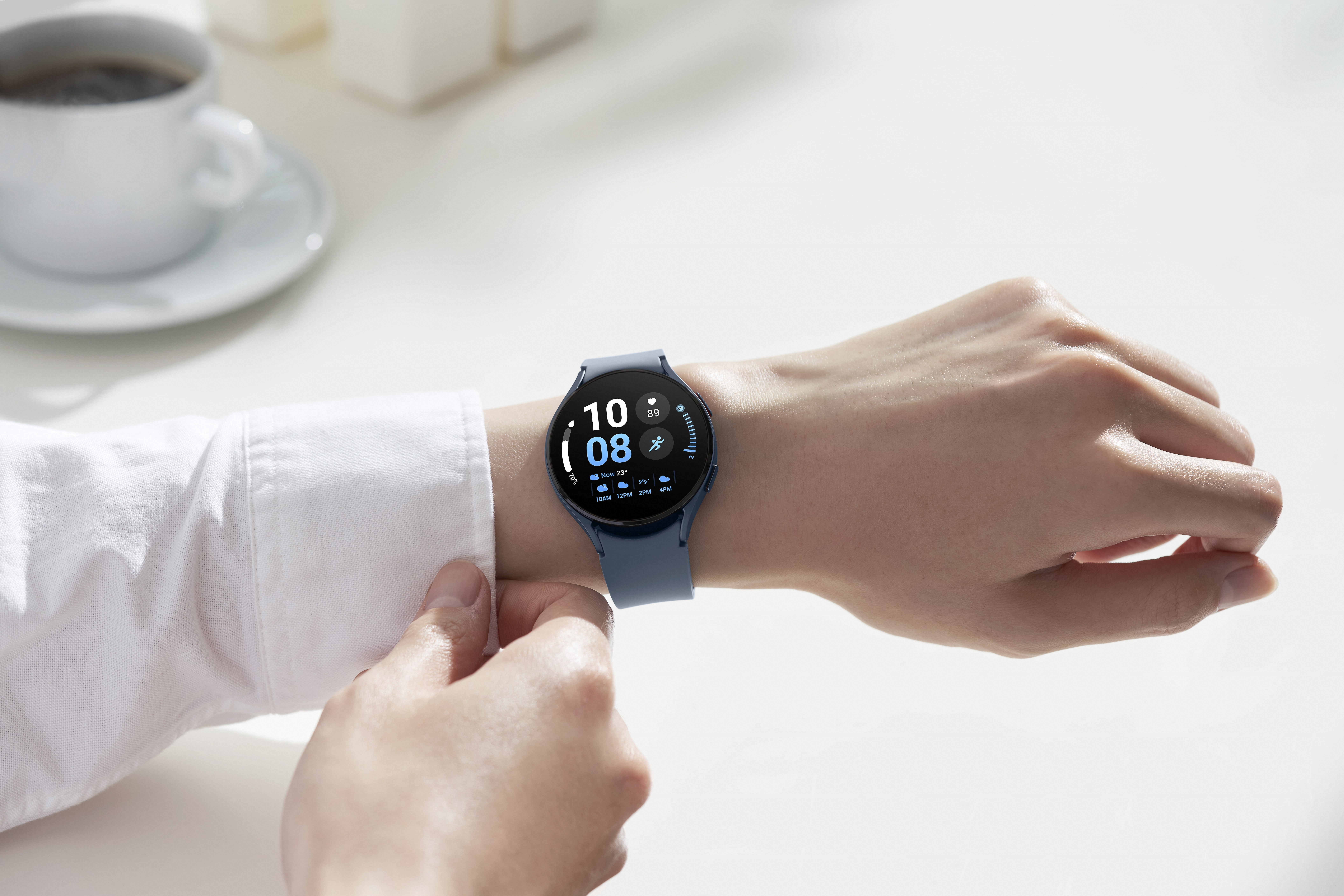 Well, if you're interested in purchasing the Galaxy Watch5 Series, you can use our referral code 'TNGZF4VIP' through the Samsung Online Store to get a 15W PD Adapter (USB-C) worth RM59 (without cable) for free. Better hurry up though, as the promo is only available while stocks last!
So, what do you guys think of Samsung's latest smartwatches? Share your thoughts with us in the comments below and stay tuned for more trending tech news at TechNave.com.