Samsung Galaxy Z Fold 2 review - A very much improved successor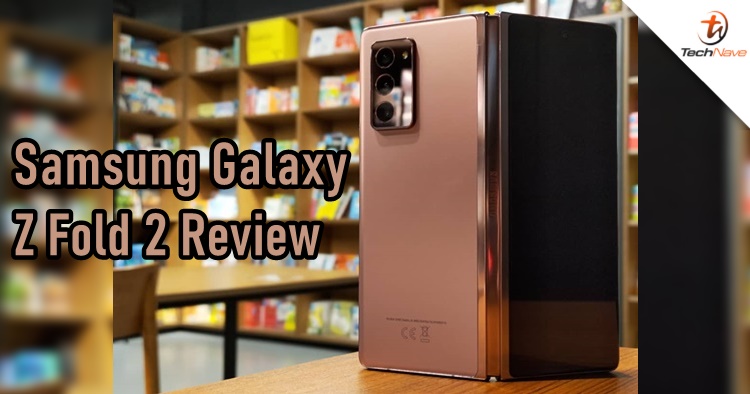 Foldable phones are fascinating new devices for mobile phone enthusiasts, so much so that Samsung's first attempt was met with enthusiasm, although it wasn't perfect. Although there were some problems along the way, the company made several improvements since then, all culminating in the release of the Samsung Galaxy Z Fold 2.
Of course, we're aware that this foldable phone isn't suitable for most consumers. Not everyone has the budget to purchase this beautiful piece of technology, especially in this period. But we're still going to review it because we find it an intriguing product. If you're a gadget enthusiast and are curious to know about its performance, read on below for our Samsung Galaxy Z Fold 2 review!
Design - Studier than ever
Compared with its predecessor, the Galaxy Z Fold 2's design has significantly improved. Starting with the front Infinity-O display, this new model measures 6.2-inches from the 4.6-inches of last year's model. Samsung was able to take full advantage of the space available this time, instead of leaving the top and bottom space blank. Just like the previous generation, the Galaxy Z Fold 2 looks like a regular phone when folder. But when unfolded, it turns into a tablet-like device, featuring a much larger 7.6-inch display. On top of that, the camera is much smaller this time.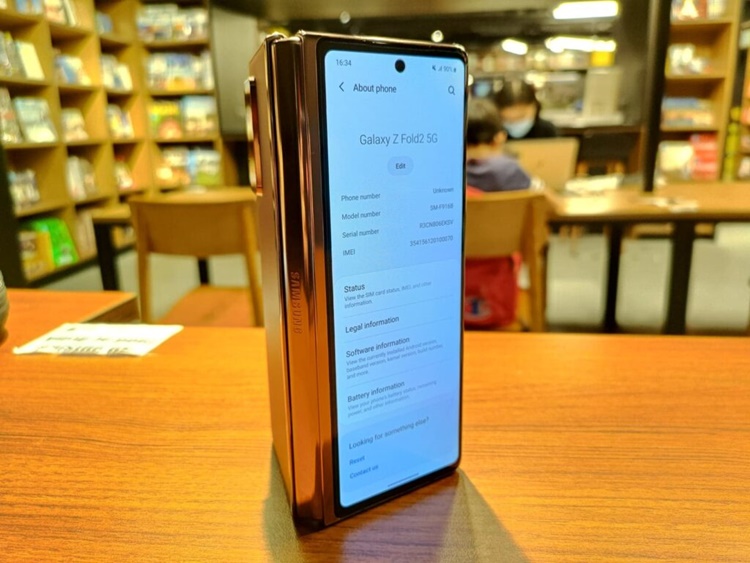 Finally, a full-screen display compared to the previous generation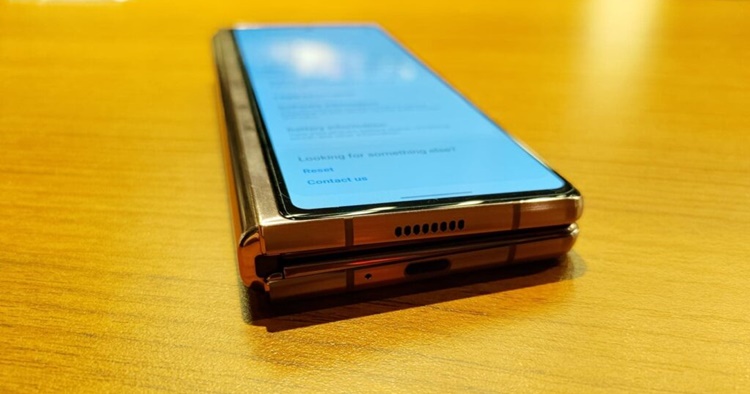 A USB Type-C port and speaker grille at the bottom, but no audio jack. Another speaker grills can be found on the top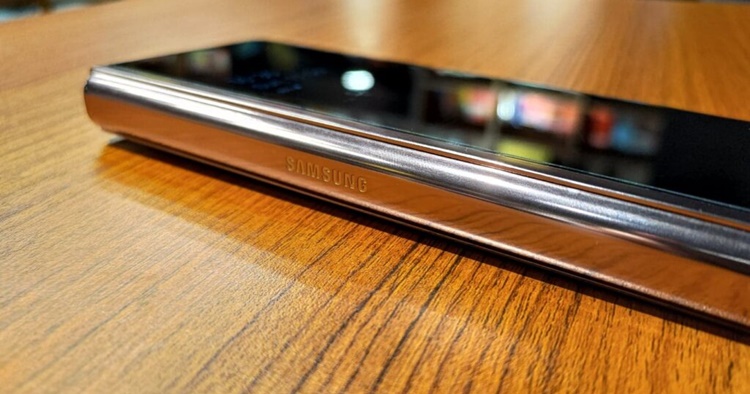 The hinge is now more durable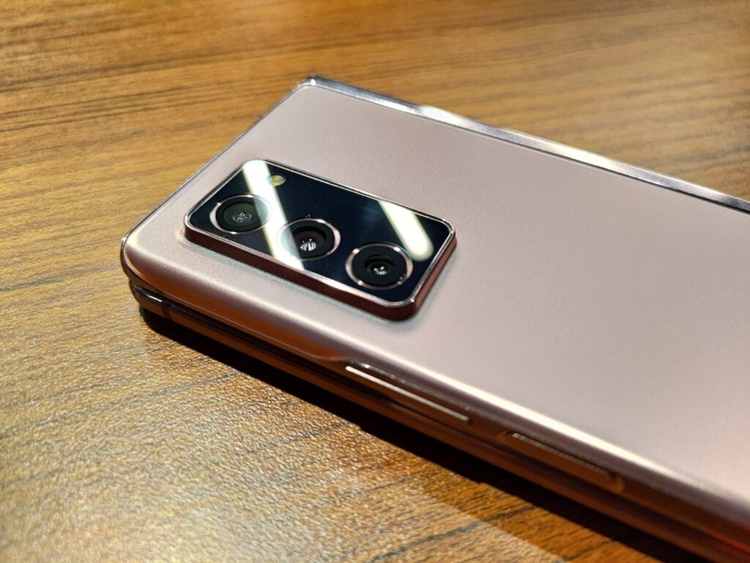 The rear camera bump is quite thick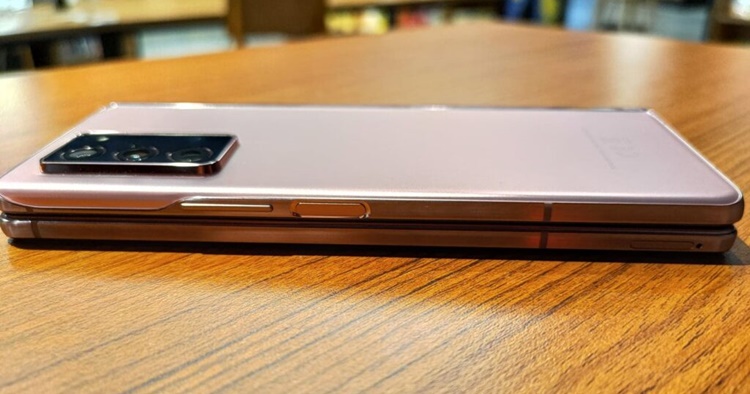 The side of the phone when folded - you can see the volume and power (with integrated fingerprint sensor) buttons, as well as the SIM card slot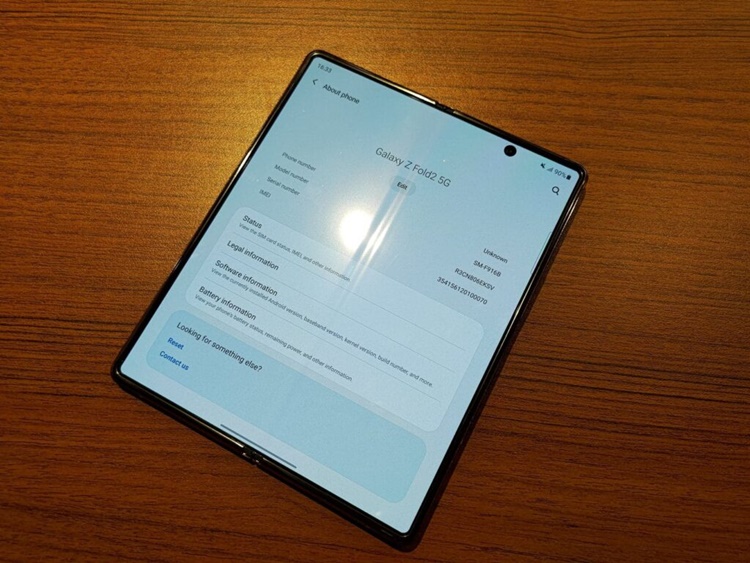 You can see the crease if you shine some light on the display, but it's not very obvious most of the time
Another notable improvement that we have to talk about is the folding mechanism. The Galaxy Z Fold 2 feels a lot more studier than before thanks to a new double hinge mechanism that keeps the two displays intact. They also improved the inner folding display with a new Ultra-Thin Glass, so the crease in the middle is less obvious.
On that note, the Galaxy Z Fold 2 now has Flex Mode too, thanks to the studier hinge. This allows you to fold the display half-way, allowing you to watch videos while eating, play some mobile games, or even do some work. We actually wrote a more in-depth article about these two new features, so you can check it out here.
Tech specs and features - Multitasking with not 2, but 3 apps
Here are the official tech specs of the Samsung Galaxy Z Fold 2: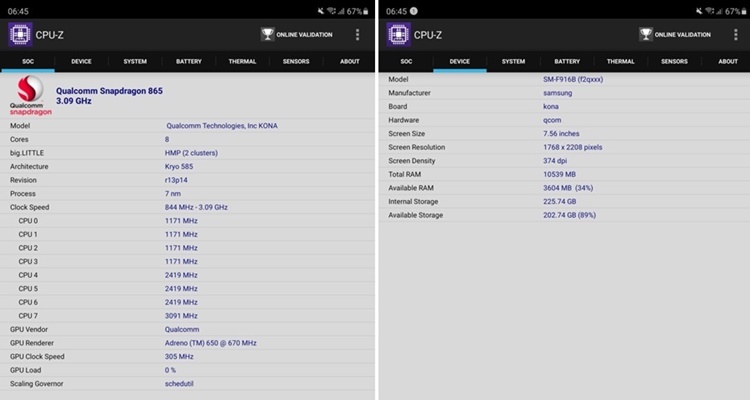 Qualcomm Snapdragon 865+ chipset
12GB of RAM
256GB internal storage
Measures 159.2 x 128.2 x 6.9mm (unfolded), 159.2 x 68.0 x 13.8-16.8mm (folded), weighs 282g
7.6-inch Dynamic AMOLED 2X 120Hz Display (unfolded)
6.2-inch HD+ Super AMOLED Display (folded)
12MP + 12MP + 12MP triple rear camera
10MP front camera + 10MP cover camera
Supports 5G, WiFi 802.11 a/b/g/n/ac/ax 2.4G+5GHz, MIMO, Bluetooth 5.0, NFC, Ultra-Wideband
4500mAh battery
The design itself is already a huge plus, so what about the tech specs and features? This foldable is a flagship device that houses a Snapdragon 865+ 5G chipset, 12GB of RAM, and 256GB of internal storage. Unfortunately, it doesn't support storage expansion, but most users won't even be able to fill up half of 256GB anyway.
While there isn't much to talk about in terms of features, it does have a few notable ones. As we've mentioned earlier, the phone can be used as a mini-tablet device by using the Flex Mode. With Edge Screen, you can also perform multitasking between three apps that are compatible with it. If you are using two apps, you can have the keyboard layout appear at the bottom and quickly type on it. You can also use it for a Zoom conference video call!
Tadaaaa!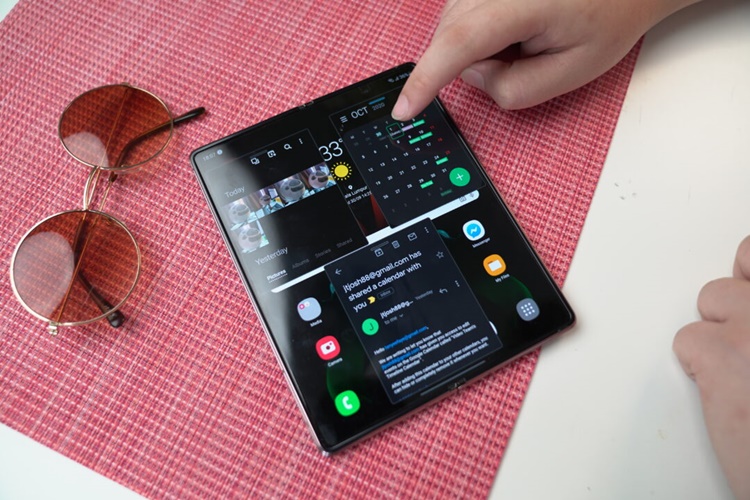 Here's how you can multitask with 3 apps at once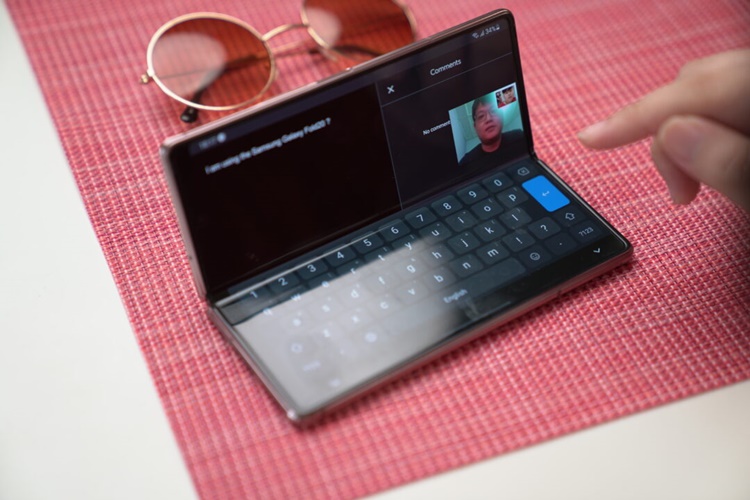 You can also treat it like a mini-laptop lol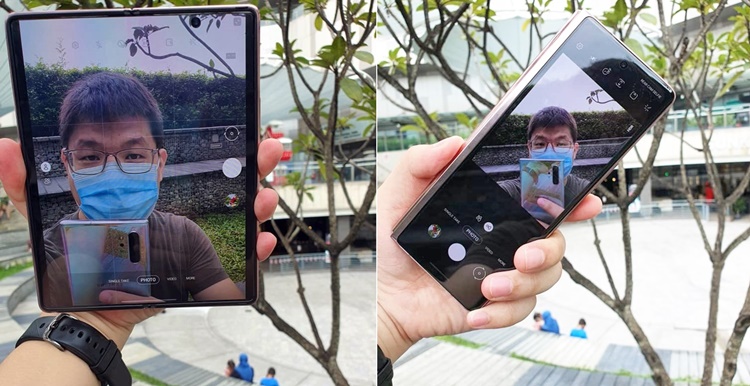 Taking photos on either side is fine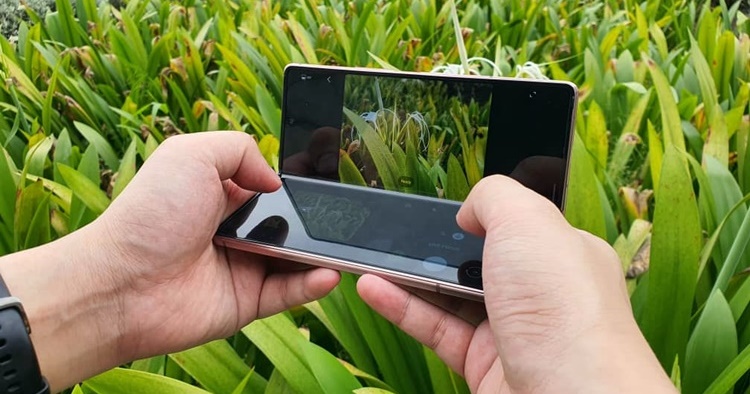 Taking a photo like this is also possible
Performance - Great all-rounder but the battery could be better
Since it's using the Snapdragon 865+ chipset, there's no doubt that the Galaxy Z Fold 2 can deliver a high level of performance. The GeekBench 5 and 3DMark scores proved that here, with the 12GB of RAM helping push the overall scores higher than phones with the same chipset. Besides being great for mobile gaming, this phone delivers fantastic visuals thanks to its display.
While it's possible to fold the phone halfway and treat it like a Nintendo 3DS console, it should be noted that there's a difference between the main and the secondary display's resolution. If you play certain mobile games with the main screen, avoid switching to the secondary display in the middle of the game. If you do, it's just going to crash the game and might cause errors in the display software.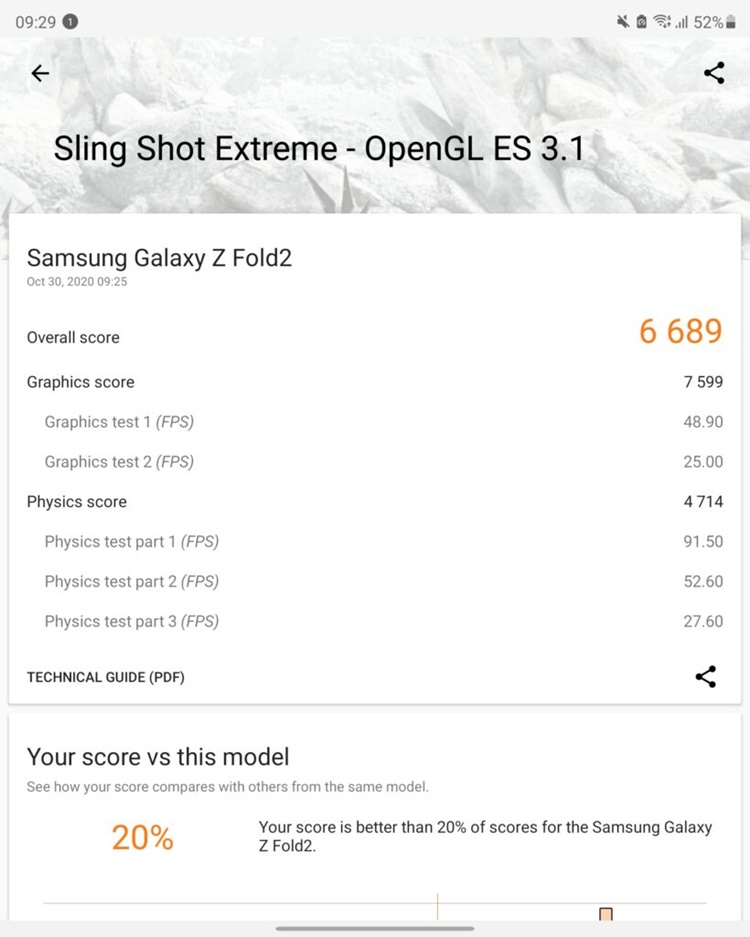 Soaring high in 3DMark benchmark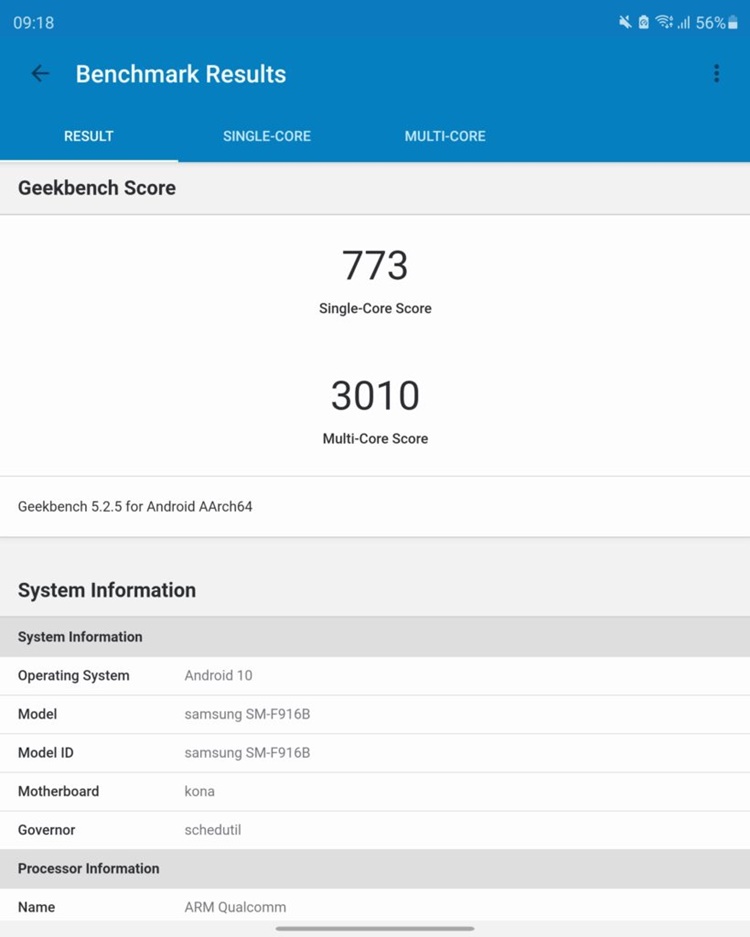 The 12GB of RAM really helped a lot
Genshin Impact game demo on the Galaxy Z Fold 2
Some of you might think that the Galaxy Fold 2's battery would drain faster, compared to a regular smartphone, because the display is wider. Thankfully, that's not the case with the Galaxy Z Fold 2, despite the battery capacity of 4500mAh. For those who like to play graphically intensive mobile games or stream on Netflix, you will still need to charge more regularly. On top of that, the phone may heat up more, depending on how much you are pushing the device.
Moving to the cameras, we expected the good photo quality and the Galaxy Z Fold 2 delivered. The main camera has a mere 12MP sensor, but it proves that you don't need high megapixels for a great photo. Anyway, we will let the pictures do the talking, so check them out below.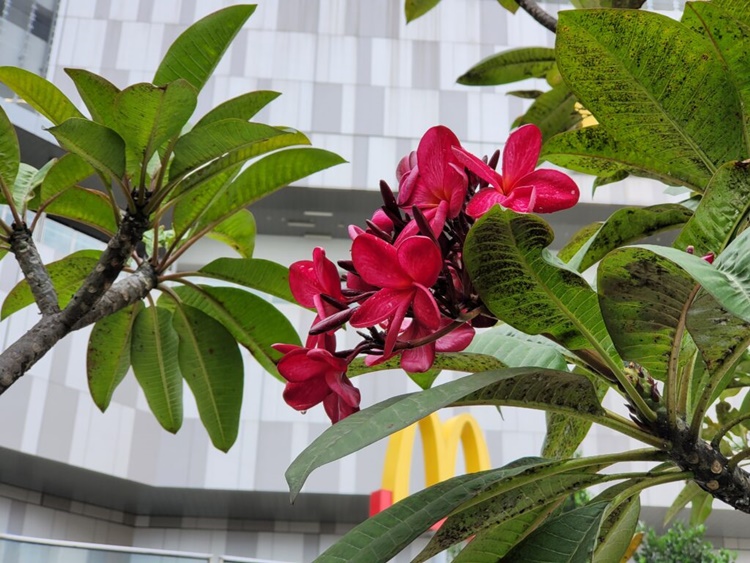 Colour representation is great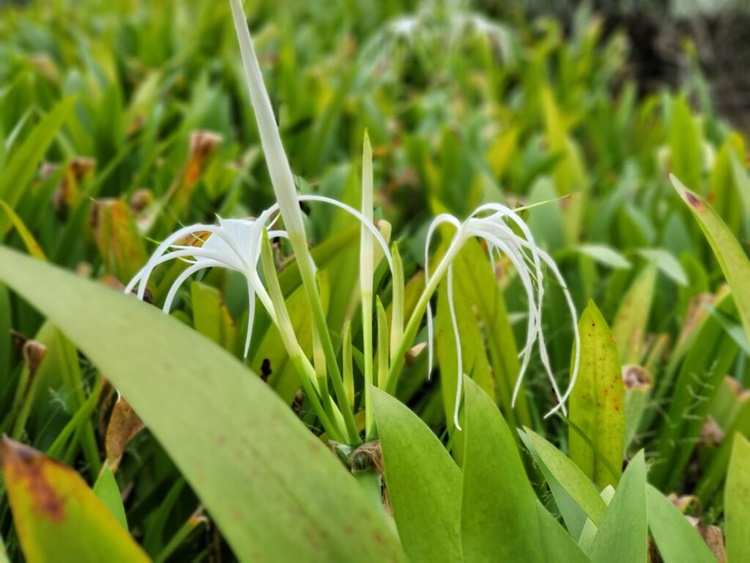 A close-up shot with good bokeh effect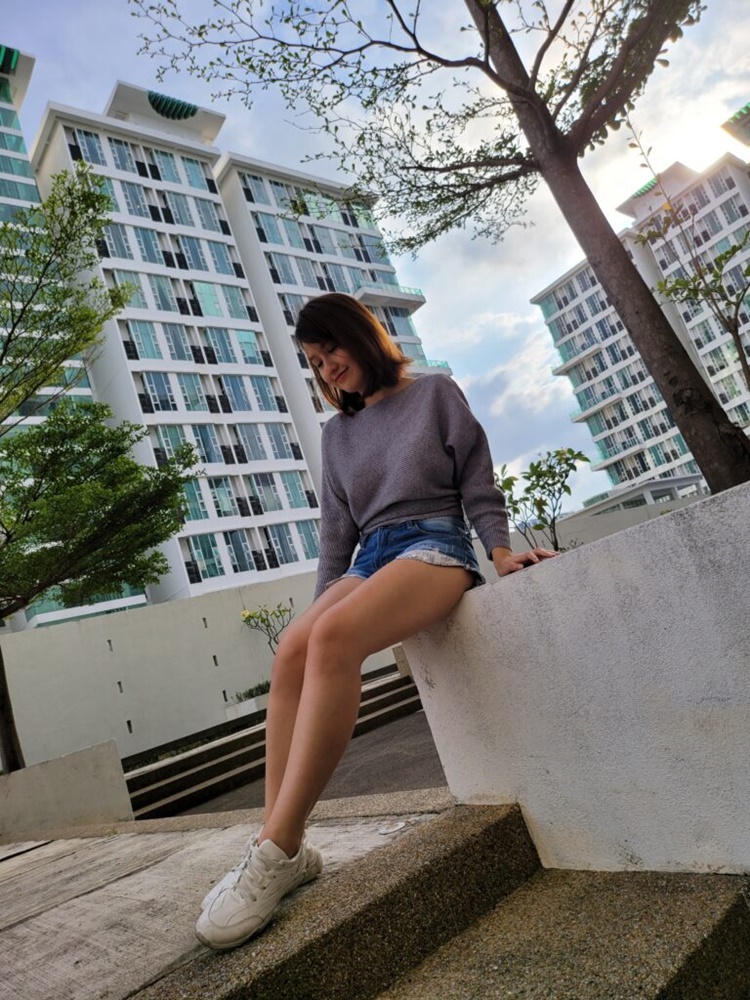 In the hands of a good photographer, you can definitely take shots like this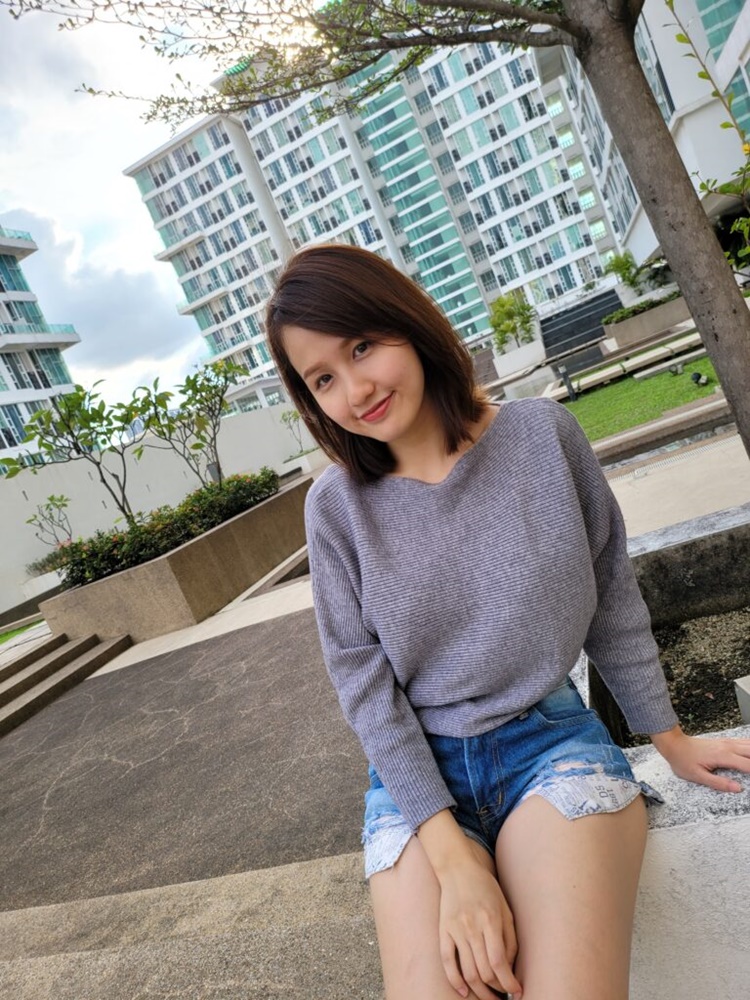 Overall, there are no problems with outdoor photography
Another close-up shot of a dog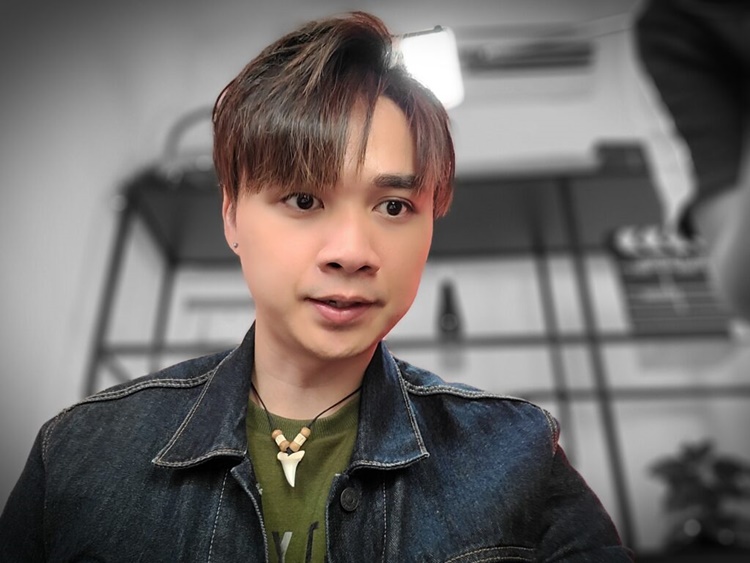 Selfie shots are quite good, and you can edit the effects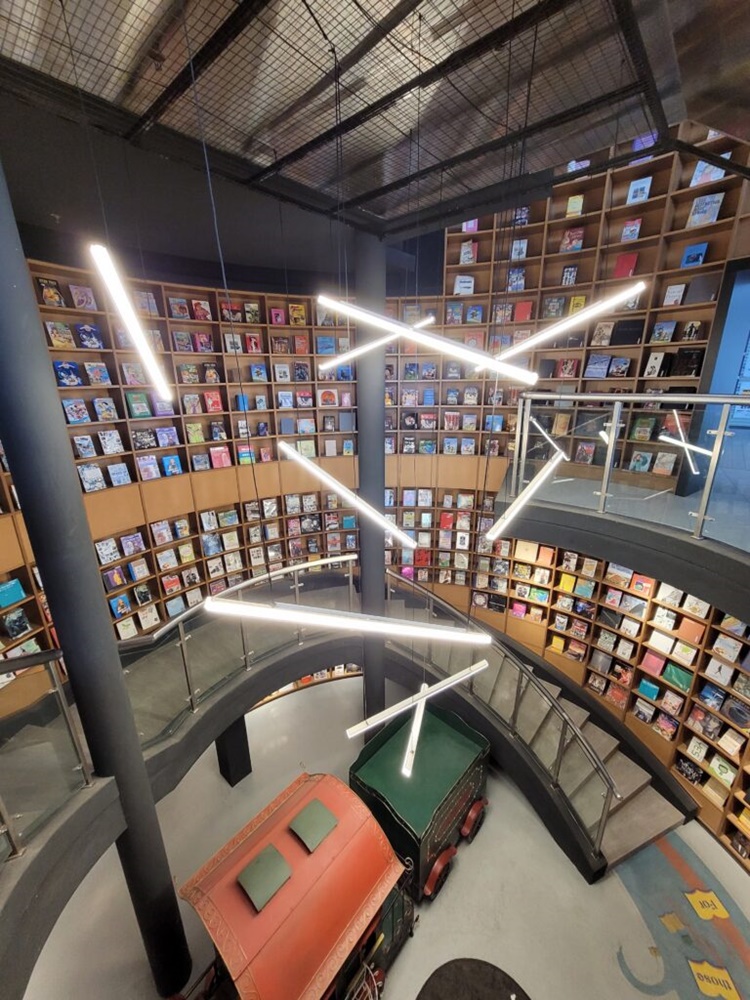 The ultrawide shot really gives a wider view thanks to the wider display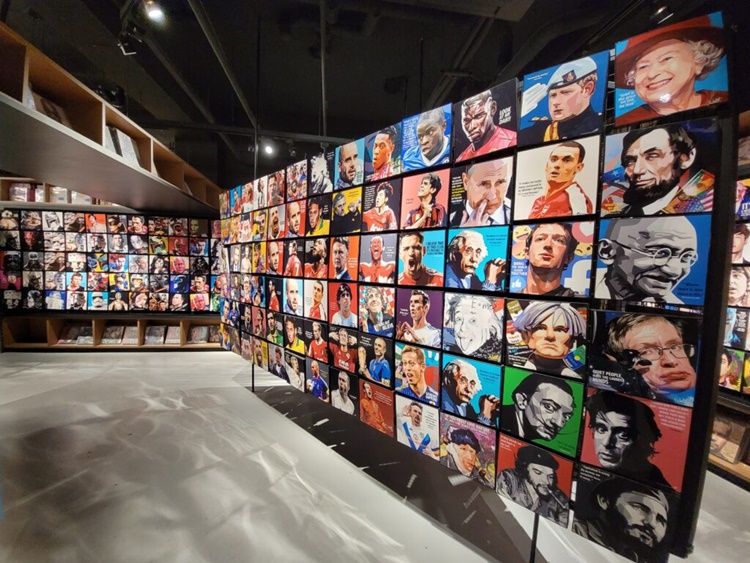 Thankfully, the colours aren't so dull in indoor lighting conditions like this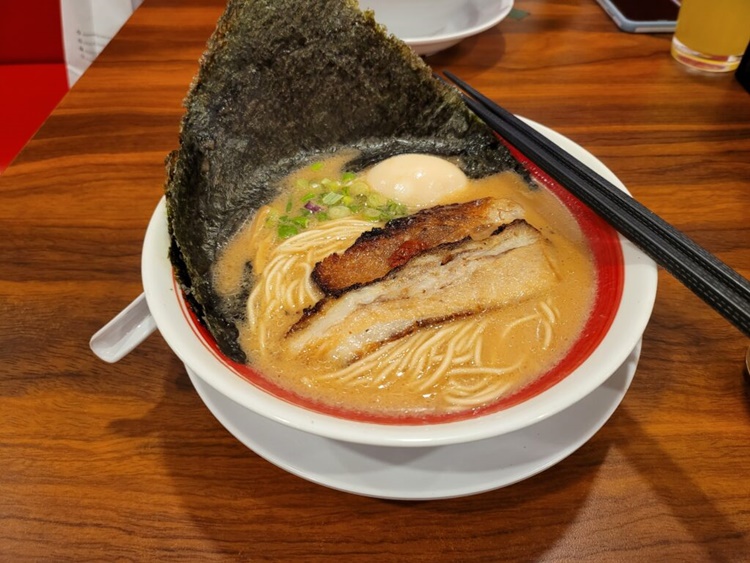 Mhmmm, food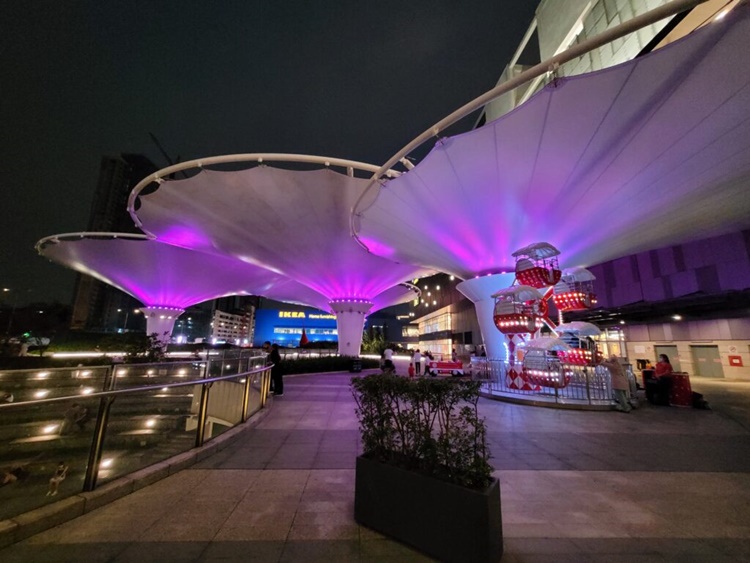 Finally, night photography is generally satisfactory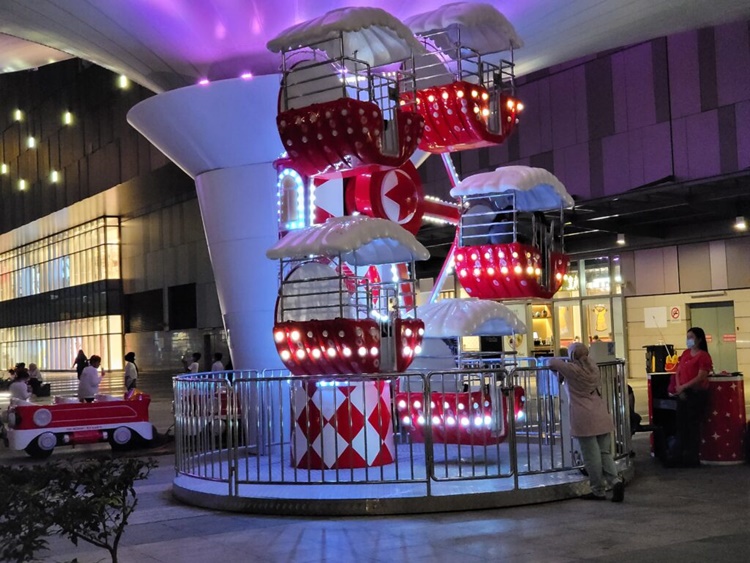 As long as you have the focus, low-light photos won't be an issue
Conclusion - Currently the best foldable smartphone for the wealthy lifestyle-conscious consumer
As we mentioned earlier at the beginning of this review, this is not a phone that can be easily recommended to consumers. At the price of RM7999, this is obviously a device that's aimed at wealthy lifestyle consumers. That's not a bad thing, of course, considering that the target audience isn't being short-changed. After all, you end up with a high-performance device, a studier display and hinge, as well as a good camera.
In comparison, there aren't many luxurious smartphone models in the market. Huawei Malaysia is still quiet about the Mate 40 RS Porsche edition, and its predecessor never made it here. If you want another option, the Galaxy Z Flip is a cool device that costs RM4999 and is perfect for women with small hands due to the size. Well, the choice is yours.
But what do you think? Know anyone that actually owns a Samsung Galaxy Z Fold 2? Let us know in the comments below and stay tuned for more tech reviews at TechNave.com.
Samsung Galaxy Z Fold 2 Specs & Price >