Samsung announces a Galaxy event on April 10th, might be the launch of Samsung Galaxy A90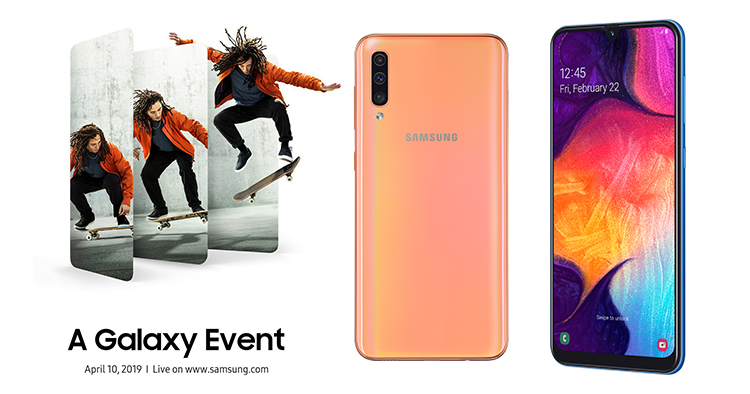 Only a month ago Samsung had unveiled their highly successful Samsung Galaxy S10 series. And now they have announced another Galaxy Event on the 10th of April, the same day as the OPPO Reno unveiling.
The announcement was made on their official Twitter account. A looping video was posted with a man skateboarding through the outlines of three devices which barely stood out against the white background. Two of the silhouettes didn't have a notch or cutout on the screen and one of them had the Infinity-V screen. The video was captioned with "Enter the era of live".
Enter the era of live. April 10, 2019 - Live on https://t.co/kDIR3TcbZ5 #SamsungEvent pic.twitter.com/EqN8wF04Wd

— Samsung Mobile (@SamsungMobile) March 18, 2019
No announcement of what phones may be launched on that date but if we were to guess, we would think that it may be the Samsung Galaxy A90 - the highest spec of the A series. Since the silhouette of two if the devices in the video show no notches or cutouts, it seems that is may just be in line with the rumour that the A90 may be released with a pop up or rotating camera.
As for the Infinity-V display, our guess it that it might bea new Samsung Galaxy M or even the Samsung Galaxy A70. We are speculating that the device released is intended to compete with OPPO's Reno series which may mean competitive prices with pretty decent specs and features. Samsung had started 2019 strong with the S10 series and they aren't slowing down. Just yesterday they launched the Samsung Galaxy M20, A30 and A50 in Malaysia. So what do you think will be released? We'll be updating you of any updates about the event on TechNave.com!