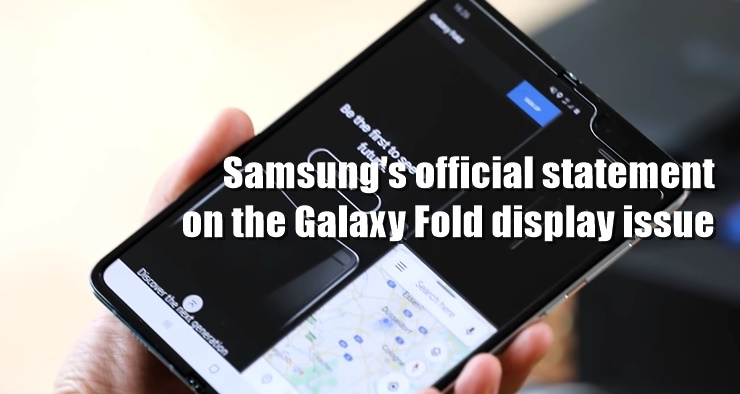 So you probably have seen news about the Samsung Galaxy Fold already. Samsung has already sent a couple of boxes to a few celebrities doing their own unboxing and it was exciting. But that all came down crashing when several reports of the foldable phone screen began cracking. This doesn't look too well for Samsung, but this is what they have to say with an official statement:
"A limited number of early Galaxy Fold samples were provided to media for review. We have received a few reports regarding the main display on the samples provided. We will thoroughly inspect these units in person to determine the cause of the matter.

Separately, a few reviewers reported having removed the top layer of the display causing damage to the screen. The main display on the Galaxy Fold features a top protective layer, which is part of the display structure designed to protect the screen from unintended scratches. Removing the protective layer or adding adhesives to the main display may cause damage. We will ensure this information is clearly delivered to our customers."
In other words, turns out that it was because of the protective layer that was removed and admittedly like us, we usually would remove it on any other phone review units because we want to get the true "feel" of the touch screen. But looks like this is not advisable for the Galaxy Fold.
On the other hand, this is also an odd situation because just last month, Samsung assured us that the Galaxy Fold was trialled and tested, being able to fold up over 200,000 times and this seems contradictory right now. Whatever the case may be, we just hope Samsung can come forward and clean about the issue just like they did with the forgotten Galaxy Note 7 (you know, that battery issue).
The Samsung Galaxy Fold is scheduled to arrive in Malaysia on 3 May 2019, stay tuned for our official news coverage only at TechNave.com.