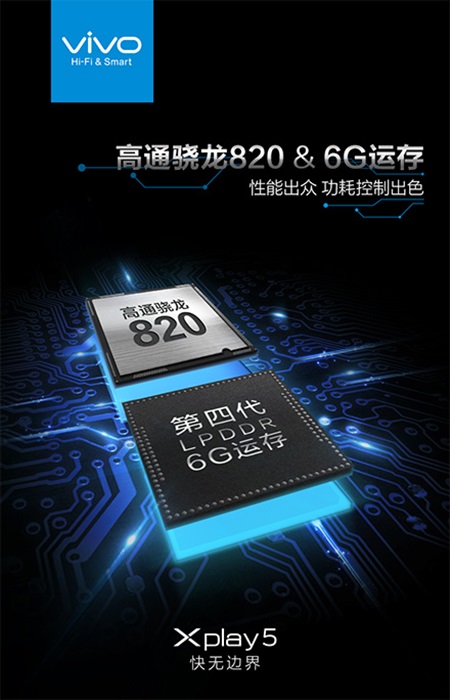 Just in case you missed it, Vivo XPlay 5 will be coming soon on 1 March and previously we heard a rumour that it will feature a powerful 6GB RAM which we thought it's a bit far fetch. My, how wrong we were. Turns out that's the real deal.
Aside from the 6GB RAM surprise, the XPlay 5 will also sport the latest Qualcomm Snapdragon 820 quad-core processor inside the hood. And the body design is dual edge curved display as well just like the Samsung's Galaxy S6 and recently announced Galaxy S7 line. So far, those are the only confirmation we got from their teaser posters. Other rumours that we read that it could have a large 6-inch display, 16MP rear camera, 8MP front camera and a huge 4300 mAh battery.
What's more, you get the powerful Snapdragon 820 quad-core processor inside, which is once again confirmed by the company, to ensure that the phone performs better than most other flagships. Even the LG G5 and Galaxy S7 flagships which were announced yesterday came with just 4GB of RAM. So, Vivo seems to be have done a great job providing the additional 2GB RAM on board the XPlay 5 handset.
Could the XPlay 5 face off as a worthy opponent to the LG G5 and Galaxy S7 flagships? Stay tuned to find out at Technave!
[Source]