Sony Ericsson Xperia Arc Review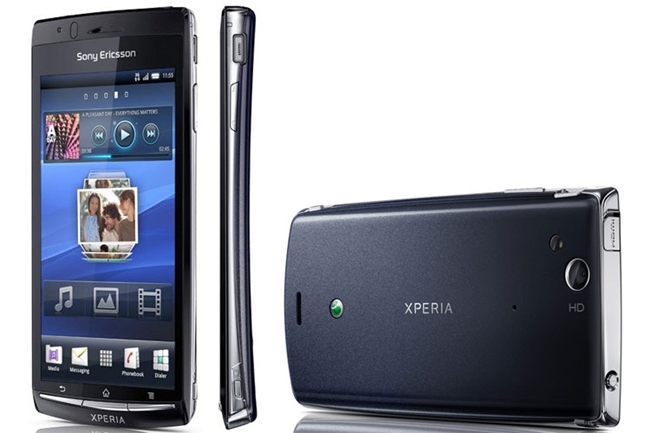 Sony Ericsson's smartphone regeneration continues with the stunning Arc

Until recently it was fair to say that Sony Ericsson has had a rocky ride with Android handsets. With its flagship 2010 Xperia X10 being somewhat left behind by HTC and Samsung.

Sony Ericsson Xperia Arc - Build:

It's fair to say the Arc is one of the most stunning handsets we've seen recently. Just 8.7mm deep and weighing a lightweight 117g the slight curve the body has been ergonomically designed to sit comfortably in your hand. The back of which has a two-tone coating from dark to pale blue, which looks a lot nicer than it sounds. Best of all is the screen. At 4.2-inches it dominates the front, the dark frame ensuring it blends seamlessly into the edges.

The effect is spoilt somewhat by the build, which is very plasticky, sure it's solid and could withstand a few drops, but wobbly buttons and faux-chrome trim are certainly not in the same class as the HTC Incredible S.

Sony Ericsson Xperia Arc - Android 2.3:

Pinch at any point and all active widgets are automatically positioned into a single screen, which you can select from As well as the Android back, home and menu buttons the four touch sensitive buttons at the bottom of the screen are customisable, and you can even arrange the main Menu icons Alphabetically, Most used or recently installed. Finally drag apps on top of each other to create folders.

The Media Player is much improved with photos, videos and images displayed as thumbnails you can flick through or organise by date into piles. Alongside album artwork the Music Player has a button that lets you access online content related the track, such as You Tube videos. 10 presets enable you to tweak the otherwise good sound quality. Both of these have useful widgets you can position on any of the five homescreens.
Sony Ericsson Xperia Arc - Screen:

The highlight of the Arc is the 4.2-inch screen, which Sony Ericsson calls a Reality Display, which uses LED backlighting, it's a joy to use, the extra width is fantastic for playing back video, browsing and composing email.

The screens performance is exceptional, multitouch is so responsive it feels like your gliding through homescreens as you swipe or pinch to zoom. Borrowing technology from Sony's TV range, the Arc includes Mobile Bravia Engine, which improves the quality of videos by revealing highlight and shadow detail. It's activated in the menu after you've captured video and sometimes we didn't alwasy notice the difference.
Sony Ericsson Xperia Arc - Performance:

Powered by a 1GHz processor and 512Mb RAM, which is fairly respectable and the Arc never feels slow, helped by the responsive screen. We had no problems swapping through multiple browser windows.

Sony Ericsson Xperia Arc - Camera:

The Arc is equipped with an 8-megapixel camera, with Auto and Scene recognition modes, along with a Smile Detection mode. As well as having a large aperture of f/2.4 which by letting more light in is designed to improve low-light performance - the screen is certainly easy to see in low light.

Pictures certainly have very bold colours and there's an effective Macro mode. Capture photos using the tiny shutter, which is just a bit too small, so our preference was tapping the screen, which caused less blur, although you need to keep the camera steady.

You can adjust a range of features including: ISO, Exposure and White Balance in both stills and video mode. There's no Xenon flash though; Sony Ericsson claims one wouldn't have fitted into such as slim casing.

Capturing 720p video, results are good rather than amazing. It's fairly good at dealing with differing contrast situations, but watch out for noise. The Arc also includes continuous autofocus, although on occasion we noticed a slight focal adjustment. In outdoor situations that are exceptionally busy, the audio noticeably picked up the wind.
Verdict:

We really like the Sony Ericsson Arc; it looks gorgeous, as well as being a generous size, the screen is excellent and it feels fairly quick and we really like some of the tweaks Sony Ericsson has made to Android 2.3. The negatives? Well the Arc, while solid, feels plasticky, the buttons are a bit wobbly and it's not dual core, but these are minor gripes about what is one of the best Android phones we've seen this year.
Sony Ericsson Xperia Arc LT15i Specs & Price >