Sony WF-SP800N review - For the sports buff who wants EXTRA BASS & noise-cancelling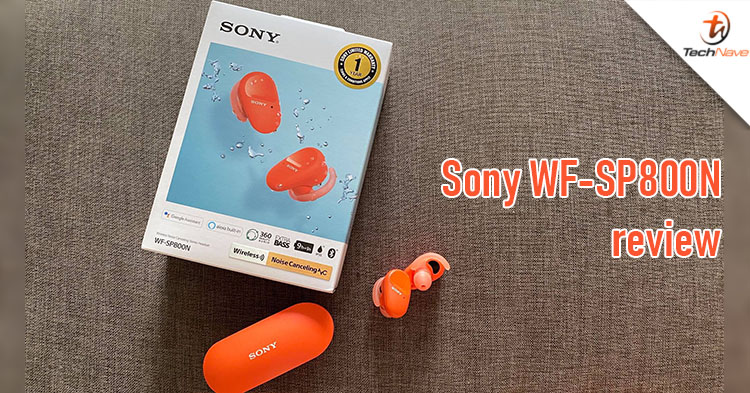 Are you the type of person who worries about dropping your wireless earphones during workouts? If the answer is 'yes' then continue reading this review about the Sony WF-SP800N. The Sony WF-SP800N launched a few months ago for the price tag of RM849 and it is specially made for sports buffs. So what is the difference between this and other true wireless earphones? Let's check it out!
Right out of the box, the charging case is quite big when compared with other TWS charging cases, same goes for the earbuds. You may think that they are too bulky but the battery life makes it all worth it. Also, the earbuds come with arc supporters to fit your ears securely, even during your tough workouts. The box also comes with two sizes for the arc supporters and four sizes of long hybrid silicone rubber earbuds.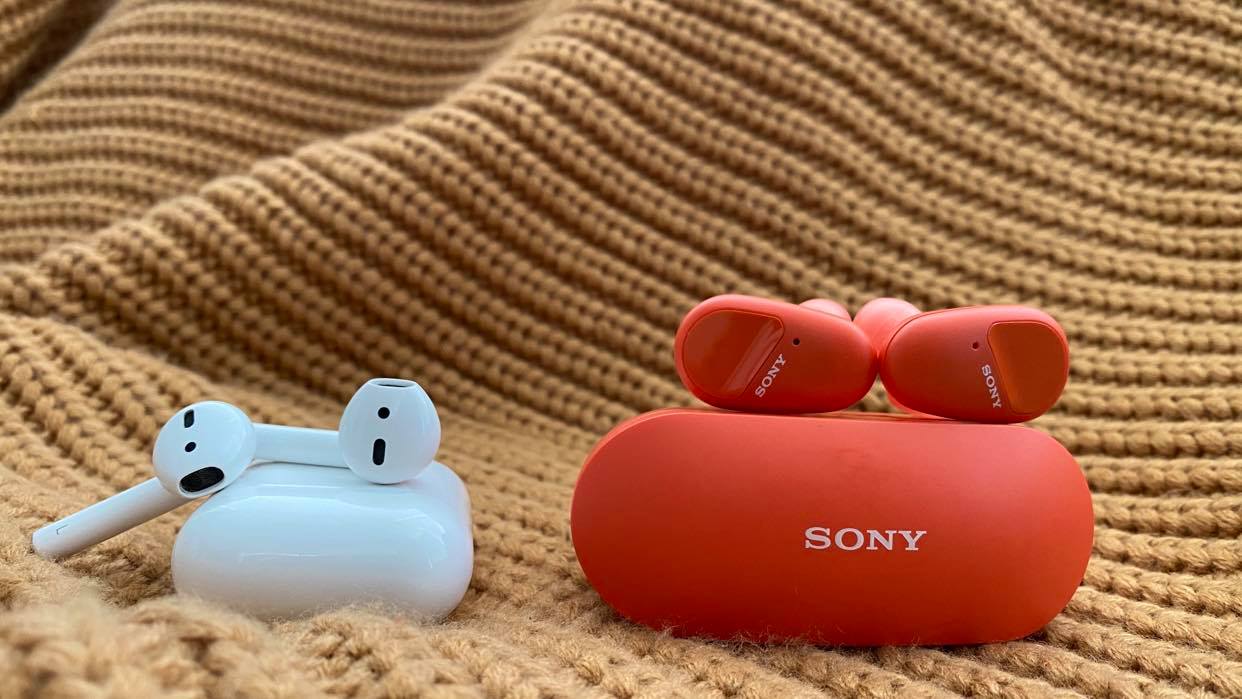 Comparing the sizes between the Apple AirPods (left) and Sony WF-SP800N (right)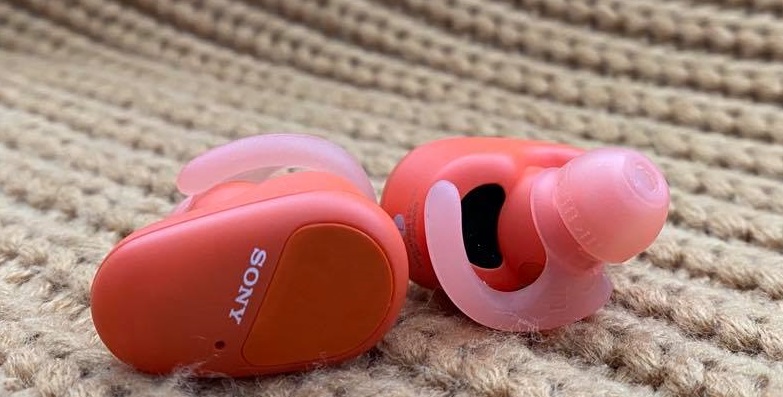 The earbuds design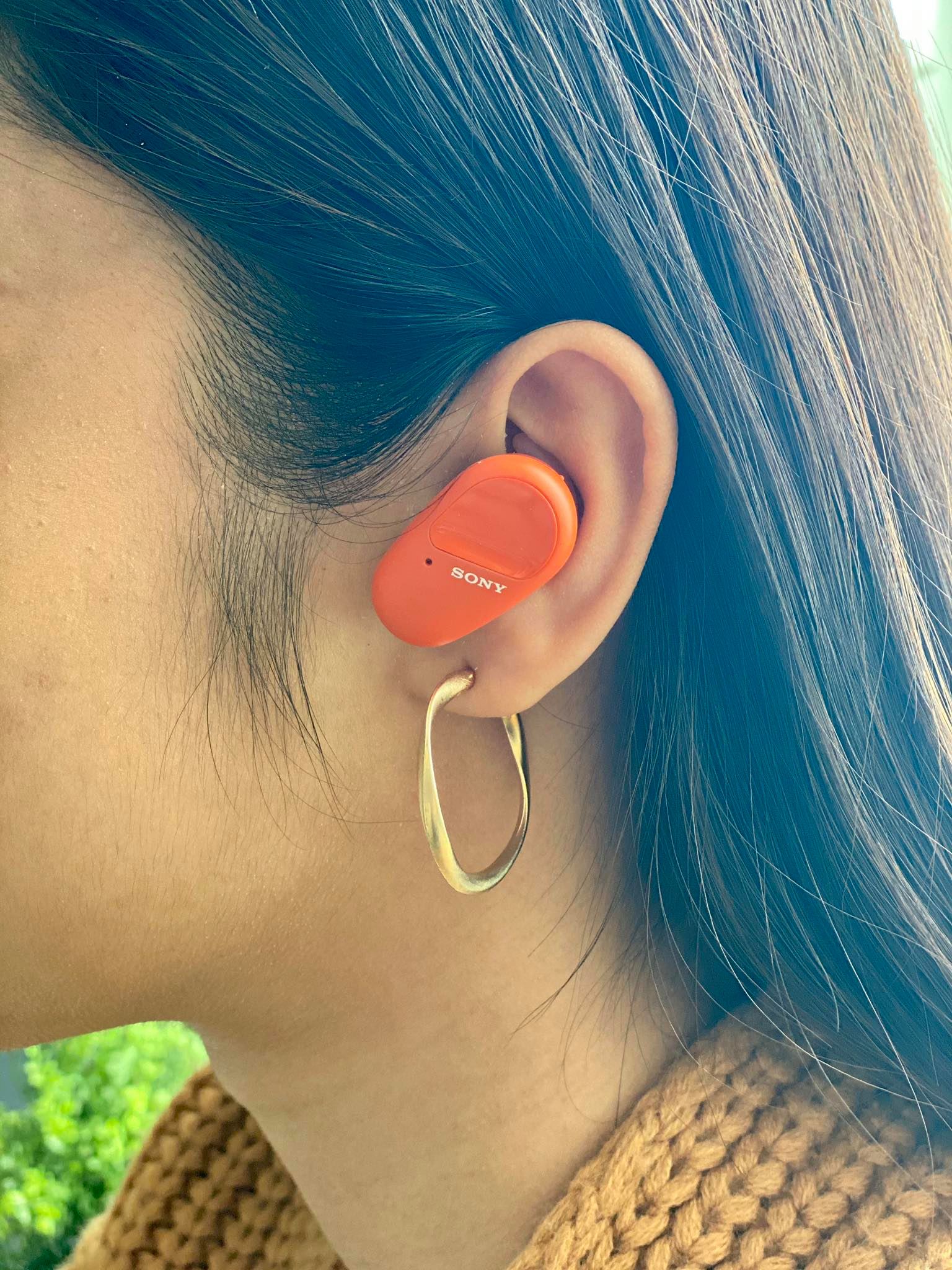 May look bulky but it fits your ears securely
The earbuds come with four colour variants which are white, black, blue, and orange. I personally like the orange because it stands out and is eye-catching. Compared to other earphones and earbuds, the Sony WF-SP800N's colour (orange) is stylish and unique, and I can easily spot them in my handbag.
You might be wondering how the digital noise cancellation works on these earbuds. Well, there's a feature called the Adaptive Sound Control that automatically detects and adjusts the ambient sound and noise-cancelling. You can change the noise-cancelling setting in Sony's Headphone Connect app for when you are standing still, walking, running, and even waiting. It will automatically detect your movement, so you don't need to keep unlocking your phone to set the mode again and again.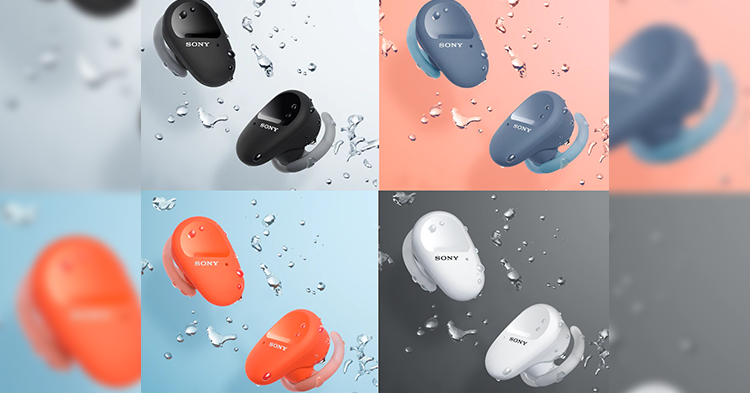 The 4 colour variants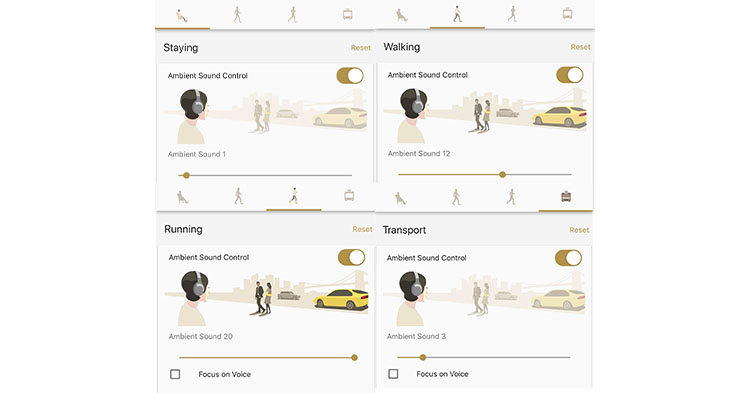 Adaptive Sound Control setting
I've been testing the earbuds for two weeks now and the noise-cancelling feature really amazed me, especially when I go workout or jog in the park. Moreover, the EXTRA BASS sound gives me deep and punchy sound which motivates me to work out harder. Even if I'm not playing any music, the earbuds can still detect my gesture and allow me to hear the ambient sound around me. You can also adjust or set up the equaliser in the app.
On the other hand, the 360 Reality Audio is a new music experience for me. What it does is it can make you feel as if you are at a concert, studio, or event. You can also clearly hear certain instruments, vocal, bass, and more individually. To set up this feature, go to the app settings and it will analyse your ear shape and optimise accordingly. But at the moment, this feature only works with Deezer, nugs.net, and TIDAL. It doesn't support Spotify and Apple Music, but you can try to search for 360 Reality Audio on YouTube here to experience it for yourself. There's also a trial voucher inside the box that lets you try it.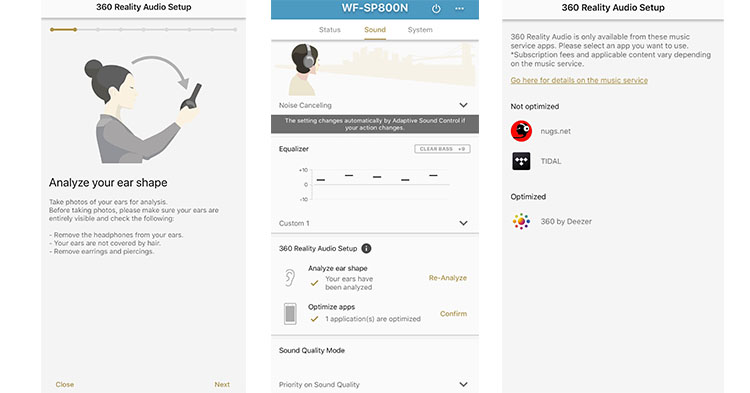 360 Reality Audio setup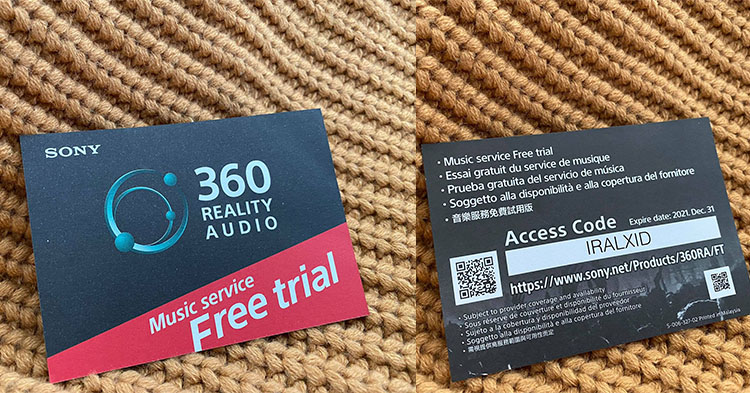 360 Reality Audio free trial voucher comes within the box (I used the code already HAHAHA)
In terms of sound quality, these earbuds can give you the best music experience no matter what genre you are listening to. From white noise to acoustic, pop or EDM, they are all quite crisp and clear in detail as expected of Sony. Moreover, the songs have more 'OOMPH' if you turn on the EXTRA BASS feature via the Headphones Connect app. I personally liked to play EDM on these earbuds, such as Animals by Martin Garrix and other similar songs.
For the battery life, the earbuds can last for up to 9 hours and the charging case can provide another 9 hours with quick charging (watt unspecified). If you turn off the noise-cancelling, the earbuds can even last longer for up to 13 hours and the same goes to the charging case, for a total of up to 26 hours! All you need to do is charge the earbuds for 10 minutes and you'll get enough battery to last for another 60 minutes in music playback with noise-cancelling.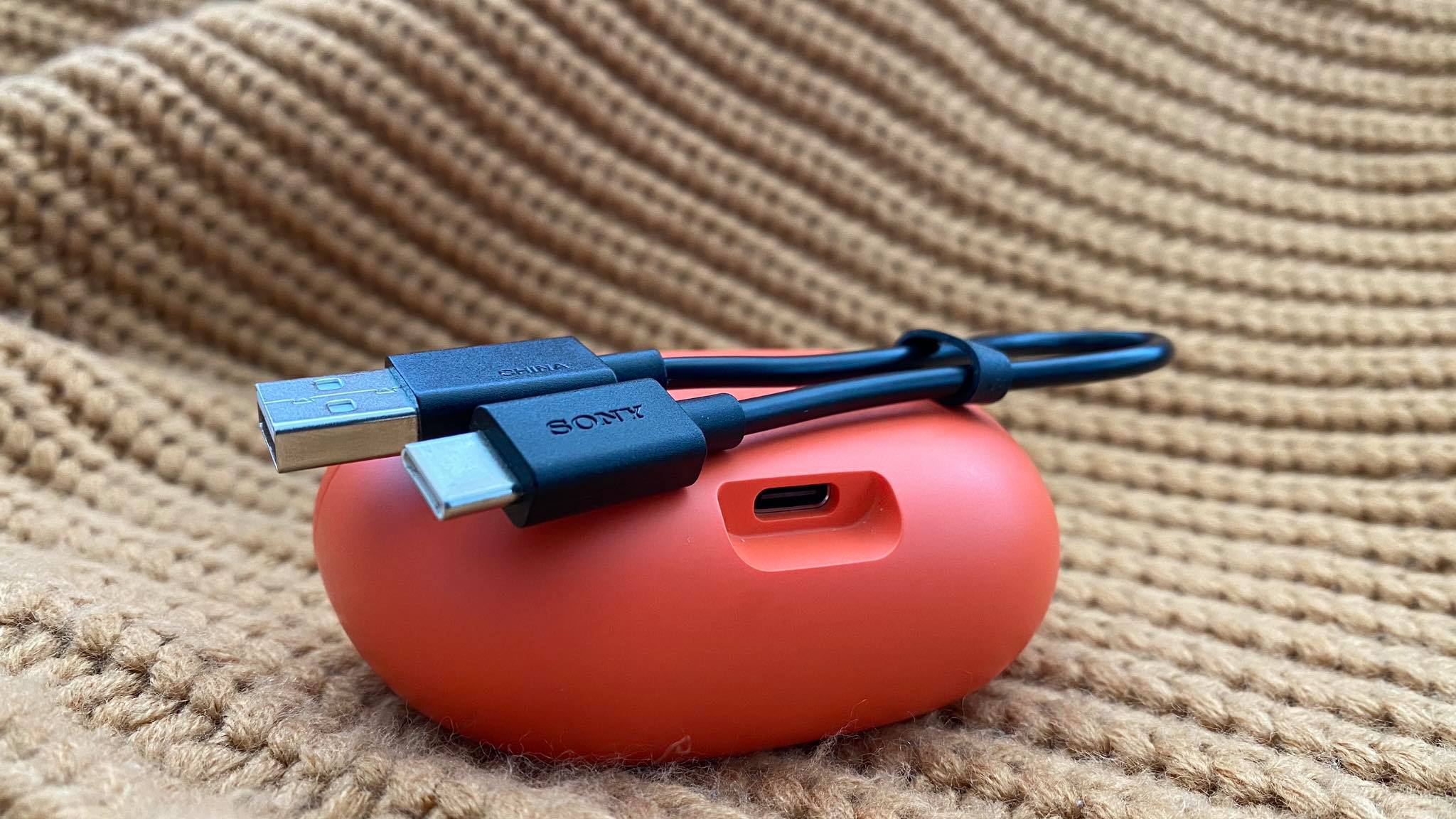 This charging case does not support wireless charging but there is a USB-C port at the bottom of the case
Furthermore, these earbuds support Bluetooth 5.0 and the connectivity range is strong, even if I go to another room away from my phone. Voice assistants are also supported, including Google Assistant, Amazon Alexa, and Siri. But for some reason, Siri cannot be found in the settings. You can also directly wash it underwater because the earbuds are IP55 rated. Friendly reminder, the charging case is not water-resistant so do not wash them with soap, please.
In my opinion, the price of RM849 makes these earbuds quite pricey for me but it is worth it. These earbuds are perfect for me because they are wireless, support noise-cancellation and don't fall off easily when I workout. If you are not the sporty type of person, you can consider other affordable options like the Sony WF-XB700, which is priced at RM549.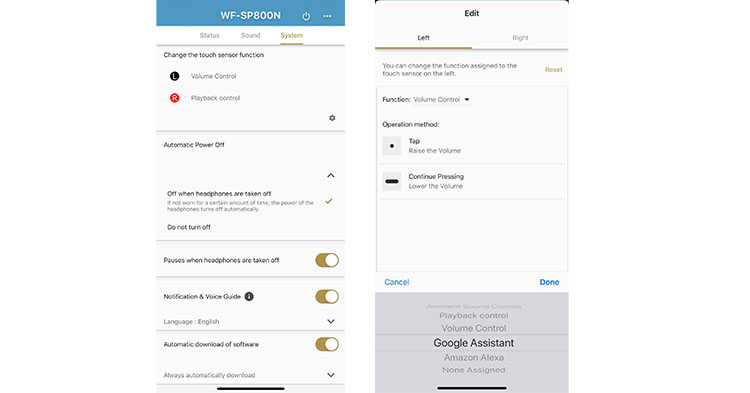 Siri cannot be found in the settings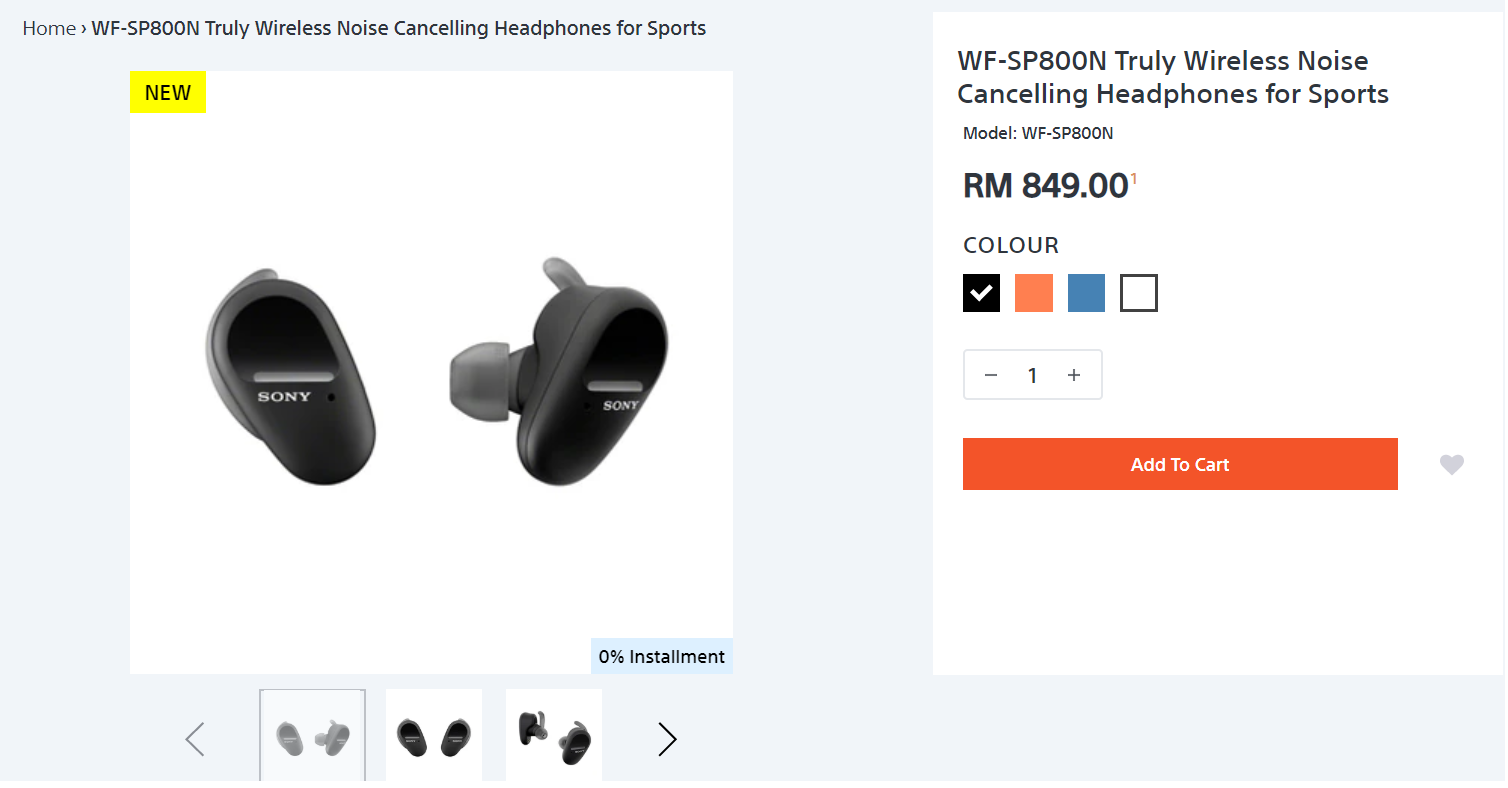 The Sony WF-SP800N official website
If you wish to buy the Sony WF-SP800N, you may visit their official website or the offline retail stores. What do you think after reading the review? Will you get the Sony WF-SP800N? Let us know in the comments below and be sure to stay tuned for more tech reviews on TechNave.com.
Tech specs and features
Frequency - 2.4GHz band (2.4000GHz-2.4835GHz)
6mm sound driver (dome type)
Audio codec - SBC, AAC
Weighs 9.8g x2 (earphones), 59g (charging case)
IP55 water and sweat resistant, Touch Controls
Bluetooth 5.0 version
EXTRA BASS
Voice Assistant -Google Assistant, Amazon Alexa
Pros and Cons
Pros: Secure fit for working out, IP55 water-resistant rating, up to 18 hours of battery life (earbuds + charging case with noise-cancellation), lightweight and EXTRA BASS
Cons: 360 Reality Audio only supports certain apps, it is also pricey and Siri is not found in the Headphones Connect app
Conclusion: It's perfect for those who work out a lot and enjoy music with EXTRA BASS