Speed test between Samsung Galaxy S8 and Apple iPhone 7 Plus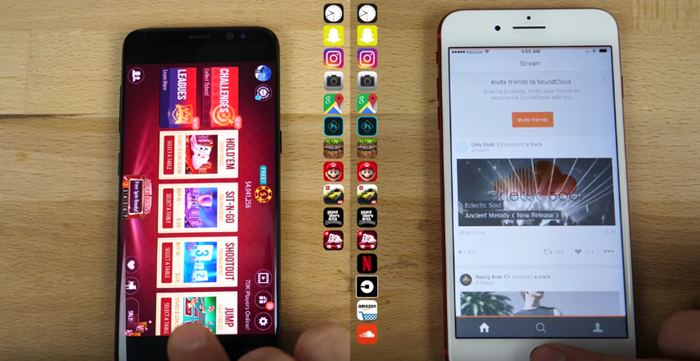 With the Samsung Galaxy S8 and S8+ as the newest boys in town, surely these two flagship devices are the powerhouse of Android handsets now. But as what people would like to know and compare - is it faster than the Apple iPhone 7 and 7 Plus?
On paper, the S8 series should be able to beat iPhone 7 series thanks to the new Snapdragon 835 processor and 4GB RAM. So this should mean the S8 as the clear winner when it comes to multi-core benchmark tests, for playing highly intense graphic games or rendering 4K video. However, that cannot be said the same for single-core tests since Apple iPhone is known for optimising apps. Also, in case if you were wondering why is it not the S8+ challenging the iPhone 7 Plus, this is because the S8 and S8+ difference is only the display size and battery capacity.
In this legit speed test video by EverythingApplePro, many tests were conducted and while it was a close call, you may be surprised to see that the iPhone 7 Plus beats the S8+ in terms of heavy gaming duty and 4K video renders. Well, the video will show you.
So what do you think? Let us know in the comments below and stay tuned for more geeky news at TechNave.com.
[Source]