Step into a future of 5G with the premium mid-range OPPO Reno5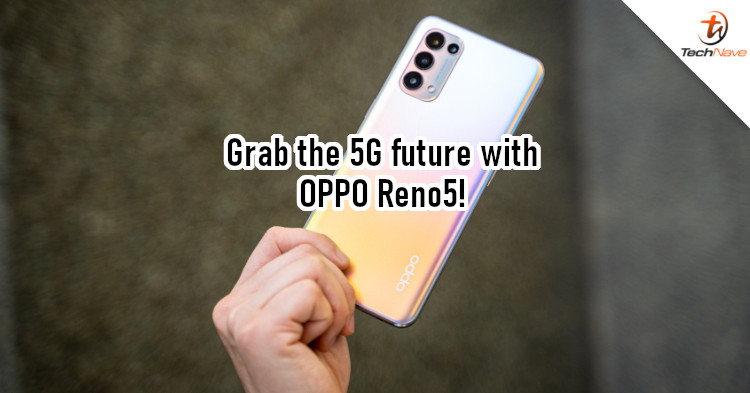 In 2020, companies started to push 5G technology in various markets and sectors. 5G may not be widely available yet, but the push for it is expected to accelerate this year. Because of that, you'll see companies launch more 5G smartphones this year. But the same questions remain. Is 5G worth adopting so early and which model should we go for?
Many hesitate to invest in 5G devices because they tend to be more expensive. While entry-level 5G smartphones would be more common in the future, mid-range models are generally the better options in 2021. Today, we take a look at one that's going on pre-order starting today - the OPPO Reno5 - and see what makes it a suitable 5G smartphone to futureproof yourself with.
Futureproofing with 5G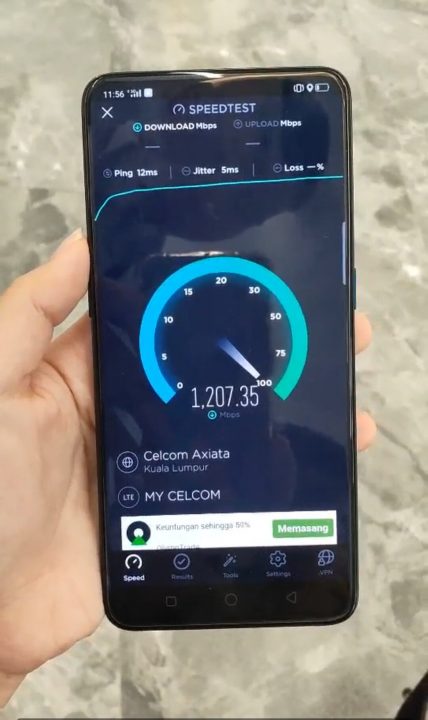 Preliminary 5G tests in 2019 show speed far surpassing 4G speeds
So, why should I get a 5G phone like the OPPO Reno5? There are a few reasons, such as higher resolution for photos and videos, or higher bit-rates for audio files. While you can comfortably stream a few 1080p YouTube videos simultaneously on a 300Mbps broadband line, the videos will probably have to constantly buffer if you switch to a 4K resolution.
While 5G is (again) not widely available yet, it will deliver wireless Internet speeds of up to a 20Gbps once it's rolled out. For one, this means you get faster download speeds for 4K videos or large photos. You'll also enjoy ultra-low latencies, which could make various online services smoother and more stable. For example, you won't have to worry about your remote video calls or Google Stadia game streaming session dying or breaking up on you.
Amazing screen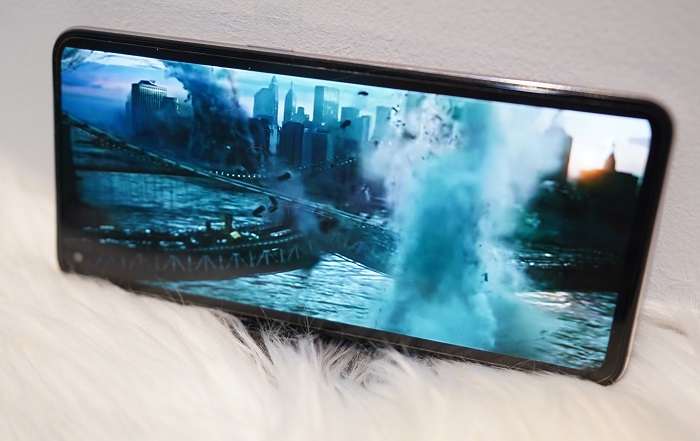 The screen is pretty good
On that topic, you'll need a good screen to fully enjoy streaming games and videos. A good screen should ideally have vivid colours, high brightness levels, and a high refresh rate for games. The OPPO Reno5 happens to satisfy those requirements.
Since OPPO used an AMOLED panel, there's no doubt about the quality of the 6.43-inch screen here. It combines a max resolution of 2400 x 1800, HDR10+, and a max brightness of 600 nits to provide an immersive screen that delivers fantastic visuals. Moreover, it comes with a max refresh rate of 90Hz, which makes everything on the screen run and look smoother. Despite that, OPPO mentioned that the display will have lower power consumption and is protected by 3rd Gen Corning Gorilla Glass.
Cameras for the win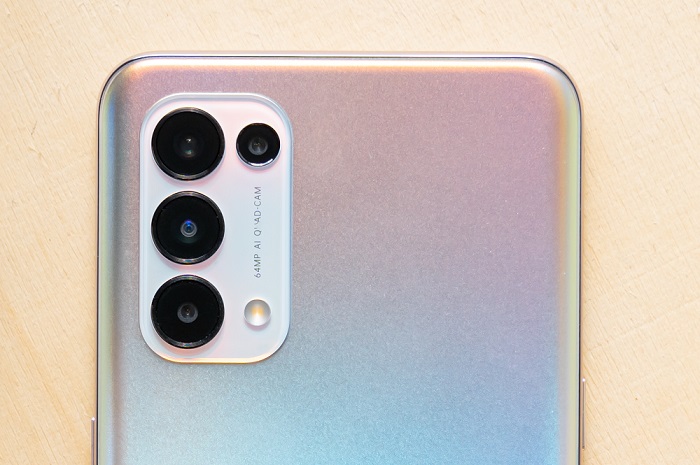 The phone's quad-camera setup
Of course, 5G and a good display may not be enough. That's okay because OPPO's Reno series are well-known for their cameras. Smartphone cameras are improving by the day, and you can now take pretty good photos with them. You could check out the Be A RENOgrapher contest that happened a while back for some shining examples.
If you're into mobile photography, then the OPPO Reno5 series could easily fit your needs. The Reno5 5G comes with a quad-camera setup at the back. It consists of a 64MP main camera, 8MP ultra-wide-angle camera, 2MP macro camera, and a 2MP depth sensor. The front is no slouch either with a powerful 32MP selfie camera. With these cameras and the Image-clear Engine, you can even capture fast-moving subjects clearly.
Dual View mode
AI Highlight Video mode
Aside from that, the phone has some neat video features. For example, the Dual View feature lets you record videos using the front and rear cameras simultaneously. Another one is AI Highlight Video, which dynamically switches the camera between the ultra-night and live HDR modes based on ambient lighting conditions. There's also the Smart AI for portrait videos, Ultra-steady Video 3.0, and SOLOOP smart video editor.
Battery longevity
Besides the camera app, one of the best things about the Reno5 series is its battery and charging speed. For a mid-ranger, it's quite impressive to see that it has a relatively large 4300mAh battery. On top of that, the phone supports OPPO's 65W SuperVOOC 2.0 Flash Charge technology, which charges the phone to 100% within 35 minutes. Even if there's just 5% left, the Super Power Saving Mode gives you enough time to send text messages on WhatsApp for over an hour.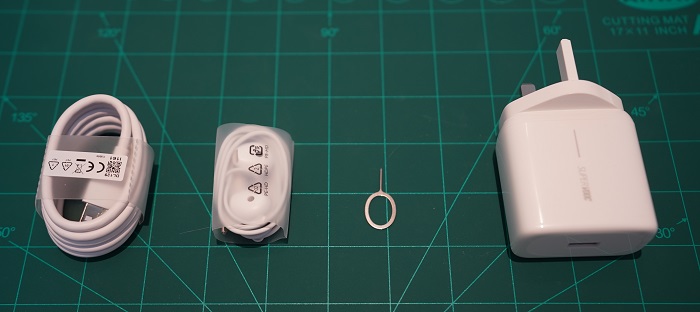 The Reno5 comes with a 65W fast-charger
Performance to match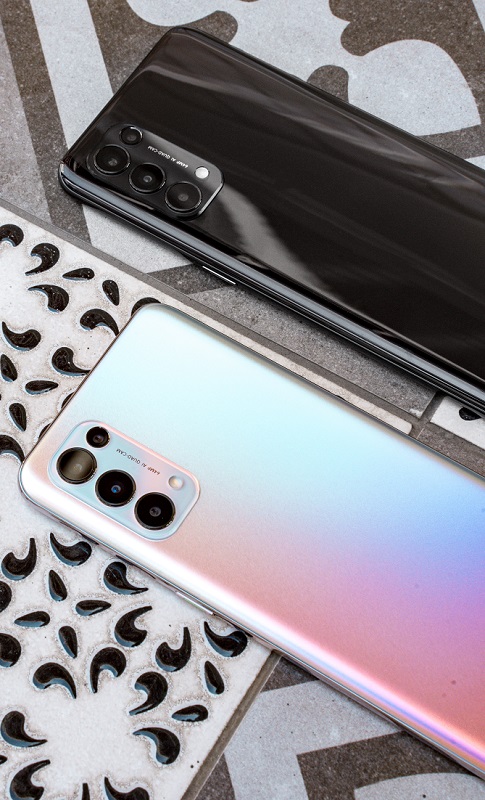 Of course, a good mid-range 5G phone should at least have the specs to match. In this case, the Reno5 has some relatively impressive hardware. The phone comes with a Snapdragon 765G 5G chipset, which has an 8-core CPU with a 1+3+4 CPU cores configuration. Specifically, it has a primary Cortex-A76 CPU core at 2.4GHz, three more performance Cortex-A76 CPU cores at 2.2GHz, and four Cortex-A55 efficiency cores running at 1.8GHz. It also has 8GB of RAM and 128GB of internal storage, which should be more than enough to store a large number of photos and videos. To put it into perspective, the Reno5 should be more than capable of playing a wide range of games at 60FPS.
And that's plenty of reasons to get the OPPO Reno5, but to sum it up it's a mid-range device with some premium features but is available for a reasonable price of just RM1899. On top of that, if you pre-order it from 13 to 26 January 2021, you'll get gifts worth RM397. This includes an OPPO Enco W11 (RM159), phone case (RM129), and complimentary 1 year extended warranty (RM109).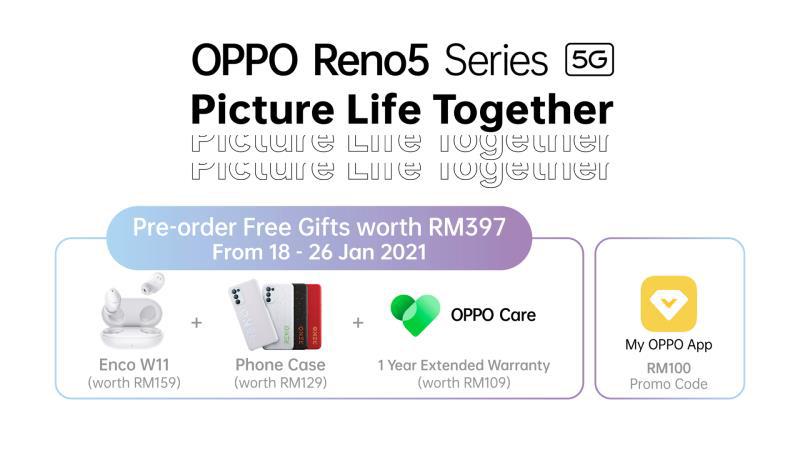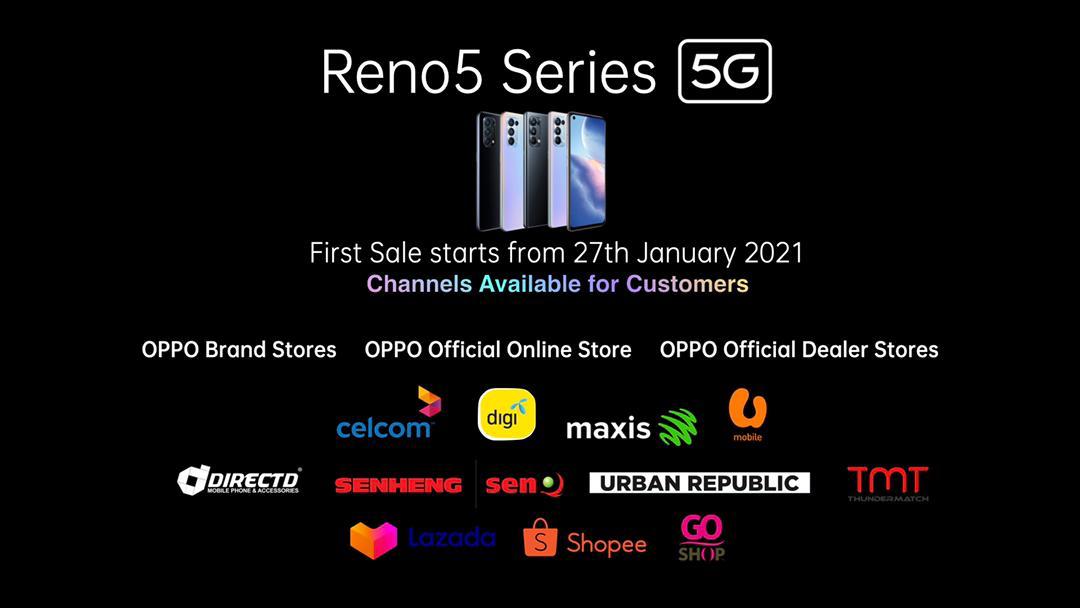 If you're interested, you can find out more about the phone and pre-order it online here. You can also get it via the OPPO brand stores or authorised resellers like Senheng, Direct D, ThunderMatch, Urban Republic, as well as telco companies like U Mobile.
So, what do you think of the OPPO Reno5? Is a 5G device something you plan to get within 2021? Let us know in the comments below and stay tuned to TechNave.com for more articles like this.
Oppo Reno 5 5G Specs & Price >