These are the smartphone series that never came to Malaysia (officially)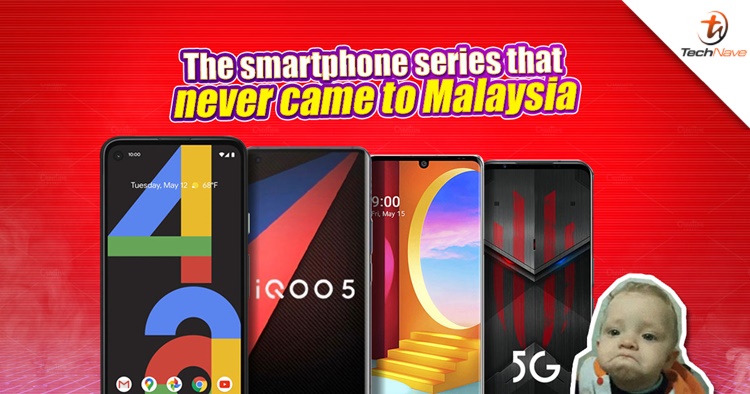 If you were to ask me, choosing a smartphone is not an easy task in our current era. Unlike a decade ago where there just a few noteworthy brands to choose from, there are a "berzillion" smartphone brands right now fighting for our attention (and money) and the competition is indeed fierce.
Despite the competitiveness in the smartphone industry, there are actually some brands who choose to skip Malaysia as a potential market. We decided to gather up a list of companies and these are the smartphone series that never came to Malaysia (lol). To make the criteria clear, imported versions do not count so it must have an official smartphone launch just like how Samsung Malaysia, Huawei Malaysia and others do it. You get the idea, here we go!
Google Pixel series - The flagship series that we would like to have here
Obviously, the Google Pixel series is probably the first thing that comes into your mind. Since the company's first smartphone debut in 2016, it's unfortunate that Malaysia was and still is not part of their marketing scope. And every time we release news about their phone launches, we and the rest of the smartphone enthusiasts would lament over the fact that the devices are very unlikely to set their foot here.
The Google Pixel 4a is available in Singapore but not Malaysia, sigh
Sure, you can grab an imported version from overseas. But you can't find any official local pricing even from Google Malaysia here. The warranty from local retailers would probably be without any official assistance from Google as well. So yeah.
iQOO series - 13 iQOO phones that never came
Here's a pop quiz - when did vivo introduce their sub-brand iQOO and how many phones do they have? A quick Google search would let you know that the iQOO 5 series is the latest one, but you would also be surprised to know that iQOO was only introduced in early 2019. SAY WHAT NOW?!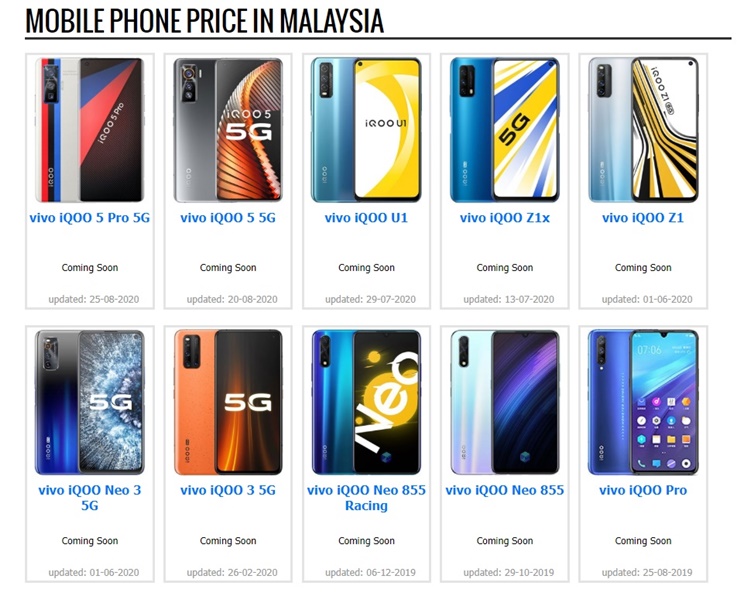 Look at all these iQOO phones that are "coming soon" LOL
That's right, with the advent of gaming smartphones at that time, it was inevitable that vivo joined the competition but for some odd reasons they never export the brand out of China. In just under 2 years, there are already 13 iQOO smartphone models (according to our database) and we aren't quite sure why they don't expand the brand. Too early? Or perhaps no interest? Oh well.
LG smartphones - Where are you?
So here's a funny story - back in 2013, LG actually announced that they would be moving away from smartphones but here we are many years later, watching the company releasing a unique dual-screen smartphone just recently as well as the LG Velvet as a mid-range phone with a cool "raindrop" rear camera design. Just not in Malaysia.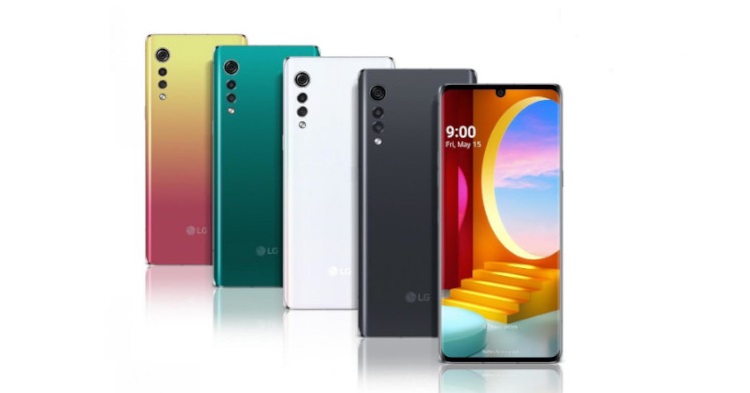 The LG Velvet
Despite having a brand presence in Malaysia for 20 years selling TVs, refrigerators and other home appliances, they just stopped being active in marketing their smartphone models for the Malaysian market for some reason several years ago. We even asked them about that recently from their latest NanoCell 8K TV showcase and all we got was the political answer "We are looking into that".
Nubia Red Magic series - Affordable gaming phones that aren't official
In case you didn't know, the Nubia brand was actually started by ZTE many years ago. Now officially as an independent brand, Nubia Malaysia actually had a fair share of success for releasing affordable entry-level smartphones for the masses. However, that was 3 years ago and they have been quite silent since then.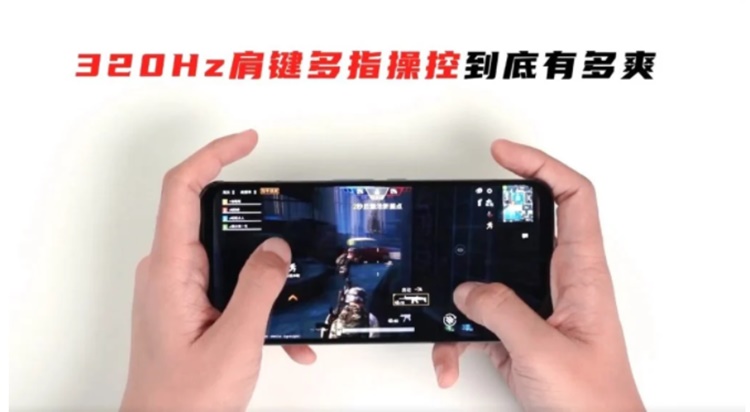 The Red Magic 5S
After the ASUS ROG Phone hype in 2018, Nubia then released their trademark Red Magic as affordable gaming-centric smartphones. The series has great specs tagged with a great price around of just RM2K but there's just one problem, the brand focuses more on the Chinese market. Granted, you can find some Nubia Red Magic phones at some local retailers but none of them are really official.
All the super big battery phones
While it's common to see newer entry-level phones with huge battery packs up to 6000mAh, but the ones we are talking about are the phones with huge battery capacities up to 10,000mAh. The two most notable brands that specialize in that are none other than Oukitel and Gionee, with the latter releasing the Gionee M30 for ~RM844 whereas the Oukitel WP6 is RM~RM1261 back in May 2020.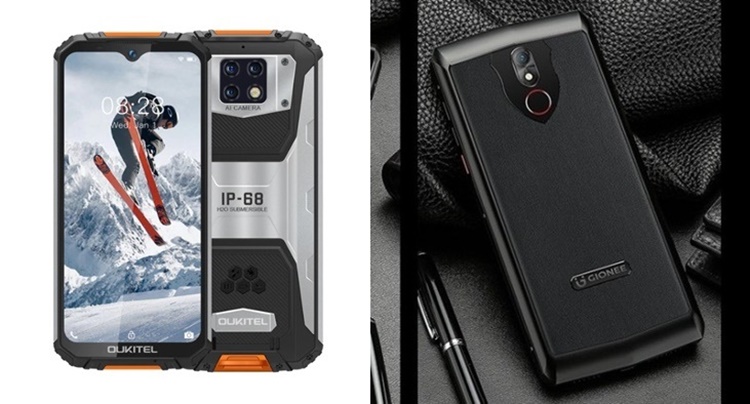 The Oukitel WP6 (left) and Gionee M30 (right)
A bit of a history lesson - Oukitel actually did make their first brand debut in Malaysia back in 2017 with phones under RM1K. Back then, their smartphones' batteries were up to 6000mAh which were uncommon although the other tech specs left much to be desired. After their debut, we have never heard from them again and it's probably due to poor response from the public.
Honourable Mentions - Motorola, ASUS ZenFone 6 and perhaps the recently released ZenFone 7 as well
Before we end this article, it's worth mentioning Motorola and the ASUS ZenFone 6 series here as well. Starting with Motorola, the Malaysia branch is practically gone in Malaysia which is unfortunate because the company did well in the mid-range market segment. It has been two years now since then, and it's too bad that we probably won't be able to check out any of the upcoming Motorola phones.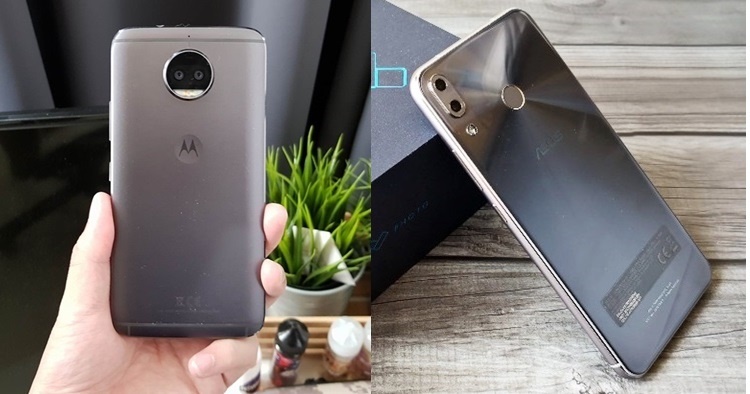 The last Motorola and ASUS phones (Moto G5S on the left and ZenFone 5 on the right) that we reviewed back in 2018
As for ASUS Malaysia, they are focusing more on the laptop and gaming market as opposed to the ZenFone series. Right after the ASUS ZenFone 5, the ZenFone 6 didn't make it to the Malaysian market and we won't be surprised if the ZenFone 7 series get cut from the list too. They shall be sorely missed.
Just some tips to our readers there, if you are buying an imported set - you will need to check if the phone is using a global ROM or China ROM. If it's the latter, no worries as you can still install Google Mobile Services via APK installation. That's not all, you also need to check if the bandwidth support is accesible in Malaysia or not, it would suck if none of our local telcos are supporting the phone. Last but not least, make sure that you get the product from a trusted seller that offers a reliable warranty. You can use our TechNave app to search, compare and buy phones at a legit store nearby you.
So that's our list of smartphone series that never came to Malaysia. Do you agree with us? Did we miss out anything else? Let us know in the comments below and stay tuned for more cool tech articles at TechNave.com.