Top 10 types of apps frequently used by Huawei Nova owners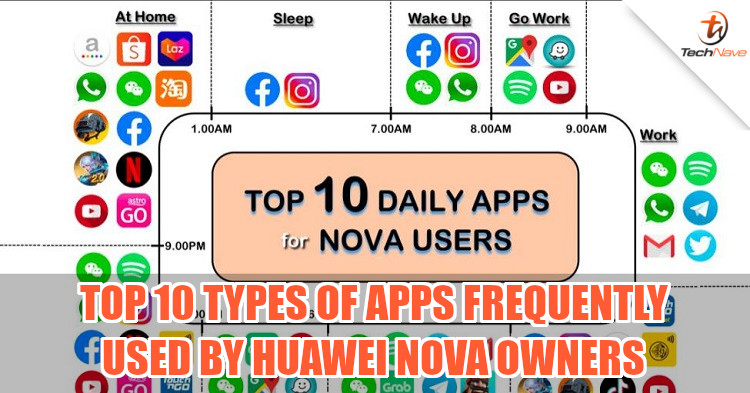 Some people use their phones to text a lot, stream some music, or play a lot of mobile games. Everyone has different habits when it comes to their smartphones but there's always a pattern, certain types of apps that are used more often at certain times of the day.
Since the Huawei Nova 7i is set to launch in Malaysia soon, the company decided to do a survey on how existing owners of Huawei Nova devices use their devices on a daily basis. As you can imagine, the ones that are used most throughout the day include social media, text messaging, and music streaming apps. Let's take a look at some of the findings from this survey.
Frequently used app categories
There are all kinds of apps that are used by Huawei Nova users throughout the day. But when grouped together, what you see are specific categories of apps. For your convenience, we've listed the 10 different categories below:
Social media - Facebook, Twitter, Instagram, TikTok
Communications - WhatsApp, WeChat, Telegram, Gmail
Music streaming - Spotify, YouTube
Video streaming - Netflix, YouTube, Astro GO
Maps & navigation - Google Maps, Waze
Banking & e-wallet - Maybank MY, Touch 'n Go eWallet
E-hailing - Grab
E-commerce - Shopee, Lazada, Agoda, Taobao
Food delivery - DahMakan, Grab Food
Mobile games - PlayerUnknown's Battlegrounds, Mobile Legends: Bang Bang, Clash Royale
Different apps for different times
Another thing that was discovered, is that certain apps are used mostly during certain times of the day, such as Google Maps and Waze before or after work hours. This makes sense, for a person's app use naturally depends on where he or she is during different times of a day and what they are doing.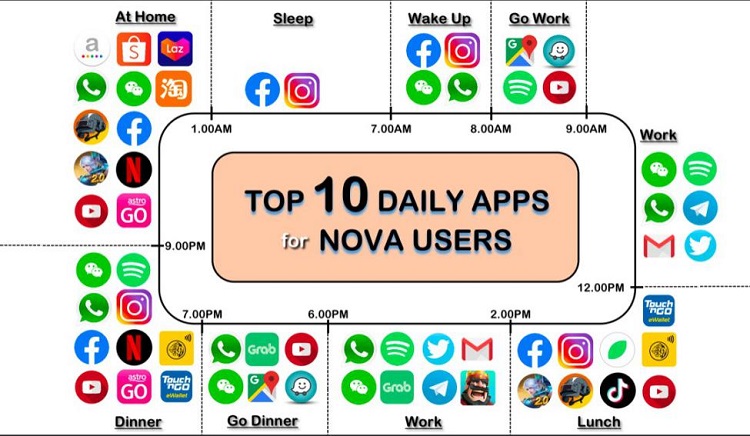 An overview of what apps are used at different times of the day
To give you a few more obvious examples, food delivery apps like DahMakan and GrabFood are often used during lunch and dinner hours, while video streaming ones like Netflix are usually enjoyed after work. Mobile games are also mostly played after dinner at home, though there are many who are found playing during their lunch breaks!
With the upcoming Huawei Nova 7i smartphone, the majority of such popular apps will be downloadable via the Huawei AppGallery. Huawei has also been working with many app developers to ensure that the AppGallery will have all the necessary alternative apps, should it be required.
Enough power to handle it all
Housing a mid-range Kirin 810 chipset, 8GB of RAM, 128GB internal storage, and a 6.4-inch FHD display, the Nova 7i is more than capable of handling the apps listed above and more. It'll also have no problems lasting throughout the day thanks to its 4200mAh battery.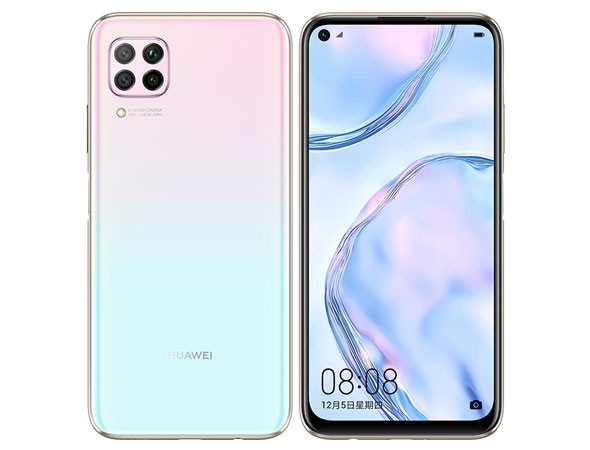 If you're looking for a mid-ranger that can keep up with your day-to-day happenings, the Huawei Nova 7i is one you could consider. Malaysia will be the first country to have the device launched and available here. Those interested can follow the Huawei Facebook page and find out first when the phone officially launches.
Huawei nova 7i Specs & Price >