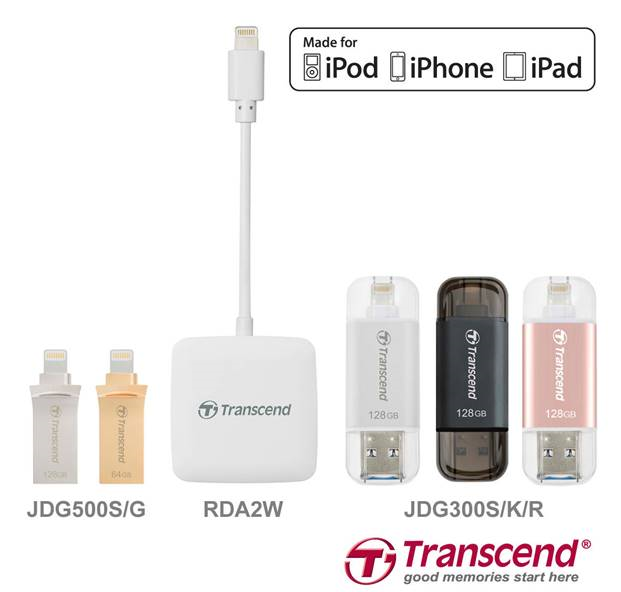 Leading manufacturer of storage and multimedia products, Transcend Information, Inc. is proud to introduce its complete Lightning product line-up specifically designed for Apple's iPhone, iPad, and iPod series. The new RDA2W Smart Reader and JetDrive Go flash drives are now equipped with a Lightning connector, providing convenience to users who want to manage their data between Apple products.
There are three products overall, and these three Transcend products have a two-year Limited Warranty. All three have also gone through an approval process to be Apple MFi (Made for iPod/iPhone/iPad) certified.
Below are details of the products and which Apple products are compatible:
JetDrive Go 300 is available in silver, black and rose gold with 32GB (RM 239), 64GB (RM 329) and 128GB (RM 539) capacities
JetDrive Go 500 is available in gold color with 32GB (RM 289) and 64GB (RM 399) capacities and in silver with up to 128GB (RM 519) capacities
RDA2W Smart Reader (RM 129)
*Supported Apple devices:
iPhone iPhone 7 Plus, iPhone 7, iPhone SE, iPhone 6s Plus, iPhone 6s, iPhone 6 Plus, iPhone 6, iPhone 5s, iPhone 5c, iPhone 5
iPad iPad Pro, iPad Air 2, iPad Air, iPad (4th generation), iPad mini 4, iPad mini 3, iPad mini 2, iPad mini
iPod iPod touch (6th generation), iPod touch (5th generation)
The RDA2W features card slots for both SD and microSD cards, as well as a Smart Reader app that offers useful data backups, card formatting, file encryption, file compression and decompression, direct saving of audio recordings to memory cards, and easy access to cloud storage.
For more information, click either of the links below to check it out.
*"Made for iPod," "Made for iPhone," and "Made for iPad" mean that an electronic accessory has been designed to connect specifically to iPod, iPhone, or iPad, respectively, and has been certified by the developer to meet Apple performance standards. Apple is not responsible for the operation of this device or its compliance with safety and regulatory standards. Please note that the use of this accessory with iPod, iPhone, or iPad may affect wireless performance.