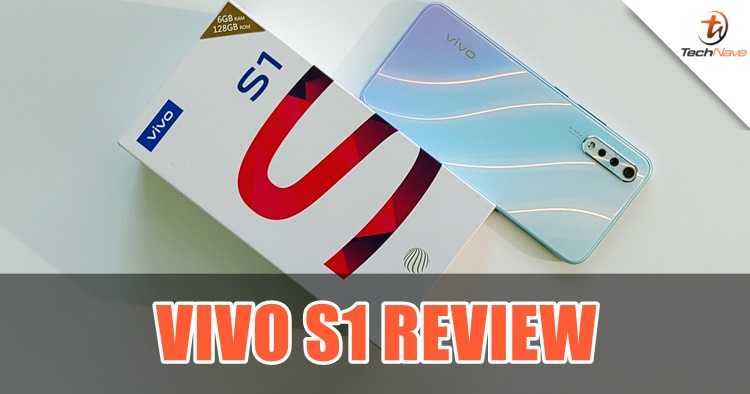 Back in early July 2019, Vivo Malaysia started teasing a new smartphone. It wasn't just another smartphone, but a new S smartphone series which was quite intriguing. What could the new series bring to the table? We waited and just after three weeks, it was revealed to be the Vivo S1.
While the one in China also has the same name, it's a totally different variant from our local set. For just RM1099 only, this budget-friendly smartphone has quite a lot to offer - a gigantic 4500mAh battery with Dual-Engine Fast Charging technology, In-Display Fingerprint Sensor, Triple Rear Camera and more. This sounds good on paper, but how about in real life? Check it out in our review below.
Design - Can get mistaken as a premium phone
Smartphones in gradient design are so common now that most consumers aren't probably going to bat an eye because it will be covered by a protective casing eventually. But still, the colour is one of the first things that gets the attention and the Vivo S1 certainly has the looks.
Coming in Diamond Black and Skyline Blue, the latter is the one that's quite unique because it can reflect some wavey effects perfectly separating the gradient colours. Combining that with the simple Vivo brand and the shiny triple rear camera, people could mistake it as a premium smartphone.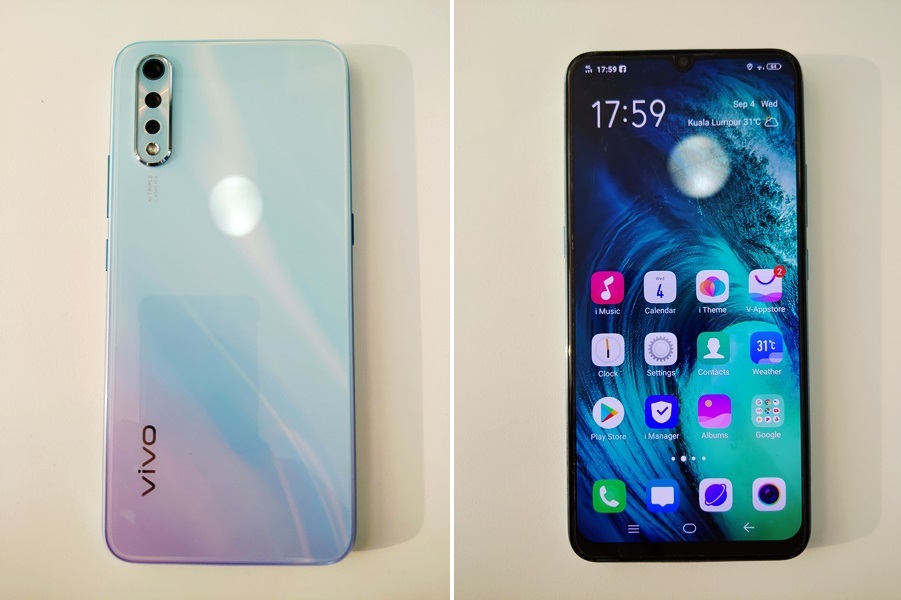 The back and front of the S1, a solid design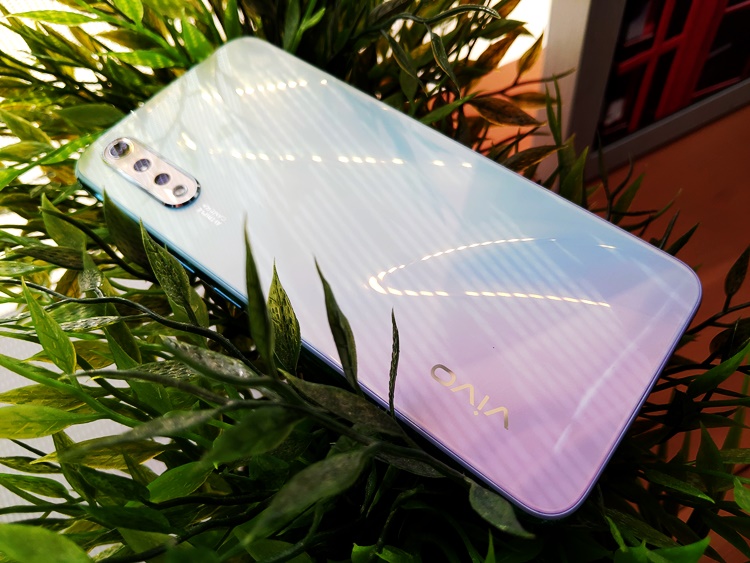 You can get a lot of shiny patterns with different lighting on the back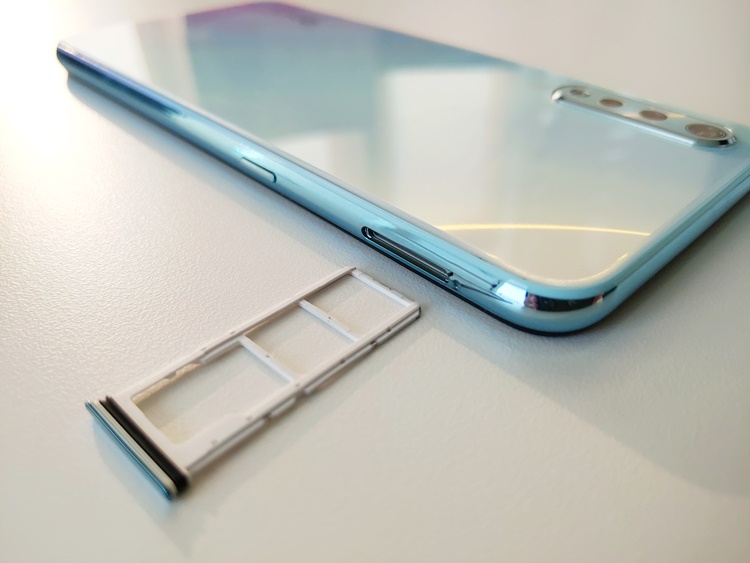 Triple SIM card tray with a dedicated microSD slot, the other button you see there is the quick Google Assistant button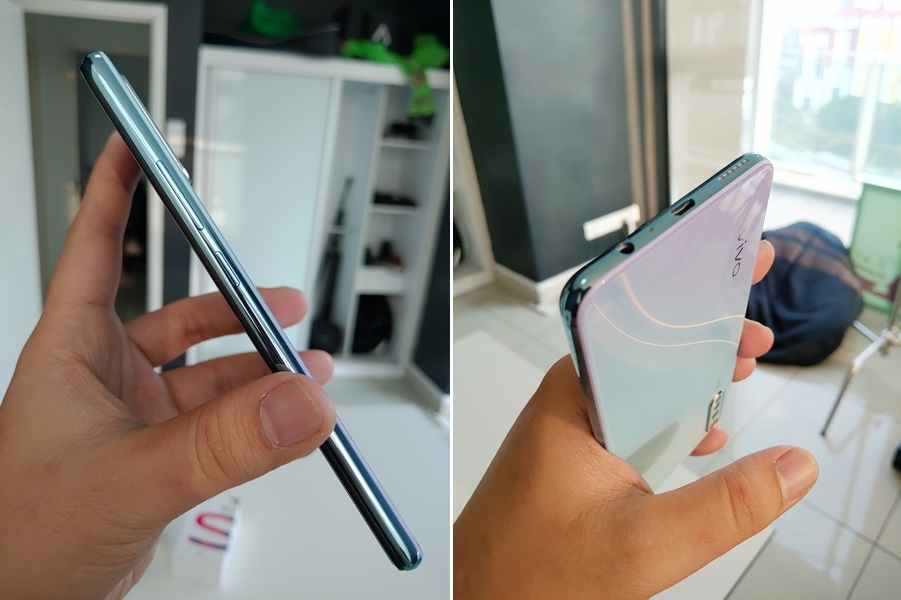 Here's your typical volume and power button, 3.5mm headphone jack, microUSB and speaker grill placement
Thankfully, the back design is not purely glass so you don't have to worry about its breaking it. But I'd still recommend getting a protective casing just in case. It's also worth mentioning that the screen panel is made of AMOLED so that's great for video playbacks and image viewing.
Tech specs and features - There are many, but...
Here are the tech specs of the Vivo S1: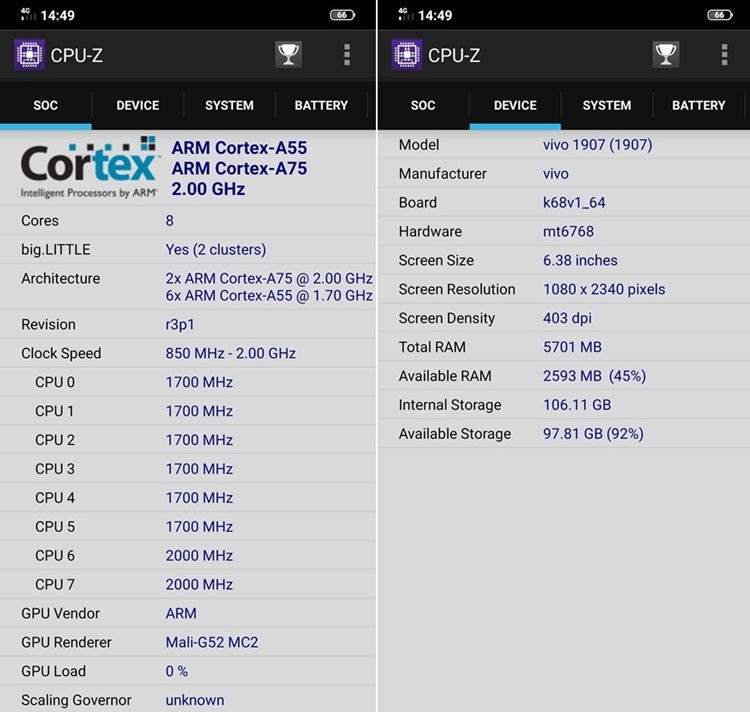 MediaTek Helio P65 chipset

6GB of RAM

128GB ROM (expandable memory up to 256GB)

6.39-inch AMOLED FHD+ display

AI Triple Rear Camera - 16MP (Sony IMX499 sensor, f/1.78) + 8MP (120° ultrawide lens, f/2.2) + 2MP (depth sensor, f/2.4)

AI Front Camera - 32MP (f/2.0)

Features In-Display Fingerprint Sensor, Face Unlock, triple SIM slot, Game Assistant, ESports Mode, Ultra Game Mode, Dual Engine Fast Charging

Supports

Dual 4G VoLTE, WiFi 802.11 ac dual-band, Bluetooth 5.0, micro USB port 2.0 connectivity

FunTouch OS 9 based on Android Pie

4500mAh battery
The 6GB RAM + 128GB storage memory capacity is more than enough for a casual smartphone user, while the Helio P65 chipset by MediaTek is quite respectable for gaming performance. Not to mention it has AI integrated cameras and more.
The Vivo S1 has a ton of features, but there is one thing that bothered me - the amount of bloatware apps on this phone is a lot. Just when you thought brands have learned that nobody really uses them, this is not the case for the S1 as there are a bunch of Vivo apps that practically mirror those available from Google.
For instance, the V-Appstore, Hot Apps and Hot Games are more or less the same, while Vivo.com leads you to the website (lol). There's also a Vivo Browser which is a combo of Google Chrome and News spamming you news that you didn't ask for, and then there's Jovi AI that leads you to Google Assistant. In my opinion, this is a waste of resources but some might like them.
Vivo Browser will start sending you news notification once you start using it even without signing in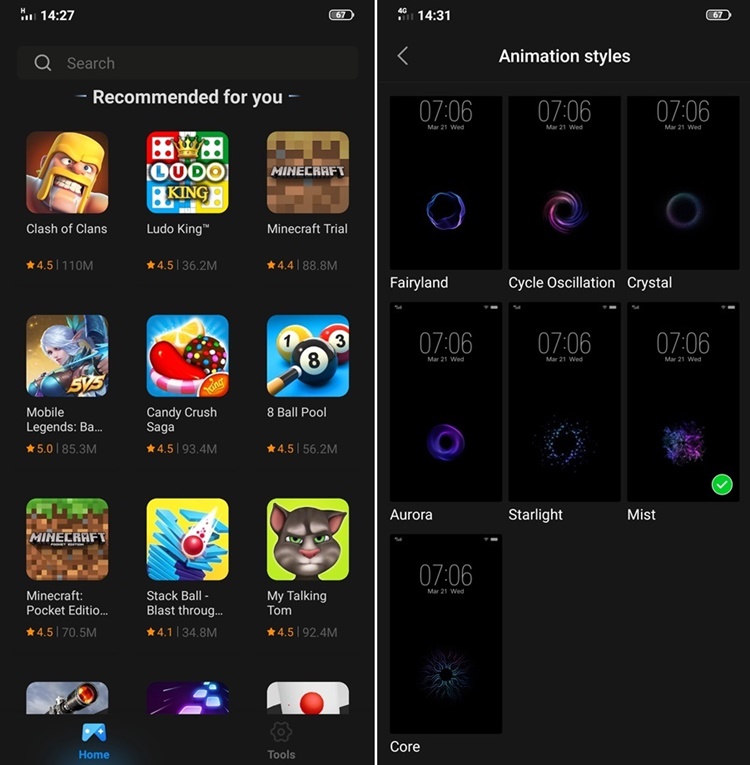 Hot Games app (left) which you can download the same games on V-Appstore, Hot Apps and Google Play Store. On the right, you can edit your in-display fingerprint sensor animation which looks nice but doesn't unlock as fast as it should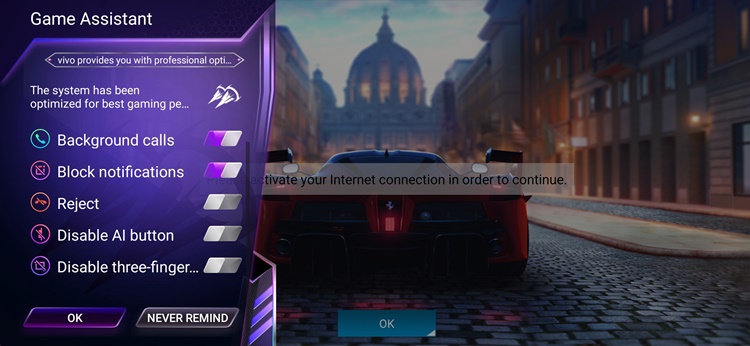 Game Assistant is back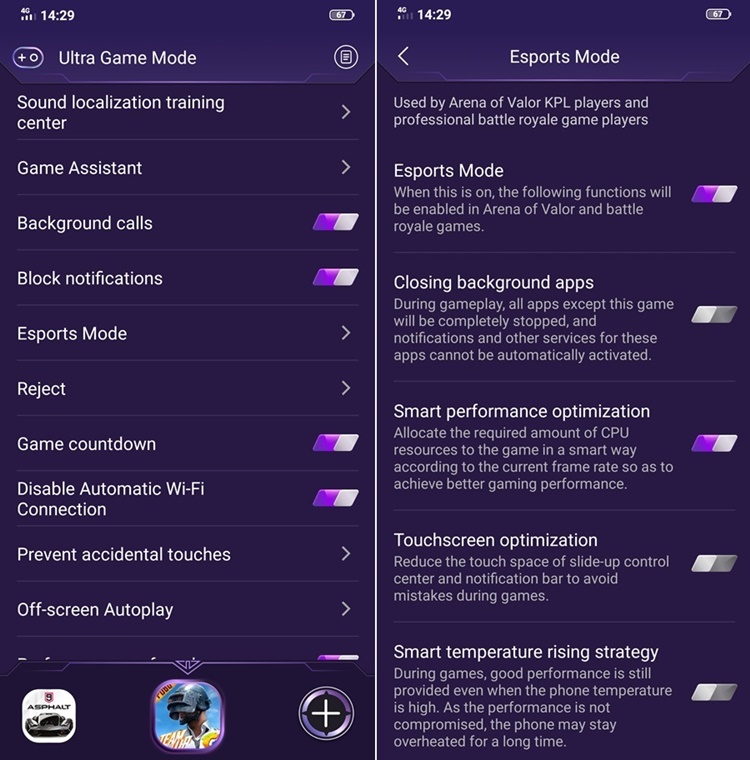 More features for Game Assistant
Game Assistant makes a return and like most similar features from other brands, it helps to boost gaming performance as well as blocking out all incoming messages and calls. There's an Esports mode that is specifically meant for "Battle Royale" mobile games like Mobile Legends: Bang Bang and Arena of Valor as well. Unfortunately, it doesn't have a game recorder for some reason.
There IS a feature that I like, though. Vivo is probably the first to have this feature before other brands. The FunTouch OS 9 actually has a Dark Mode and surprise surprise, it works on Facebook, WhatsApp and WPS Office! Dark Mode also applies to its own app interfaces such as Settings, Note and others.
Dark mode!!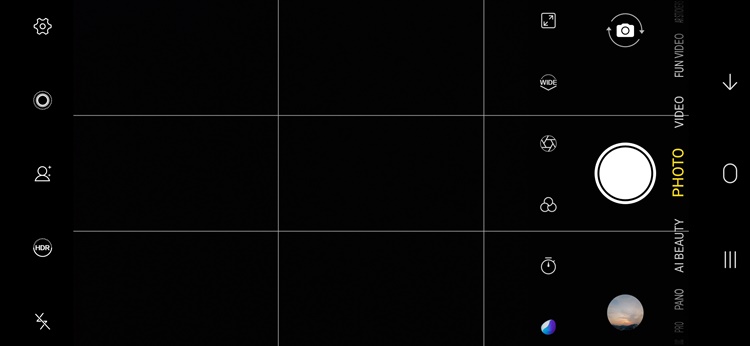 Camera user interface, nothing new here
Performance - Pretty good for gaming
Thanks to the Game Assistant, Helio P65 chipset and 6GB of RAM, the Vivo S1 can play intense graphics games rather well, surprisingly. This includes Asphalt 9 and PUBG Mobile but about the Esports Mode that we mentioned earlier, it doesn't seem to make that much of a difference for Battle Royale games. Nonetheless, it gets the job done at the end of the day so that's all it matters.
With 4500mAh battery inside, it can last for a day's normal usage easily. Battery consumption from heavy gaming seems average like most devices, as it drains around 10% more or less after half an hour of gaming.
The recharging is fine, but I expected better since their Dual Engine Fast Charging technology back in the V11 charged quite fast. For some reason , it took more than 30 minutes for the S1 to go over 50%. Oh well, still better than your average 10W charging output.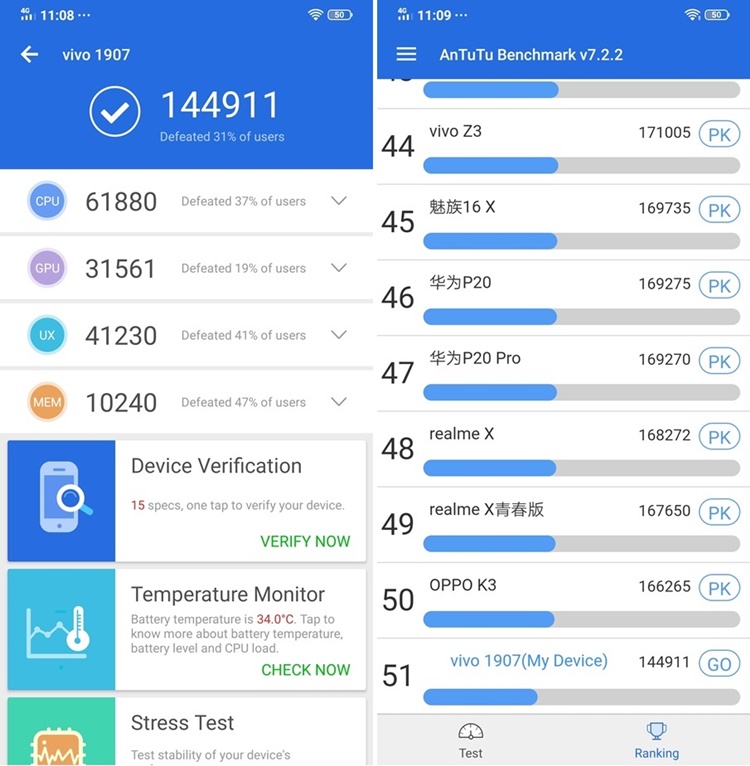 Sitting at the 51st spot in the AnTuTu score chart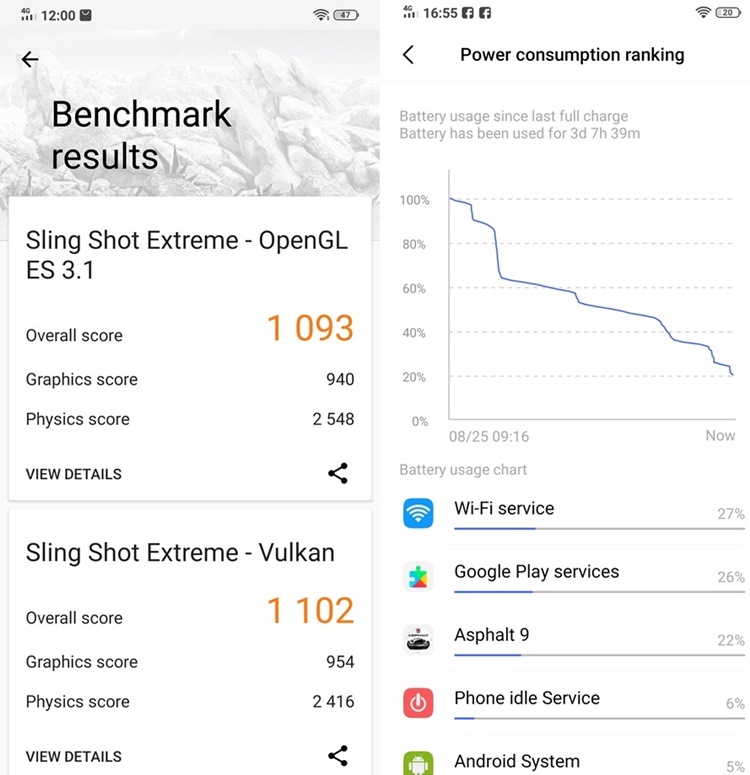 3DMark (left) score isn't that impressive, the battery performance (right)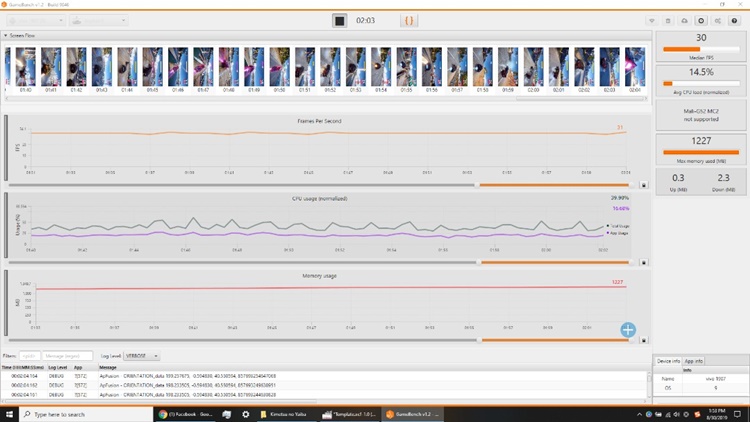 While gaming performance is fine, its FPS is only up to 30 max, the zig-zag line you see is the CPU usage during multiplayer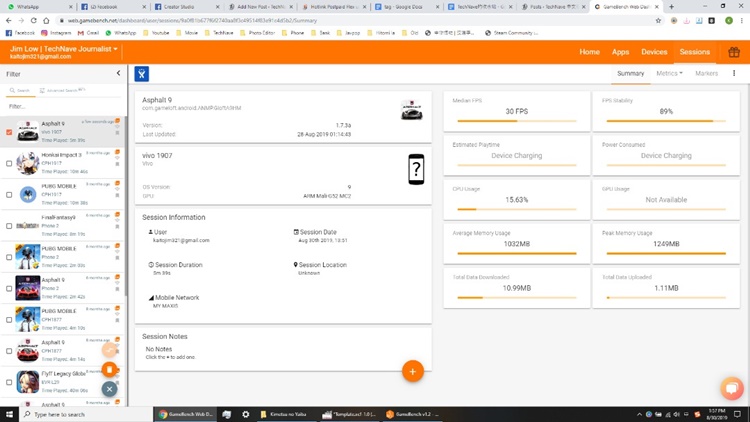 Overall result from Gamebench - 30FPS, 89% FPS stability, and 15.63% CPU usage
Other minor performances such as WiFi connection, GPS and network calls are working fine. It's worth mentioning that the display performance is good too since it's using AMOLED display. The audio performance, on the other hand, could use some improvement (sometimes it can be too sharp) but then again, it's not something you expect out of a RM1099 device.
Moving on to the camera performance, the triple rear camera on a budget-friendly device is definitely a catch. But having a look at the specs, the redeeming quality of the photos mostly come from the 16MP Sony IMX499 sensor and the 32MP front-facing camera which takes good photos.
That can't be said the same about the 8MP ultra-wide lens which is a bit too little in my opinion. Taking an ultra-wide photo shot can still be achieved, but depending on which environment you're at, results may vary. You can check out our photo samples below.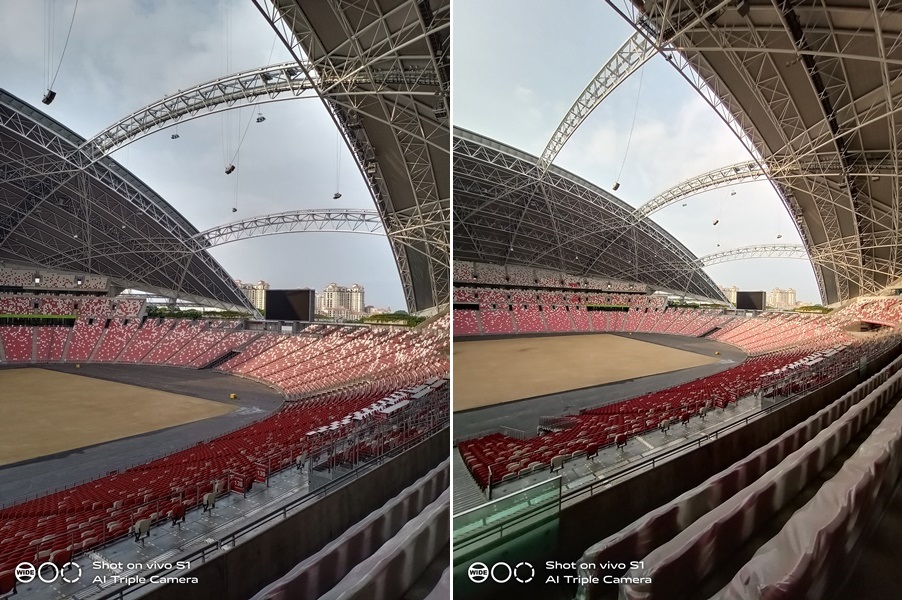 The difference between taking a normal angle (left) and ultra-wide angle (right) photo from the same position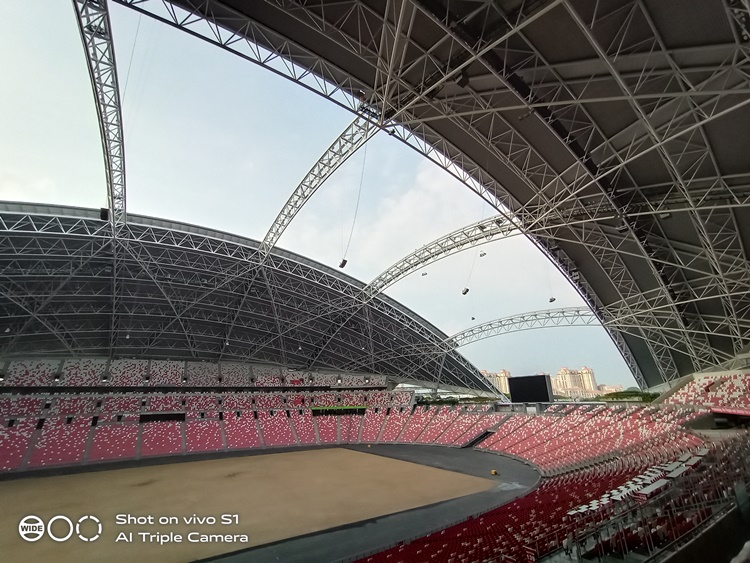 Here's the horizontal ultra-wide angle photo shot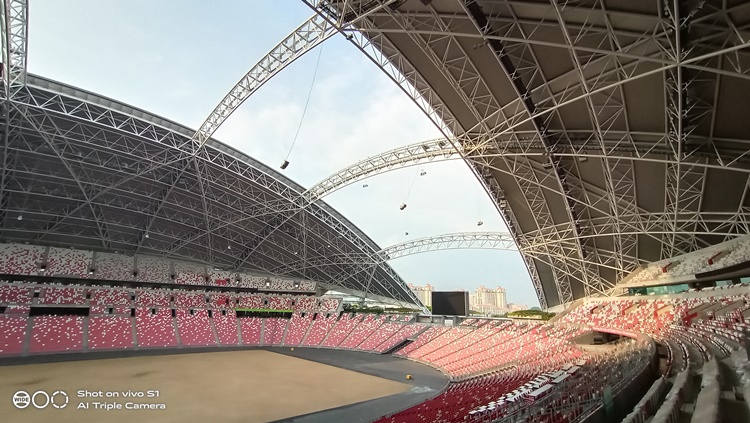 Ultra-wide angle on a fullscreen mode

Panorama shot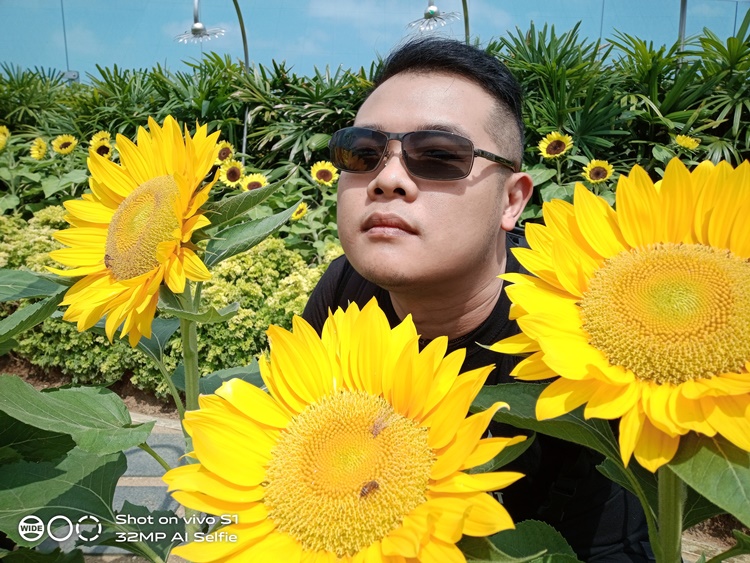 Selfie!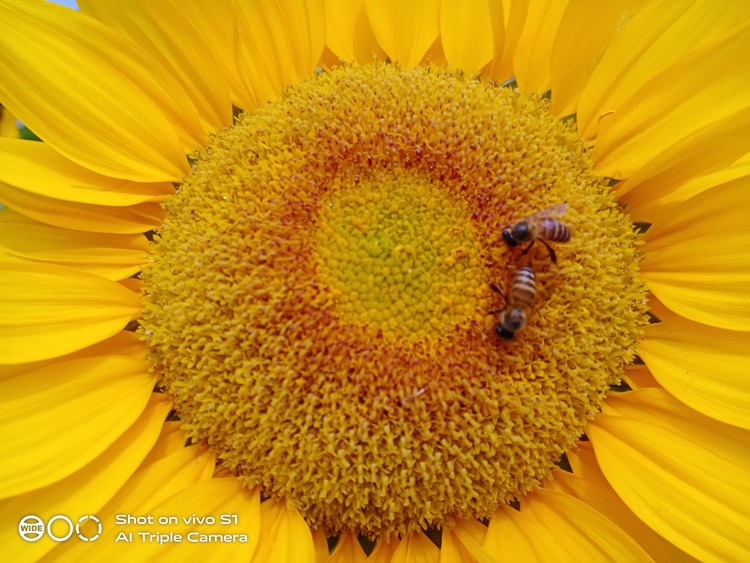 A close-up shot of a sunflower and bees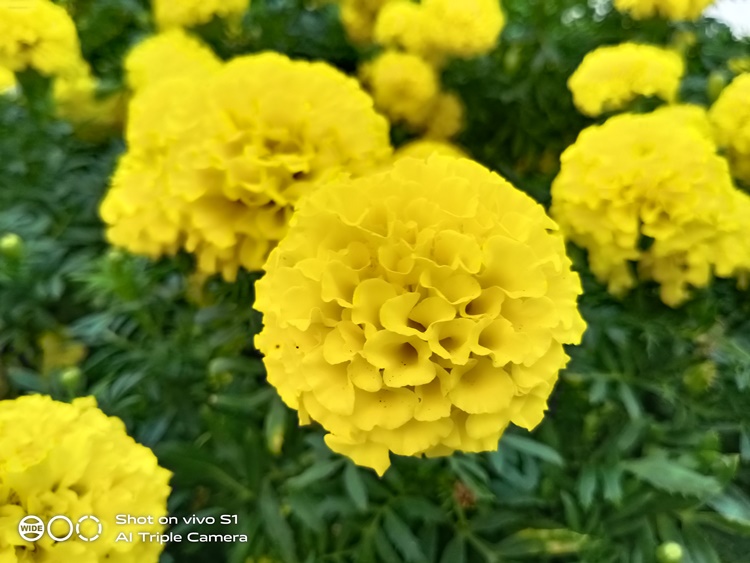 Portrait mode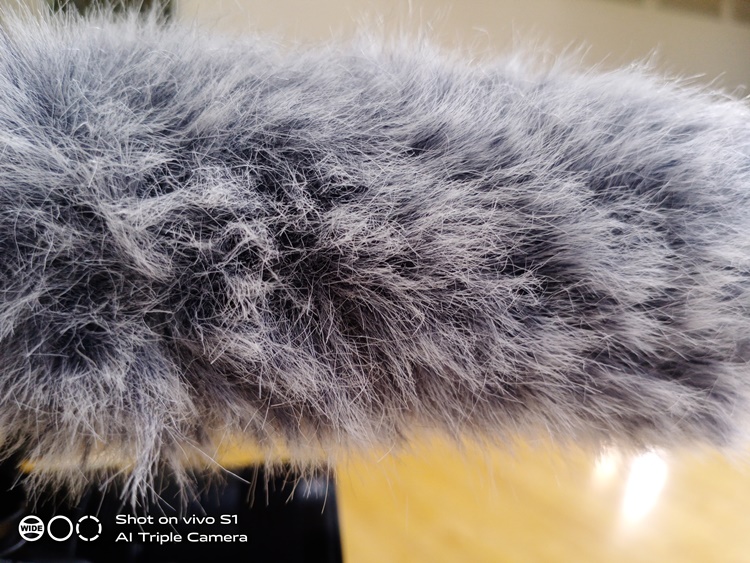 Another close-up mode on a boom mic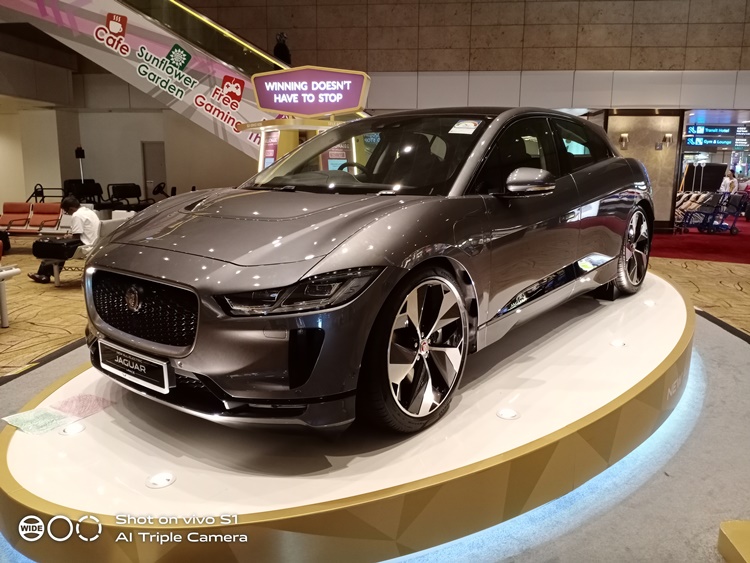 Medium shot of a car, as long there's light, the photos are fine with the main camera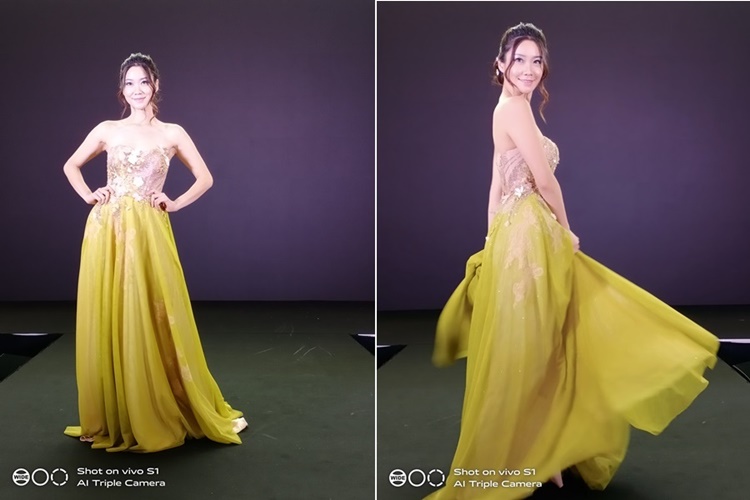 Using portrait mode, it's not really able to capture white balance (left) and movement that well (see the blurred dress)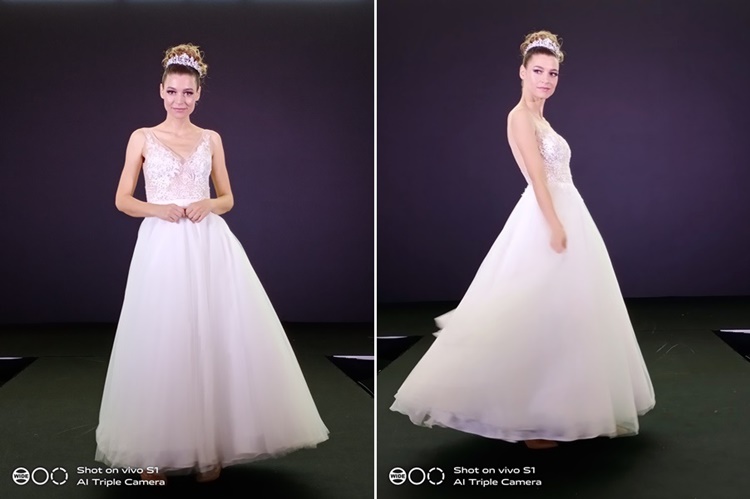 Another portrait mode photo, the hand on the model (right) doesn't look crisp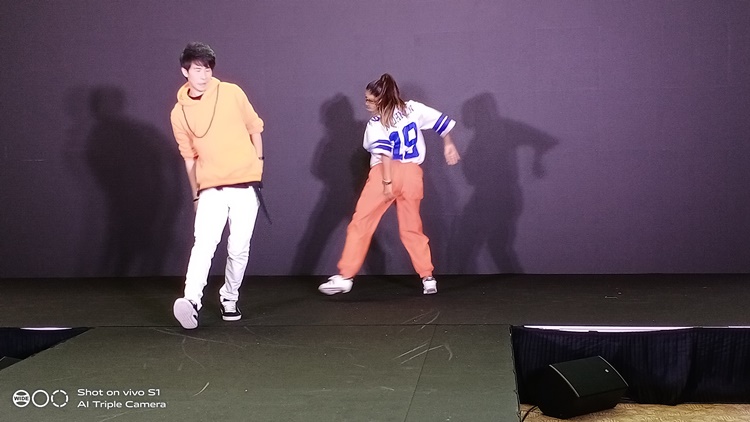 Colour contrast on portrait mode fades off too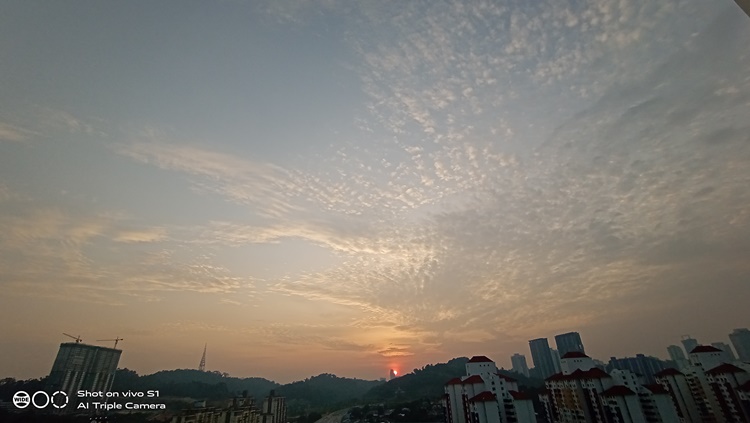 Ultra-wide shot on sunset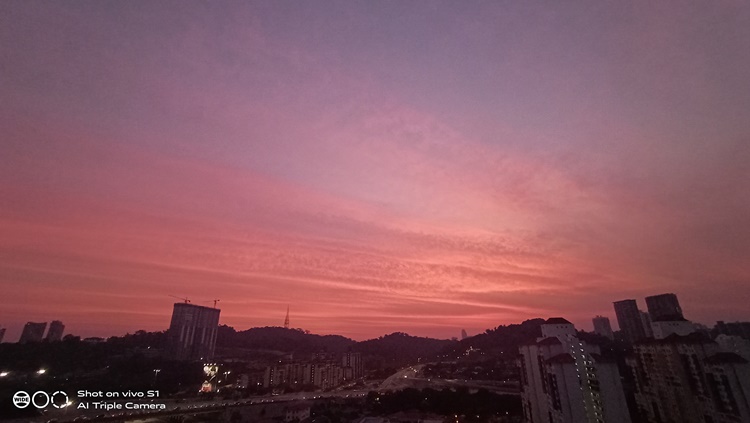 Photos will also suffer in low-light environments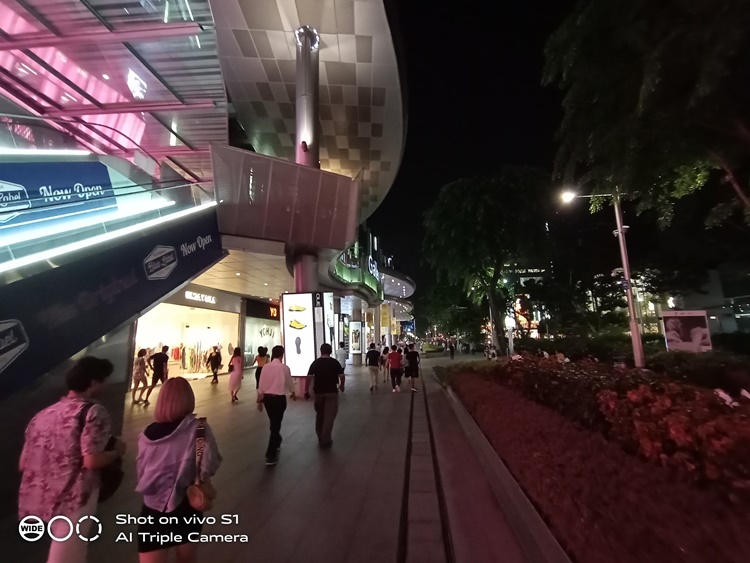 Even the main camera can't do much in a low-light environment like this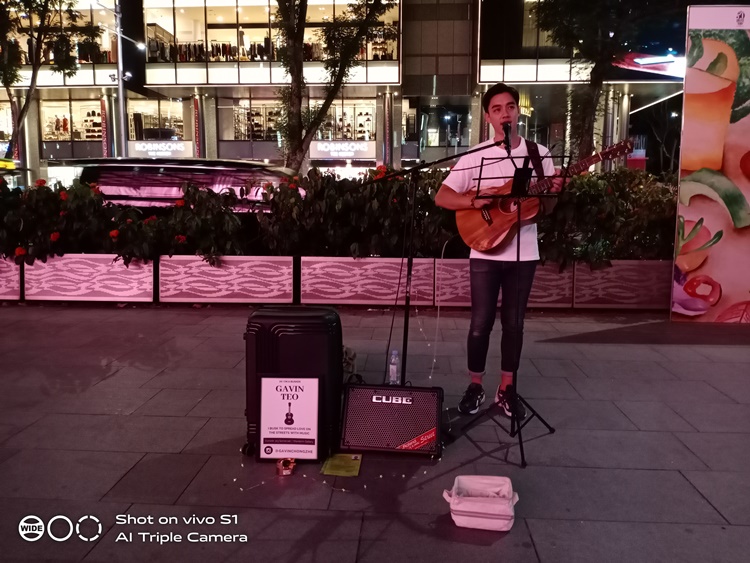 One of the better low-light photo shots
Conclusion - Perhaps more of a budget-friendly gaming phone
The Vivo S1 sort of feels like a mixed bag of features. At RM1099 it is a good deal as it has a nice design, respectable mid-range specs, Game Assistant, and a pretty big 4500mAh battery (with a somewhat fast charging technology). While I can understand that the features (camera performance, fast charging, and in-display fingerprint scanner) aren't as good as the upper mid-range and flagships, the most glaring minus is the amount of bloatware that does the same thing as Google apps.
In comparison, it has plenty of fierce competition around. There's the Xiaomi Mi 9T that already won fans with a Snapdragon 730 chipset for RM1199. The same goes for the OPPO F11 Pro that has similar specs and captures good low-light photos. Since this is the first S series smartphone they made, we hope they can make a better and much-improved device on the next model (most probably called the S2) in the next few months.
So what do you think of the Vivo S1? Know anyone that uses the smartphone? Let us know, thanks for reading and stay tuned for more smartphone reviews at TechNave.com.