Samsung's Galaxy A series, most notably the Samsung Galaxy A31, Galaxy A51, as well as the Galaxy A71, are mid-ranged smartphones that come equipped with different tech specs and features depending on their price. Because of that, picking which Galaxy A series smartphone is right for you might be a daunting task especially for those who are not very well versed in technology.
In this article, we'll be taking a closer look at all the Galaxy A series smartphones mentioned above and see which Galaxy A smartphone would be right for you. With all that said, let's get to it.
Samsung Galaxy A71 - Mid-range price with Flagship-like performance
The A71 looks quite premium for a mid-ranger
Can handle constant gaming without any issues
At the price of RM1699, the Samsung Galaxy A71 comes equipped with the best tech specs of the bunch with a Qualcomm Snapdragon 730 chipset, 8GB RAM, 128GB storage (expandable up to 512GB), 6.7-inch FHD+ display, as well as a 4500mAh battery with 25W fast charging. Camera-wise, it has 64MP + 12MP + 5MP + 5MP quad rear cameras while the front has a 32MP front-facing selfie camera.
With that in mind, the smartphone comes with flagship-like performance, as well as features like Samsung Knox, Samsung Pay, that are typically found on flagship Samsung smartphones. I bet after using the smartphone for a while, you'll end up forgetting that what you're using is only a mid-range device.
Samsung Galaxy A51 - The middle child that you shouldn't neglect
It has a premium look as well!
A51 also comes with a quad-camera rear!
Slightly smaller than the A71
As for the Galaxy A51, it has an Exynos 9611 chipset, 8GB RAM, 128GB storage, a 6.5-inch FHD+ display, as well as a 4000mAh internal battery with 15W fast charging. As for the camera, it has 48MP + 12MP + 5MP + 5MP quad rear cameras and a 32MP front-facing selfie sensor all for the price of RM1299.
Just like the Samsung Galaxy A71, the A51 comes with the Samsung Pay functionality as well as Samsung Knox to ensure the safety of the data stored in your smartphone. With that said, if you're looking for a smartphone that's feature-filled but you don't need the excess performance, the Galaxy A51 would make a great candidate.
Samsung Galaxy A31 - The most affordable but still packs a punch
Even though it's the most affordable of the 3. It still looks quite premium!
Quad-camera in the rear
If you're looking for a more budget option, you can opt for the Samsung Galaxy A31 which is priced at only RM999, which is not only more affordable but still packs quite a punch in the performance and features department. To go into more detail, the phone has a Helio P65 chipset, 6GB RAM, 128GB storage, 6.4-inch FHD+ display with 5000mAh battery that supports 15W fast charging.
Other than that, you'll find 48MP + 8MP + 5MP + 5MP quad rear cameras and a 20MP front-facing selfie camera. Even if you do opt for the more affordable option, you'll still get the same notable features as both the more expensive Samsung Galaxy A51 and A71 smartphones.
There are other Samsung Galaxy A series smartphones to consider as well
Other than the 3 smartphones mentioned above, there are 4 other smartphones in the Galaxy A series that are worth considering as well depending on your budget. These smartphones are called the Galaxy A01, A01 Core, A11, as well as the A21s which are priced at RM399, RM329, RM529 and RM899 respectively.
As far as tech specs go, you can expect hardware such as up to an Exynos 850 chipset, up to 64GB ROM, as well as up to 5000mAh internal battery with up to 15W fast charging. If you're looking for a backup phone, these smartphones would make a great candidate because of the affordability of these devices.
You could win big if you purchase a Galaxy A series smartphone!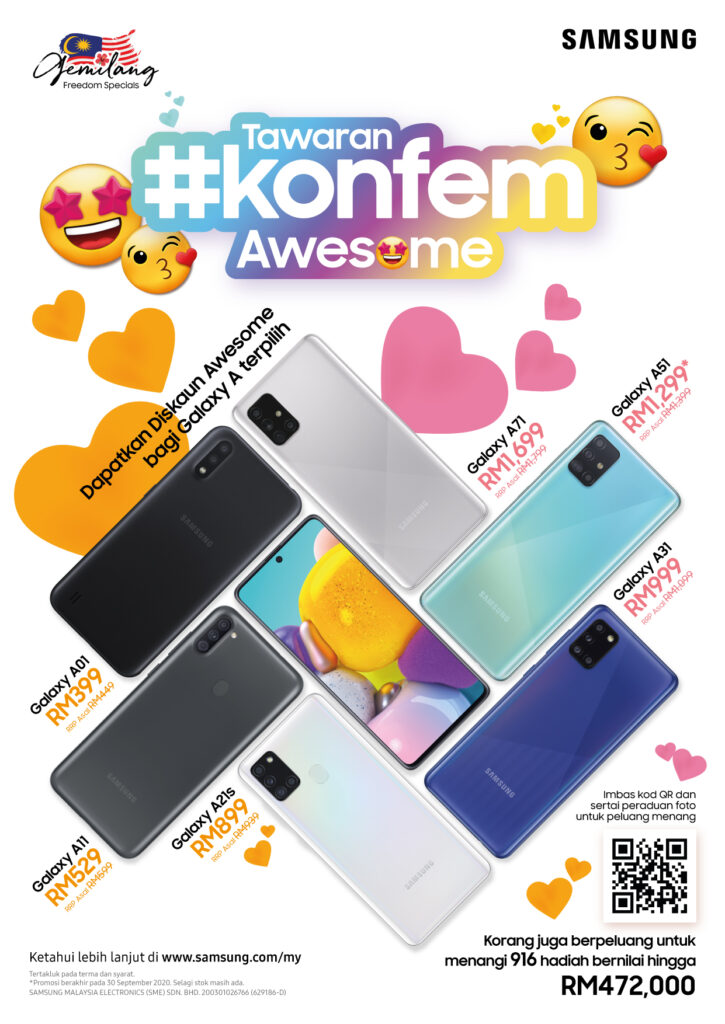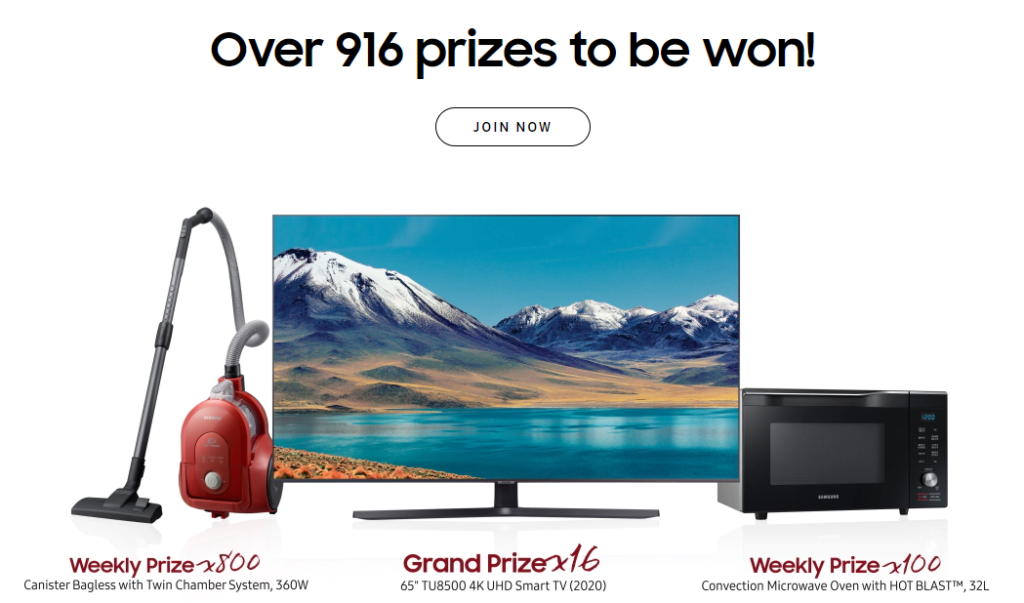 Do you think you'll be able to win any of these?
From 14 September until 18 October 2020, Samsung will be hosting the Confirm Amazing Promo where you could stand a chance to win up to a Samsung 65-inch 4K Smart TV simply by purchasing selected Samsung Galaxy A smartphones. Other than the TV, there are also other prizes up for grabs such as a Samsung Convection Microwave Oven with HOT BLAST™, as well as the Danister Bagless with Twin Chamber System Vacuum Cleaner.
All you need to do is to take a creative selfie and upload it to Samsung's website along with details such as your name, contact information, and IMEI number. If you want to find out more information in regards to the Confirm Awesome Promo, as well as information on all the prizes, head over to Samsung's official website.
With all that said, would you be interested in getting any of the Samsung Galaxy A series smartphones mentioned above? Let us know on our Facebook page and for more updates like this, stay tuned to TechNave.com.