Yoodo officially launched with one customizable mobile plan - modular data, voice, SMS and social media you can change anytime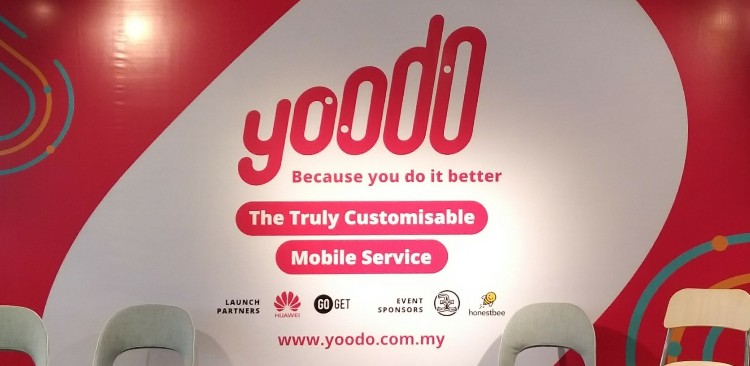 After Yoodo went live yesterday, they officially took the wraps off of their bold customizable Yoodo mobile plan today with an official launch showcasing what you can do with it. Compatible with both Android and iOS devices, you can get a FREE SIM card delivered by GoGet (RM15 for express delivery within 2 hours) after you register using the Yoodo app. Featuring fast 4G LTE over Celcom networks check what you get with Yoodo below.
What do you get with Yoodo?
No VPN
No cancellation fees
No tethering or hotspot fees
A new 011 number or your old number
Easy payment via credit or debit card, no top-ups
Management and customer support via the app
Roaming to 12 countries
No pay-per-use, never get bill shock for something you didn't pay for
Membership to Yoodo community, dedicated online support team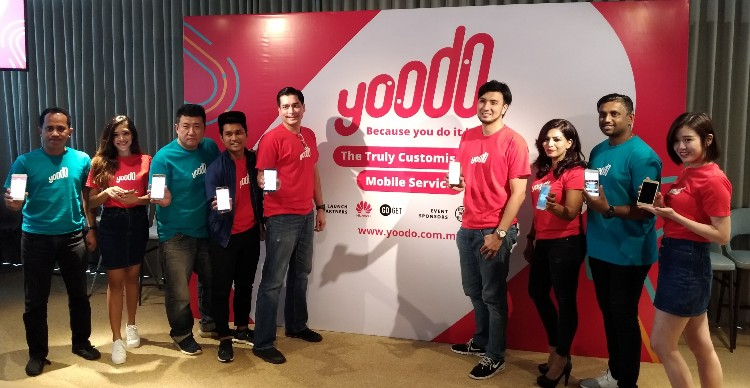 How much do you pay for Yoodo? Anytime?
While the SIM card is free, all the data, voice, SMS or add-ons are implemented on a 30 day basis tied to the plan. Once you've selected the add-ons you will be charged and the 30 day cycle will begin. There are no charges for adding on or reducing your needs but they will only be implemented (and charged for) at the start of the next 30 day cycle.
After 50 days of inactivity (no new purchases of add-ons) the SIM card will expire. You can choose to add a 365 day extension to keep it active without buying any new add-ons but no price for that just yet, as it will be implemented along with new features in the coming months.
For example, in the middle of the month of using you decide you need more or less data, once you select it, what you've changed will be charged at the start of the month. All add-ons expire at the end of the plan. If there is still more data left over at the end of this monthly cycle, this unused data will not rollover.
See the pricing list below for the pricing for each add-on:
Data - RM30 (5GB), RM60 (15GB), RM85 (30GB), RM110 (60GB), RM150 (100GB)
Voice - RM5 (50 minutes), RM7 (100 minutes), RM9 (200 minutes), RM12 (2000 minutes)
SMS - RM3 (50 minutes), RM5 (100 minutes), RM8 (200 minutes), RM20 (2000 minutes)
Facebook - RM10 for 5GB of Facebook
YouTube - RM20 for 10GB of YouTube
Instagram - RM10 for 5GB of Instagram
Currently, Yoodo does not offer any bundled devices or smartphones or Roaming day passes. There is IDD for messages and calls. Since there are no music and video streaming services, these services use the main data.
How to apply for Yoodo?
Download and install the app
Customise your plan
Create your account
Choose your delivery method
Register your credit/debit card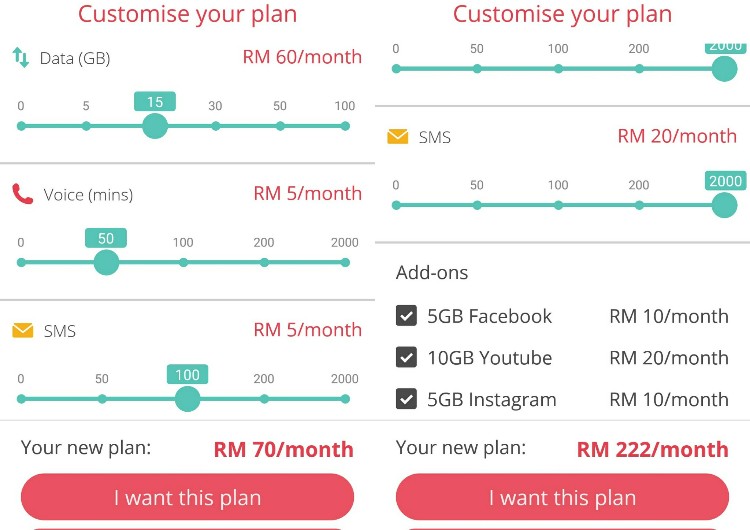 So, what did you think about Yoodo? Clearly, the plan isn't for everyone, especially those who like to stream music or video (such as from Netflix or iFlix), but perhaps those users should go visit Celcom postpaid plans for some Walla. Would you get or be interested in Yoodo? Discuss on our Facebook page and stay tuned to TechNave.com for all the latest tech news and reviews.