iPhone 4G Malaysia Specs, Features & Price
iPhone 4G Features and Concept:
iPhone 4G has been recognized as one of the greatest leaps when compared to the various existing 3 G phones. This is because of the belief that this phone will have some of those features which have not existed earlier in even the smartest of the phones. The iPhone 4G has got a lot of cell phone companies and consumers dueling on themselves waiting for its release, so here is our spoiler info.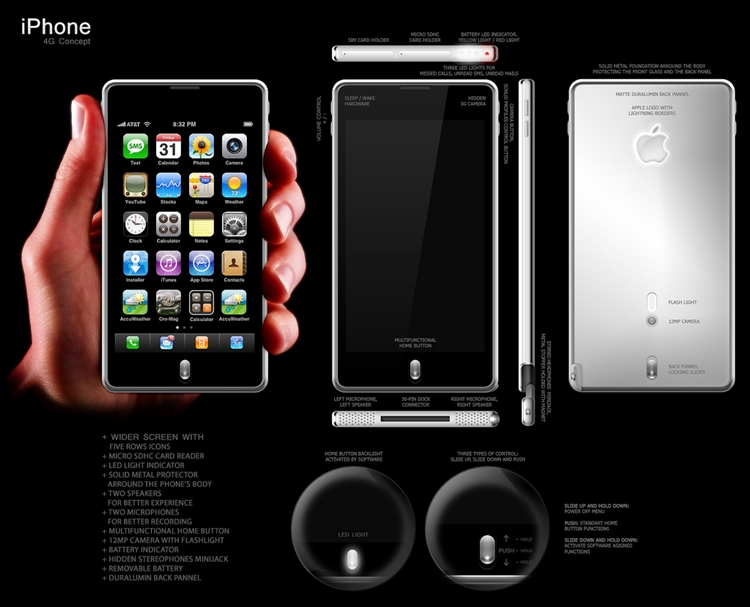 Some of the greatest features and specifications that are offered by this phone include:-
Dual Core processor

OLED touch screen

Removable battery

Video calling

HD video recording

LED Flash

Double storage capacity of 64 GB and 32 GB


Touch sensitive outer casting and this is similar to Apple Magic Mouse.

Higher and powerful graphic chips

The phone will also have several other innovative features not only in terms of its hardware but also in its software. Owing to the presence of these features in iPhone 4G, it is expected that this phone will revolutionize the mobile industry. Through this phone, it will possible to indulge in activities such as live video chat.
When comparing the features of iPhone 4G with the available phones in the market, it definitely seems to be much more superior to the other existing phones. The phone will also have a multi-tasking capability and a push technology and these features can be easily supported on the phone as the battery life of the phone also gets upgraded. This phone is also expected to contain a superior camera of at least 5 or 8 Mega pixel and this will also support flash technology.

The battery of the phone is definitely expected to be more durable in the coming upgrade and also the battery is expected to be removable. Thus, if the battery is exhausted, the users will be simply able to get an extra battery. Another feature that can be expected with this to be launched revolutionary phone is that of facilitating video conferencing.
iPhone 4G Malaysia Release Date

The rumuors for the next iPhone generation after iPhone 4 would be iPhone 4G, 4S or 5. We won't know until the actual release date annouce by Apple. Anyway, the next iPhone 4G, 4S or 5 is expected to launch in the Q3 2011 in the US. Further more, there are rumuors specs and features for the iPhone 4S and the iPhone 5 as well.

iPhone 4G Malaysia Price
The iPhone 4G might be having major changes as shown and expected to have price impact. Anyway, if the iPhone 4G will have minor cosmetic changes, the price for iPhone 4G in Malaysia should be very close to current iPhone 4 Malaysia price.

Note: Above is rumors only but were gathered from all the potential sources.
Apple iPhone 4S Specs & Price >