realme GT2 Master Explorer Edition & ROG Phone 6 will feature Snapdragon 8+ Gen 1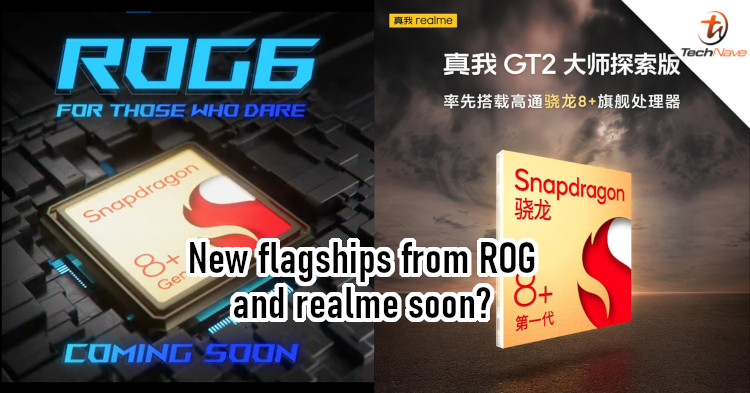 Just 2 days ago, Qualcomm unveiled its new Snapdragon 8+ Gen 1 and Snapdragon 7 Gen 1. At the launch, it was revealed that flagship-class chipset would be equipped on new devices from brands like ASUS, Motorola, OnePlus, and more. Well, we now have confirmation on two upcoming devices.
Not long after Qualcomm's launch, realme and ASUS ROG announced the new devices that they would be launching soon. From realme, the Snapdragon 8+ Gen 1 chipset will feature in the realme GT2 Master Explorer Edition. As for ASUS ROG, it has been announced that the ROG Phone 6 is coming soon. There are no exact launch dates for the two devices, but we're expecting the launches to be in June 2022.
#ROGPhone6 Series Prototype's leaked on weibo
Confirmed to feature Qualcomm's #Snapdragon8PlusGen1 #Asus #AsusROG6 #asusrog6pro #Android pic.twitter.com/GEOeNCradw

— Gadgets Turbo (@GadgetsTurbo) May 22, 2022
Interestingly, photos of what's allegedly the ROG Phone 6 Pro have already been leaked online. As you can see from the embedded Tweet above, the new model looks notably different from the ROG Phone 5 Pro with that blue-coloured back. Of course, this could be some limited edition. While there are no leaked renders of photos of the realme GT2 Master Explorer Edition at the moment, the new model will probably look similar to the standard realme GT2.
So, are you excited about the flagships that would be powered by the Snapdragon 8+ Gen 1? Is this the chipset that would convince you to upgrade this year? Let us know in the comments, and stay tuned to TechNave for more updates like this.