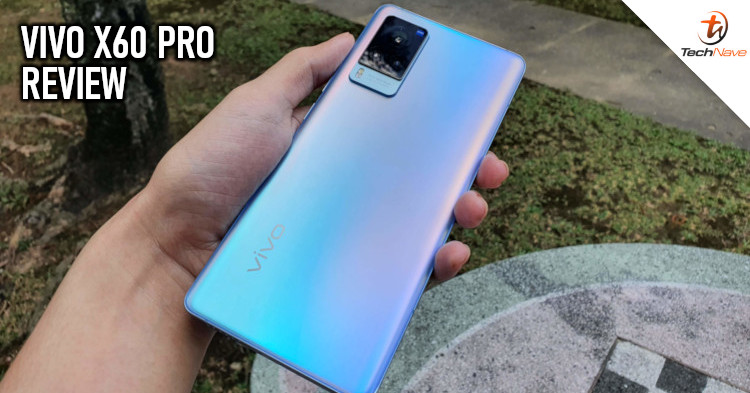 Cameras on smartphones are getting a lot more powerful with each passing year. However, besides increasing the megapixel count and size of the sensor, there hasn't really been much in terms of major innovation for smartphone camera tech.
In comes the vivo X60 Pro that was manufactured in collaboration with ZEISS, resulting in probably the most advanced camera on a vivo phone to date. It comes with features like Gimbal Stabilization 2.0, Extreme Night Vision 2.0 and more. In this review, we'll be taking a closer look at the smartphone to see its advanced features and specs make it worth its RM3299 price tag. With that out of the way, let's get into it.
Design - A well-designed, solid, and premium-feeling chassis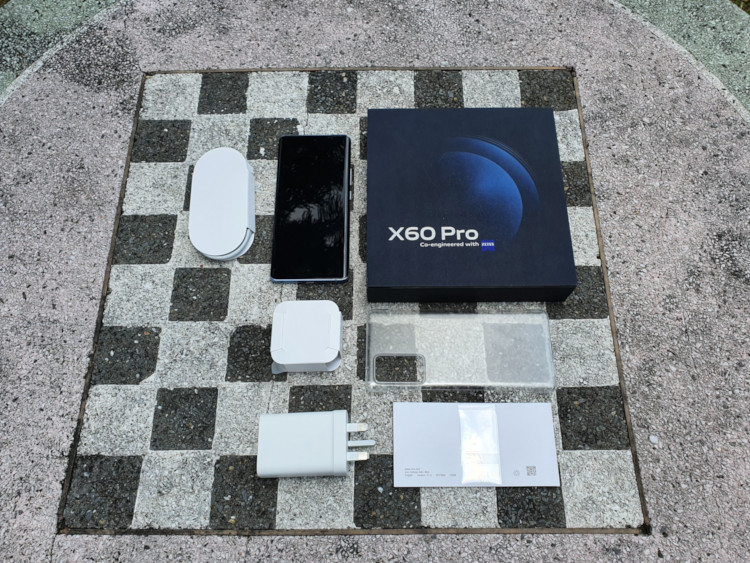 Everything inside the box
The first thing you'll notice about the vivo X60 Pro is how premium and solid it looks. I find the matte finish at the back of the Shimmer Blue coloured device feels very satisfying when I glide my finger over it. It feels very smooth to the touch.
Also, since it's a matte finish, it does not attract fingerprints like smartphones with a glossy back finish. Of course, you should still avoid using it with oily fingers. After all, dark stains on a matte surface can be notoriously hard to get rid of.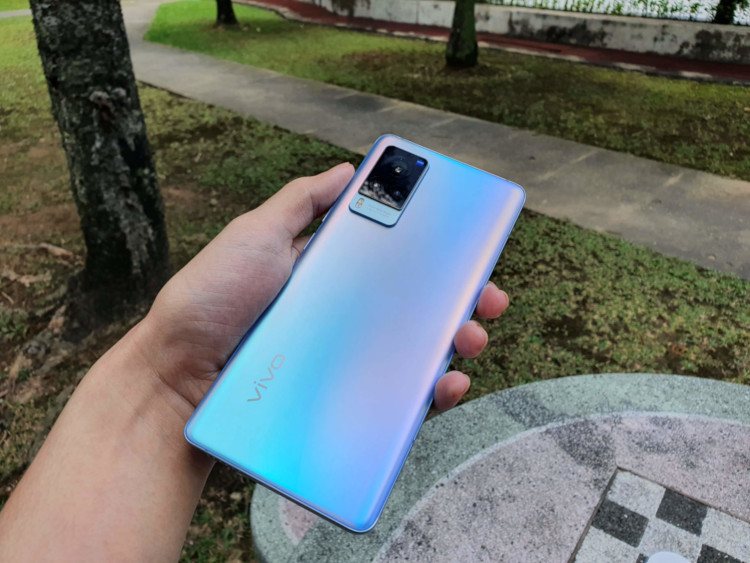 Look at that blue/pink hue at the back!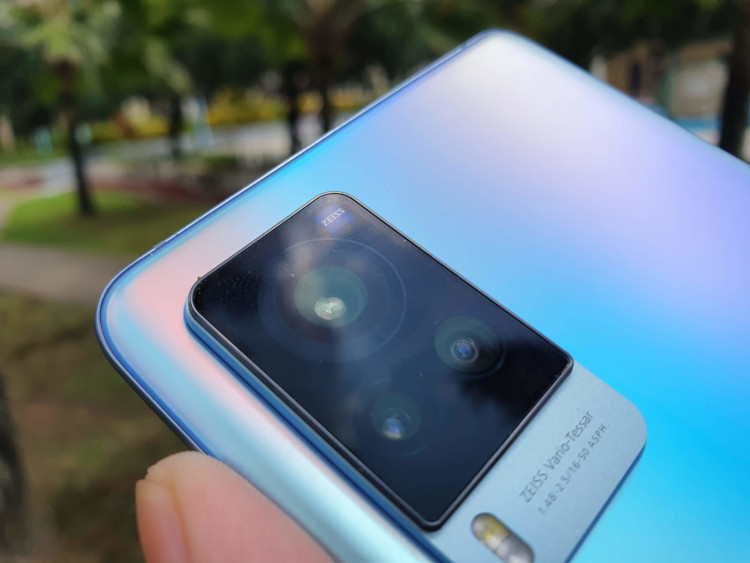 The ZEISS logo at the top right of the rear camera module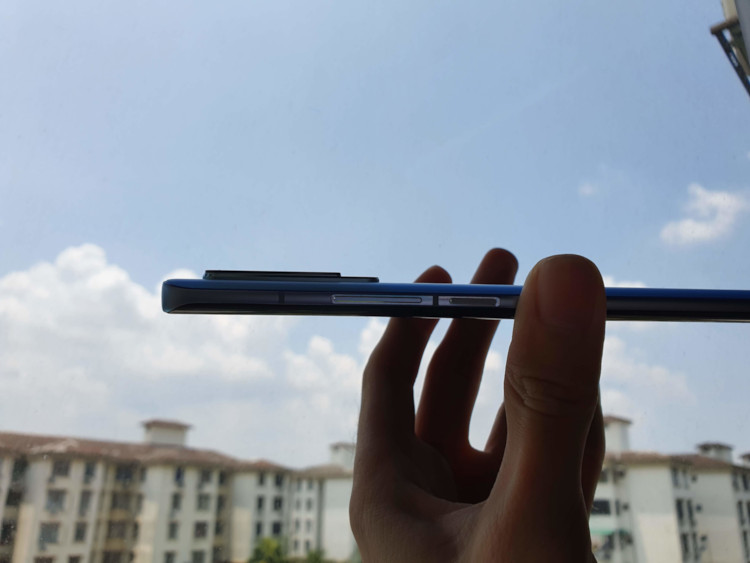 The camera bump is quite noticeable
If you look closely at the back of the phone, you could see hints of green, pink, blue and more, depending on your viewing angle. You'll also see a triple camera module on the top left, along with the ZEISS logo on the top right of the module.
It's recommended to use the provided plastic case with this phone, as it will protect that camera module that protrudes outwards by about 2mm. If you're not careful, you could not only scratch up the rim of the module, but you also run into the risk of fracturing the lens.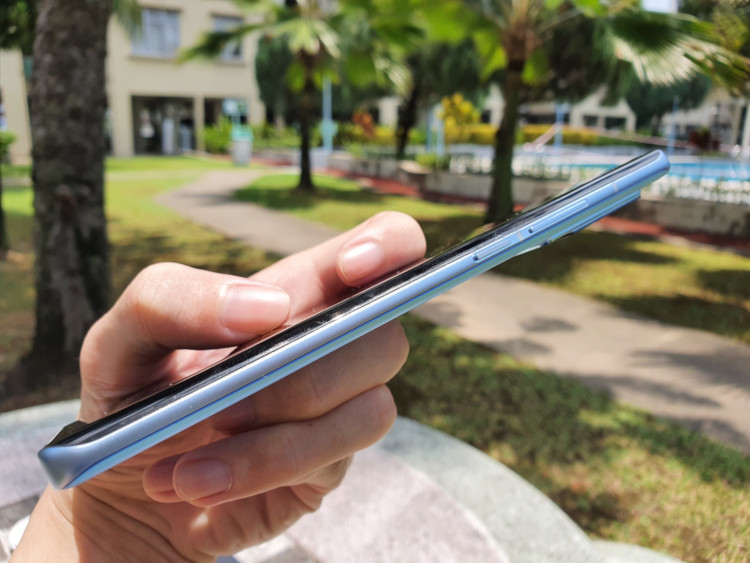 The volume rocker and power button on the right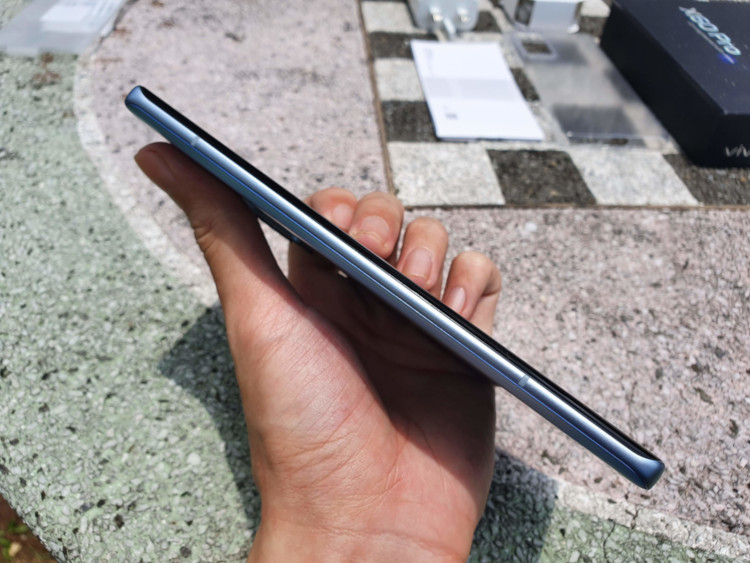 Nothing on the left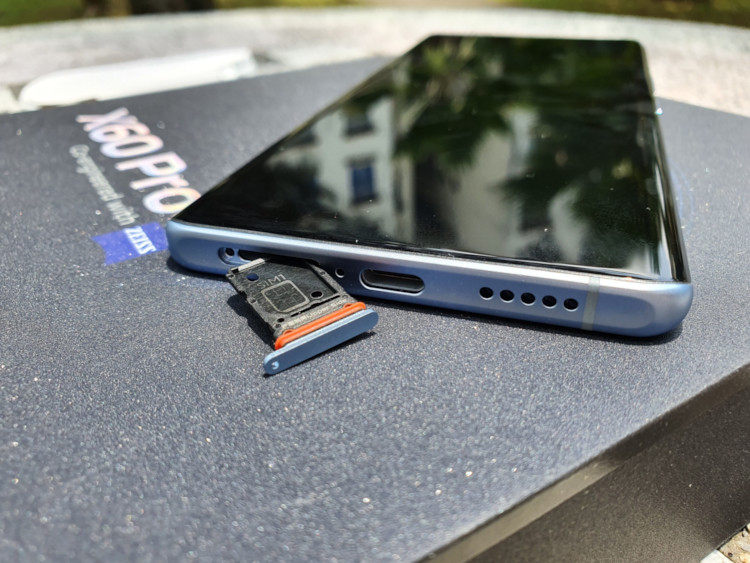 Dual-SIM tray at the bottom beside the USB Type-C port
At the right of the device, you'll find the volume rocker and a textured power button so that you can quickly identify which button is which. The dual-SIM tray is situated at the bottom, where you will also find the USB Type-C slot and speaker grille. Unfortunately, it has no 3.5mm audio jack slot, so you'll have to get an adapter for that.
Tech Specs - 33W fast-charging and a quad-camera setup with up to 48MP image sensor!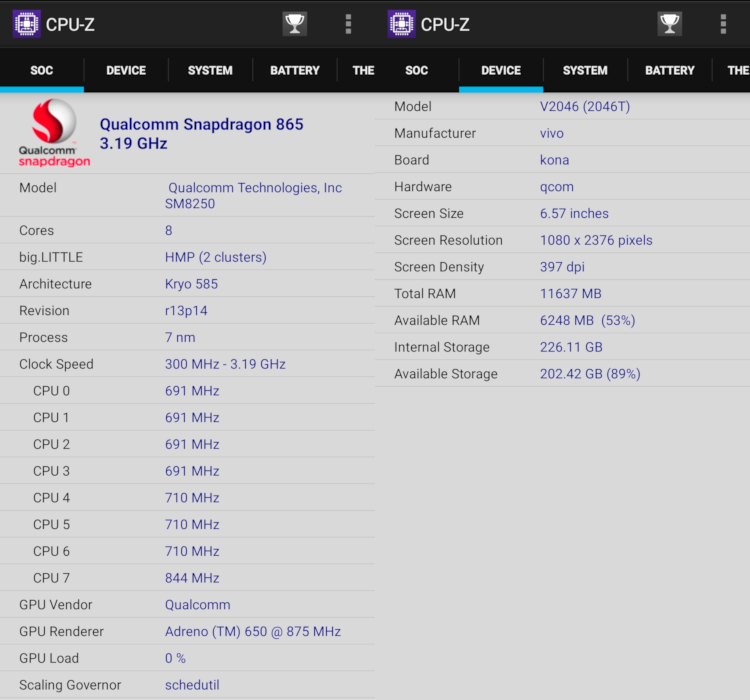 Qualcomm Snapdragon 870 5G chipset

12GB RAM, 256GB ROM

6.56-inch 144Hz AMOLED Display

Zeiss optics equipped 48MP + 13MP + 13MP triple rear camera, 32MP front-facing selfie camera

4200mAh battery that supports up to 33W fast-charging

Available in Midnight Black and Shimmer Blue
As for the tech specs, the vivo X60 Pro comes equipped with the Qualcomm Snapdragon 870 5G chipset, which allows it to connect to 5G networks. It also has 12GB RAM and a 256GB ROM, which is more than enough for most use cases.
Let's take a look at its display next. Its 6.56-inch AMOLED display can deliver a refresh rate of up to 120Hz, providing a smooth and immersive viewing experience to the viewer. It can intelligently switch between high and low refresh rate to increase battery life while giving the best experience possible. Also, its 240Hz touch sampling rate ensures that your input remains as accurate as possible, which is essential in mobile gaming.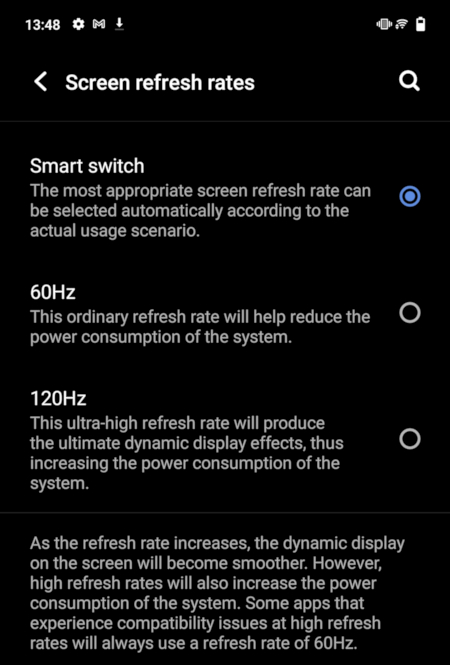 Refresh rate options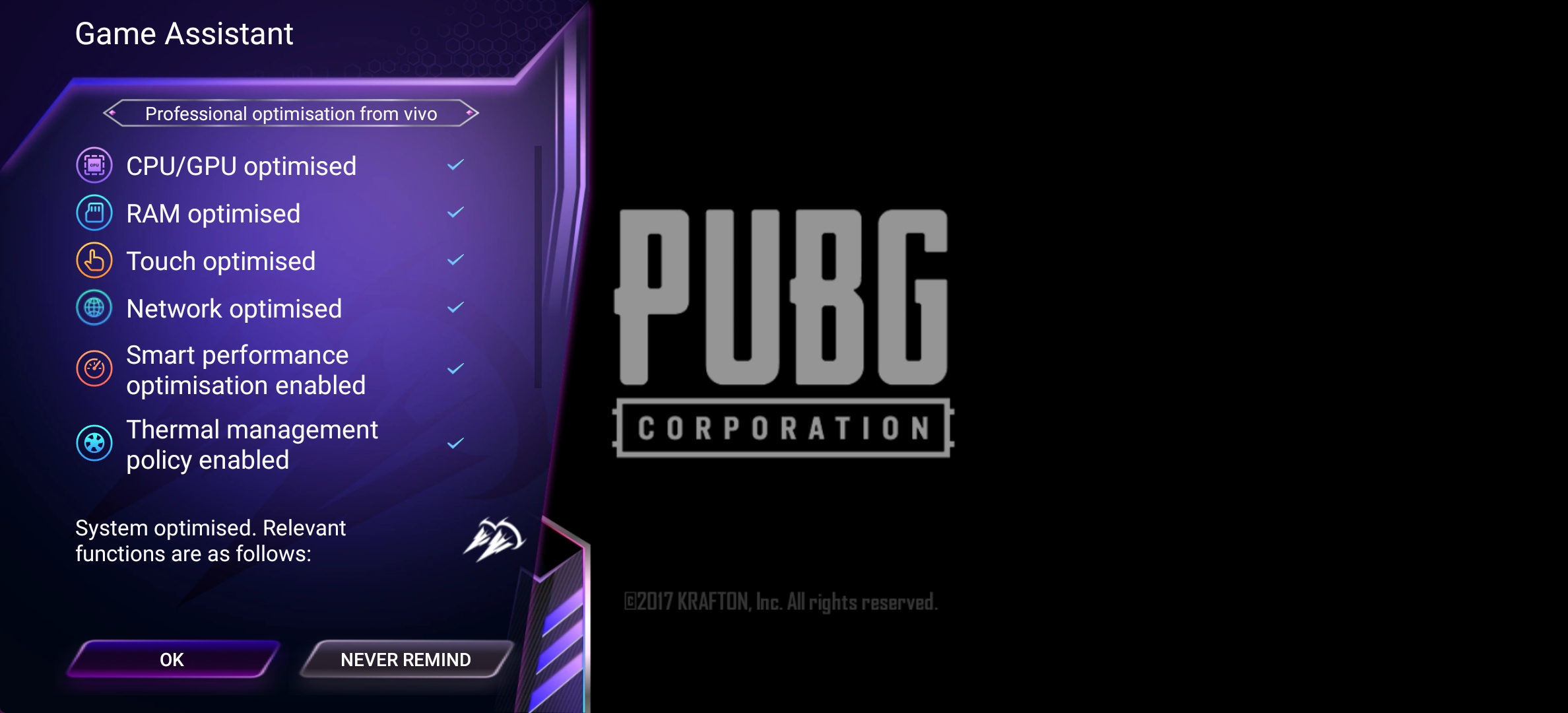 Game Assistant feature to increase mobile gaming performance
As for the form factor, the X60 Pro is a lot taller than it is wide, making it a little annoying when you try to reach the top of the screen with 1 hand. However, that can be remedied simply by enabling the small screen mode so that you can easily reach the top edge of the display.
Other than that, the device comes equipped with an in-display fingerprint sensor, as well as facial recognition. I prefer using the fingerprint sensor because unlocking the phone via facial recognition feels a little wonky while wearing a face mask (because of COVID-19).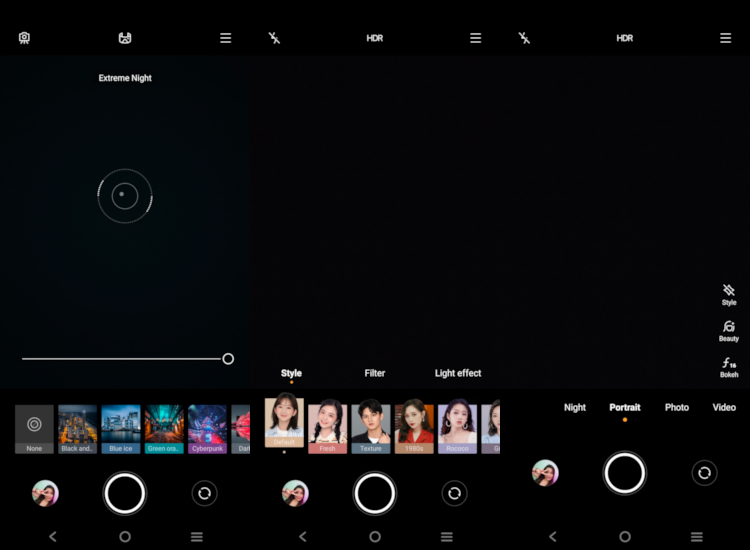 Here are some features that come with the camera app
Moving onto the camera, it has a ZEISS-powered 48MP + 13MP + 13MP triple-camera at the back, plus a single 32MP front-facing selfie camera. This setup makes the phone great for taking pictures in any situation. Not only that, but the phone also has features like Gimbal Stabilization 2.0 and Extreme Night Vision 2.0. They ensure that you can take the best pictures possible no matter the situation you're in.
To go into more detail, Gimbal Stabilization 2.0 helps you take amazing pictures and videos by removing camera shake via an internal gimbal. As for Extreme Night Vision 2.0, it's a ZEISS Optics technology that delivers photos with bright and natural-looking colours, even in low-light situations.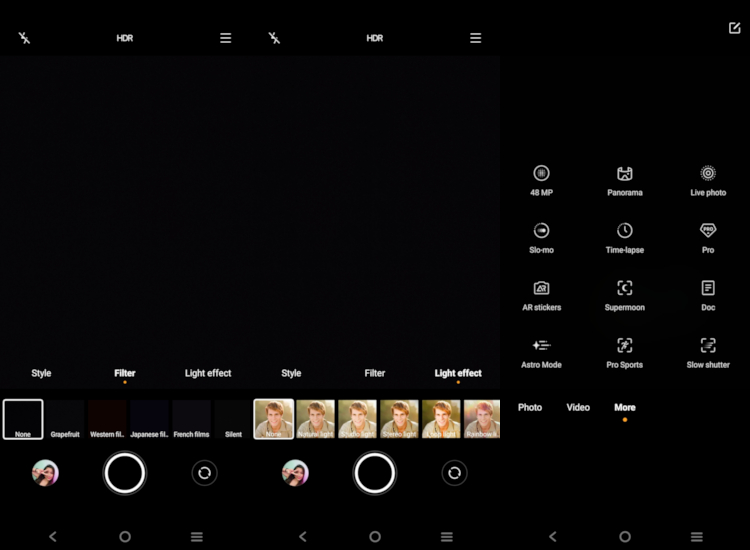 Additionally, there are other common features found on the smartphone, including Panorama, Slow-mo, Time-lapse. AR Stickers, and more. There's the Pro Mode as well, where you can individually tweak settings such as ISO, Shutter Speed, White Balance and more to achieve the look you're going for.
Battery-wise, it comes equipped with a 4300mAh internal battery more than capable of lasting up to 2 days on a single charge under typical use. It also supports up to 33W fast-charging, allowing it to charge up from 0 to 50% in around 30 minutes, while a full charge will take slightly more than an hour.
Performance - Its strength lies in its photo-taking abilities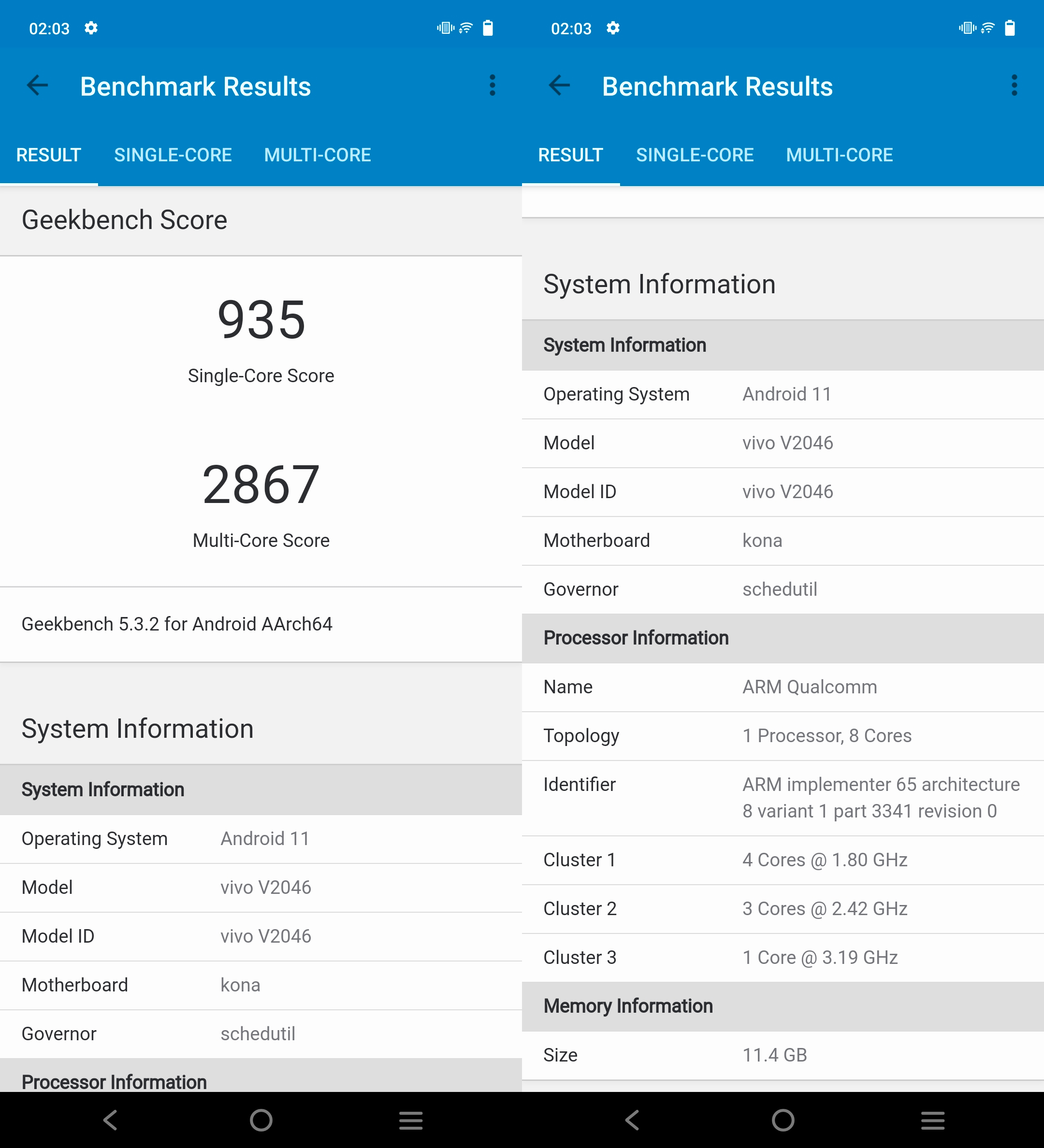 GeekBench scores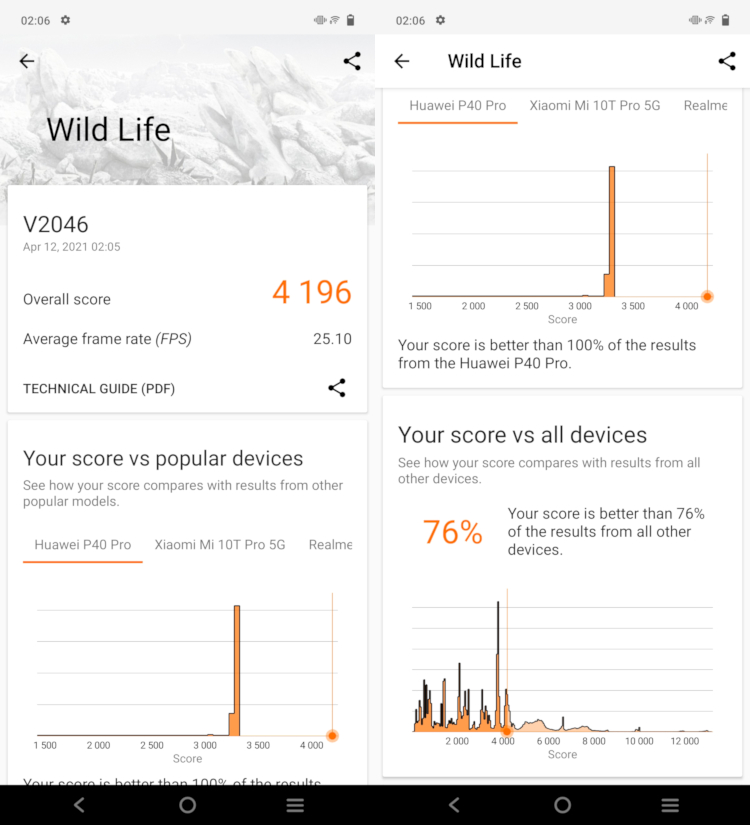 3DMark Wild Life benchmark
We put the phone through its paces with a couple of synthetic benchmarks. It managed to score 935 points in Single Core and 2867 points in Multi-Core on GeekBench. In 3DMark Wild Life, its overall score of 4196 points makes it better than 76% of the smartphones on the market.
The phone did well in high-end games like Genshin Impact, which managed to run smoothly at around 60FPS with all the graphical settings maxed out except for motion blur, which was turned off completely. There were some micro-stutters, but those were most likely due to the loading of large landscapes in the distance.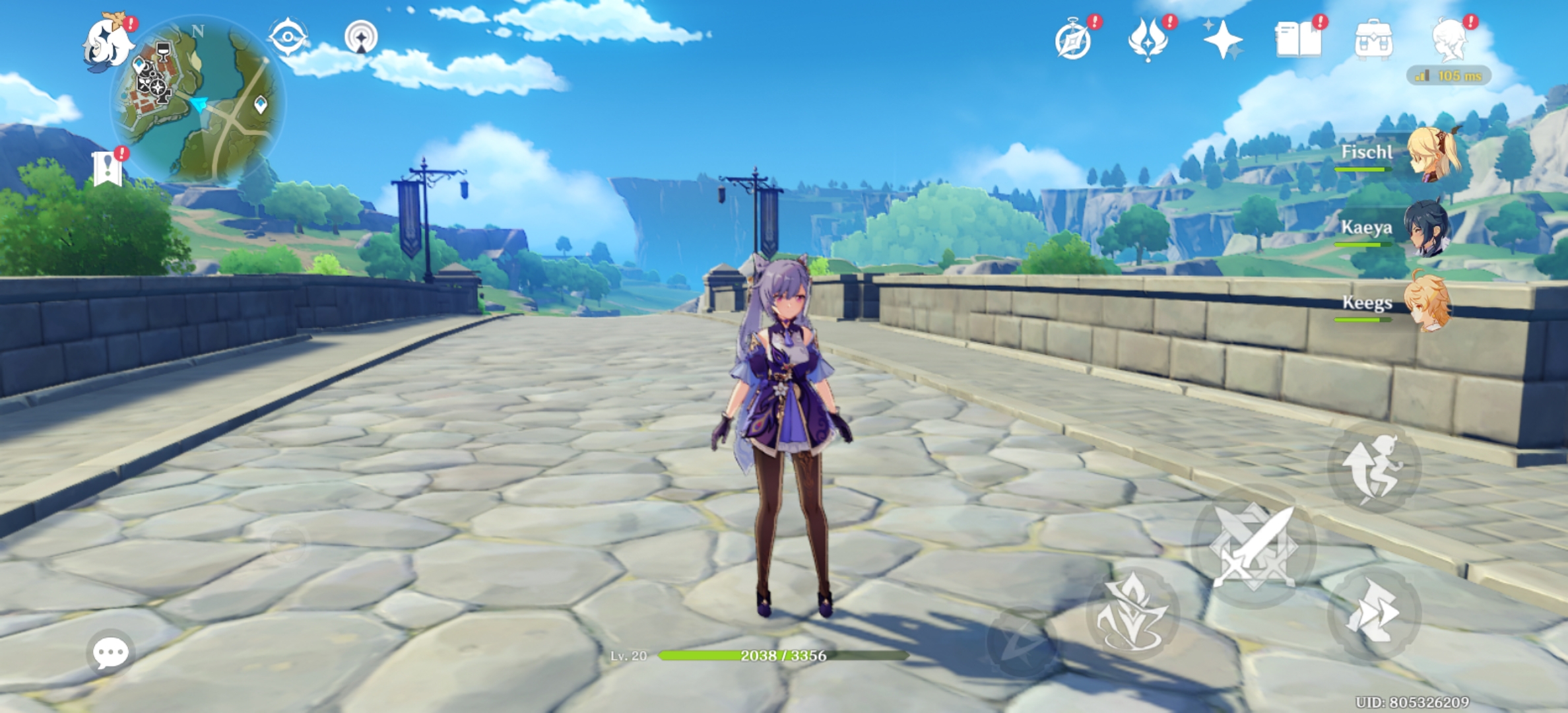 The phone does heat up quite a bit, but not to the extent where it felt uncomfortable to hold for extended periods. However, the battery might be what is holding back the X60 Pro from being a mobile gaming beast because an hour of Genshin brought the battery down to less than half its total capacity.
With that in mind, you might want to have the charger handy if you plan on gaming extensively. Other than that, the device held up quite well when it came to performing daily tasks.
As for the ZEISS camera, it performed as expected for a smartphone focused on photography. The pictures captured by the camera were both sharp and had excellent colour reproduction. You can check out the picture samples we've included below.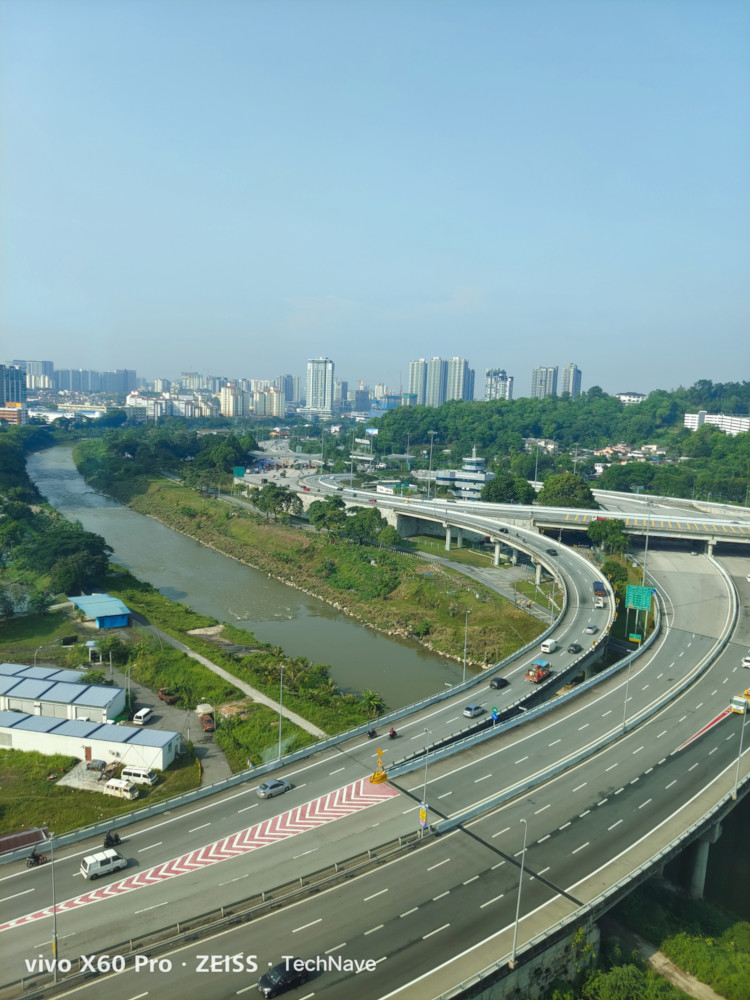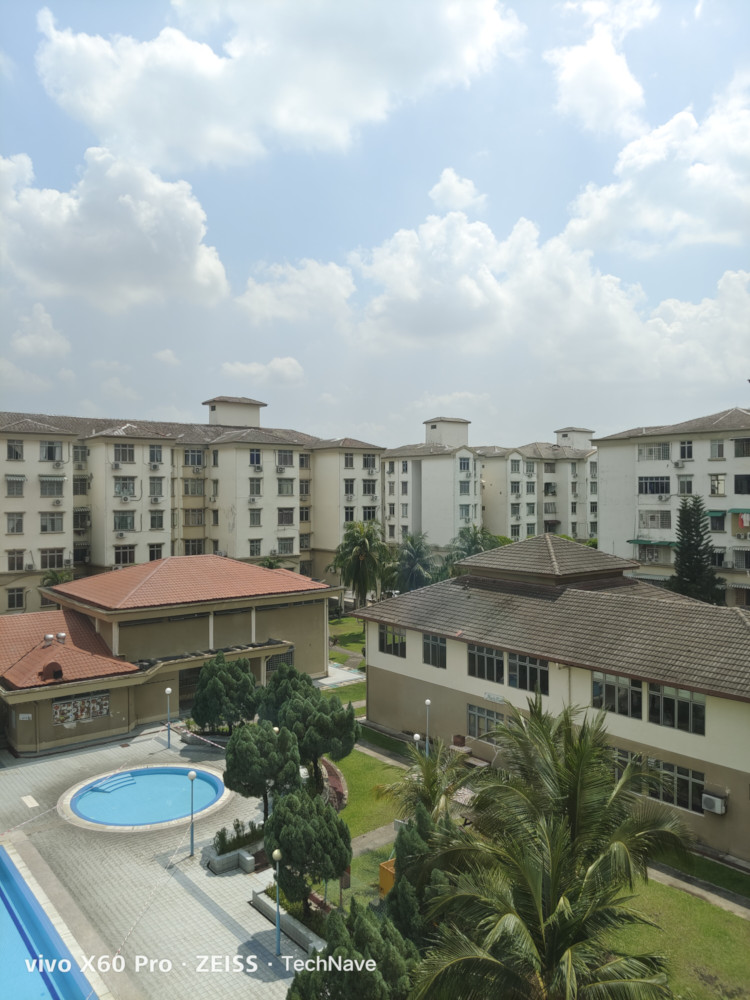 Taken at around 12 PM. Great dynamic range with no hint of overexposure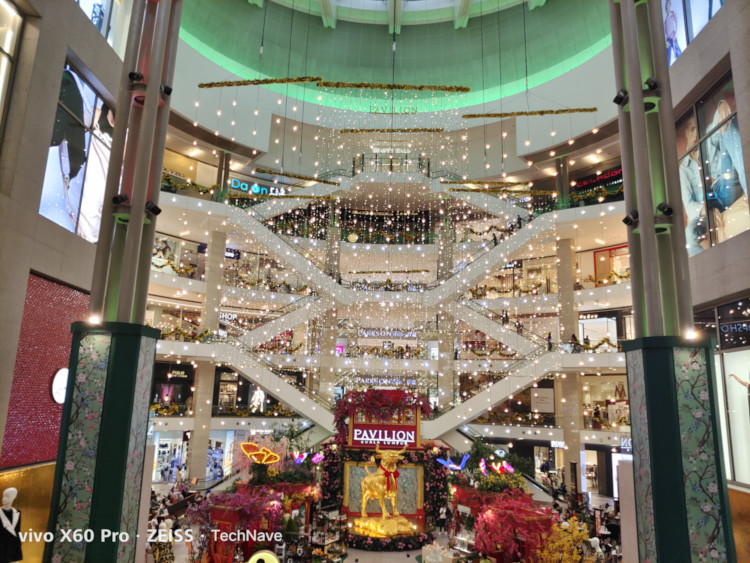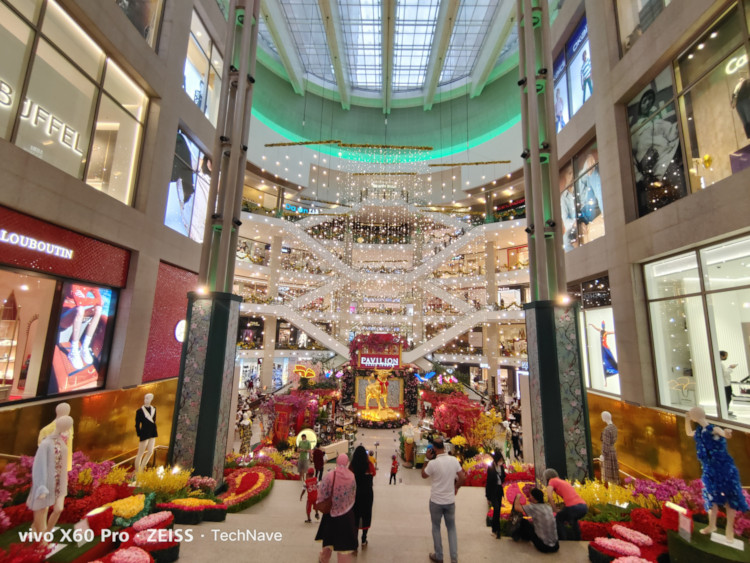 You can clearly see the difference between the primary camera and the wide-angle camera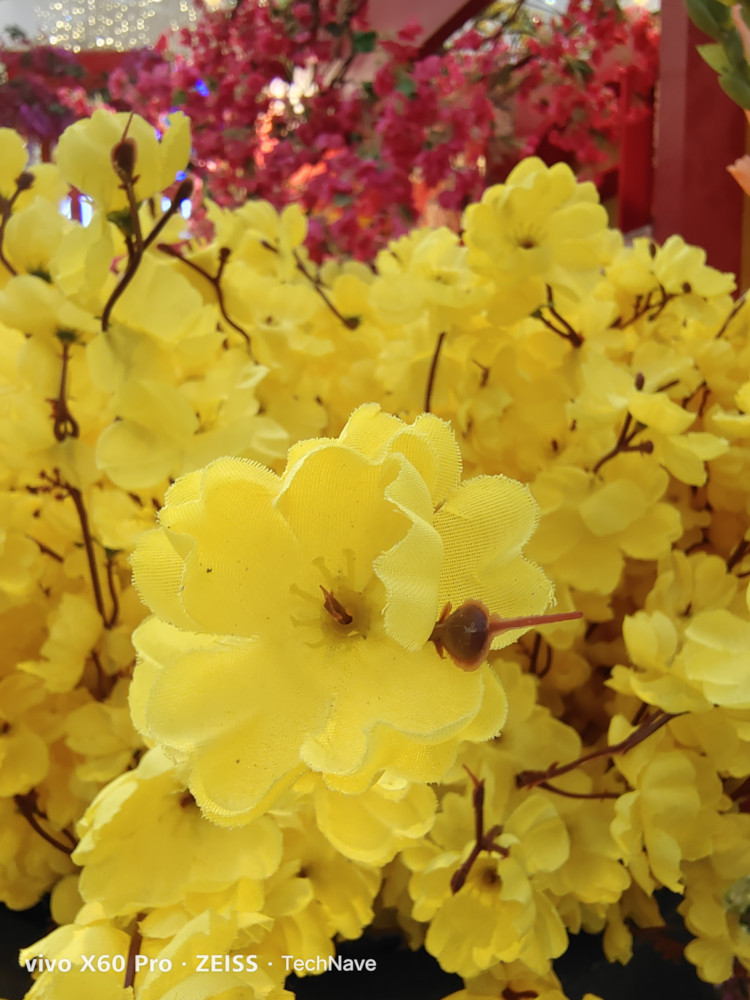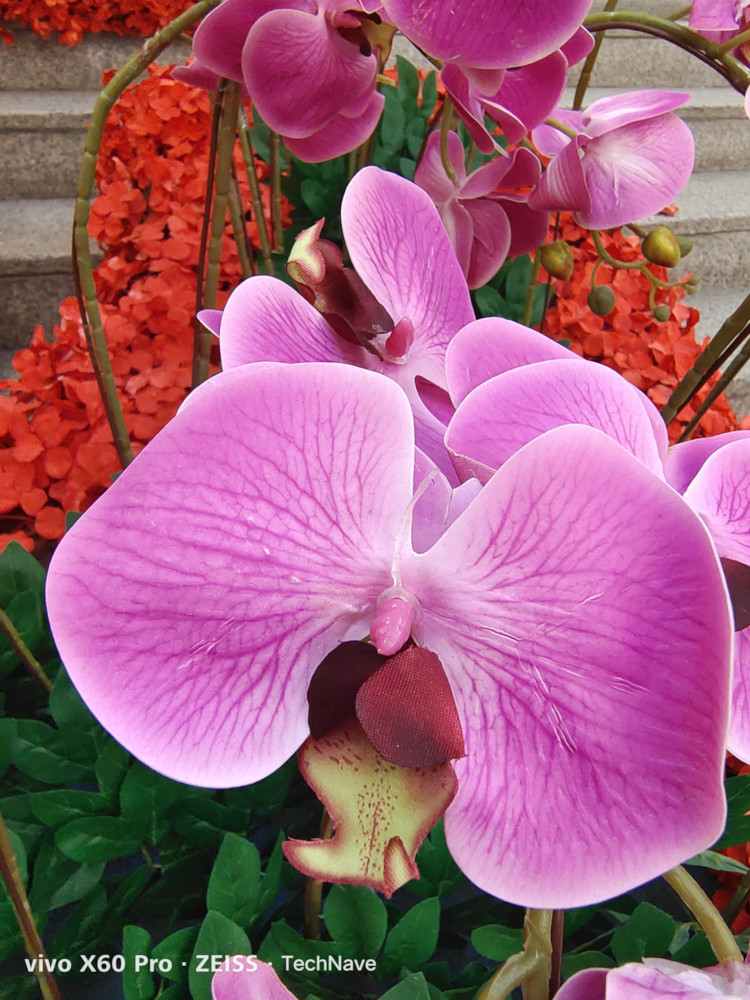 Check out the details on the flower!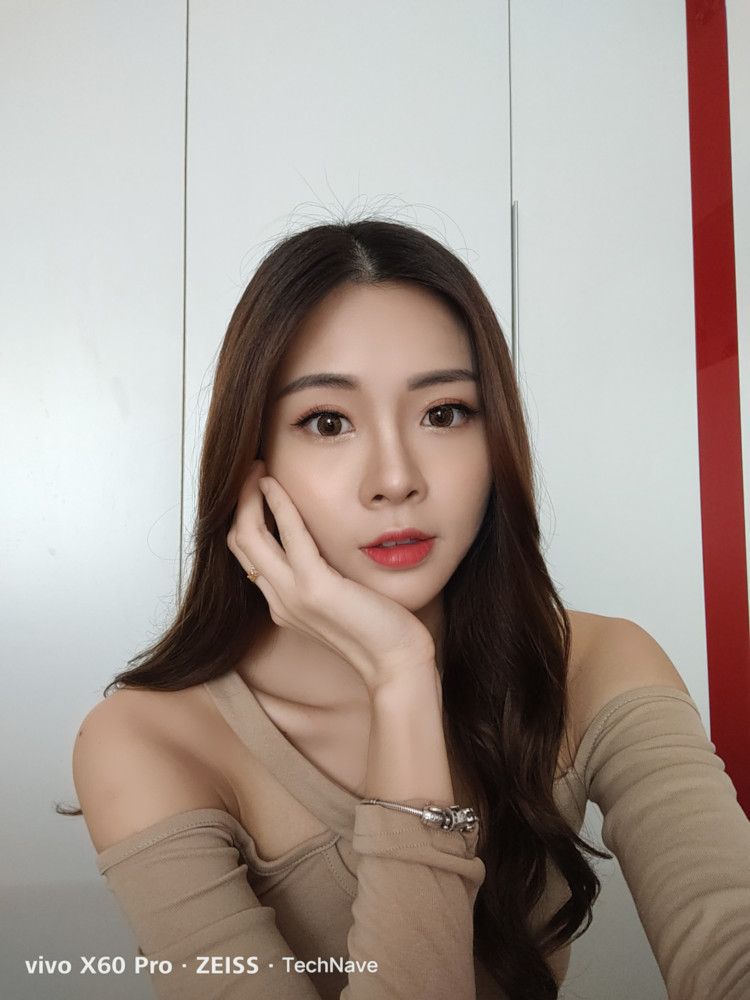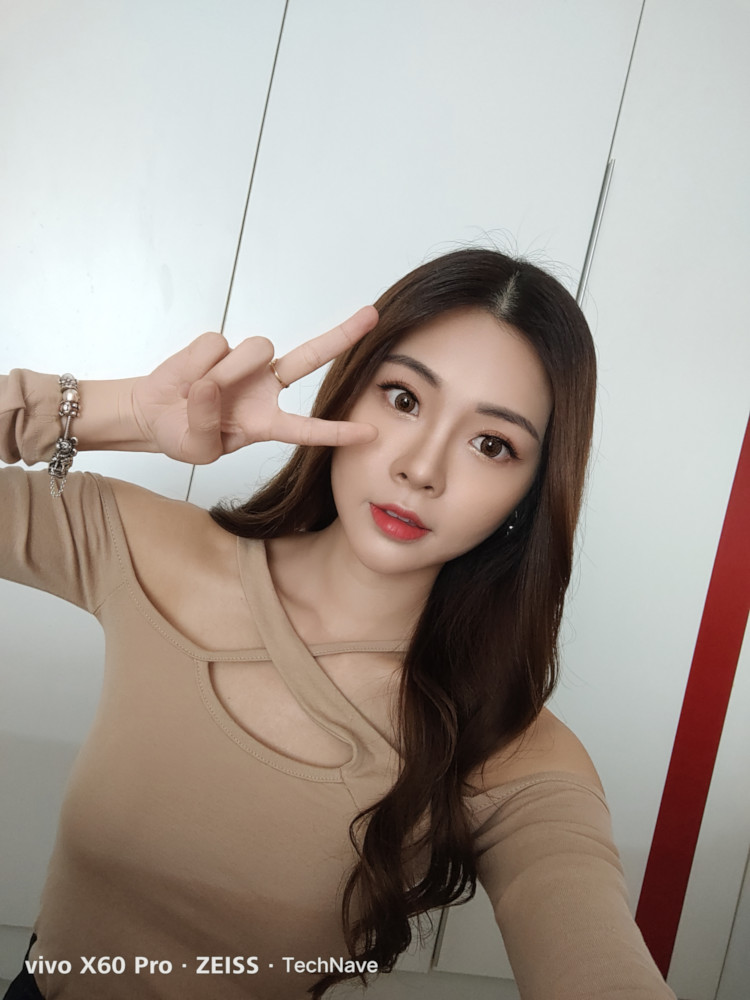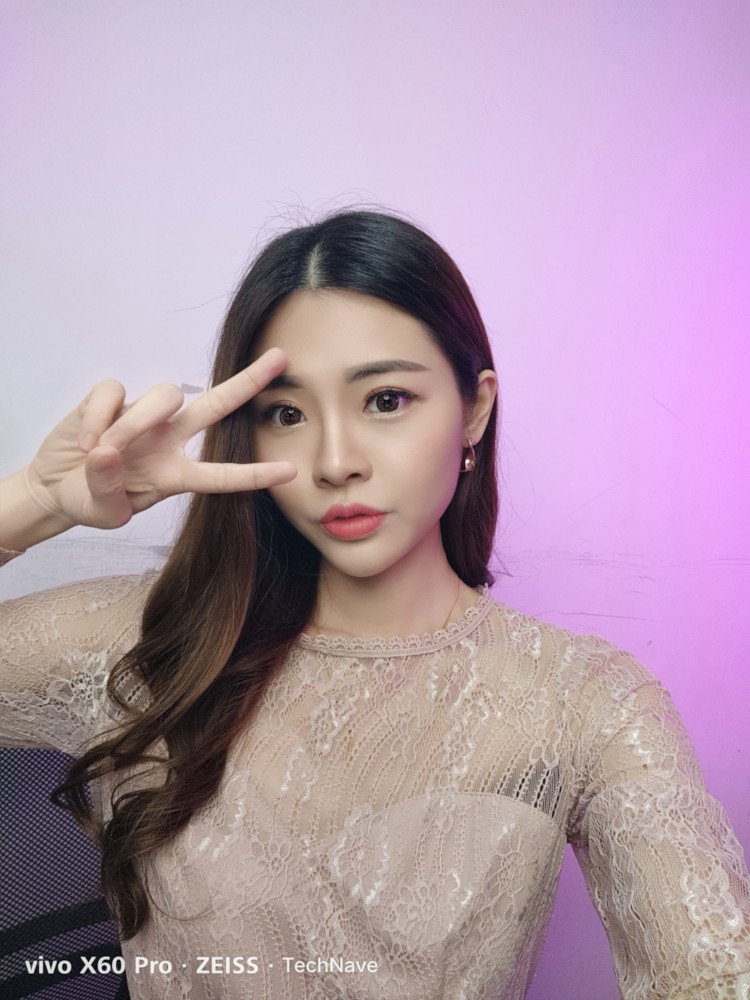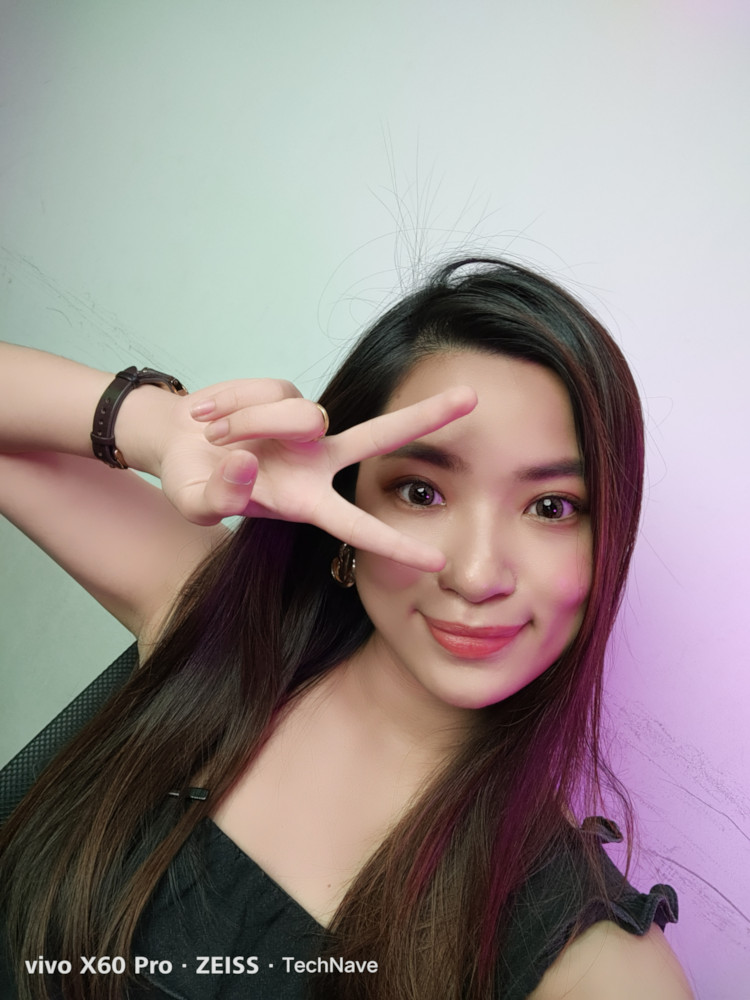 Selfies are incredibly detailed, thanks to the 32MP front-facing camera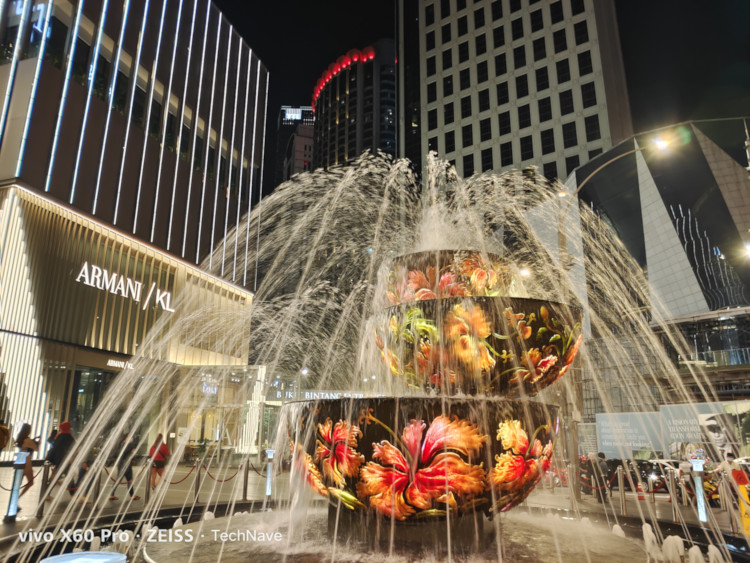 Extreme Night Vision 2.0 turned off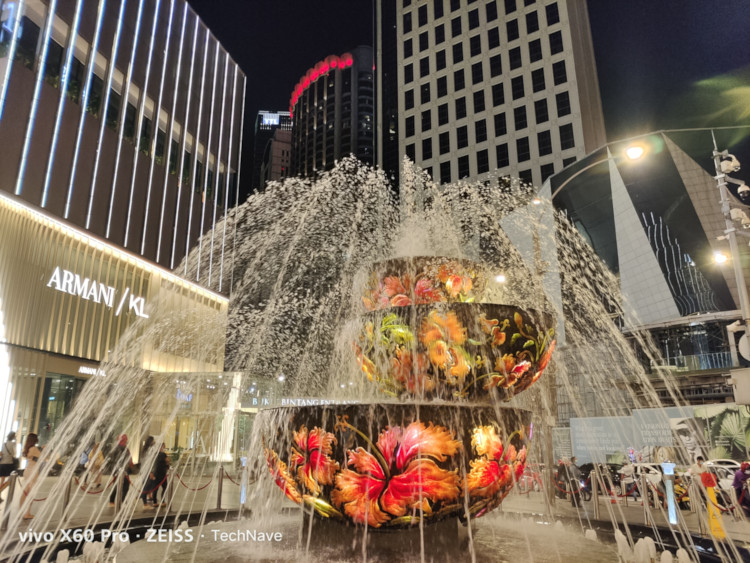 Extreme Night Vision 2.0 turned on. The background is a lot more lit, with a slight blue-ish purple hue in the sky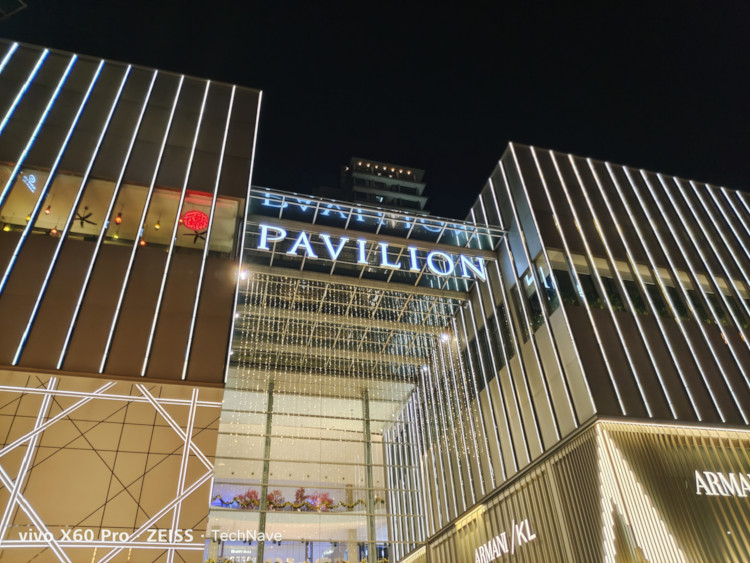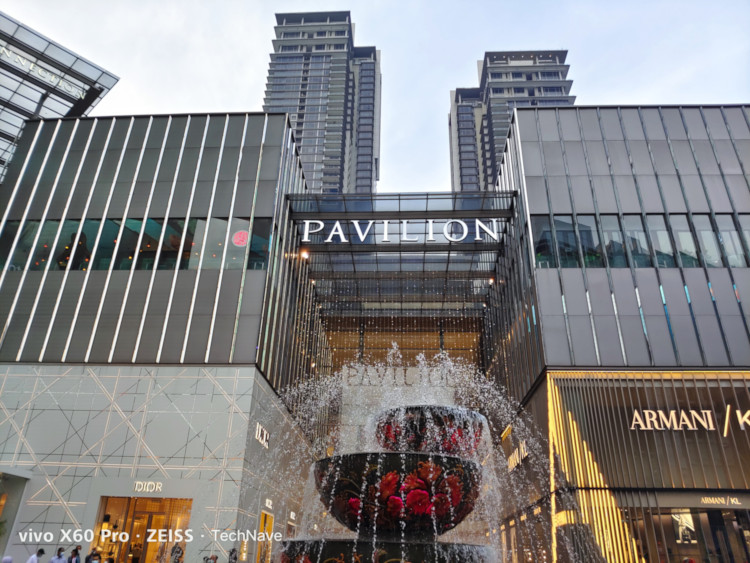 One thing I need to note is that Gimbal Stabilization 2.0 is surprisingly very effective for videos. When paired up with the Extreme Night Vision 2.0, it makes long exposure shots or taking pictures in low light conditions a breeze even without a tripod.
Conclusion - Definitely a smartphone worth considering if you're looking for a phone with a good camera
For RM3299, the vivo X60 Pro is a great phone if you're in the market for a flagship smartphone that can take amazing pictures. Sure, the battery isn't exactly the largest by today's standards, but it's more than enough as long as you're not planning to binge on mobile games.
However, if you're not interested in the Gimbal Stabilization 2.0 feature or if you have your own gimbal, you could consider getting the vivo X60 instead for RM2699. If you prefer having a device that's suited for mobile gaming and has a larger battery, go for the ASUS ROG Phone 3 STRIX instead. It comes with a Qualcomm Snapdragon 865, 6000mAh battery, and a 144Hz display, making it a better value at RM2699.
With all that being said, would you be interested in getting the vivo X60 Pro? Let us know on our Facebook page and for more updates like this, stay tuned to TechNave.com.