4 reasons why the Samsung Galaxy S20 Ultra 5G has the best display on a phone yet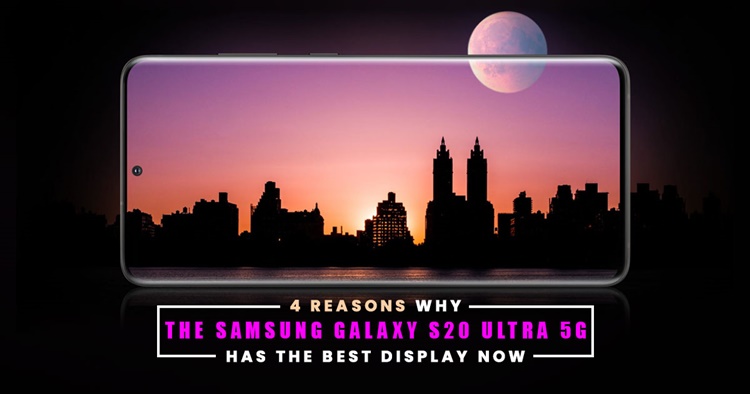 If you ask any smartphone geek on what is currently the best screen panel for a phone, the answer they (and us) will probably give you is an AMOLED display. But why? Well, two reasons - Colours look better on the display and it consumes less battery power. Ok, thanks for reading and stay tuned for more tech arti- just joking. We are just getting started.
Samsung is known for manufacturing AMOLED displays and it's one of the trademarks on a Samsung Galaxy phone. This time for the Samsung Galaxy S20 Ultra 5G, it's using a Dynamic AMOLED 2x that may put the phone on the map for having the best display right now. In this article review, we will dive deep into 4 categories - User Interface, Photo, Gaming and Video viewing. Without further ado, here are 4 reasons why the Samsung Galaxy S20 Ultra 5G has the best display for a phone in the market yet.
User Interface - Navigate around with 120Hz display
To start off, the Galaxy S20 Ultra 5G features a mega 6.9-inch Dynamic AMOLED 2x with a resolution of up to 3200 x 1440 (QHD+). Make no mistake, this is a humongous display even for a guy like me but this makes navigating the phone quite a delight. Moreover, you have the option of choosing between 60Hz and 120Hz.
Here's the difference between 120Hz and 60Hz
You don't have to be a smartphone geek to see the difference, as even a casual user can see it but do take note that as you can't have the 120Hz refresh rate on QHD+ setting. You will have to choose between the two so it really depends on your taste, but personally, I'd go for 120Hz any day.
Top-notch photo quality
The Galaxy S20 Ultra 5G is also Samsung's first flagship phone to feature a 108MP wide-angle camera and from our photography testing rounds, it holds up pretty well from night shots to cropping a 108MP photo out, and Single Take as well. Since you can set your display resolution up to 3200 x 1440 pixels, the photo viewing on the phone is great thanks to the 551 ppi pixel density.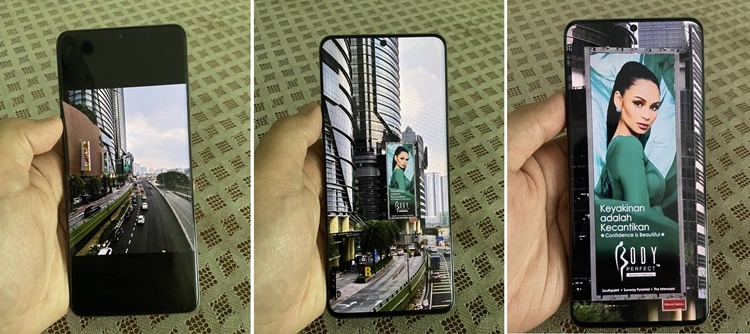 No pixels blurring out when zooming-in!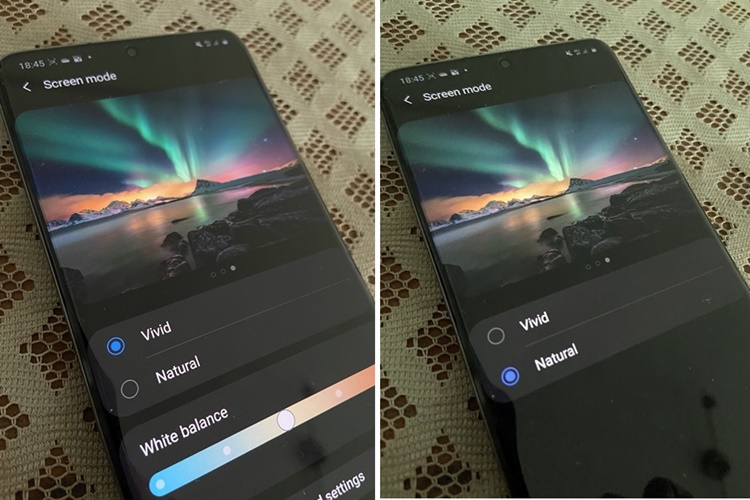 Can you tell the difference between Vivid and Natural mode?
It doesn't stop there, you can choose two colour modes from the settings which are Vivid and Natural mode. So depending on your taste, you can customize a more "cool" or "warm" look on Vivid mode, or choose the Natural mode for a more realistic approach. The choice is yours.
Great for gaming
Having a bigger screen means a better view and this is very much true for mobile gaming. As a big fan of Call of Duty Mobile, this means more space for my thumbs (and fingers, if you're that type of player) to move around the screen without blocking my side views nor accidentally touching other buttons nearby.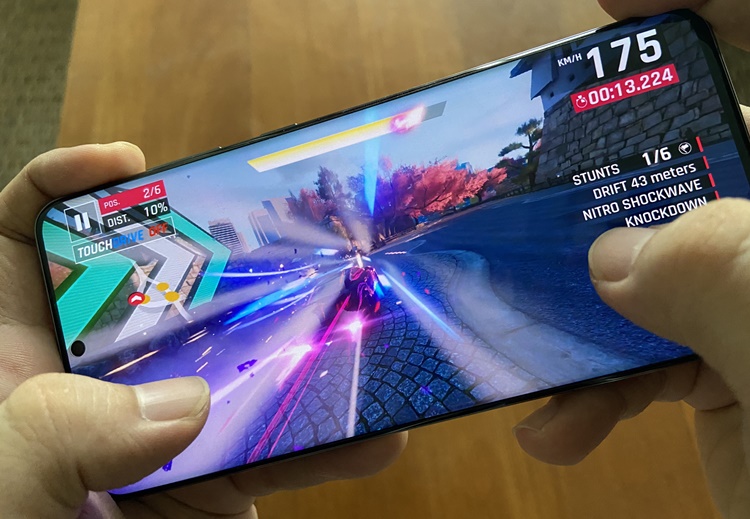 Aww yeahhh, glorious graphics
Also, if you want to go feed yourself with glorious graphics, just set the display up to QHD+ resolution and max out the graphics settings in the mobile game app. Trust me, it's just on another level completely.
Video Viewing
Finally, watching your YouTube or Netflix videos on the Galaxy S20 Ultra 5G is awesome too and by this point, I don't really need to tell you why with all the aforementioned tech specs and features. On top of that, this is also the first time that the Galaxy S20 Ultra 5G allows you to record a video up to 8K resolutions (7680 x 4320 pixels)! That's 4x more than UHD and 16x bigger than FHD, which puts the phone on top of its game in video recording.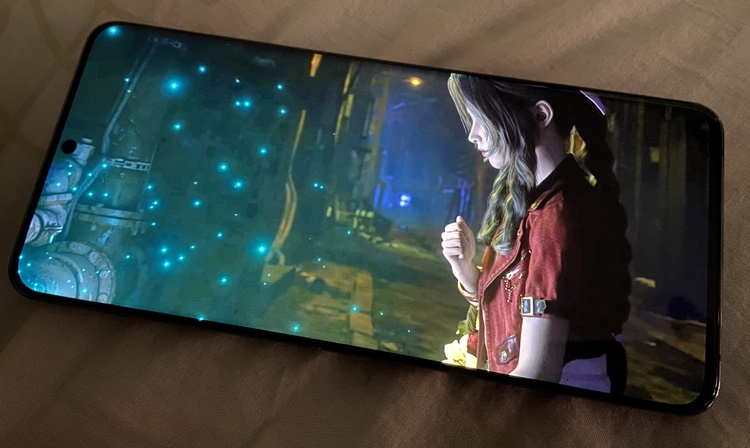 Watching the Final Fantasy VII Remake cinematic scenes on YouTube with the Galaxy S20 Ultra 5G is awesome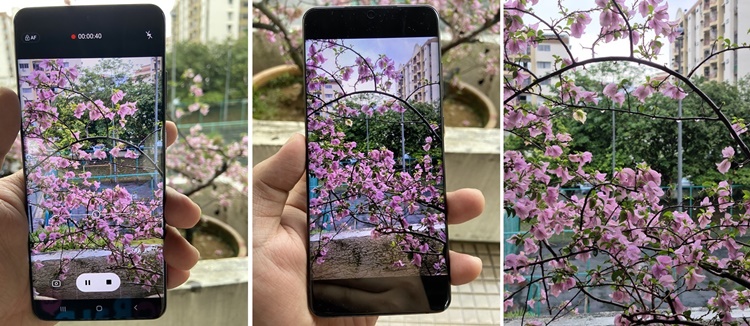 A still photo shot from an 8K video recording
It doesn't stop there, did you know that you can even snap a still photo right out of the video during recording? According to the company, the still photo is 33MP and that's a really high resolution. You can check out the still photo we took above and you probably won't believe that it's taken out from an 8K video.
So these are the 4 reasons why the Samsung Galaxy S20 Ultra 5G has the best display on a phone right now. Are you convinced yet? If you're looking for the smartphone with the best screen panel, this might be it. You can learn more about the smartphone at their official online store over here so do check it out.
To recap, the Galaxy S20 Ultra 5G features an Exynos 990 chipset, 5G connectivity, 12GB of RAM, 128GB internal storage, a 5000mAh battery pack with wireless charging support. As for the cameras, there's also a 12MP ultrawide lens and a 48MP telephoto lens, accompanied by a DepthVision sensor.
Stay tuned for more tech articles at TechNave.com.
Samsung Galaxy S20 Ultra Specs & Price >