AMD Ryzen 5000 series desktop CPUs now available in Malaysia, price starts from RM1349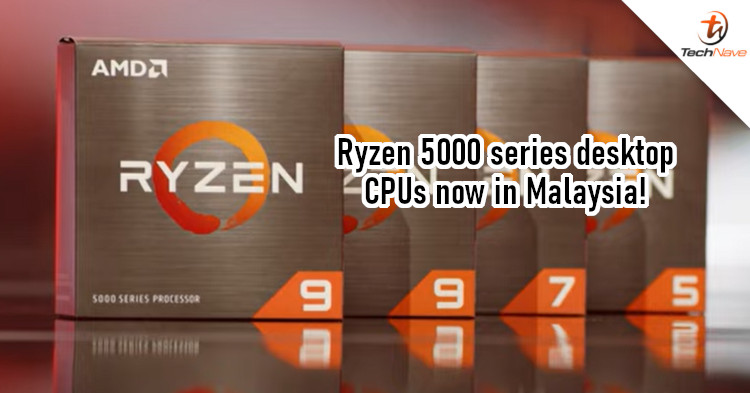 Have you been waiting to get a new powerful PC? Well, wait no more because AMD's latest Ryzen 5000 series CPUs are out and are now available in Malaysia. A total of four SKUs are available at launch for you to choose from, including the Ryzen 9 5950X, Ryzen 9 5900X, Ryzen 7 5800X, and Ryzen 5 5600X desktop CPUs.
AMD launched its Ryzen 5000 series CPUs last month, boasting an average increase of 19% in IPC (instructions per clock). The Ryzen 9 5900X, for example, will allegedly deliver up to 26% improvement in gaming performance compared to the 3900X. We've also seen that the Ryzen 5600X outperforms its competitor, the Intel Core i5-10600K, by a wide margin. In terms of features, the new CPUs support PCIe 4.0, as well as AMD's Precision Boost 2 and Precision Boost Overdrive.
For those who are interested in getting one of these, you'll need an AMD 500 series motherboard and update the BIOS to a version with AGESA 1.1.0.0. This ensures that you'll be able to take advantage of all the new features the new CPUs have to offer. You can also expect some performance improvements, according to AMD.
If you plan to buy one of AMD's new CPUs, check out the local prices below. With that said, what do you think of the new Ryzen CPUs? Let us know in the comments below and stay tuned to TechNave for more tech news.
AMD Ryzen 5000 series price list:
Ryzen 9 5950X - RM3699
Ryzen 9 5900X - RM2499
Ryzen 7 5800X - RM2049
Ryzen 5 5600X - RM1349