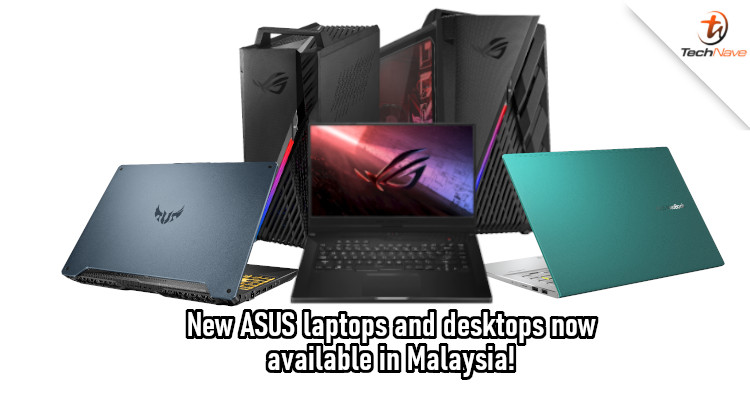 ASUS is coming in hard this May with a new lineup of laptops and desktop computers that are all powered by the latest AMD Ryzen processors. In particular, the laptops all use the latest AMD Ryzen 4000 Mobile CPUs. These new products were first showcased at CES 2020 earlier this year and are now available in Malaysia.
First, let's look at the top-end Zephyrus G15. This machine comes with an AMD Ryzen 4800HS CPU, an Nvidia GeForce GTX 1660 Ti Max-Q GPU, and 16GB of DDR4 RAM (3200MHz). Its 15.6-inch IPS display has a refresh rate of 144Hz and supports Adaptive Sync, so you won't get any visual stutter or screen tearing. Moreover, it's a very slim gaming laptop at about 19mm, making it easy to carry with you wherever you go. We managed to try the more compact Zephyrus G14, which is fairly similar to the G15, so do read our review on it to find out more.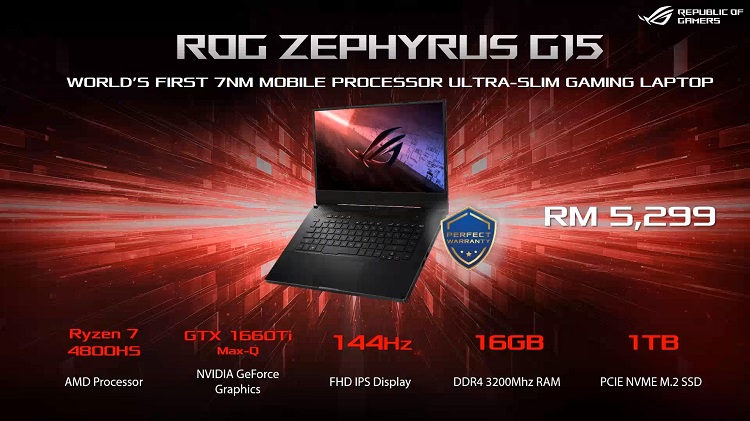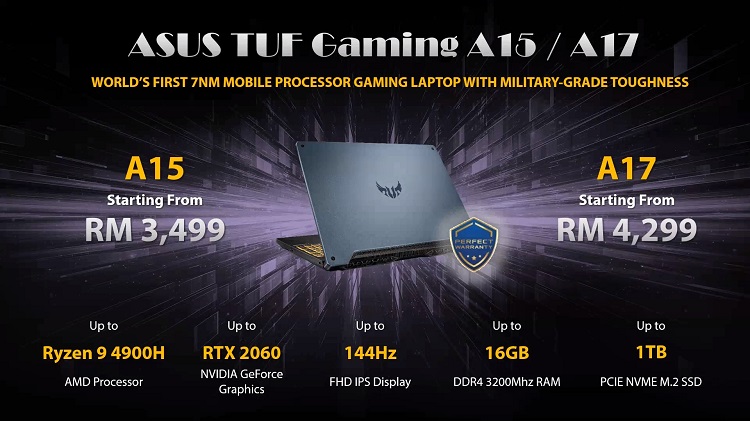 Next is the TUF Gaming A15 and A17, which have powerful gaming capabilities in two affordable packages. Both laptops are powered by AMD Ryzen 4000 Mobile series CPU of up to Ryzen 9 4900H, as well as a GPU of up to the level of an Nvidia GeForce RTX 2060 GPU for excellent gaming performance. It will also have up to 16GB of DDR4 RAM (3200MHz), as well as a 144Hz display at 15.6-inch and 17.3-inch in sizes, respectively. If you're looking for a laptop with the best-bang-for-buck, these two are great options that you could consider.
The last laptop of the list is the VivoBook S14 (M433), which is a laptop PC meant for general use and productivity. It comes equipped with AMD's Ryzen 7 4700U CPU, 16GB of DDR4 RAM, and 512GB of NVMe SSD storage. Additionally, the CPU has integrated Radeon Vega graphics to allow for tasks like video editing or even light gaming. But the best thing about it is that it weighs only 1.4kg and has a thickness of merely 15.9mm, making it an incredibly portable laptop.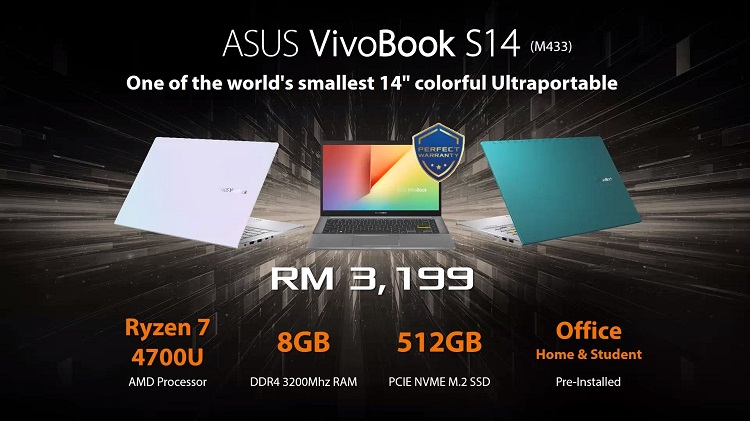 Moving on to the desktop side, let's take a look at the larger ROG Strix GA35. This is a high-end gaming desktop meant for both gaming and a variety of other tasks like video editing or live-streaming. It houses the best consumer desktop AMD Zen 2 CPU currently available, which is the 12-core AMD Ryzen 9 3900X desktop CPU, with up to a GeForce RTX 2080 Ti GPU for all your gaming needs. In terms of features, the chassis comes with two separate chambers for better cooling efficiency, hot-swap bays for SSDs, a 240mm radiator, and more.
As for the ROG Strix GA15, it's a smaller version that has many of the same features, except without the dual-chamber. Its best SKU features an AMD Ryzen 7 3800X CPU, Nvidia GeForce RTX 2060 GPU, and 16GB of DDR4 RAM (3200MHz) for great gaming performance. This PC would be a great deal for those who want a complete gaming PC that will perform and remain relatively affordable.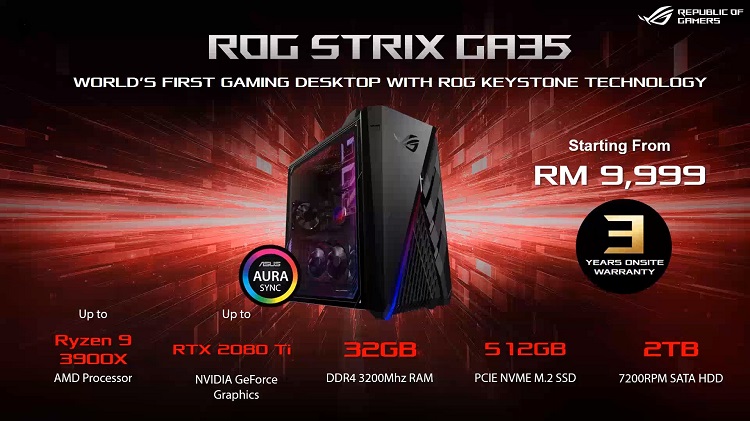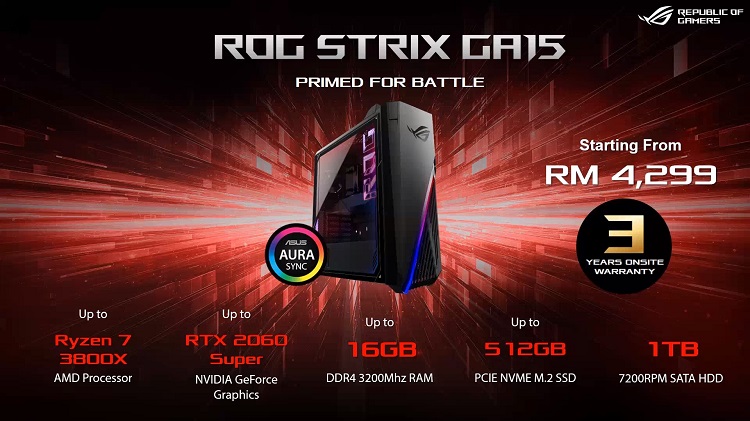 That's all for now, but ASUS did hint to us that the Zephyrus G14 will also be making its way to Malaysia in about a month or so. With that said, which of the products above are you most interested in? Let us know on our Facebook page and stay tuned to TechNave.com for more news.