Comparison: Celcom, Digi, Maxis and U Mobile launch plans for the Samsung Galaxy Note20 5G series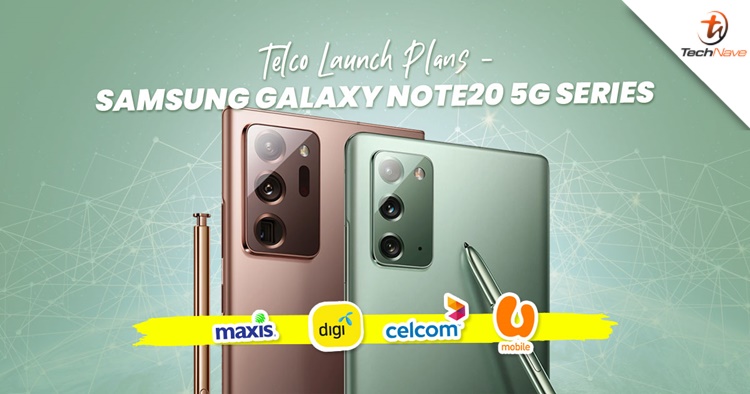 Two weeks ago, we did a comparison article on the Samsung Galaxy Note20 5G series between Celcom, Digi, Maxis and U Mobile. If you have decided to skip the pre-order for the official launch, but also wonder if the four telcos are launching it differently, you have come to the right place. We have some first-hand information so without further ado, here are the telco launch plans for the Galaxy Note20 5G series.
Digi - A Samsung 50-inch 4K UHD Smart TV to be won
Kicking off this list with a bang is Digi's official launch plan for the Galaxy Note20 series. Compared to all the other telcos, Digi's launch plan is the most exciting because everyone stands a chance to bring home a brand new Samsung 50-inch 4K UHD Smart TV. And there's a total of 20 units available, so get lucky!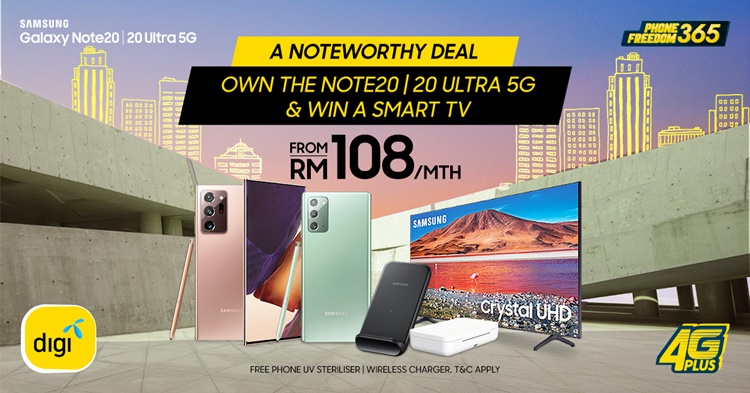 But how do you enter the lucky draw? Well, you will have to sign up to the Digi PhoneFreedom 365 plan for RM108/month and this applies to both the Galaxy Note20 5G and the Note20 Ultra 5G. As a bonus, the plan brings you savings of up to RM1707, up to 200GB of Internet data, unlimited calls, a free phone upgrade, and free 2-year phone protection with Digi Shield (worth RM696). To find out more about Digi's plans, visit the website here.
U Mobile - Entitled to a Samsung Galaxy Active 2 at RM819
Next up is U Mobile, which will be hosting its Galaxy Note20 5G series launch at the U Mobile Experience Centre, Berjaya Time Square (Ground Floor). Customers who are planning to get the flagship devices will also be entitled to purchase the Samsung Galaxy Active 2 44mm (Aluminium Bluetooth edition) at a special price of RM819. For your information, the original price is RM1099 and this offer is available from the 21st of August to 30th of September 2020. To learn more, check it out on their official page here.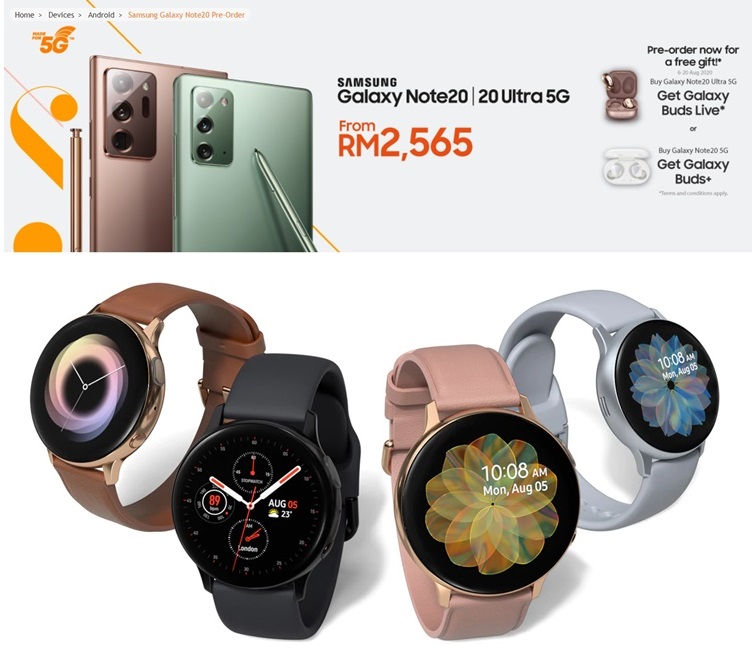 Celcom - Free UV Sterilizer/Wireless Charger and Wireless Charger Convertible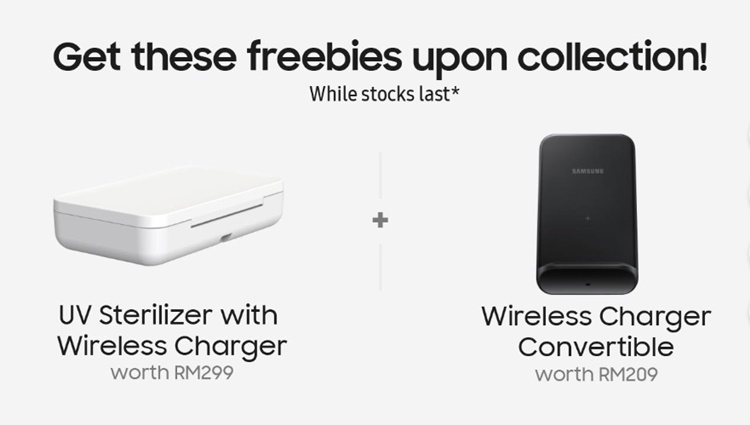 As for the blue telco, Celcom will be giving away a complimentary UV Sterilizer that doubles as a Wireless Charger, as well as a Wireless Charger Convertible. For your information, the UV Sterilizer with Wireless Charger is worth RM299 whereas the latter is worth RM209.
Apart from the freebies, you should also know that you can choose between Celcom MEGA Unlimited (unlimited data) or Lightning Pass (high-speed internet) for as low as RM99 monthly with EasyPhone. There's a ton of Internet data of up to 120GB too as well as free-roaming! For more information, check them out right here.
Maxis - 2x Galaxy Note20 5G series offer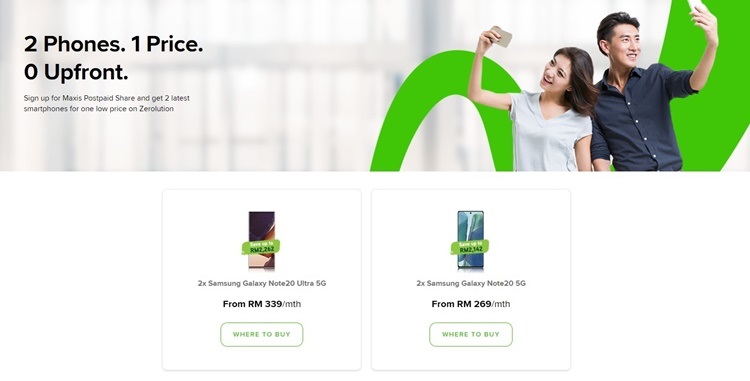 Finally, it seems that Maxis is doing a 2x Galaxy Note20 5G or Note20 Ultra 5G exclusive offer with savings up to RM2262 on their trademark Zerolution program. In addition, the Zerolution program also offers zero upfront payment and free gifts (the UV Sterilizer/Wireless Charge and Wireless Charger Convertible), as well as a complimentary theft and damage protection for 3 months by Maxis.
It's also worth mentioning that according to Ookla Speedtest Intelligence (Q1-Q2 2020), Maxis was rated as the fastest mobile network and they are working towards the 5G connectivity. So if you are getting your phone from them, you might have a better 5G experience with your Galaxy Note20 5G series on Maxis. Also as aforementioned, Maxis' 2x phone bundle allows you to have the biggest savings. You can learn more from their webpage here.
So there you have it, these are all the telco launch plans for the Samsung Galaxy Note20 5G series. Personally, Digi's launch plan is the most exciting one as we've mentioned but you will have to pray to Lady Luck if you want to win the 50-inch Samsung TV! You can also use our telco phone plans comparison tool on our website, and learn more about the latest flagships' tech specs and features from our news coverage on the Galaxy Note 20 series here.
Stay tuned for more local tech deals at TechNave.com.
Samsung Galaxy Note 20 Ultra Specs & Price >