DiGi offers Apple iPhone 6 and iPhone 6 Plus on pre-order from RM1181 and RM1516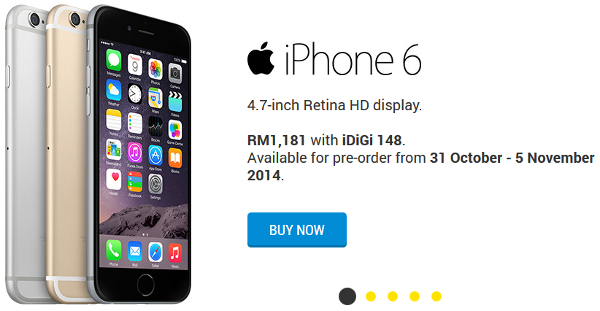 The Apple iPhone 6 and iPhone 6 Plus are finally available for pre-order at DiGi. The iPhone 6 will be available from RM1181 while the iPhone 6 Plus will go from RM1516. If you don't mind paying more every month you can also get the iPhone 6 from RM557 or the iPhone 6 Plus at RM892 on the iDiGi 238 plan. As usual, you will be expected to sign up for a 24 month contract but thankfully there are a lot of postpaid plans you can choose from and you can either pay on a 0% installment plan or the full amount. Regardless of which smartphone or payment amount you choose, DiGi will begin deliveries on 6 November 2014. If you've been on a DiGi Postpaid plan for 12 months or more you don't have to pay the Advance Payment. Check out the table below for more details:
DiGi Apple iPhone 6 + iPhone 6 Plus

iDiGi 50

iDiGi 78

iDiGi 108

iDiGi 148

iDiGi 238

Monthly
RM50
RM78
RM108
RM148
RM238
Data (Quota)
2GB
3GB
5GB
6GB
8GB
Call rates per minute

15 sen

10 sen
SMS rates per SMS

10 sen
Free Calls
50 minutes

100 minutes

300 minutes

600 minutes

1000 minutes

Free SMS
200 SMS on network

100 SMS
300 SMS
600 SMS
600 SMS
24 month contract

16GB iPhone 6
RM2165
RM1685

RM1445

RM1181

RM557

64GB iPhone 6
RM2500
RM2020

RM1780

RM1516

RM892

128GB iPhone 6
RM2835

RM2355

RM2115

RM1851

RM1227

16GB iPhone 6 Plus
RM2500

RM2020

RM1780

RM1516

RM892

64GB iPhone 6 Plus
RM2835
RM2355

RM2115

RM1851

RM1562

128GB iPhone 6 Plus
RM3170
RM2690

RM2450

RM2186

RM1562

For other options you can check out our Apple iPhone 6 and Apple iPhone 6 Plus plan comparison tools. While you can check out the details about this deal at the DiGi site, it is seriously slow, so much so that you may have to wait 80 to 475 minutes before you get redirected. Refreshing will not help as it means you'll just get assigned to a new slot, probably longer than the one you were at, so just chill and wait a little. While you do that you can check out our other DiGi Telco deals as well.
Apple iPhone 6 Specs & Price >