First Impression: So what's the deal with the JOI Book SK3000 laptop?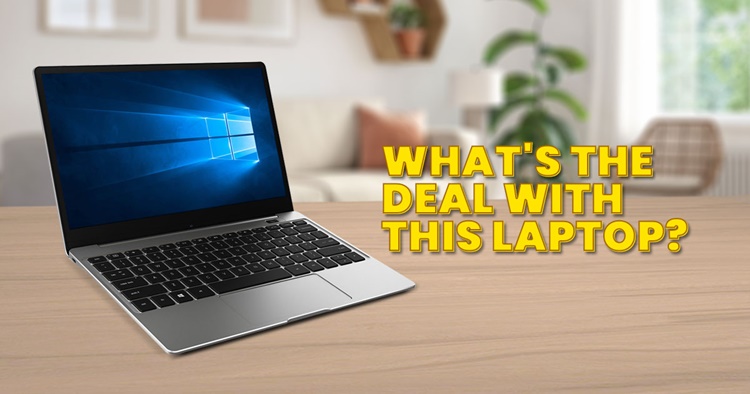 So just recently, there was a new JOI Book SK3000 released in the Malaysian market. While it looks like an ordinary laptop, this one is different because it doesn't feature a traditional x86 processor, but a Qualcomm Mobile Compute Platform. Certainly a rarity among Windows laptops!
You might have also seen some news from certain tech media pages about the laptop, so what's the deal with the JOI Book SK3000? And is it worth it at RM2199?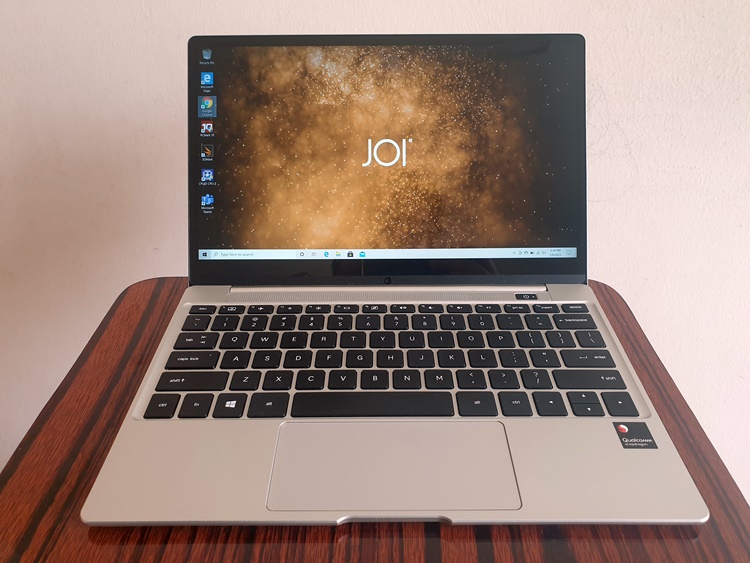 Nothing too out of the ordinary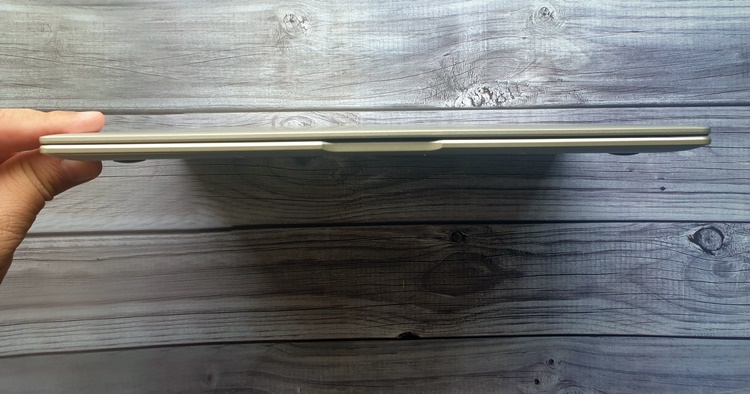 So thin!
Before we start, this article is more like a first impression instead of a full review. As I've mentioned earlier, the SK3000 looks like any ordinary laptop - it's simple, clean-looking and also unbelievably lightweight. How light is it? Answer - Just 1.05KG and in terms of measurement, it's less than 15mm thin.
As someone who owns a gaming laptop, it's a nice feeling to carry around such a lightweight laptop. The screen size is a bit too small for my taste, though, but it's good enough for working people and students thanks to the FHD resolution. Speaking of that, most of us are still working or studying from home so I guess this laptop will come in handy because you can put in a 4G LTE SIM card for Always On Connections.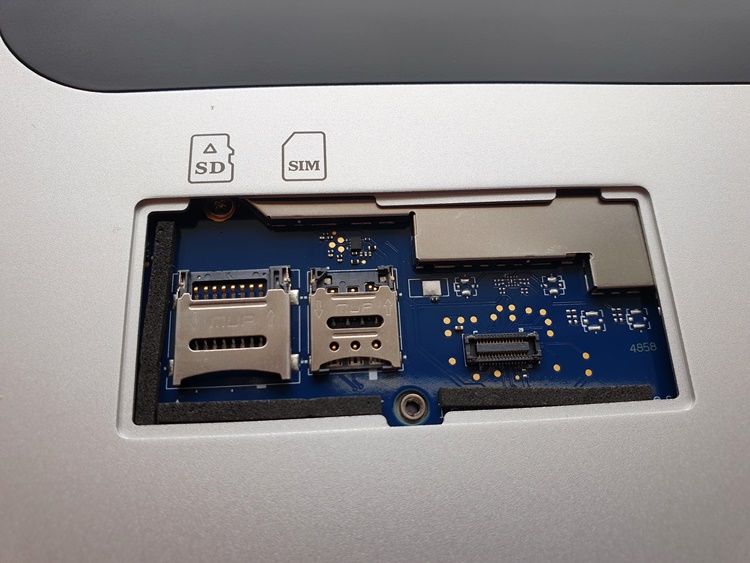 You can also insert a microSD card alongside a nano SIM card
Yup, that also means that you can use this laptop pretty much anywhere without a WiFi. Moreover, you can also turn the SK3000 into a mobile hotspot for other devices so if you are experiencing some bad WiFi connection, just pop into that hotspot with your phone or other devices. You can slip in any Malaysian SIM card as long as the telco's coverage is strong within your area.
In case you're wondering about the performance, I'd say that the Qualcomm Mobile Compute Platform works on par with if not better than comparable laptop processors. It's more than enough to get your daily work and tasks done but don't expect it to play graphics intensive video games (Among Us should be fine, haha). It's also interesting to note that the laptop is quite quiet due to the fanless design and doesn't get hot while using so that's cool (pun intended).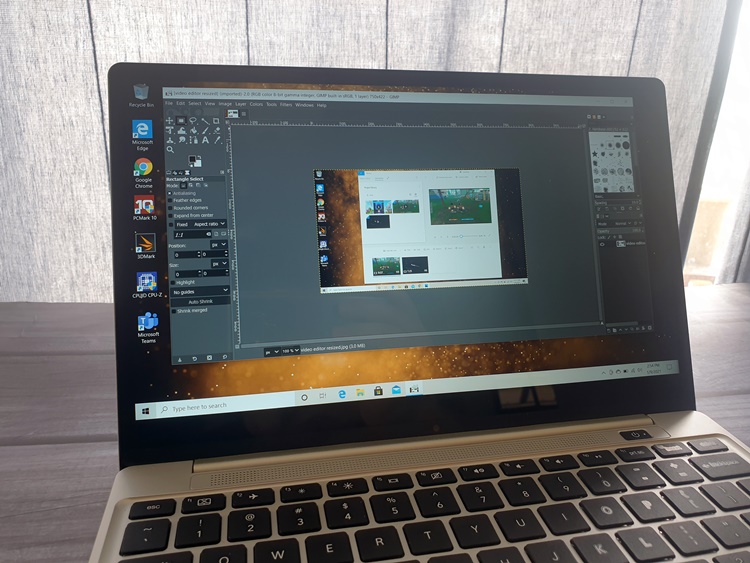 For daily work use, the JOI Book SK3000 does its job silently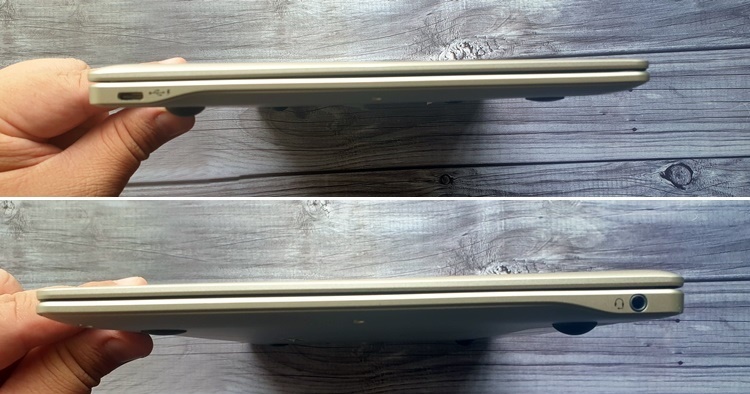 These are the only ports available
By the way, the SK3000 features a 4500mAh battery pack. You usually won't hear how much a laptop battery has and according to our review, the battery life is very durable which can last you the whole day easily. According to the official website, it's said to last up to 10 hours (but this depends on your usage) and supports USB Type-C fast charging in just 2 hours making it great for working on the go.
It's also worth mentioning that this laptop has Windows 10 Pro. To a casual user, you probably think that there isn't much difference between this operating system with Windows 10 Home but you'd be mistaken. The biggest difference between the two is the security which the former comes with. In other words, Windows 10 Pro is a lot safer in terms of PC and data protection. Other Windows 10 Pro benefits include linking to a Windows 10 Pro device, Remote Desktop, Microsoft Update for Business and more.
So overall from our first impressions, the JOI Book SK3000 is a promising one. For its price of RM2199, it offers the advantages of cooler, silent, longer-lasting productivity with built-in Always On 4G LTE, features that usually aren't offered by most other laptops in the same price range. If that sounds like exactly what you need for working or studying from home, you can check out more information at the official distributor website right over here. But if you need more convincing, check out our full review.
But what do you think? Know anyone who got the JOI Book SK3000 laptop already? Let us know in the comments below and stay tuned for more tech opinion articles at TechNave.com.
JOI Book SK3000 Specs & Price >