Google announces Huawei Nexus 6P and LG Nexus 5X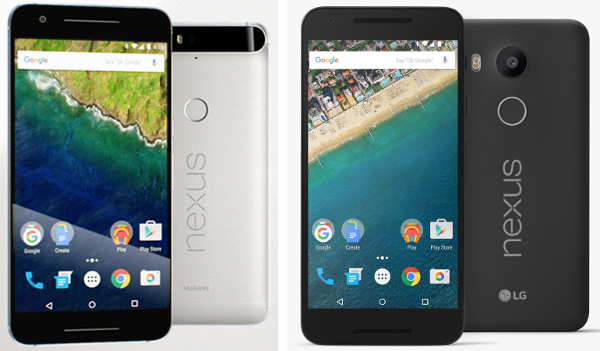 As expected, Google have announced their latest additions to the Nexus series of smartphones with the Huawei Nexus 6P and LG Nexus 5X. Both smartphones come with Android 6.0 Marshmallow out of the box, a fingerprint sensor, dual front speakers, USB Type-C ports and a 12.3MP rear camera with super large 1.55-micron pixel Sony sensor that can record 4K video at 30fps. Quite obviously the Huawei Nexus 6P is the more premium of the two with an all metal body and 5.7-inch 2K or quad HD display. Measuring in at 159.3 x 77.8 x 7.3mm thin, the Nexus 6P features tech specs that include a Qualcomm Snapdragon 810 processor, 32GB/64GB/128GB storage, 8MP front camera and 3450 mAh battery with quick charging.
The LG Nexus 5X is no slouch either but tech specs are a bit more midrange with a Snapdragon 808 processor, 2GB RAM, 16GB/32GB storage, 5.2-inch FHD display, 5MP front camera and 2700 mAh battery. Both of the new Nexus smartphones do not have expandable memory or microSD slots, don't support wireless charging and don't have Optical Image Stabilization. In any case, there are still no Malaysia release dates or pricing details just yet but the Nexus 6P is priced from $499 (RM2219) for the 32GB storage version while the Nexus 5X starts at $379 (RM1686) for the 16GB storage version. Both will be available on the Google Play store in the US but we expect it to start shipping out elsewhere starting from 19 October for the Nexus 5X.
[Source]
Huawei Nexus 6P Specs & Price >