HTC One Review - Beautiful Trendsetting Android Smartphone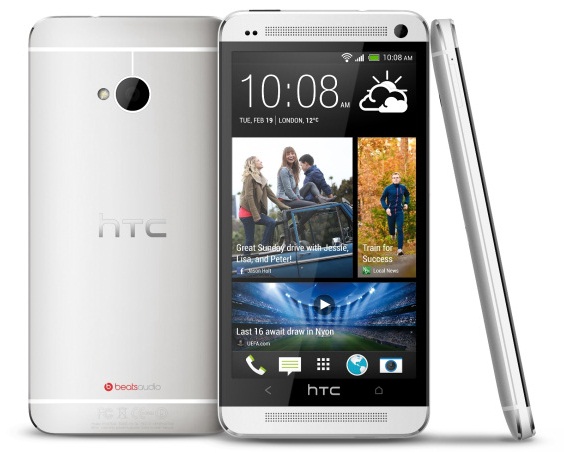 In many ways, the HTC One is a pioneer, innovating upon features that most Android smartphones lack. It was the first premium Android smartphone to offer more than just a plastic casing and paid much more focus to design (almost like the Apple iPhone). It offers features like Full 1080p HD on a 4.7-inch screen, an UltraPixel camera and software features which you won't find on any other smartphone. Is this the smartphone for you though? Read on and find out.
Design / Appearance
Before the HTC One, most Android smartphones all looked the same, were basically made out of plastic and looked downright boring. The HTC One shook things up by taking the same design approach as the Apple iPhone, giving much thought and focus to a new tough metal unibody chassis with a rounded brushed metal back. In making the overall smartphone, HTC designers decided to stick to a zero-gap construction, which makes for a beautiful smartphone with no gaps in between the components. The result is a nearly sealed case apart from the earphone jack and micro-USB port. In short, the HTC One is one of the most beautiful smartphones in the market, even after so many other Android smartphones have followed or tried to follow what it did.

Check out the HTC One full metal body
At 143g it fits nearly perfectly in the palm of your hand and due to the slightly smaller 4.7-inch screen (compared to the other 5-inch competitors like the Samsung Galaxy S4 or the Sony Xperia Z) it manages to squeeze in a full HD 1080p capability with a resolution of 1080 x 1920 pixels. The result is a nearly unmatched Pixel Per Inch or PPI pixel density of 469. Colours and details look awesome on this Super LCD3 touchscreen while the Corning Gorilla Glass 2 keeps it somewhat scratch resistant. There are some downsides to these new innovations though. Unlike many of it's competitors, the HTC One has no microSD expansion slot and no removable battery (although there is a version for China that has these features) due to the aforementioned zero-gap construction. While the brushed metal backside looks great, it tends to get hot and also gets scratched very easily (especially in a pocket full of keys and loose change). And though the HTC One feels solid enough the rounded brushed metal casing is also a bit difficult to grip, with some reviewers reporting unintended slips and falls.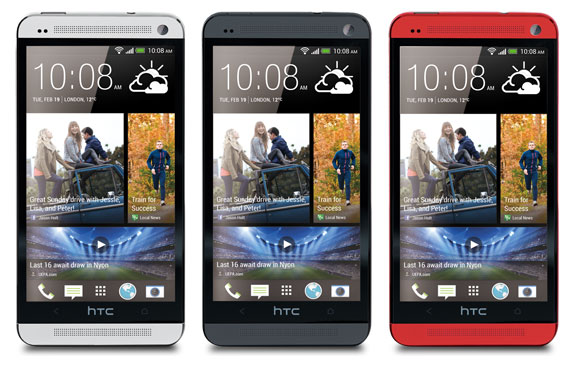 Features
The HTC One was the first smartphone in the market to feature a 4MP UltraPixel camera. The idea of UltraPixels is that larger pixels means better light absorption. This makes it great for low light conditions. Coupled with OIS or Optical Image stabilization, an LED flash, 88 degree wide angle lens and HDR recording it takes a step above the usual point-and-shoot cameraphone performance. However, initial UltraPixel camera performance was blurry and lacked detail when used for daytime conditions. This was eventually fixed with firmware updates.

Listen to the HTC One's BoomSound
The HTC One was also one of the first smartphones to implement dual BoomSound speakers which gives it a very loud and very solid audio performance. In terms of User Interface or UI, the HTC One uses Sense 5 which looks good and packs in two major yet unique features in the form of HTC Zoe and BlinkFeed. HTC Zoe allows you to create up to 30-second HD video by stitching together image information taken before and after you press the camera shutter button. The only downside to Zoe is that the file size for each image-video is huge compared to your normal image. BlinkFeed on the other hand combines all of your social media into one tiled screen (which looks a lot like Windows Phone 8) so you have instant access to everything that interests you. Unfortunately, BlinkFeed has a love-it or hate-it feel to it, and if you hate it, it can't be uninstalled from the smartphone. Other notable features include support for LTE, NFC, stereo FM radio, a 2.1 front camera and a 2300 mAh battery.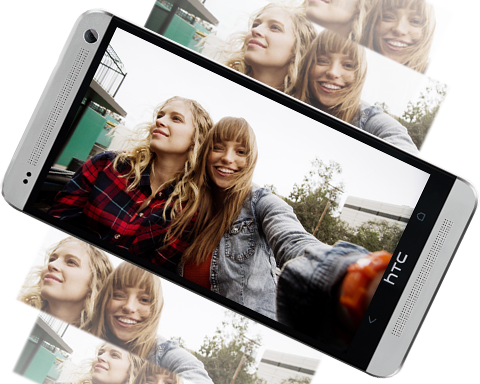 The HTC Zoe takes image data before and after you take the shot
Performance
In terms of performance, the HTC One is powered by a 1.7GHz Qualcomm Snapdragon 600 processor and 2GB of RAM which makes it able to handle everything on the market with speed and ease. Many reviewers have named the HTC One as the fastest smartphone around especially after you remove all the other bloatware that comes with it. On AnTuTu the HTC One gets an average score of 22000+ which beats out the Sony Xperia Z but bites on the heels of the Samsung Galaxy S4 I9505. Apart from slowing down your smartphone BlinkFeed also drains your battery significantly but on normal use (without BlinkFeed on) the HTC One can get up to 1 day and a half of normal use on a single charge. It is also worth noting here that a tear-down of the HTC One revealed an iFixit score of 1, which means it is almost impossible to fix (or put together) should it become damaged.

The HTC One performs very well in AnTuTu
Conclusion
Overall, the HTC One is a beautiful premium Android smartphone that could seduce anyone. Powerful enough to rank amongst the Top 5 most powerful smartphones, it delivers fast performance and can handle everything well. While it's design is innovative and trendsetting, you can really feel the lack of an expandable microSD slot as all the Zoe image-videos you've taken will quickly fill up the 32GB worth of onboard storage. If you're looking for a beautiful yet powerful Android smartphone then the HTC One could be the one for you but if you have butterfingers, don't like hot phones or want tons of features, then perhaps you should look elsewhere. The Price of the HTC One is as expected: premium , but has dropped somewhat since it's introduction price of RM2299 since you can now get the 64GB version for around the same price. You can also get the HTC One at subsidized prices from one of the major telcos in Malaysia.

Introducing the HTC One


See if you like the HTC One BlinkFeed


Designing the HTC One

[Source]
HTC One Specs & Price >