Here are the fake news of coronavirus in Malaysia listed by the Ministry of Health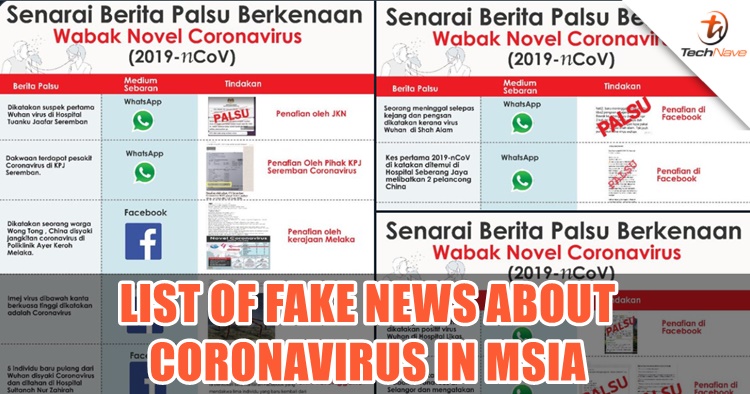 The coronavirus has sure made a lot of people worried about their safety. When we start to hear news about people fainting and being quarantined, news tends to spread virally and thanks to the Internet, it's hard to pinpoint which one is real or fake news. It even got us wearing face masks in airports where there is no official suspected case yet.
That said, your friends and family (especially relatives) would often forward chain messages about the latest coronavirus cases in Malaysia. If you're annoyed about that (which we are too), we managed to get a heads-up about which one is #fakenews thanks to official Ministry of Health, Malaysia on its Twitter post.
Looking at the list, there is as many as 15 fake news found on WhatsApp and Facebook together and there could be more around. So if you happen to spot one of them, you can tell them it's fake. Without further ado, here's the list below:
Senarai berita palsu berkenaan novel #coronavirus di negara ini.

Kenyataan rasmi mengenai novel coronavirus hanya dikeluarkan KKM dari semasa ke semasa. #WuhanCoronovirus#2019nCoV pic.twitter.com/P3Asn2gGF9

— KKMPutrajaya (@KKMPutrajaya) January 29, 2020
First suspected coronavirus victim in Seremban
Claims of coronavirus patients in KPJ Seremban
A coronavirus patient named Wong Tong from China in Poliklinik Ayer Kerah Melaka
Supposed image of the coronavirus
5 individuals who came back from Wuhan, China being quarantined in Hospital Sultanah Nur Zahirah for having coronavirus
A person who passed away after fainting because of coronavirus in Shah Alam
2 China tourists with coronavirus being held in Hospital Seberang Jaya
An SK PAKA's father who became ill after three days coming back from overseas
Mahkota Medical Centre in Melaka closed down due to the coronavirus outbreak
A coronavirus case in Hospital UIA Kuantan
A 7 years old kid who is coronavirus positive in Hospital Likas, Sabah
A list of coronavirus "outbreak" and free zones in Selangor
A China tourist who is coronavirus positive, walking free in Tropicana 218 Macalister, Pulau Pinang
A coronavirus case in Hospital Kuantan, Pahang
A few photos of a group of China passengers appearing in Langkawi being accused of fleeing from coronavirus
So there you have it, these are the 15 fake news about the coronavirus that is not happening in Malaysia. As a friendly reminder, you could get fined up to RM100K, jailed or both from spreading fake coronavirus news on social media. We also just written that you aren't likely to get sick after receiving a package from China. Do your part and don't start a public panic!
Stay tuned for more news at TechNave.com.