Huawei Mate 20 Pro appears with new wireless airpods + graphene cooling + new MateBook?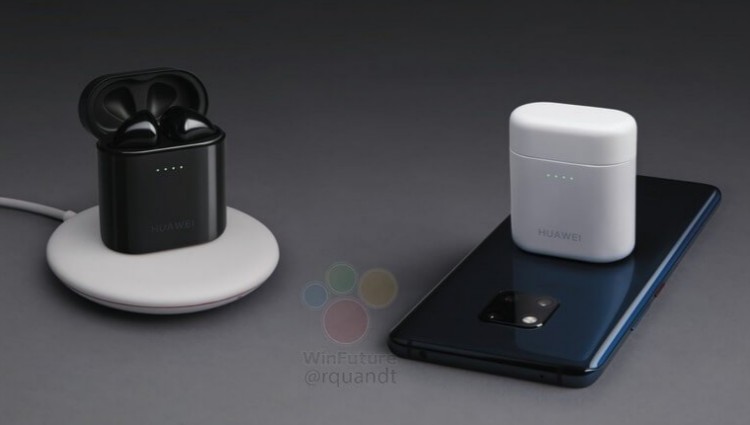 With the Huawei Mate 20 announcement less than a month away, the rumours are literally flying about what new features and tech it could be bringing in. While our time with the Kirin 980 did reveal some hints, we expect there to be quite a few more as a leaked image from @rquandt has appeared, showing what appears to be wireless "airpods" or headsets that can be charged wirelessly. This seems to indicate that the Mate 20 or Mate 20 Pro could have wireless charging as well.
Another leak supposedly from a Huawei presentation room also reveals that one of the Mate 20 devices could be using graphene to help cool down the device. Graphene has long been touted as THE next miracle material as its strong hexagonal bonds allow it to be tough even though being an atom thin. These hexagonal structures are quite visible in the leaks along with a heat map, indicating that it could well be using graphene. The presentation states that Graphene has 4 times higher efficiency for heat dissipation compared to normal aluminum alloy, but if it does come, we expect it to be found in the Mate 20 Porsche Design version as it usually showcases the more expensive technological world's firsts than the other two versions.
Alongside these graphene leaks are images that also indicate that the Huawei Mate 20 series could be coming with a new Huawei MateBook laptop that features a dual heat tube + twin turbo fan solution but other details about that are scarce. It could also be using graphene as well, which hints at another premium MateBook that may be announced with the upcoming Mate 20. No Malaysia release dates or pricing details yet, but do remember to take these leaks with a pinch of salt and to stay tuned to TechNave.com for all your latest tech news.