My 1-week mobile gaming experience with the Samsung Galaxy S20 Ultra 5G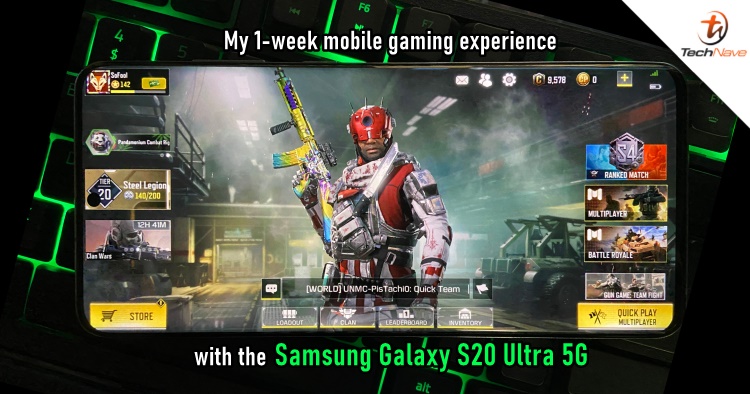 So we recently did a survey of whether Malaysians prefer playing games on a smartphone or the PC/console, and we thought the result would be a close tie but that's not the case. The result? 66% of you prefer the smartphone for gaming over the PC/console. No wonder smartphone brands are working so hard to succeed in the mobile gaming industry.
So if you're one of the 66% and you're looking for a flagship gaming phone, you have come to the right place. In this article, I'll be sharing my 1-week mobile gaming experience with the Samsung Galaxy S20 Ultra 5G. Read on below to find out if this flagship is the gaming device for you!
Ultra tech specs for lag-free gaming
No problem on the Galaxy S20 Ultra 5G
To every hardcore gamer, having the top tech specs is a must, especially if you want to achieve a lag-free experience. Utilizing the flagship-level Exynos 990 chipset, gaming performance is super smooth even on the most demanding of games. In addition, the 7nm chipset also ensures better battery efficiency so your mobile game sessions are actually marathons and not just a game or 2.
Coupled with 12GB of RAM (which is more than my laptop /cries) the Samsung Galaxy S20 Ultra 5G not only delivers top-notch performance but also stable gaming. A respectable 128GB of internal storage + support for an up to 1TB microSD card also means that you'll never have to worry about running out of space for all your large 2 or 3GB mobile games.
The battery pack is pretty ultra too, housing a mega 5000mAh battery which is more than enough to get your game on for hours. Speaking of gaming marathons, gaming for an hour only sips around 20% consistently throughout my 1-week mobile gaming testing. Thankfully the phone also offers fast charging, ready for another gaming session in no time at all.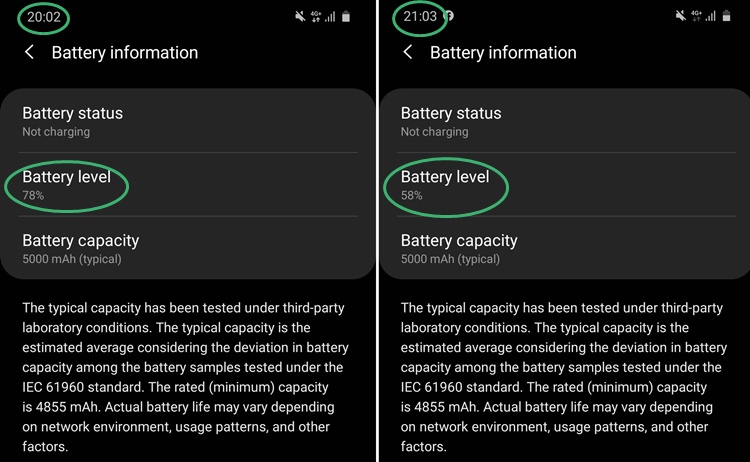 An hour of mobile gaming only sips about 20% of the battery for about 4 or 5 hours of gaming on a single charge!
A huge 6.9-inch Ultra display with 120Hz refresh rate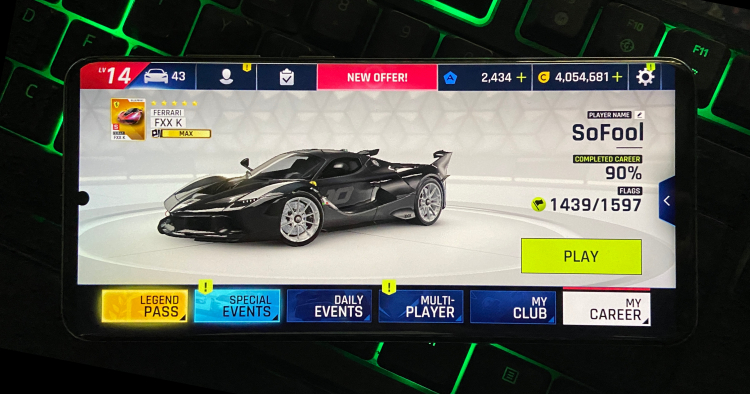 Almost all screen, the Samsung Galaxy S20 Ultra 5G showcases a 6.9-inch Dynamic AMOLED 2X display in a compact body
Offering a huge almost tablet-sized 6.9-inch display in a compact body, the Samsung Galaxy S20 Ultra 5G not only delivers gaming in QHD+ resolutions but just like most gaming phones it can do so in up to 120Hz refresh rates. The beautiful 6.9-inch Dynamic AMOLED 2X display also ensures that you get the most intense graphics with the most energy-efficient display around.
It's also worth mentioning that with the humongous screen mobile gamers will also have a better viewing experience. Like when I play my Call of Duty: Mobile matches, I have more space for my thumbs to move around without accidentally pressing other buttons or blocking my side view.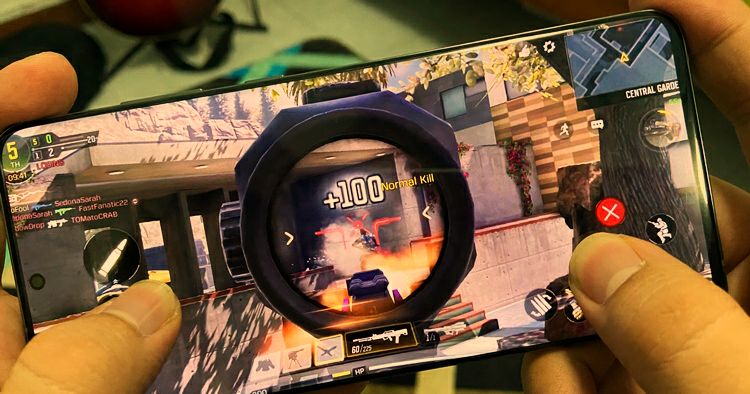 All the gaming space you need to get that perfect shot!

Honourable mention: An Ultra functional Game Launcher
Lastly, Samsung didn't forget about their Game Launcher. This time around, the feature is upgraded with a new data monitoring function that tracks how long you spent your time on a game, as well as a Power Saving mode to optimize the game in the background if you're busy with something else. Discord is also already integrated into the phone so you can have a quick voice chat with your gaming buddies while you're gaming.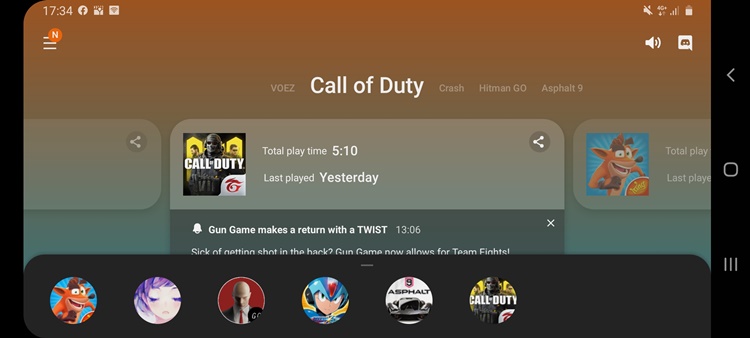 The Game Launcher can be viewed horizontally too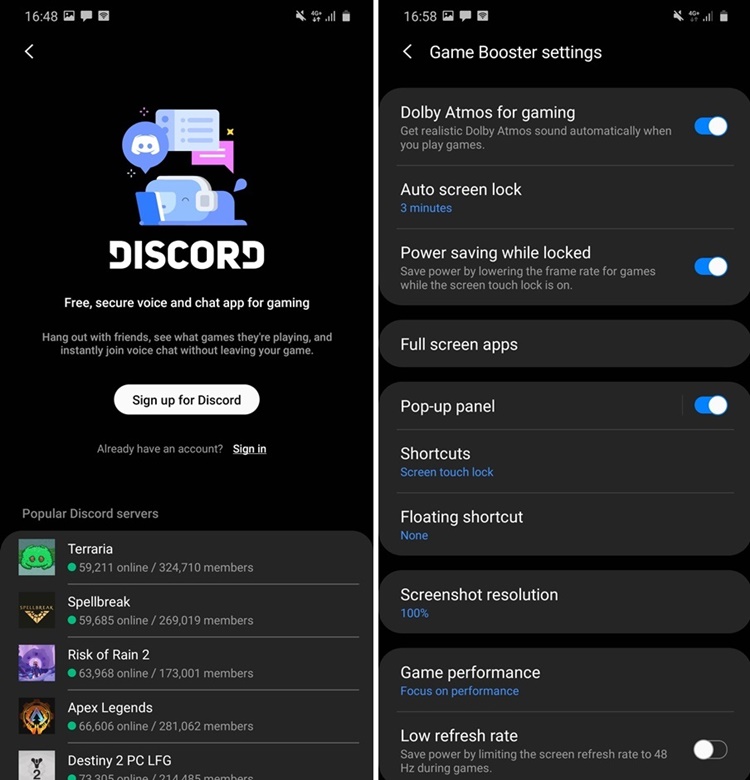 Discord and Game Booster settings can be accessed from the Game Launcher
Despite offering great photography features you can snap in a Single Take for RM4999, my 1-week mobile gaming experience also shows that the Samsung Galaxy S20 Ultra 5G can also be a premium gaming smartphone as well. This way, you won't only get just a top-of-the-line gaming smartphone but also a device that can do practically everything better than most other smartphones. Go check it out at their official online store.
Stay tuned for more tech articles at TechNave.com.
Samsung Galaxy S20 Ultra Specs & Price >