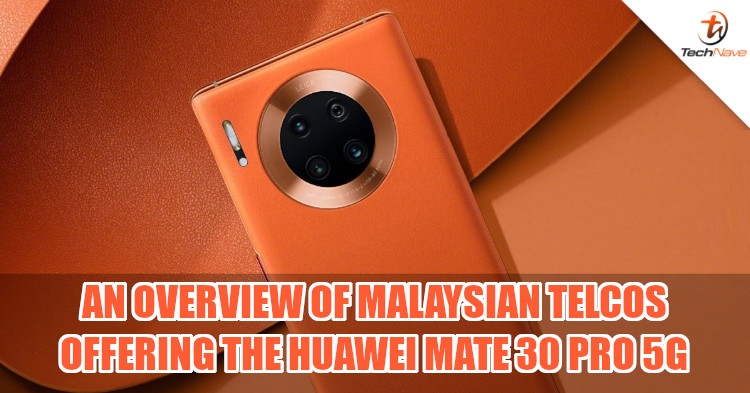 Many have said that the year 2020 is the year of 5G. Smartphones are the first out, making it possible for the average Joe and access to 5G connectivity once the 5G networks are available in our country. Among the bunch, Huawei is the first to have a SIRIM Malaysia certified 5G smartphone - the Mate 30 Pro 5G.
Telco overview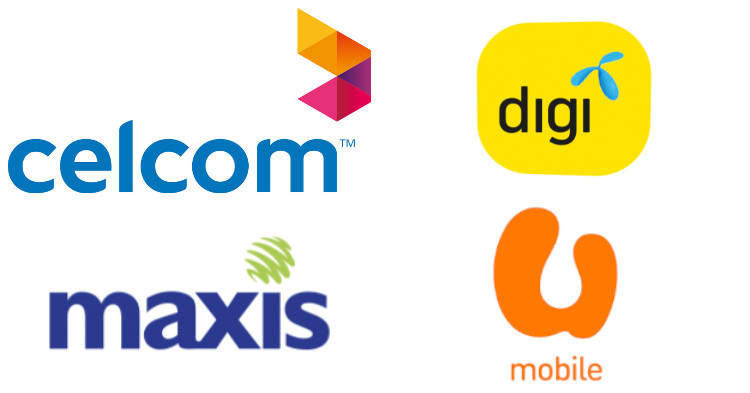 Malaysian telco companies are all working on testing 5G networks and will have 5G devices sold through their platforms. But there are plenty of options and they might be confusing at a glance. While you can make your purchase directly from Huawei, some of you may want a more flexible payment scheme instead. In that case, you can also get the device from Celcom, Digi, Maxis, or U Mobile.
The four main telcos that are offering the Mate 30 Pro 5G all have a form of instalment plan. However, each of them come with different rates, terms and conditions. To make it easier for you to understand, we've summarised some of the key points and included a table below with the breakdown.
Celcom
Going with Celcom means you'll be able to get some flexibility in purchasing options. You can buy the device directly from Celcom for RM4199, a device and Celcom plan bundle for as low as RM1458, or the instalment plan for RM248 per month. Celcom also has a very high data cap, with 100GB on the Platinum Plus plan.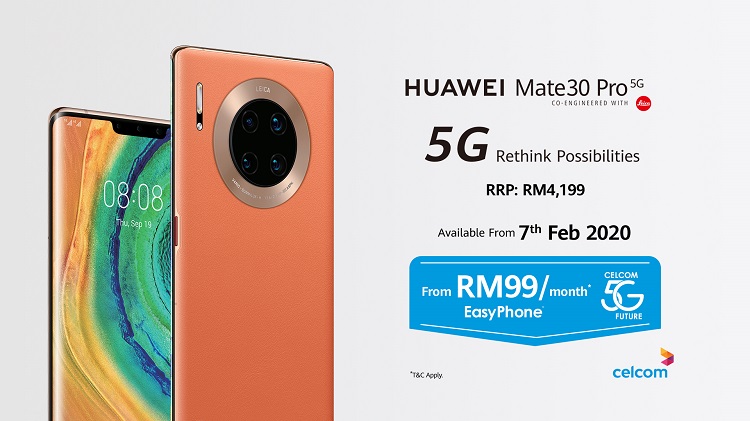 Digi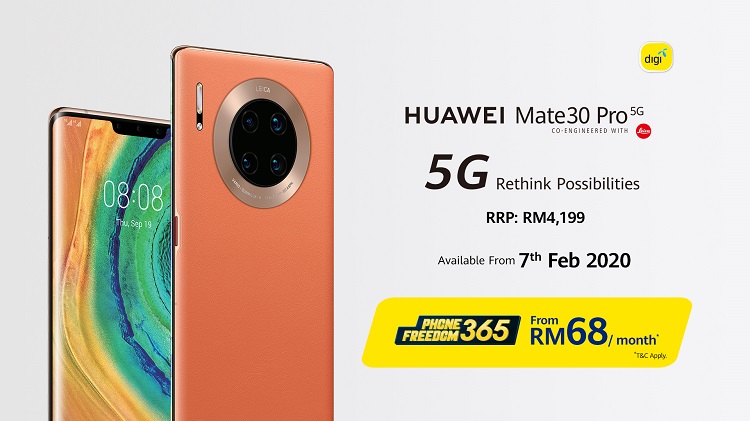 Digi is a great choice if you prefer monthly instalments at reasonably affordable monthly rates. An advantage if you go with Digi is the availability of Digi Shield, which is an additional warranty service to protect your Mate 30 Pro 5G from accidents. Digi is also tied with Celcom as the telco with the second-highest data cap.
Maxis
When it comes to 4G speed and coverage reliability, Maxis has always been on top. While it's not guaranteed that it'll be the same for 5G, it's something to keep in mind. More importantly, Maxis lets you purchase the device at different prices depending on the plan you sign up for, as well as an instalment plan if you don't have that much to pay upfront. However, Maxis also has the lowest data cap.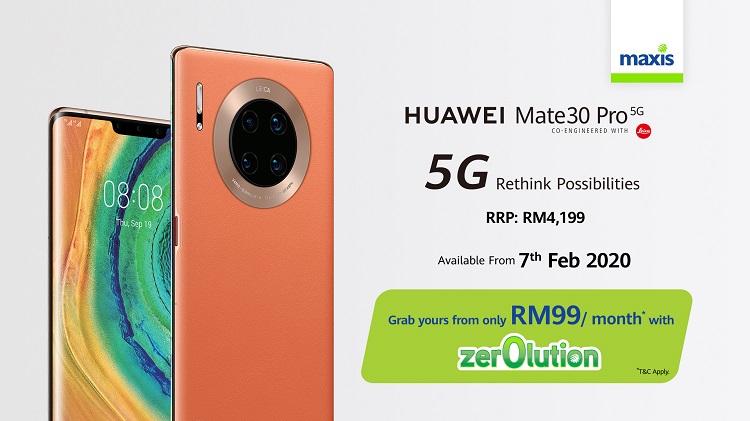 U Mobile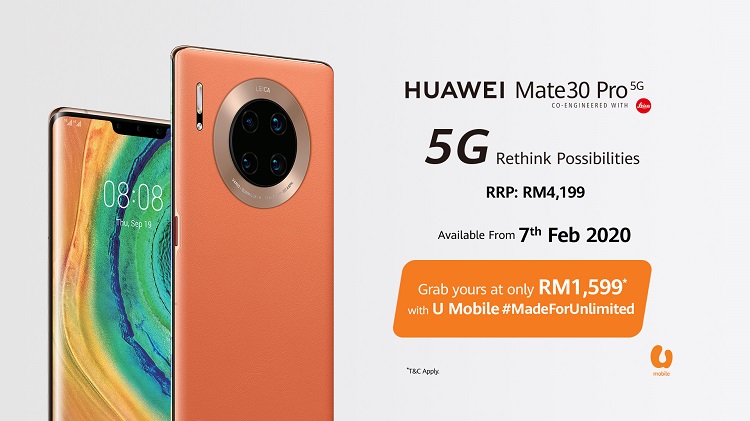 For those who are glued to their phones and bleeding data the whole day, U Mobile is the one for you. Although it only comes in two device bundle plans, the monthly bill is manageable and there's no data cap at all (unlimited!).
| | Cost of device | Monthly bill | Monthly total | Data cap |
| --- | --- | --- | --- | --- |
| Celcom Gold Plus | RM150/month | RM98 | RM248 | 40GB |
| Celcom Gold Supreme | RM136/month | RM128 | RM264 | 50GB |
| Celcom Platinum | RM129/month | RM148 | RM277 | 60GB |
| Celcom Platinum Plus | RM99/month | RM188 | RM287 | 100GB |
| Digi Postpaid 120 | RM98/month | RM120 | RM218 | 50GB |
| Digi Postpaid 160 | RM78/month | RM160 | RM238 | 70GB |
| Digi Postpaid 190 | RM68/month | RM190 | RM258 | 100GB |
| MaxisONE Share 48 | RM174/month | RM48 | RM222 | 20GB |
| MaxisONE Plan 98 | RM169/month | RM98 | RM267 | 20+10GB |
| MaxisONE Plan 128 | RM119/month | RM128 | RM247 | 40GB |
| MaxisONE Plan 158 | RM109/month | RM158 | RM267 | 50GB |
| MaxisONE Plan 188 | RM99/month | RM188 | RM287 | 60GB |
| U Mobile Unlimited Hero P99 | RM1959 (upfront) | RM99 | RM99 | Unlimited |
| U Mobile Unlimited Hero P139 | RM1599 (upfront) | RM139 | RM139 | Unlimited |
Overview of Mate 30 Pro 5G instalment plans
Got all that? Hope that gives you an idea of where you should purchase your Huawei Mate 30 Pro 5G. Of course, you can visit the product page to buy it for RM4199 or find out more about it. If you get it directly from Huawei, you also stand to get freebies worth RM537, including a wireless in-car SuperCharge charger and 1-year extended warranty.
So, what are your thoughts on 5G networks and devices at the moment? Would you want to buy into the 5G ecosystem this early? Let us know on our Facebook page and remember to follow us on TechNave.com for more news and updates.