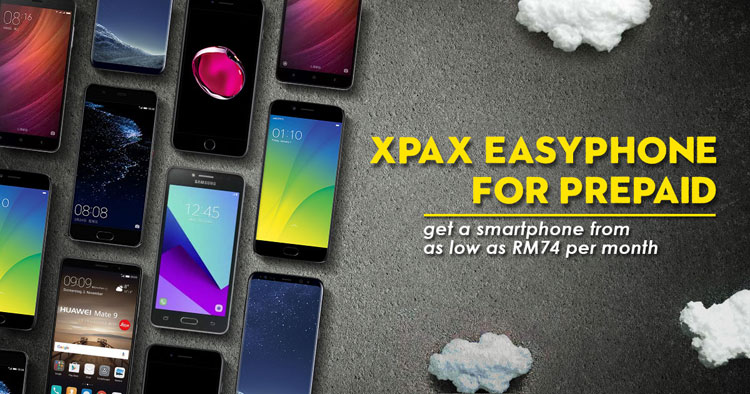 With the recent big announcement from Celcom, it's Xpax's turn now to shine in the spotlight, introducing a way for prepaid users to own a smartphone at very low prices. Xpax EasyPhone now lets every Xpax subscriber purchase a smartphone from as low as RM74 per month, with choices ranging from flagships like the latest Apple iPhone 7 Plus, Samsung Galaxy S8 Plus and Huawei P10 Plus to midrangers like the Xiaomi Redmi Note 4. Below is the list of available phones (for now) in the EasyPhone plan:
Smartphones
EasyPhone monthly instalment (24 months) +
RM30 Free Prepaid Credit Monthly
Apple iPhone 7 Plus
RM212 per month
Apple iPhone 7
RM184 per month
Apple iPhone 6s Plus
RM184 per month
Apple iPhone 6s
RM161 per month
Apple iPhone 6
RM110 per month
Apple iPhone SE
RM133 per month
Samsung Galaxy S8+
RM235 per month
Samsung Galaxy S8
RM214 per month
Samsung Galaxy A7 (2017)
RM148 per month
Samsung Galaxy A5 (2017)
RM138 per month
Samsung Galaxy J5 (2016)
RM91 per month
Samsung Galaxy J3 (2016)
RM80 per month
Samsung Galaxy J2 Prime
RM74 per month
Huawei P10 Plus
RM202 per month
Huawei P10
RM171 per month
Huawei P10 lite
RM117 per month
Huawei Mate 9 Pro
RM217 per month
Huawei Mate 9
RM174 per month
Huawei Y6II
RM85 per month
OPPO R9S
RM139 per month
OPPO A57
RM104 per month
Xiaomi Redmi Note 4
RM90 per month
Aside from affordable monthly instalments, one of the best parts of EasyPhone is that there is no need for upfront payment or even a credit card when purchasing a smartphone. Plus, you will also earn RM30 worth of FREE monthly prepaid credit throughout the period of your instalment plan. More smartphone models will be added into EasyPhone in the near future as well.
To apply for EasyPhone, you can log on to www.xpax.com.my, choose your preferred smartphone and supply your personal particulars and following documentation listed below:
For company employees:-
Front and back copies of your NRIC
Bank account statement
EPF account statement
Latest 1-month employee payslip
For self-employed applicants:
Front and back copies of your NRIC
Business Registration certificate
Form B with tax payment receipt
Bank account statements for 6 months
Applicants should receive an e-mail notification with a reference number and it takes 3 working days for it to be successful. Once you've received the email confirmation, head over to the nearest BlueCube outlet and collect your new smartphone by displaying your email confirmation to the staff.
And that's how easy it is to own your dream phone with EasyPhone from Xpax. If that sounds good to you, head over to their page here to sign up for the plan now.