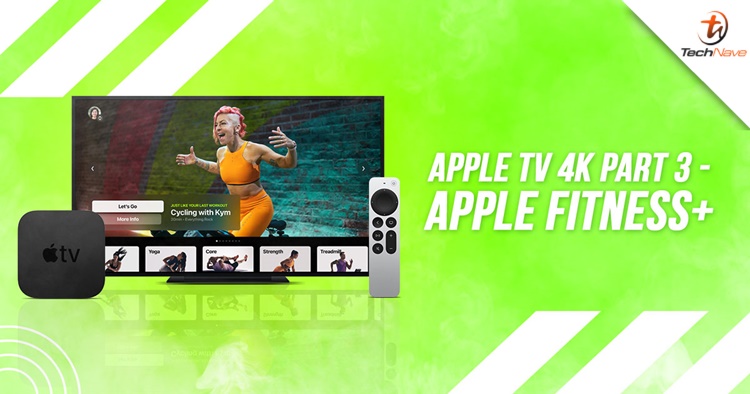 When it comes to Apple Fitness+, most consumers and fitness enthusiasts would automatically think of the Apple Watch series. Fitness+ is the essential go-to app for users who are serious about their healthy lifestyle. However, it used to be restricted to the Apple Watch until recently, when Apple rolled out tvOS 16.1 for the Apple TV 4K.
For the uninitiated, tvOS 16.1 finally allowed users to exercise and use Fitness+ without an Apple Watch. That's right, IT WAS ABOUT TIME. Thinking back, this update could have been the saving grace for us stuck at home during the pandemic. But better late than never, I guess. Anyway, I've been using it for a month so read below about my experience.
So how was the Fitness+ experience on the Apple TV 4K? Well, entering the app is straightforward as it's already on the home menu, alongside Apple Arcade and Music. As the saying goes - there's no such thing as free lunch. Even though you don't need an Apple Watch for Fitness+, you still need to subscribe to it to have full access. If you don't, only some parts are free to use.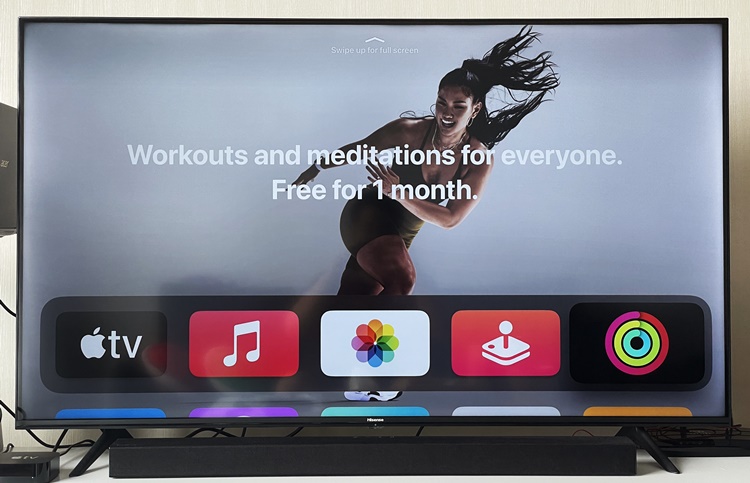 Fitness+ is just on the right side of the home menu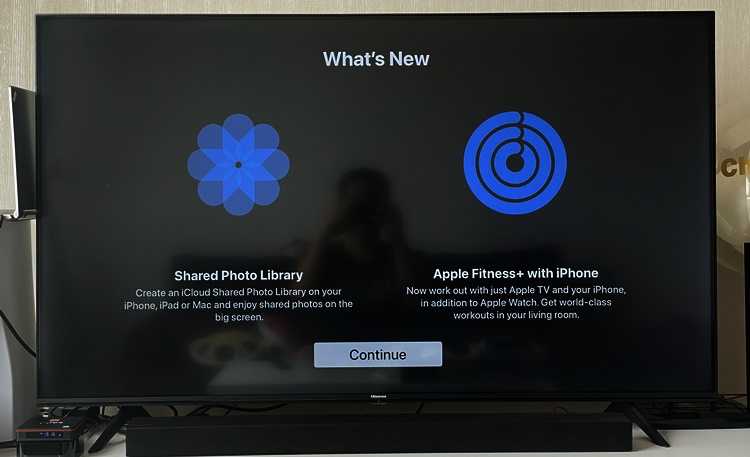 tvOS 16.1 allows you to use Fitness+ without an Apple Watch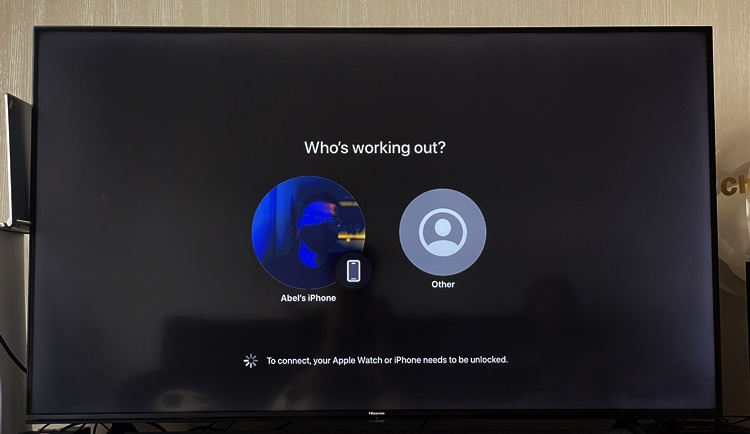 Pairing the Apple TV 4K with my iPhone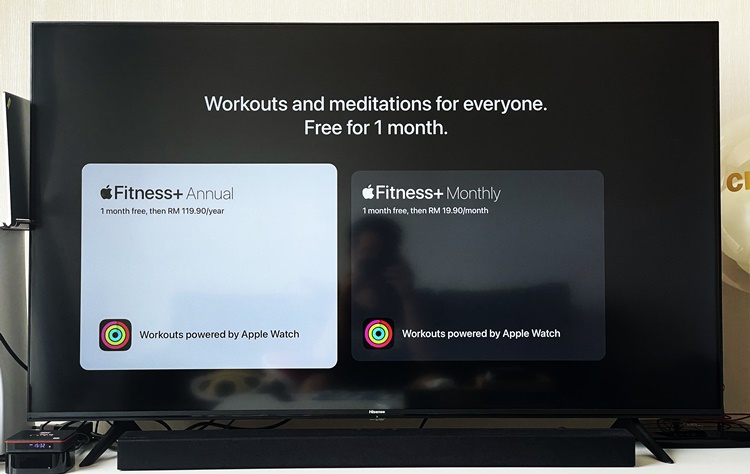 For the long term, the annual plan is more cost-efficient
Before using Fitness+, you have to choose between Fitness+ Annual or Monthly. Comparing both prices, the former is probably better for the long term and costs less than most gym membership fees. If you want to try it, Apple is gracious enough to let you check it out on a 1-month free trial.
After pairing Fitness+ on the Apple TV 4K with either your iPhone or Apple Watch, you would immediately be presented with a wide range of workouts, as well as a main headline at the top. From meditation to simple running exercises, there is something for everyone, depending on their focus. You can also find some celebrity fitness coaches and selected artist spotlight playlists.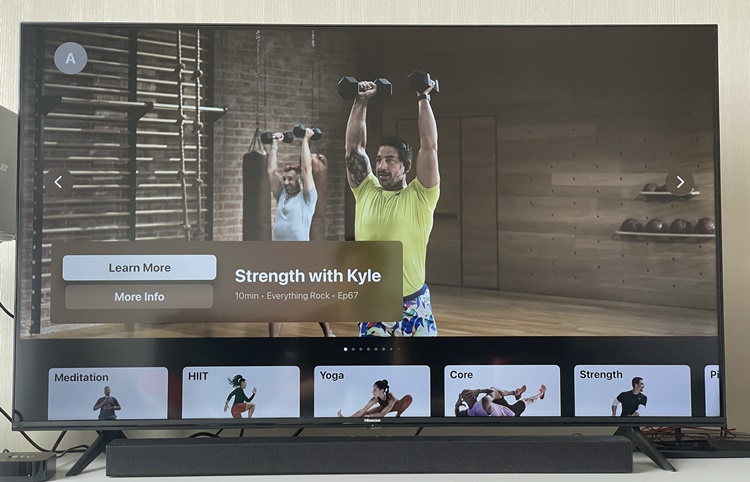 The home page of Fitness+ on the Apple TV 4K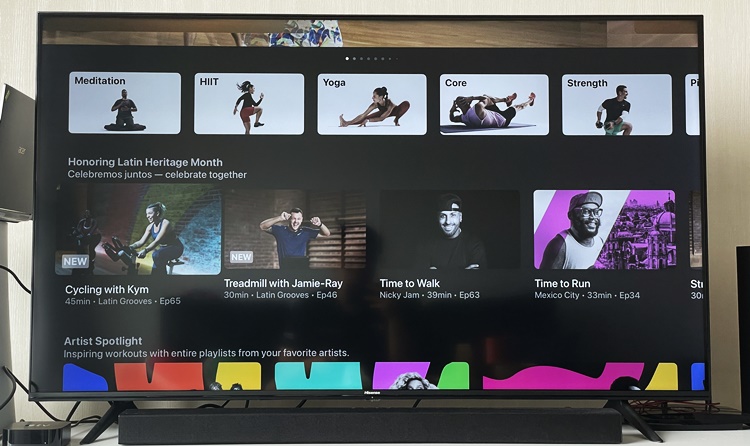 A ton of options for you to choose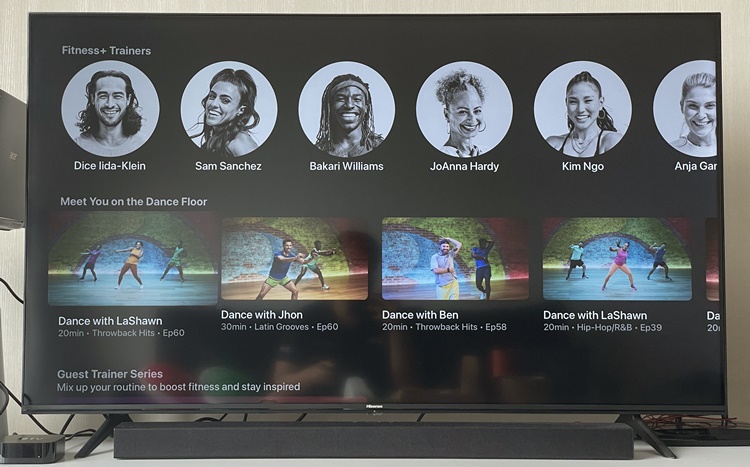 You can follow your favourite trainers or even dance your way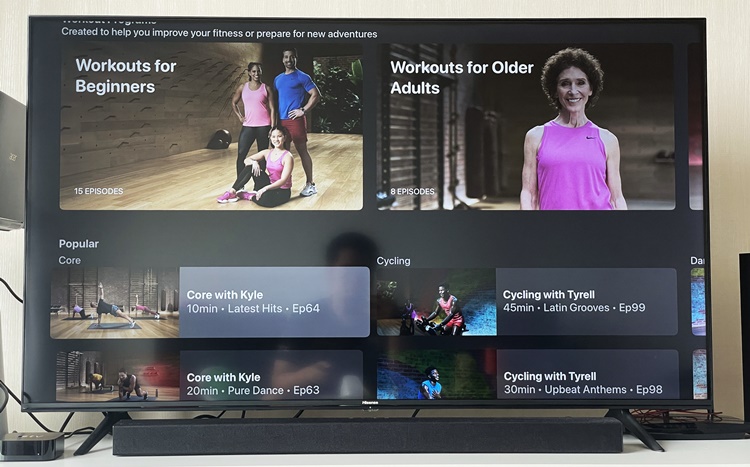 There are workouts for everyone regardless of level
If you're a newbie, don't be overwhelmed by the load of choices there. As mentioned, there's something for everyone. And I must say, the Fitness+ home menu is quite well thought out, as it's easy to navigate. Just look for the ones you want to do or check out the "Workouts for beginners", and you're pretty much set.
It goes without saying, but in case you didn't think about it, you would need to prepare an exercise or yoga mat because some of the workouts are intensive enough to hurt some parts of your body. In my case, I didn't have any, so I chose an exercise workout that required standing up more. Even though the workout was just 10 minutes, it was still quite intense and made me realise how unfit I became after my honeymoon.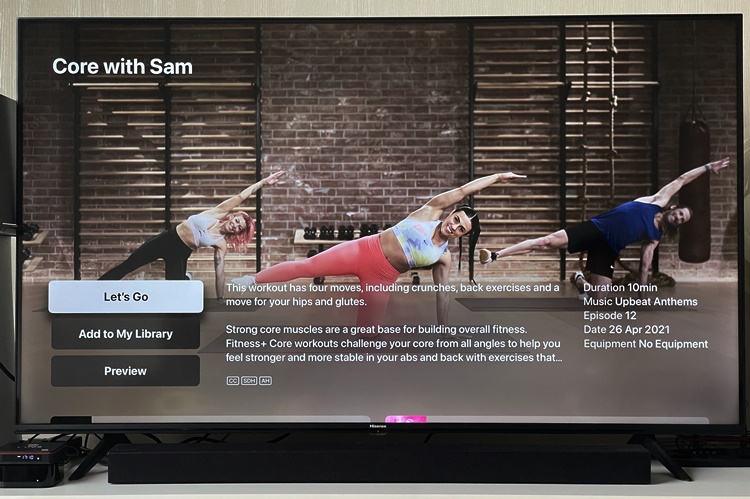 You may add certain workout sessions to your library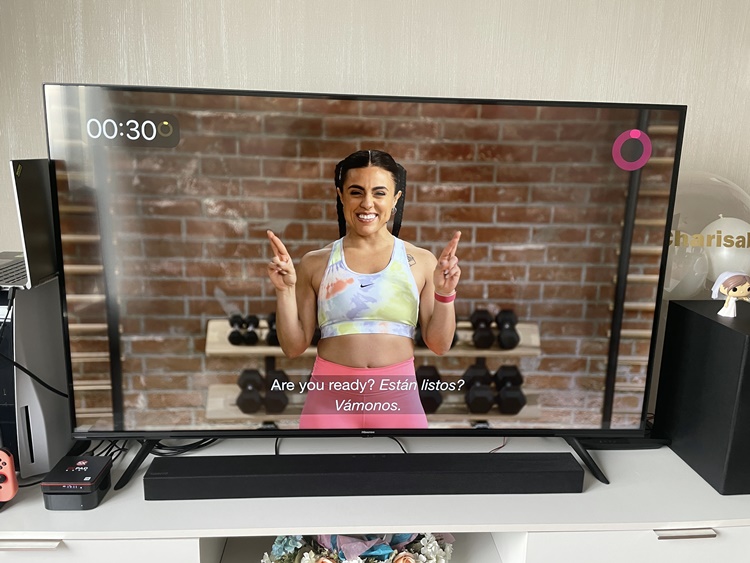 Alright, let's go!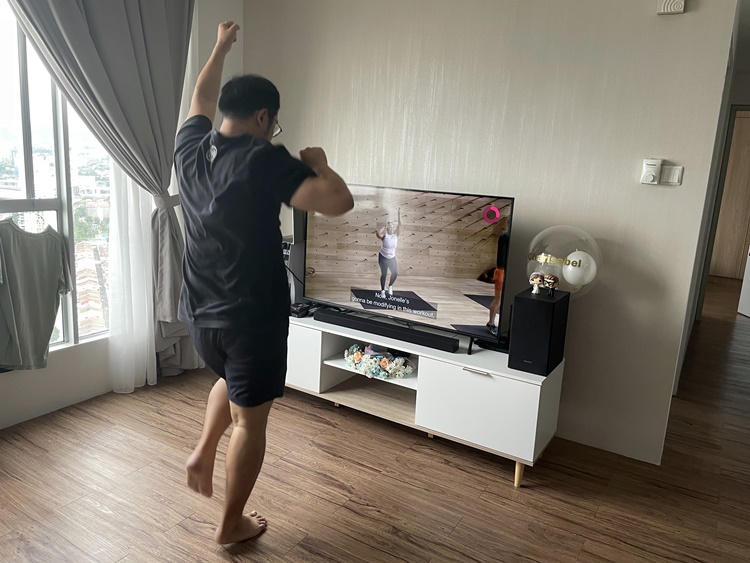 Always have an exercise mat if you're gonna workout at home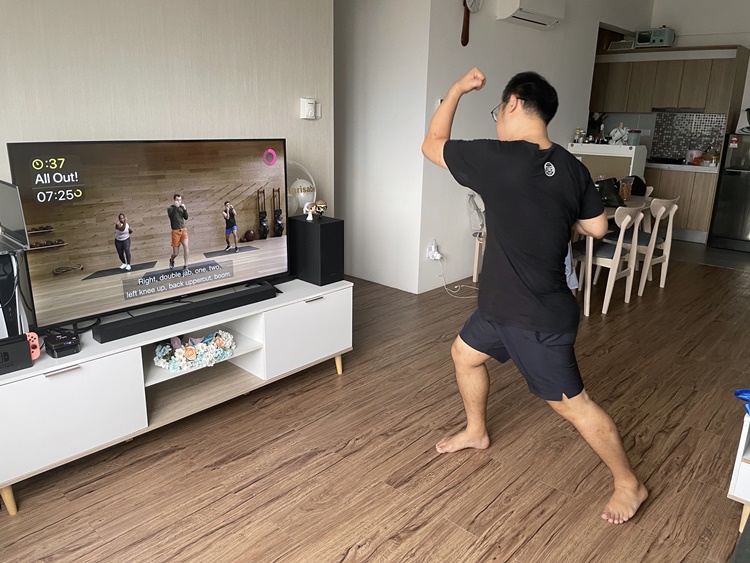 The workout videos are quite intense, honestly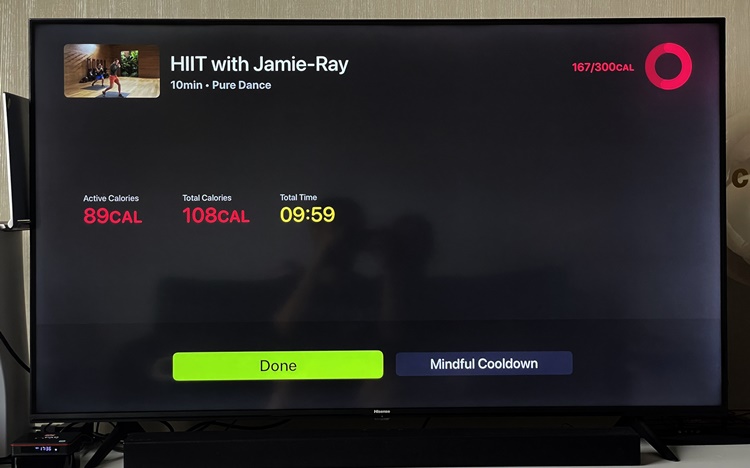 The result page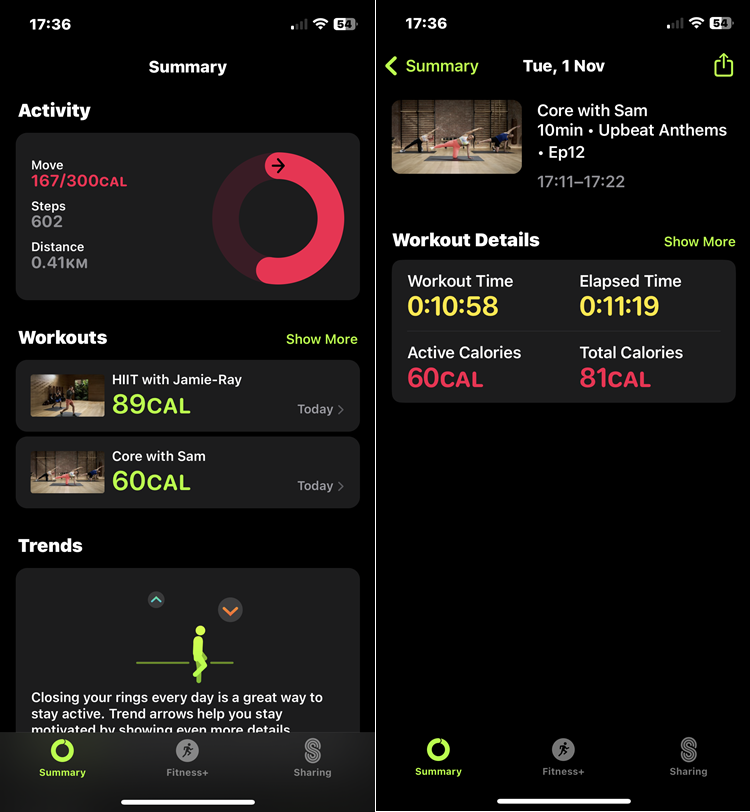 The data recorded on my iPhone
After your workout, the result page will appear and show you the approximate calories burned, just like how the Apple Watch does it. You may repeat the same workout, and if you really like it, add it to your library, so you have an easier time finding it again later. The results will be shared across your iPhone and Apple Watch so you can monitor them anytime, anywhere, away from your Apple TV 4K.
I won't go too deep into each workout since they are more or less the same. But I can tell you that each video session was produced with quality and care. The background music, the coach motivating you, the timer, even the calorie burn counter. I was compelled to keep going even when my body was half dead, so I think you would too.
There is another feature that I want to touch on, and that's the Artist Spotlight that I mentioned earlier. There are many artists to check out, such as BTS, J.Lo and even ABBA. If you only want to listen to that specific artist, you can do so easily. One of the latest Artist Spotlight series was Taylor Swift's latest album "Midnight". What this does is allow some of her songs to be played (legally) while you're working out with other fitness coaches.
Artist Spotlight on Taylor Swift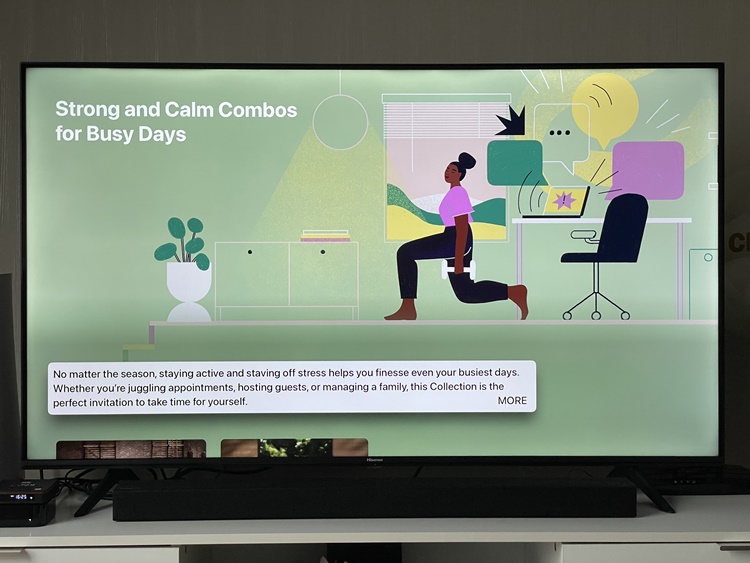 This looks ideal for a busy working adult
Honestly, if it wasn't for tvOS 16.1, I think most Apple users won't be using Fitness+ on the Apple TV 4K. Now that you don't exactly need an Apple Watch to use it (though it does help with fitness monitoring), Fitness+ is one of the best features on the Apple TV 4K if you don't want to go out to a gym. It has plenty of workout options, excellent video production value for motivation, and a cheaper annual fee than most local gyms.
That being said, not everyone would be on board with Apple TV 4K's Fitness+. I told my wife all the cool things about it, and she just looked me in the eye and said YouTube has the same thing. True enough, she showed me a plethora of fitness gurus online showing similar things. It's also free, so I can't really argue or convince her.
By the way, if you're interested in parts 1 and 2 of using the Apple TV 4K for the first time, you can check out the links below. Stay tuned for our Part 4 finale soon, which is just about the Apple TV+ streaming service, only at TechNave.com.