Samsung Galaxy C9 Pro review - Awesome phablet for entertainment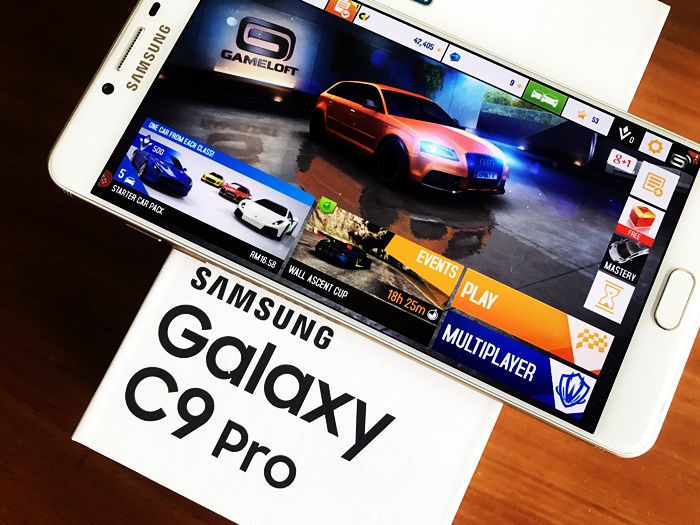 When the Samsung Galaxy C9 Pro was first announced, we actually didn't really think it would come to Malaysia as it was an exclusive phablet for the China market. Then suddenly all that changed when we got a leak that it was coming to Malaysia, and now it's here with a price tag of RM2299. It seems a little bit expensive doesn't it? But then again, this is a phablet packing some nice tech-specs such as a 6GB RAM, 16MP camera for the front and back, a 6-inch FHD Super AMOLED display and many more. Let's see if this Samsung phablet is worth the price or not.
Design - Big yet sleek at the same time
So like most Samsung devices, the exterior looks the same so there's nothing "wow" about the design. However, some of you might immediately notice that the six-string antenna line behind the model looks exactly the same as the OPPO R9S. It is difficult to say who copied who because both phones were released in China almost the same week, with the R9S coming out first then the C9 Pro two days later.
The back design, looks exactly the same to the R9S
A closer look
Nonetheless, it still looks nice and at least Samsung was smart enough not to brag about having it because that's not the main point. You also have to give credit to Samsung about having a slim body model of just 6.9mm thick, as it's carrying a 4000 mAh battery after all so it's still quite impressive.
Really sleek design
Dual SIM tray and a dedicated microSD card slot
Headphone jack, USB Type-C and the speaker
Tech-specs and features - Some useful user interface shortcuts
Here is the Galaxy C9 Pro specifications: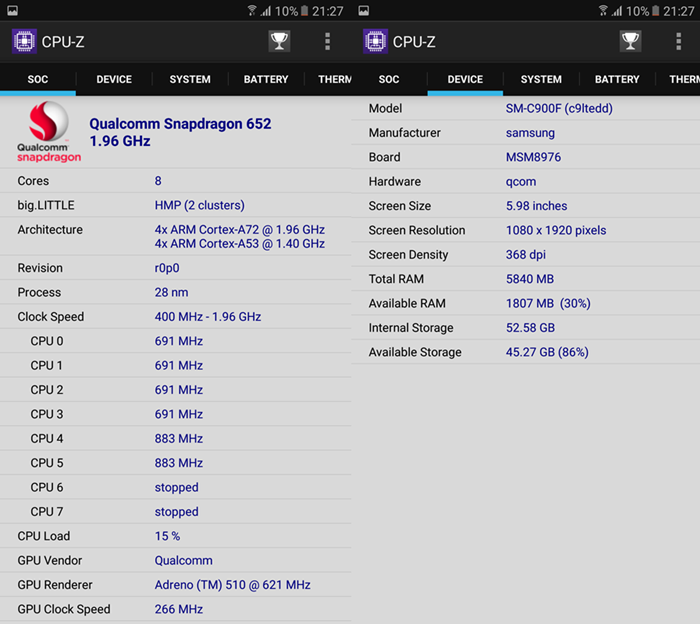 Qualcomm Snapdragon 653 processor
6GB RAM
64GB internal storage (expandable memory up to 256GB via microSD card)
Measures 162.9 x 80.7 x 6.9mm, weighs 189g
6-inch Full HD Super AMOLED display with 2.5D glass
16MP front and back camera (f/1.9 for both sensors, auto focus phase detection and dual LED flash for the back camera)
Features fingerprint sensor, dual-SIM slots, USB Type-C port, Always on Display, dual speakers
Supports 4g LTE (Cat. 6 LTE), Bluetooth, WiFi
Android 6.0 Marshmallow
4000 mAh battery
One of my favourite features about the C9 Pro is the quick access shortcut, for example you can double click the home button to get the camera fast, or triple click for one-hand usage. Also, instead of having notifications and messages appearing on your Always-On display, they come in small circle icons which you can double tap on it. This actually makes it not too cluttered and more tidy.
The Always-On display with the mini icon notifications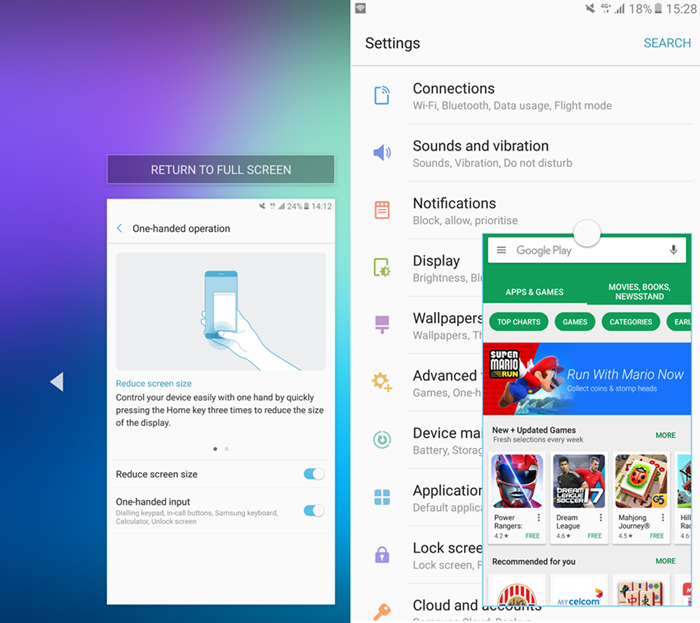 The one-handed operation (left) and multitasking two apps (right)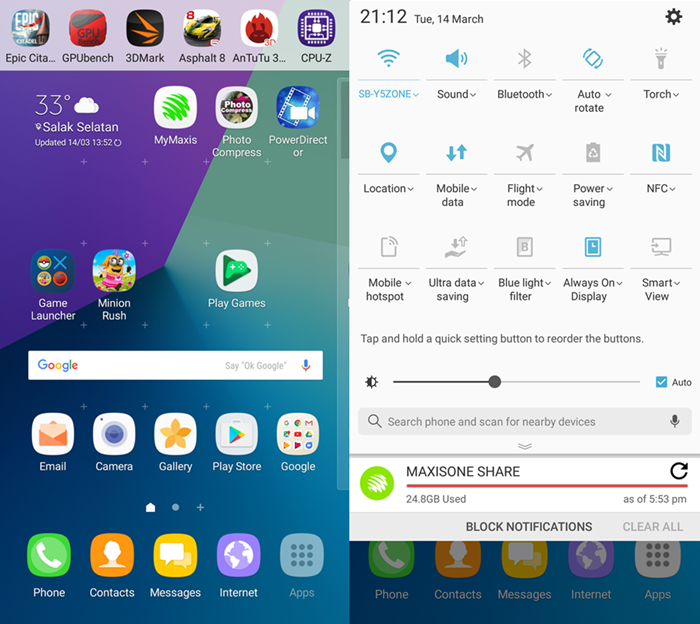 As always, moving apps is much easier with this way (left). Samsung menu on the right side.
You can also always bet on Samsung for their bloatwares, but at least it's nicely kept in a dedicated box and only highlights two apps - mySamsung and Secure Folder. mySamsung is an app that's exclusive for Malaysians (if you can't tell what's the "my' there) and it serves as a all-in-one online centre for managing your phone, getting sweet rewards, and online support from Samsung Malaysia. I must say, this is a really convenient so you can kiss walking to the Samsung store goodbye should you encounter any issue.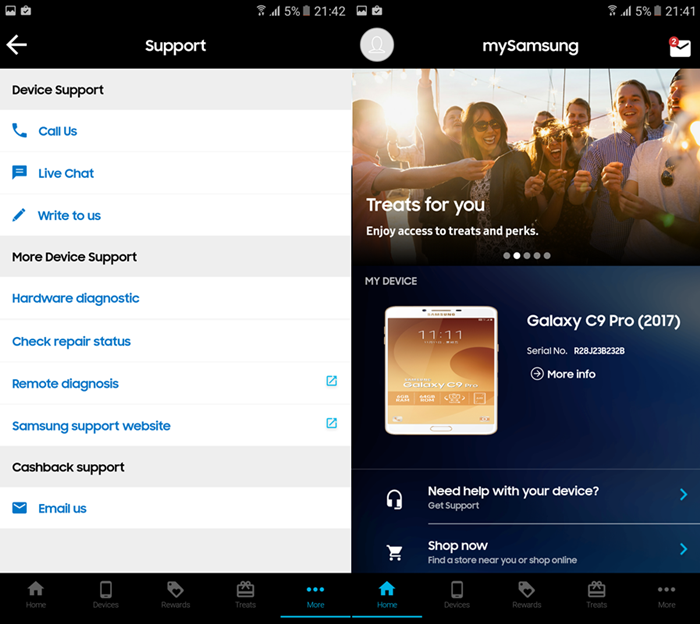 The mySamsung app page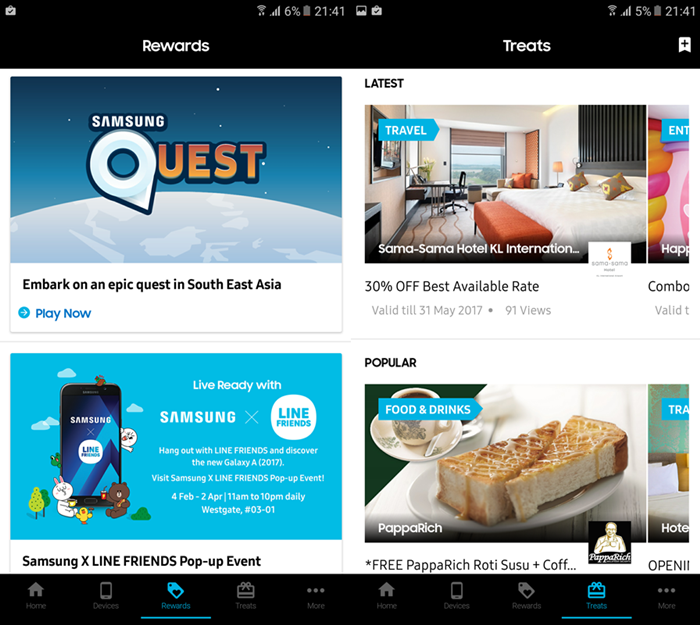 Look at those, mhmm...
As for the Secure Folder, this app lets you safe-keep any files, documents, contacts, and even images. It requires a PIN code, password, or even a different fingerprint, so if you dislike friends or family messing with your phone too much, you can always count on Secure Folder for your privacy.
Convenient way to protect your stuff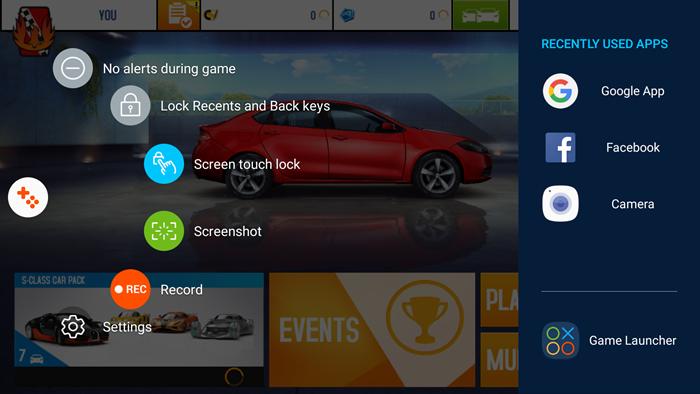 Gamelaunch feature is back!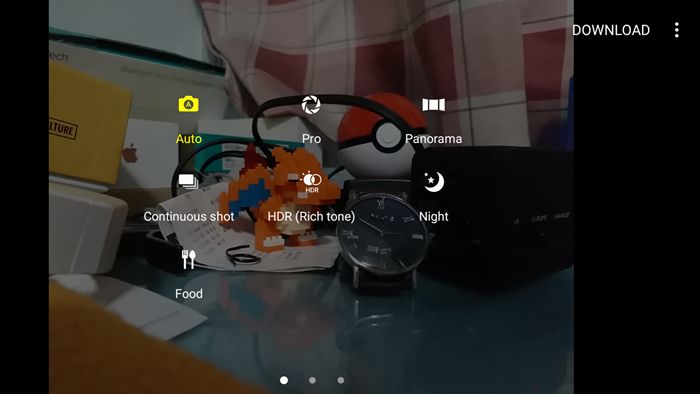 Camera features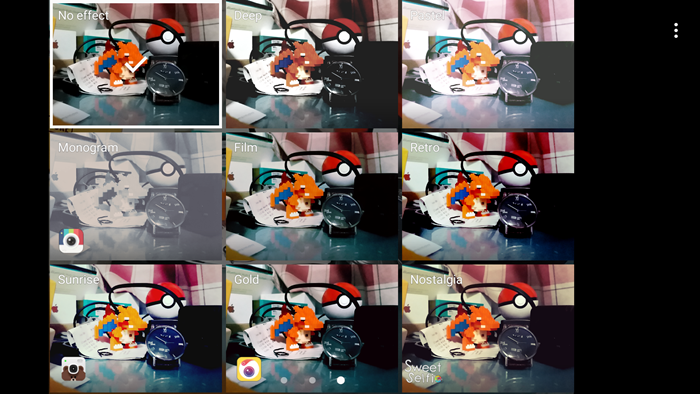 The filters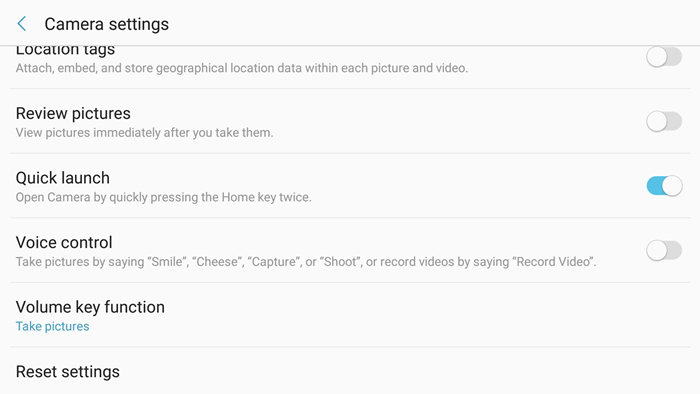 Settings for camera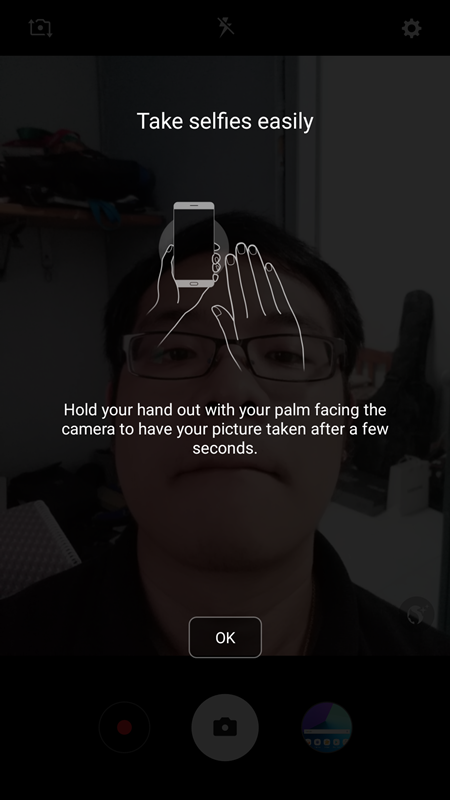 Gesture feature is also back
Performance - Awesome for entertainment usage, but not so much for taking pictures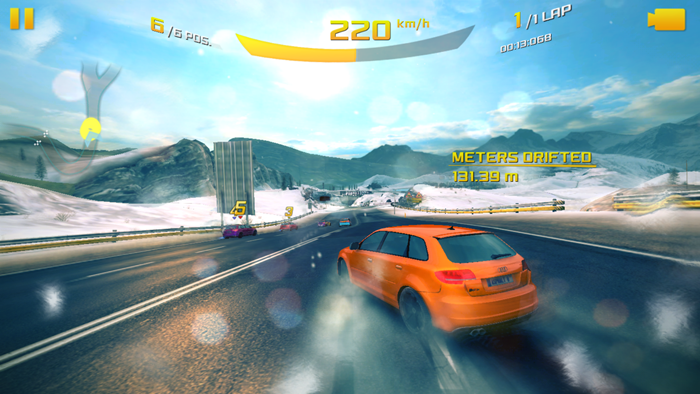 So far, the C9 Pro sounds good but what about the performance? For a phablet using big numbers to attract customers, some might actually be skeptical because of the price. Well, I'm here to tell you that the numbers don't lie. Although it's only using a Snapdragon 653 processor, it's actually more than enough to get things done in terms of entertainment.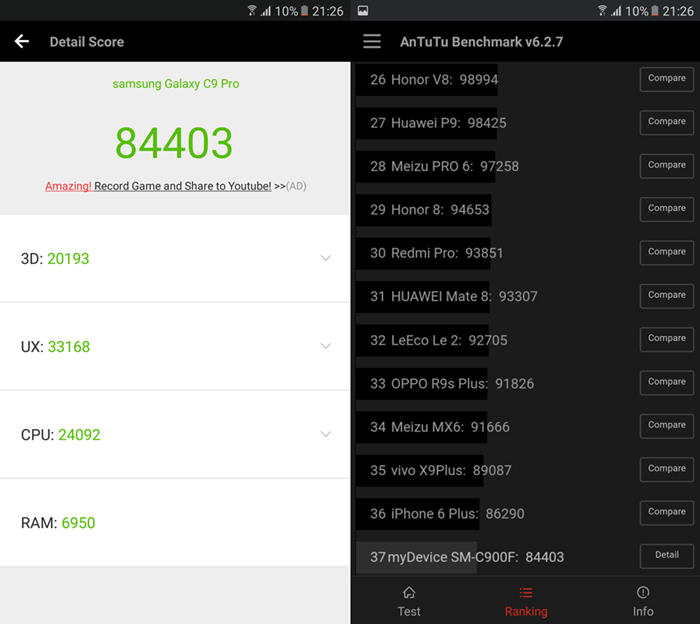 AnTuTu score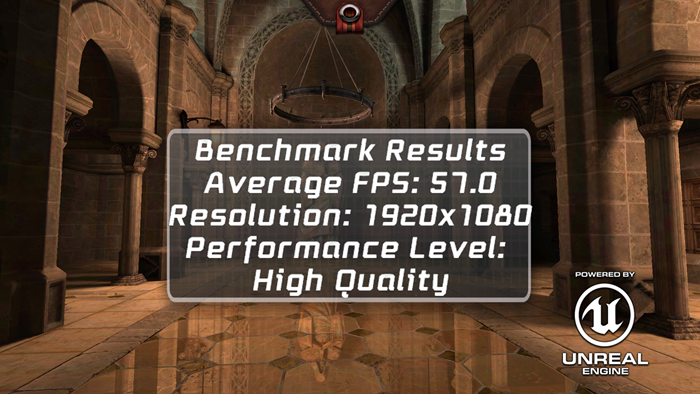 Epic Citadel score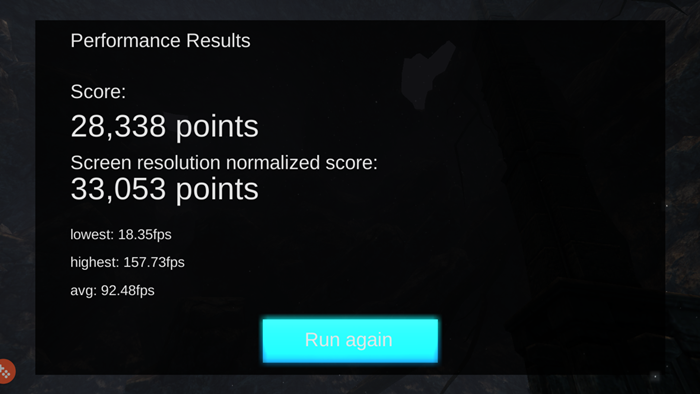 GPUBench score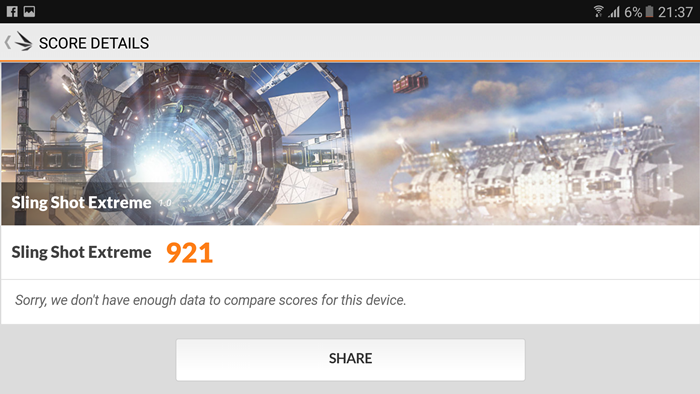 3DMark score
Whether if it's for video playback or gaming, the C9 pro is an ideal device for entertainment thanks to the dual speakers when it is flipped horizontally, the 6GB RAM, the huge 4000 mAh battery (which by the way can last up to two days on average usage), as well as the 6-inch Full HD display (1080p) which it fits nicely in your palm. Additionally, in case you're still playing Pokemon Go, yes the connection works just fine.
If you want to use it for work like say videographing or typing documents, I think the C9 Pro does well too. As mentioned, the 6-inch display is already big enough for you to do your documents while on the way to work (which I enjoyed using while going to events). Video recording is set at the highest setting at FHD 1080p which looks great and has a nice transition from dark to light, however, it lacks video stabilization (if it does have it, it isn't very effective) so it's best to get a gimbal stabilizer like DJI Osmo Mobile (quite popular among videographers who uses smartphones for video recording).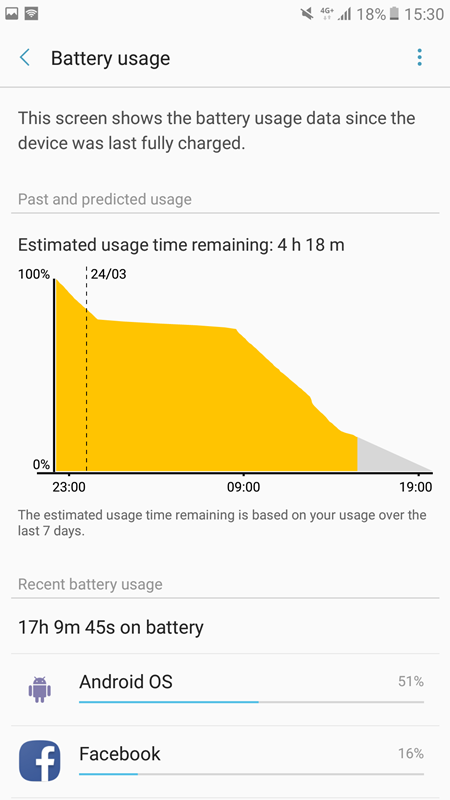 Notice the drop but going down gradually after heavy gaming
Should you push the phablet to the core on entertainment usage, the battery can still last you a day fairly easily. Charging it up is quite fast too for a huge battery pack, as it can finish fully charge in just less than 80 minutes. However, I do find the phablet heating up quite randomly, sometimes it doesn't overheat when gaming (Asphalt 8) for a long period of time, and sometimes it does when I was just updating my apps.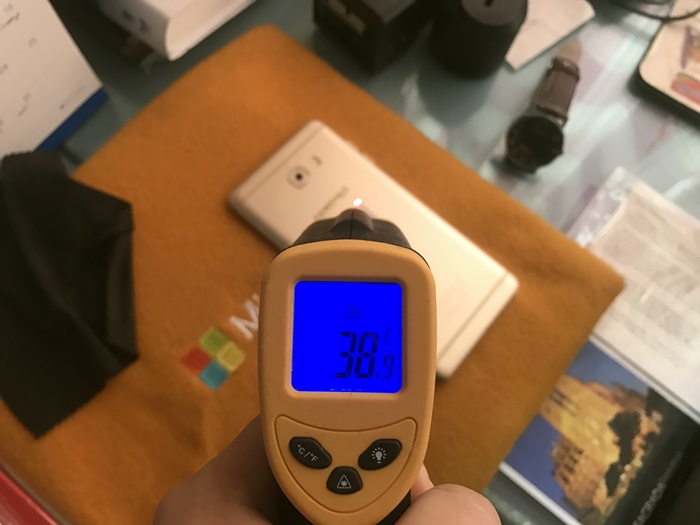 Best get a protective casing
On the other hand, I have mixed feelings about the camera even though it uses 16MP on each side. The image quality is not bad per say, but if you have shaky hand movement then you will have some tough time capturing nice pictures. The slightest movement sometimes results in the picture blurring, and it's kind of disappointing that it doesn't shoot nice images indoors when the lights are not that dimmed, even for outdoors. You will have a better chance of getting nice pictures under a sunny day. Well, you be the judge so here are some picture samples below.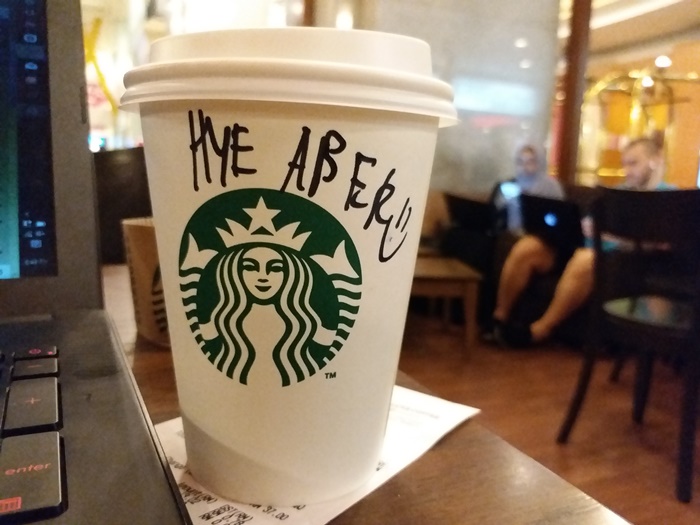 Auto close up, nice bokeh background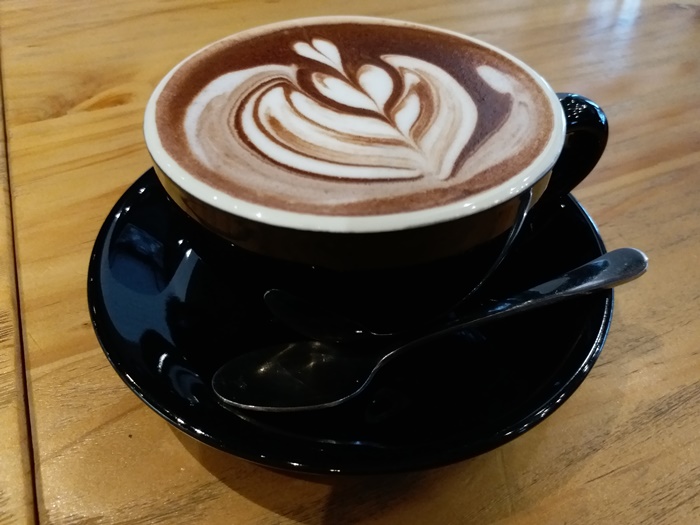 Another auto close up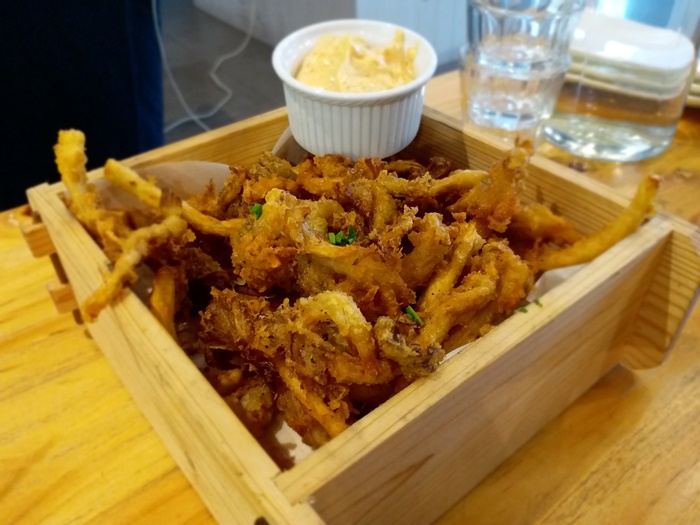 Food mode, not sure what's up with the blurred effect on both sides
This is what happens when the lights are dimmed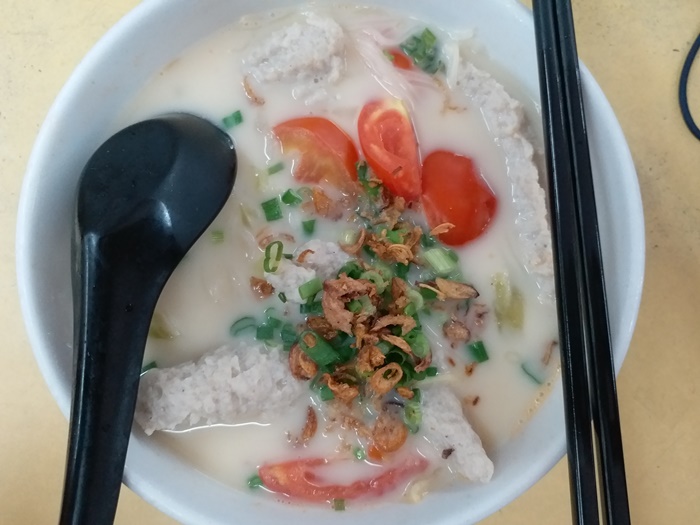 Much better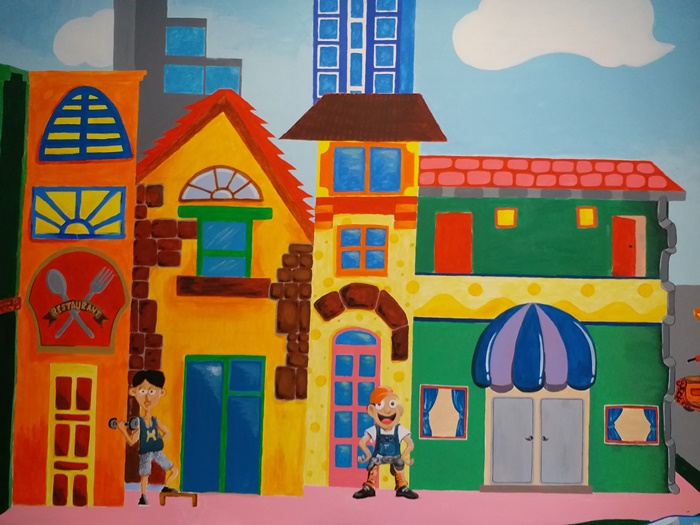 Good contrast when there's good lighting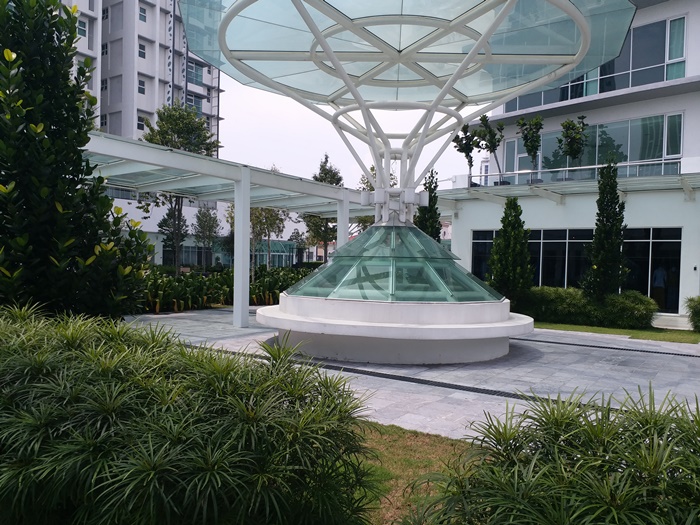 Cloudy day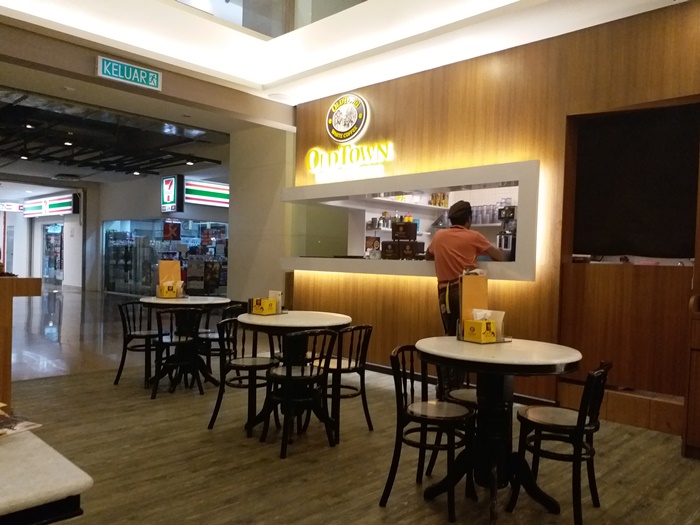 Sometimes it can get overexposed like that Old Town signage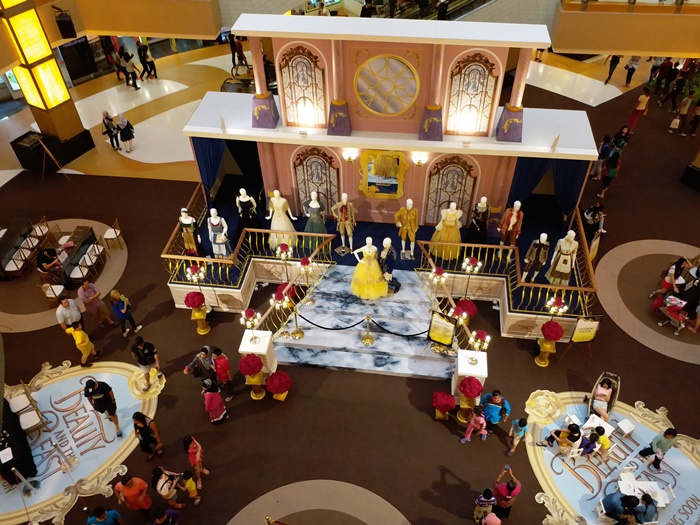 Auto wide shot

Panorama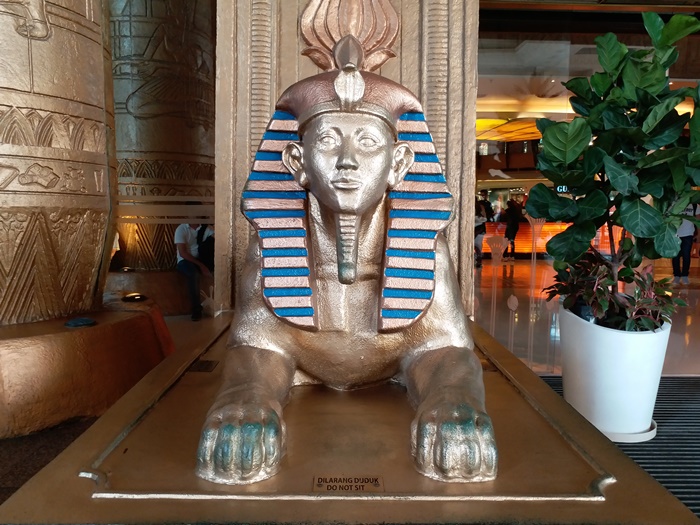 Auto medium shot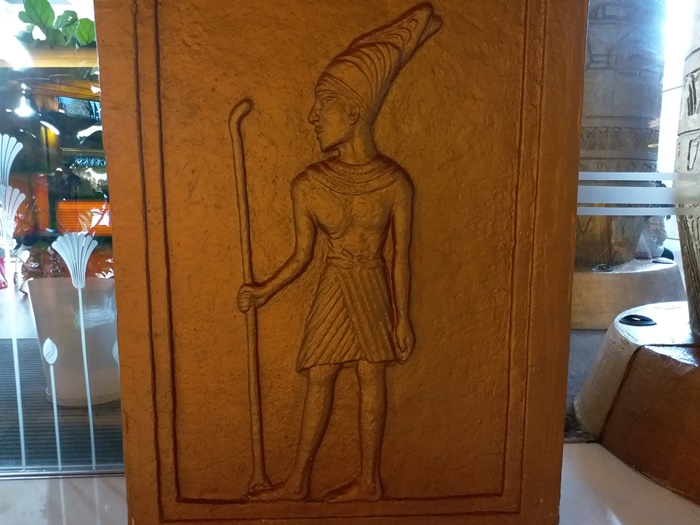 Nice detail on the wall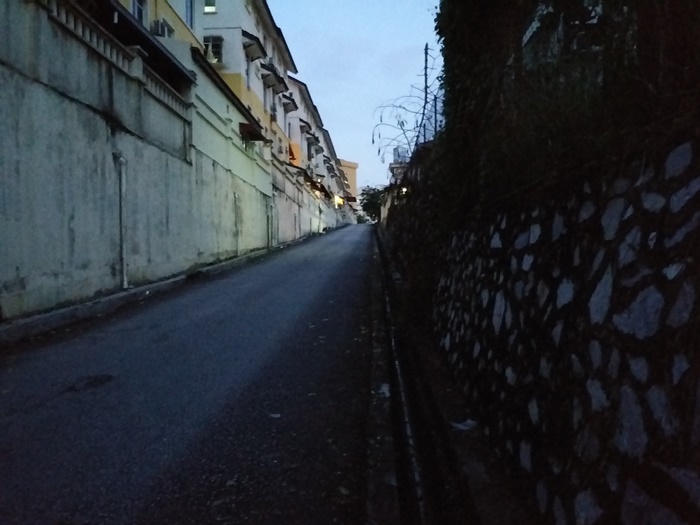 Auto low light environment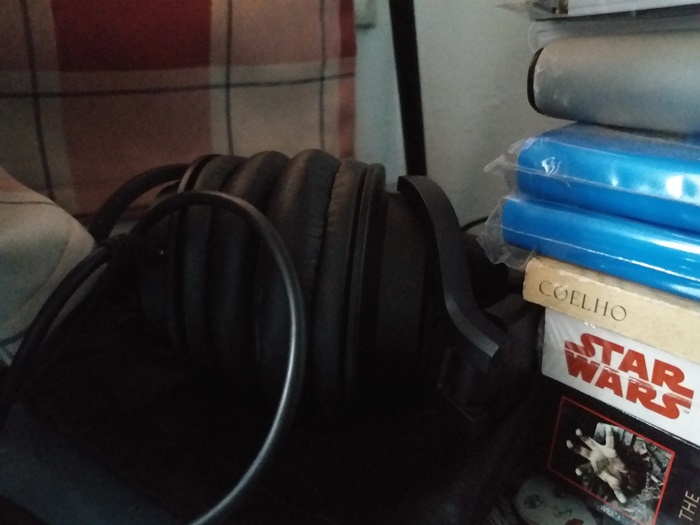 Auto low light indoors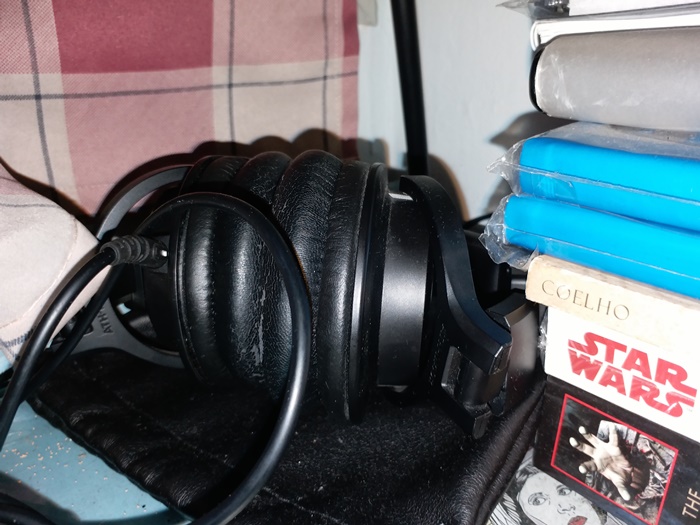 Flash mode on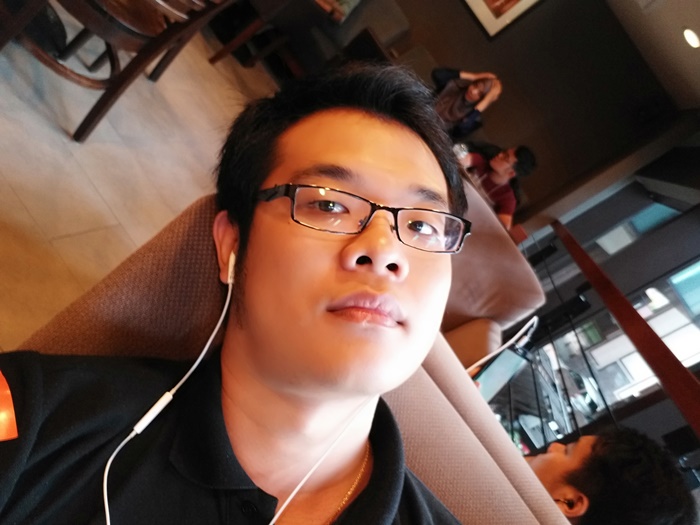 Selfie mode really makes you look gorgeous (lol #syoksendiri)
Conclusion - Great entertainment phablet
Overall, I think the Galaxy C9 Pro works great for an entertainment device. The 6GB RAM and 6-inch Full HD display really adds a lot to the experience, accompanied by the dual speakers. What's more, it's sleek enough to be carried around in your pocket and it charges fast too. But that can't be said the same to the camera section, it really need a lot of lighting to make the pictures look awesome, but at least selfie pictures are quite flawless so there's that. If only they added in an optical image stabilizer (OIS), then it'd be perfect.
In comparison, this phablet is actually slightly cheaper than the R9S Plus which stands at RM2498 officially. As it is, it offers a new option for the growing number of a bit more affordable yet premium Samsung devices. While the Galaxy A7 (2017) has IP68 water and dust resistance and the Galaxy A9 Pro (2016) has a bigger battery power (5000 mAh!) both fall short in terms of RAM and the processor, so if pure processor hardware performance is your need then the Galaxy C9 Pro is the more viable option.
So what do you think? Let us know in the comments below and stay tuned for more reviews at TechNave.com.
Samsung Galaxy C9 Pro Specs & Price >