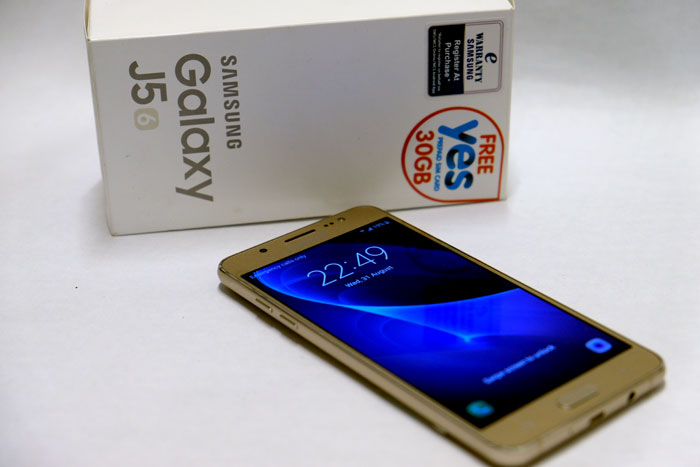 Samsung is well known for making several different model phones to cater for different markets. There's the high-end Samsung Galaxy S series, the productivity Samsung Galaxy Note series, and then there is the Samsung Galaxy J series - the current entry-level to mid-range smartphones from Samsung. The one we have here right now is the Samsung Galaxy J5 – the middle child (at least for now) of the J series in Malaysia. We have already reviewed the Samsung Galaxy J7 2016 alongside the Samsung Galaxy J1 2016, and now the Samsung Galaxy J5 2016 is next on the list. Let's see how the phone fares in our review below.
Design- Metallic-like build for upclass-ish feel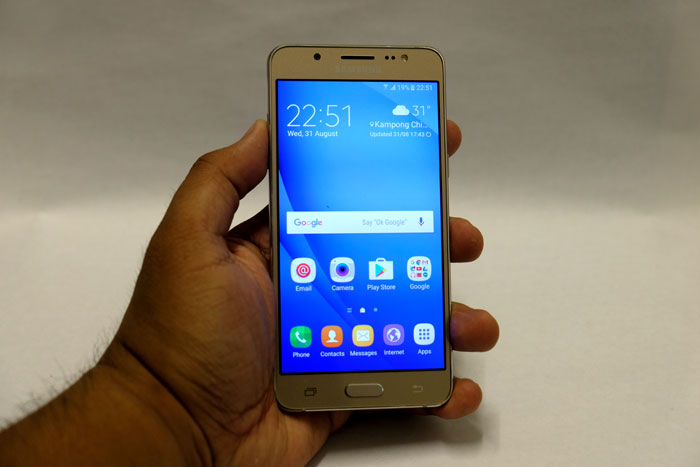 The phone shares similarities in design with the rest of the Galaxy J (2016) series phones, with many of the design elements shared with the rest of the family line. Of course you get a better and bigger screen than the cheaper J1 (2016), and it sits between the J1 (2016) and the J7 (2016) in terms of size and specs. The material used is very metallic-like, and feels very nice in the hands.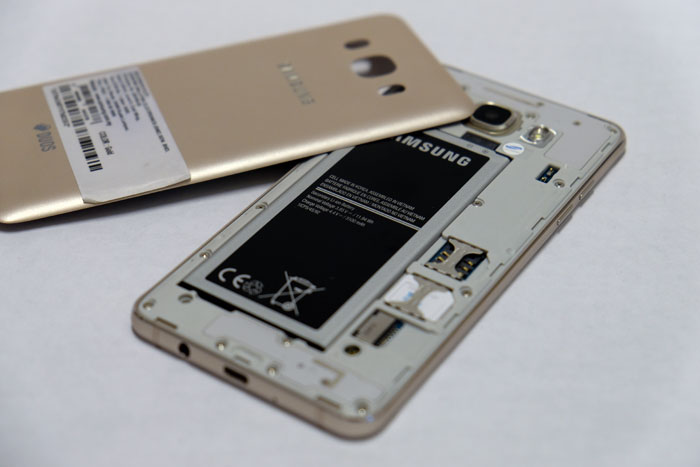 It does creak when we twist it a bit, but at the price point of the phone, we are not too concerned about that. The removable back cover also gives access to the battery, SIM slots and microSD slot. We wished that the SIM slots can be accessed without removing the battery, as this will make things easier when users need to add or replace SIMs when they travel. Thankfully the microSD slot is easily reachable.
Unlike other manufacturers, Samsung elected to not include fingerprint scanners in their J-series smartphones, probably economic reasons. However, we feel that excuse is a bit farfetched, especially when we have devices such as the Vivo X3 on the market with a full metal body and a fingerprint scanner – so Samsung kind of dropped the ball on this one.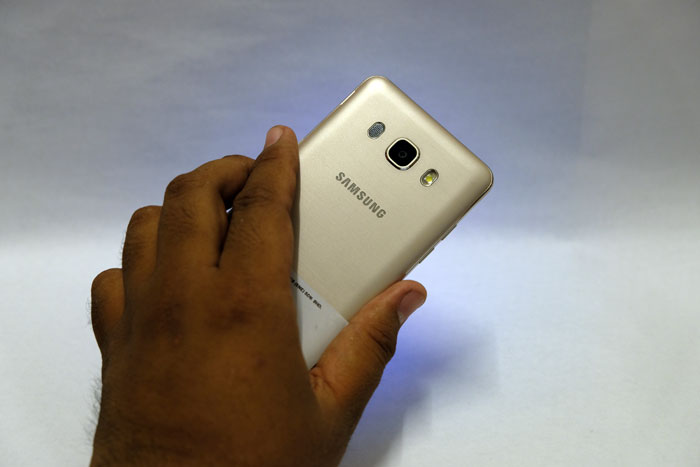 Holding the Samsung Galaxy J5 (2016) in the hand is nice that it doesn't feel too bulky, and the screen is within reach with your thumb for a one-handed operation. The 13-megapixel camera on the back will not win any awards for sharpness or image quality – but it is nice to have a camera with this high of a megapixel in this price point.

Tech Specs and Features – a great example of 'Just Good Enough'
As a recap, the specs of the Samsung Galaxy J5 (2016) are as listed below:
Qualcomm Snapdragon 410 quad core processor (4 x 1.2GHz Cortex A53 cores)
2GB of RAM
16GB of internal storage
microSD slot, up to 128GB
5.2-inch display (Super AMOLED, 720 x 1280 pixels)
13-megapixel rear camera, f/1.9 lens with Autofocus and LED Flash + 5-megapixel front camera, f/1.9 lens
Supports GPS, WLAN 802.11 a/b/g/n, Bluetooth V4.1, Dual micro-SIM card (SIM1 support 2G/3G/4G LTE, SIM2 support 2G/3G/4G LTE), Dual SIM Dual Standby, FD-LTE support (Yes4G)
145.8  x  72.3  x  8.1 mm, 196 g
Android 6.0 Marshmallow
Available in Silver & Gold
The specs are bit on the low-side, especially with the Snapdragon 410 running the show. You can use it without any problem on a day-to-day basis, but once you want to try something a bit more CPU intensive, it will lag and no amount of RAM will cover that fact. The 2GB of RAM is enough for normal usage, and 16GB of storage is the bare minimum these days for phone storage.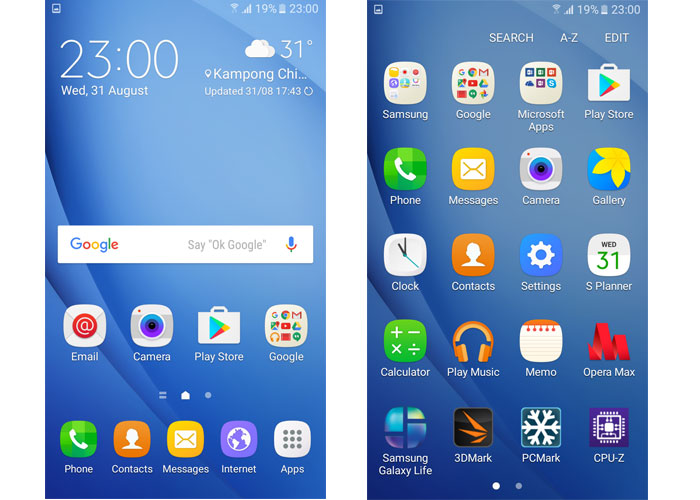 Samsung's TouchWiz UI is the skin of choice for the Samsung Galaxy J5 (2016), and if you are used to the TouchWiz interface, you will not go wrong using this phone. It is running on top of Android Marshmallow 6.0.1 so it is current enough that you will not feel left out in the software update race. However, Samsung has yet to share if the J series will be receiving any Nougat updates so be prepared.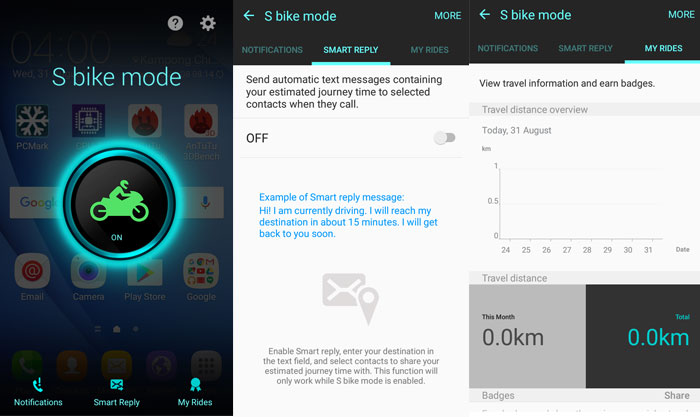 A cool feature that we found on the Samsung Galaxy J5 is the S Bike mode. By pressing the power button, users can select this mode which gives bike riders a mode where they can reply to calls and messages automatically if they are riding along. Pre-set voice and text messages can be preprogramed and sent once a call or text comes in, making riding with this phone a much safer proposition.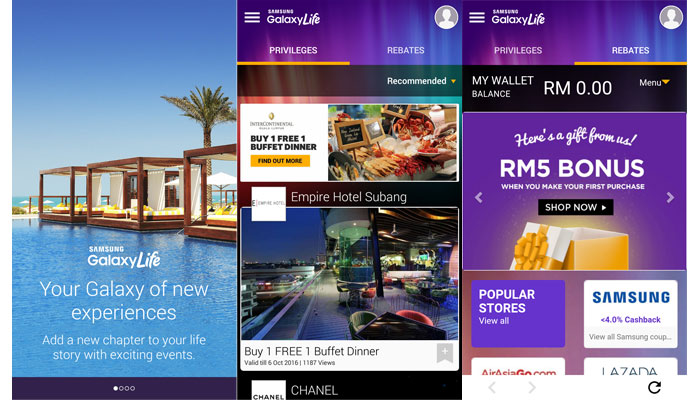 Also available with the Samsung Galaxy J5 (2016) is Samsung's Galaxy Life, where users who register can get goo rebates, discounts and offers for services and shops nearby them. Just log in, activate the GPS, and get discounts immediately. It is nice to see Samsung featuring this service even on their lower-end smartphones.
Performance – Light to medium usage scenarios
The usual list of benchmarks says what we have been saying – the phone is good for normal use, but anything more you will struggle. On AnTuTu, the phone scored 28017 points, which puts it below the Xiaomi Redmi Note 3, Samsung's own Galaxy A9 Pro, and even Meizu's M3 Note 3.
We did not run into any trouble with both Epic Citadel and Asphalt 8 Airborne – the former test clocked at 57.3fps while the 3D racing game did push the performance envelope a bit far – there were instances where the game lagged – but it handled the apps without too much trouble. Running 3DMark, the phone scored 4367 for the Ice Storm Unlimited test, and a low 53 on the Sling Shot ES 2.0 test.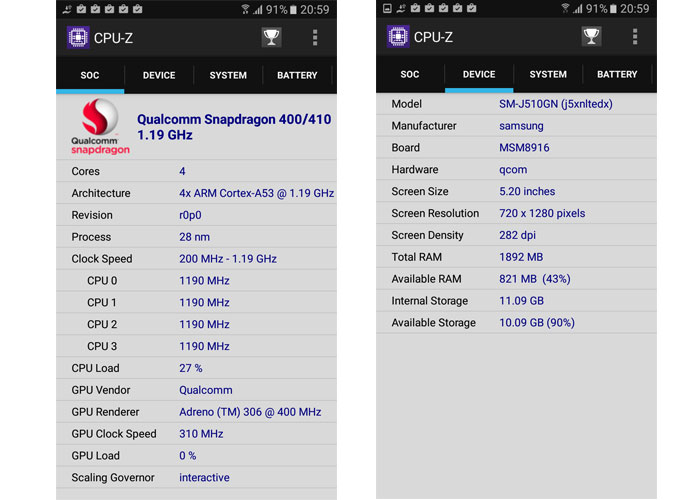 The specs on the Samsung Galaxy J5 (2016) is barebones in this age of flagship-like mid-rangers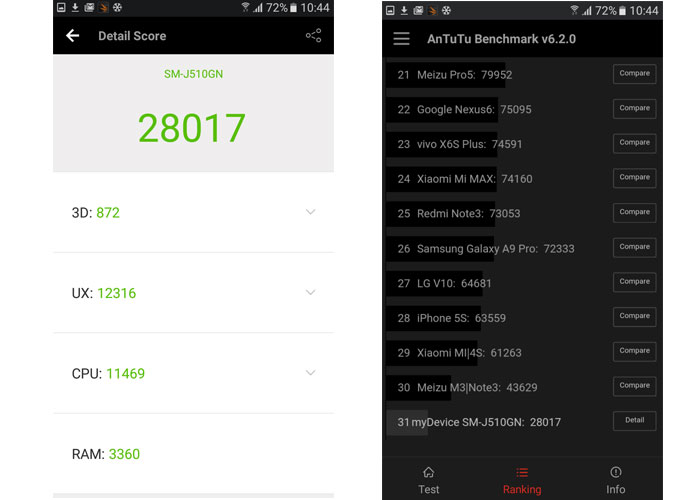 Just enough performance to not feel bogged down on daily use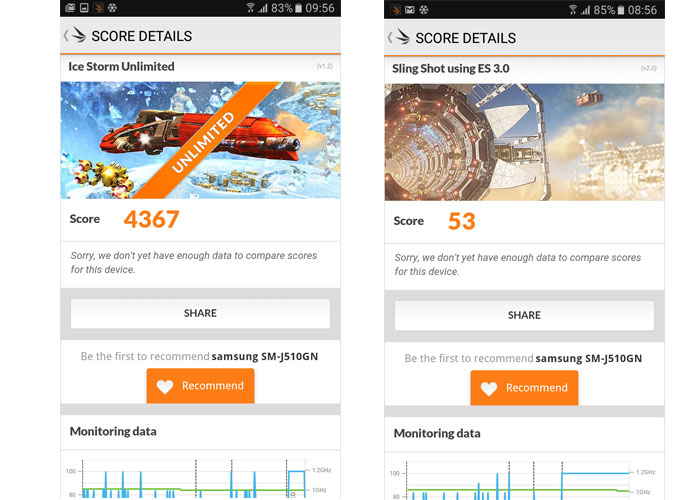 Fairly ok on the 3DMark tests too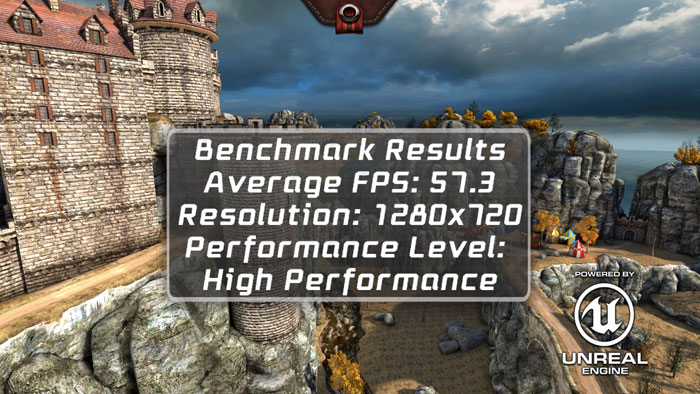 Unreal did not impede the phone too much
The battery life on the Samsung Galaxy J5 (2016) was on par with many mid-range smartphones out there, the 3100 mAh battery notwithstanding. You can get a full day's battery life with the Galaxy J5, and the removable battery makes things easy to swap another battery pack as needed – its just that we wished that the battery management can be better. Even with the Snapdragon 410, we can only run from 8am until 7pm. Other phones with the same processor managed to run longer, with smaller batteries.
For WiFi performance, the Samsung Galaxy J5 (2016) is what we consider something in the middle. Throughout the test, we did not see any problems with the WiFi connection - both on a home-based WiFi and public WiFi hotspots. We managed to update large apps without any hassle, and the connection stayed true. However, there are no boost or speed modes built in to make the transfers faster.
During our use of the Samsung Galaxy J5 (2016), calls were clear with the built-in speaker and microphone, but the loudspeaker is just on an acceptable level. Hands-free calls will break up once you go above 80% of the volume - so will music and video playback. The camera on the Samsung Galaxy J5 (2016) is a 13-megapixel unit, but it is a mid-range unit at best. You will not get the Samsung Galaxy S7-level image quality here. Have a look at our sample images right here.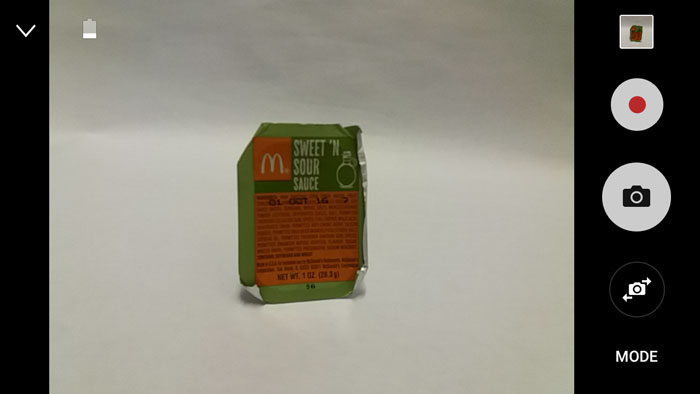 The camera interface of the Samsung Galaxy J5 (2016)is reminiscence of other Samsung camera apps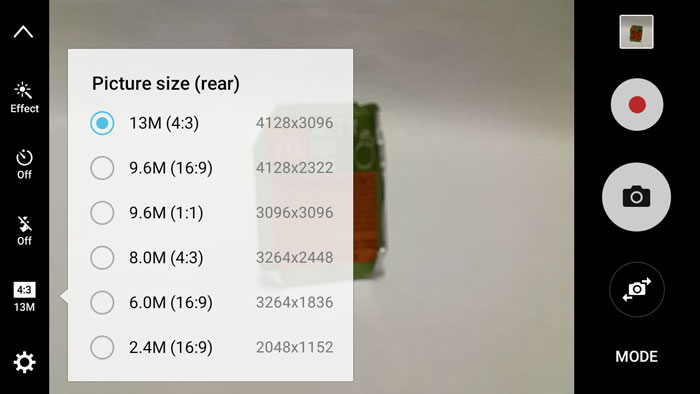 You do get up to 13-megapixel images, in multiple image ratios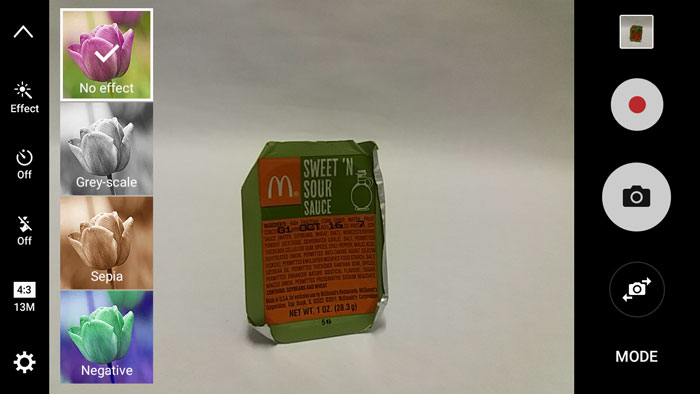 The different modes and filters available with the camera app listed here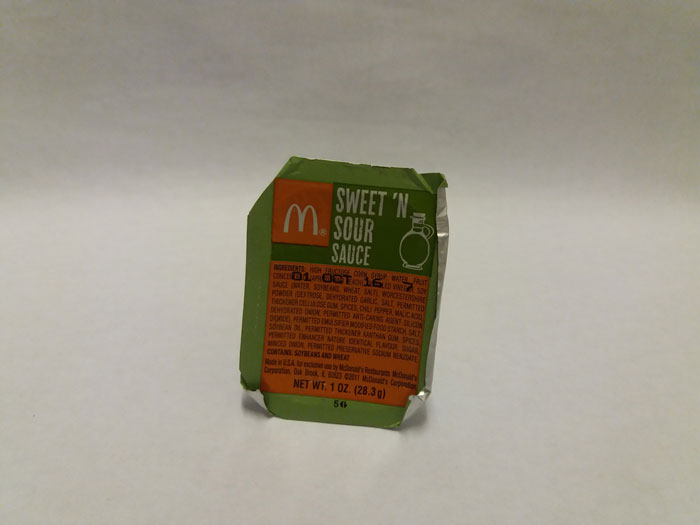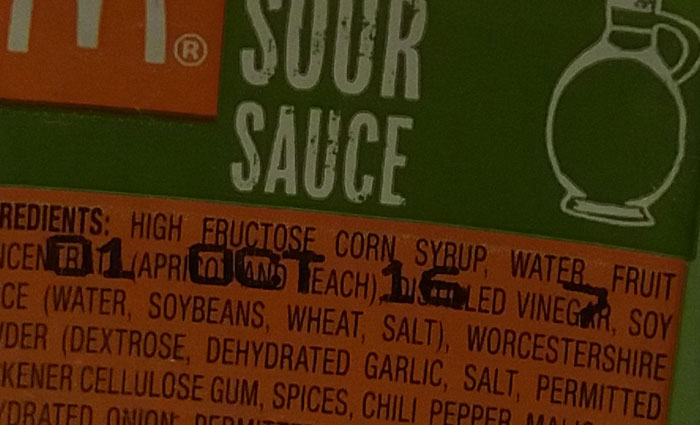 (100% crop of the image above shows good details)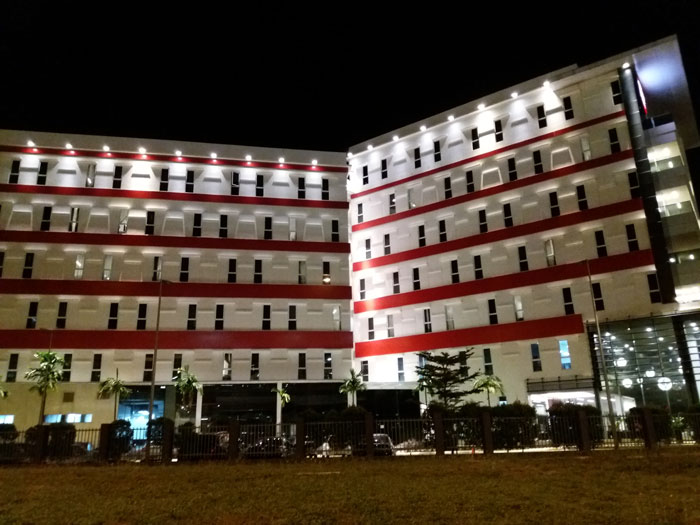 The night shot mode using the camera app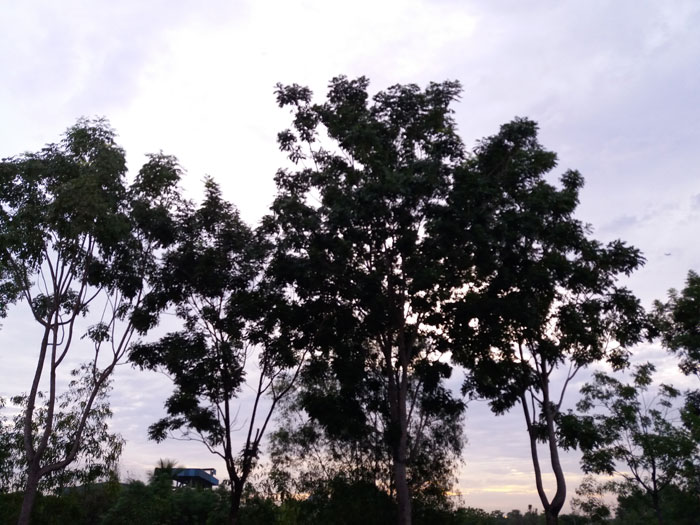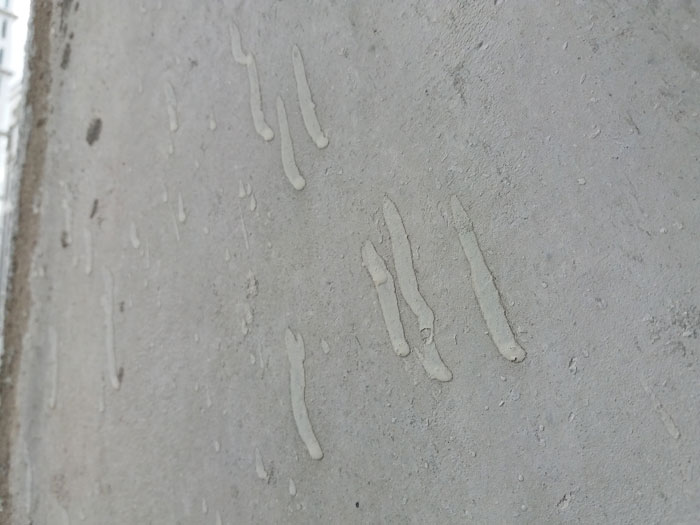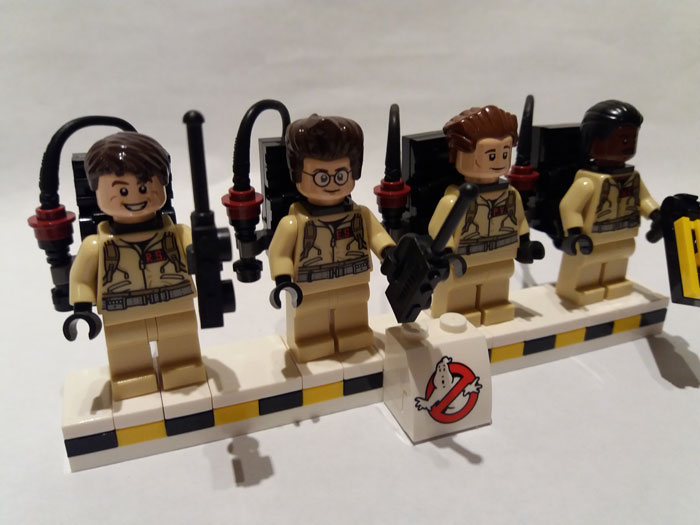 Conclusion - a smartphone that is ok enough for mainstream users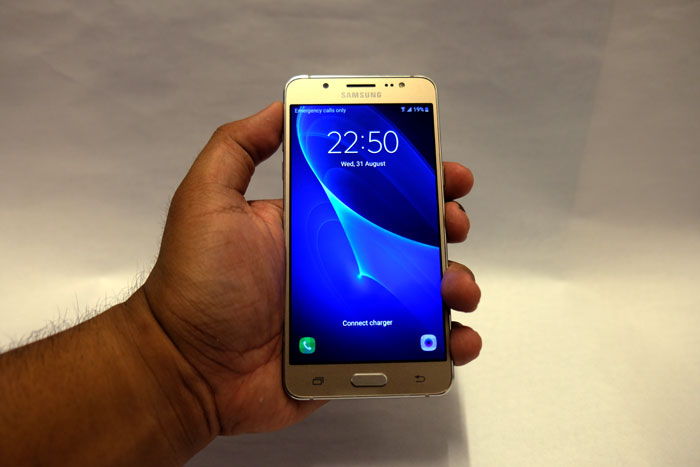 We are living in a world where sub-RM1000 smartphones are coming out with features taken from flagships that were around scantly a couple of years ago. This scenario has created phones such as the Honor 5X, Vivo X3, Xiaomi Redmi Note 3, Alcatel Flash Plus 2 and so on. Samsung has a tough road ahead to go against the pack with the Samsung Galaxy J5 (2016), but we think they can do it - while breaking some sweat, especially for Samsung fans looking for an affordable metal frame Samsung phone.