Samsung Galaxy Note8 now available in Xpax EasyPhone & Celcom FIRST plan from RM115
Remember the Xpax EasyPhone plan that we talked about earlier this month? Celcom has just added another smartphone to the list and now everyone can get their hands on the Samsung Galaxy Note8 from RM115 monthly!
For Celcom customers, they will only need to subscribe to FIRST Platinum Plus and pay RM115 for 24 months. On the other hand, Xpax can sign up without any credit card or upfront payment at RM238 for 24 months, plus an additional free monthly RM30 prepaid credit that will part of the package. In addition, FIRST Platinum, FIRST Gold Supreme and Gold Plus are also eligible, with a monthly price of RM135, RM140 and RM155 respectively.
Should you skip the EasyPhone plan and go straight for the postpaid plans and choose your own special price which is: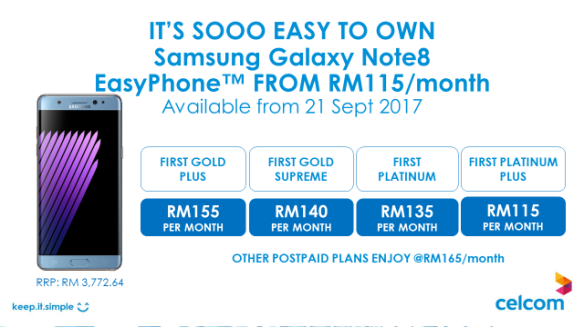 RM2178 with FIRST Platinum Plus (100GB Internet) monthly with a commitment of RM188
RM2558 with FIRST Platinum (60GB Internet) monthly with a commitment of RM148
RM2708 with FIRST Gold Supreme (50GB Internet) monthly with a commitment of RM128
RM2858 with FIRST Gold Plus (40GB Internet) monthly with a commitment of RM98
The Samsung Galaxy Note8 retails at RM3,772.64. For more information on Celcom's packages and price plans, visit www.celcom.com.my or www.xpax.com.my
Samsung Galaxy Note 8 Specs & Price >