Samsung introduces 1TB flash storage only a month before Samsung Galaxy S10 launch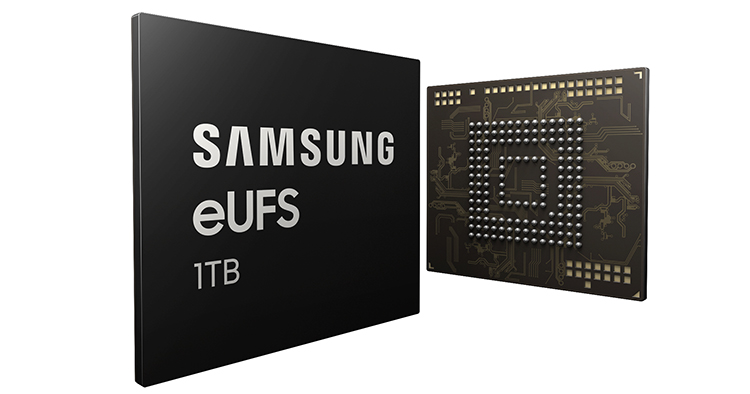 It is safe to assume now that the Samsung Galaxy S10+ smartphone may come with 1TB internal storage as Samsung has just announced their first 1TB embedded universal flash storage. The company claims that the chipset has 10 times more write speed than a microSD card.
So how big is 1TB? Well, you can store up to 260 10 minute 4K UHD videos, which means the S10+ probably won't be needing extra microSD cards for extra storage. The new eUFS chip maintains its size similar to the 512GB chip, measuring at 11.5 x 13mm and doubles its storage capacity by combining 16 stacked V-NAND flash memory layers and a newly developed controller. How fast is the chip? 1000MB/s sequential read speeds and 260MB/s write speed, which is 38% faster than the previous 512GB internal storage chip. That's pretty fast! Now that Samsung has announced this eUFS storage chip, we can now put the rumours of the Samsung Galaxy S10+ internal storage to rest. Now my question is, will the device still have room for a microSD card slot or nah?
Besides that, Samsung has started mass production of the Samsung Galaxy S10 last week. 3 variants of the 4G smartphones are currently in the works with the 5G version coming out later. It is rumoured that the smartphones may have UD fingerprint scanners and the 6.1" and 6.4" variants of the devices may have a curved screen with pre-installed screen protectors. As no official announcements have been made about the Galaxy S10 phones yet, I advise you to take this information with a load of skepticism. No worries though, we here at TechNave will be on ground during the Unpacked 2019 so stay tuned to this website to be the first to know about the Samsung Galaxy S10!