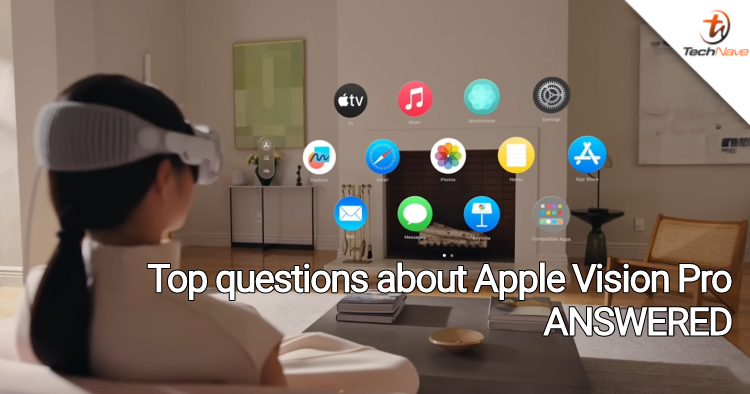 The Apple Vision Pro is the company's first "spatial computer" incorporating an M2 and R1 chip with 16GB of RAM to power an AR (Augmented Reality) headset that allows you to work and play with virtual screens that are placed in your surroundings. Looking to work seamlessly within the Apple ecosystem, the Vision Pro transforms any space into your own personal movie theater or 180-degree work space.
However, we're certain that there's a whole bunch of questions that many of you are wondering about the Apple Vision Pro, so do read on to check out our top 15 questions you're wondering about the Apple Vision Pro answered.
1. How much does it cost?

The Apple Vision Pro is powered by an M2 chip and a dedicated R1 chip
The unit is priced at $3499 USD which is about RM16097. However, considering that this is not official Malaysia pricing, we'd expect the Apple Vision Pro to be a bit more expensive, perhaps RM16999? What would your guess be?
2. How much are other comparable VR headsets?
The Sony PlayStation VR2 comes in at $499 (~RM2295) while the Meta Quest Pro is being offered for $999 (~RM4595). Both are more dedicated VR or Virtual Reality headsets than AR compared to the Apple Vision Pro and come with their own wireless controllers. There's also the more readily available PICO Neo 3 Link which is only priced at RM1099 or the PICO 4 VR at RM1599.
The Sony PlayStation VR2 (top) and the Meta Quest Pro (bottom)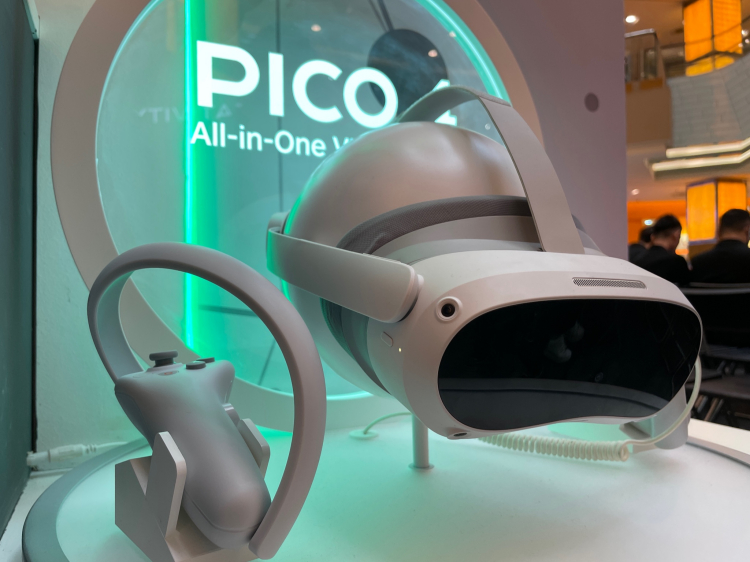 The PICO 4 VR is more affordable at RM1599
3. How will it be charged?
A round magnetic charger which works like magsafe to click into place is used on the rear side of the headset but you can also lock it in place by turning it clockwise once it has been attached.
4. How do I control it?
You use your eyes, fingers and voice, no controller required. To navigate the cursor you are supposed to use your eyes while external cameras watch your fingers, clicking when you press your index finger and thumb together. There's also a crown or dial on the top part of the headset so you can set how transparent your view is.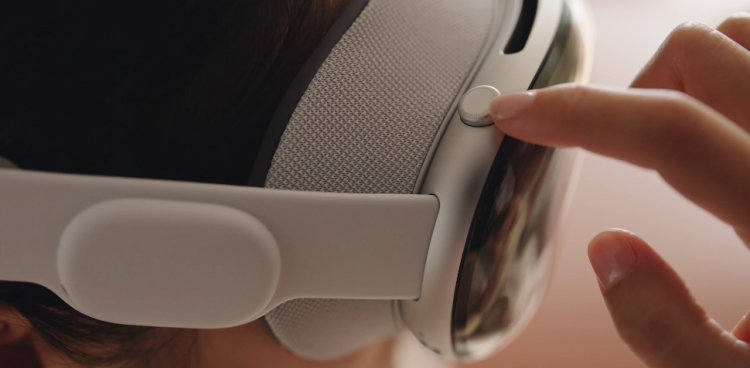 The crown or dial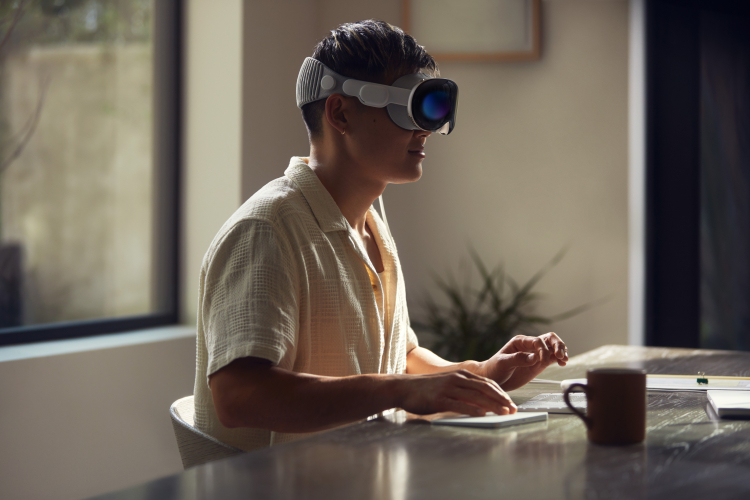 Pinch to click while the cursor moves by tracking your eyes
When you move your fingers closer together like you're squeezing something and hold that position you can click and drag, allowing you to set the size of your screen and so forth. You can then use voice commands to enter requests. You can also attach bluetooth keyboards and gaming controllers too and there appears to be a virtual keyboard as well.
5. Can I use it with my glasses?
No. You cannot use your current glasses with the Apple Vision Pro. Instead you have the option of inserting prescription ZEISS lenses into the headset. This means if you're wearing glasses, you will need to get these lenses and still do some extra adjustments before the headset is customized for your fit.
We're not sure how much these additional lenses will cost, but they should be priced from $200 USD (~RM920) to $300 USD (~RM1380). We expect them to be a bit more expensive if you need bifocals or other specialized eyewear though. People with short sightedness or contacts might be able to use it with no problems though.
6. Will it be heavy?
According to Apple it will be lighter than most VR headsets since the battery is external and connected via cable. To give you context, the PlayStation VR2 weighs in at 600g which is like wearing an iPad Pro tablet on your head. Reduce this weight down to perhaps that of an iPad mini and you have an idea of how much the Apple Vision Pro will weigh.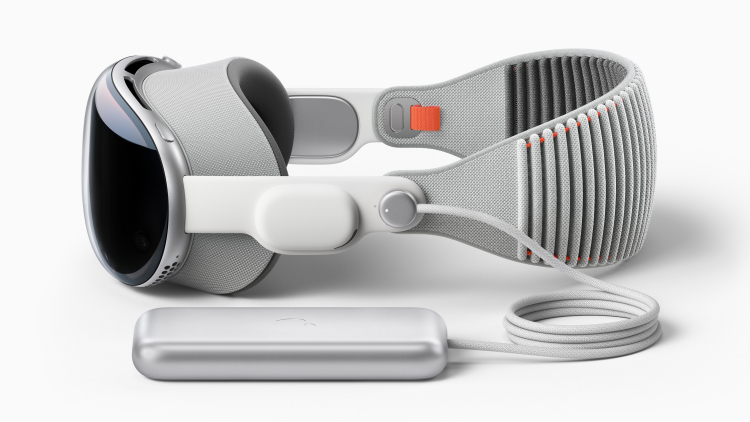 The Apple Vision Pro headset should be lighter thanks to the external battery

Even if it's that weight, we don't think that a 300g headset is something you can wear for a long time, unless you're lying down or have a chair with a headrest. So, we don't think that you could use the Vision Pro straight away for a full working day, without getting some form of neck aches or similar sprains.
7. How big is the screen?
According to Apple, you can get multiple 100-inch screens or you can even make one big and wide screen and make it curved for a more immersive feel. The actual lens display for each eye is about 1.4-inches with a more than 4K pixel resolution and 4000ppi pixel density for sharp text and movies.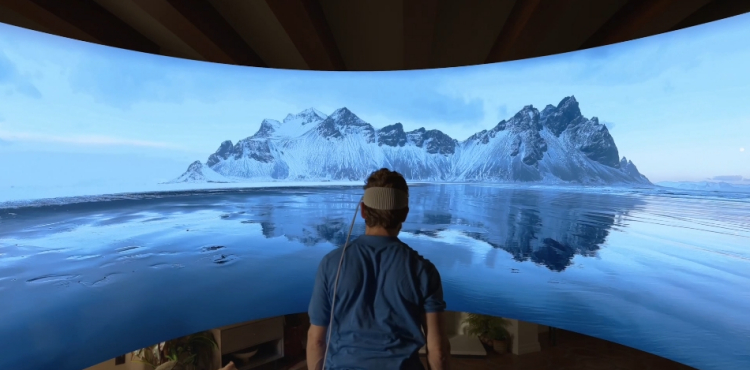 A 4K wrap-around curved screen as big as you!
8. Is it portable?
Yes. Since the external battery plugs in via a cable you can then put this battery into your pocket and bring it about.
9. Can other people hear what I'm hearing?
Yes. It may not be as loud as say some other speakers but other people should still be able to hear the directed audio.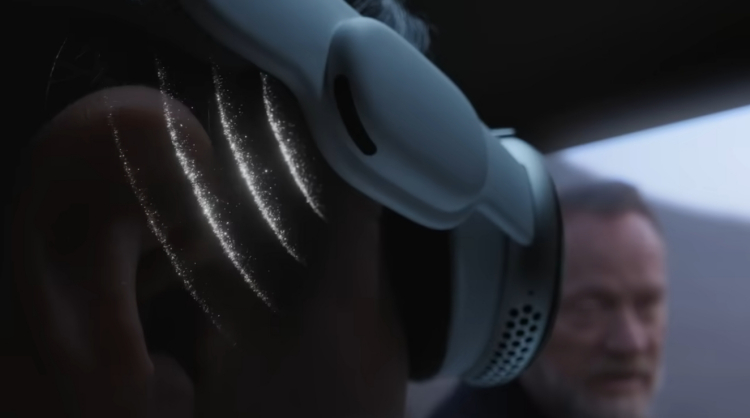 While it's a directional audio, it's still broadcast outwards, so it's not entirely private
10. Can I play games with it?
Yes. While Apple is currently working on games specifically for the Apple Vision Pro, you can still use all the Apple Arcade games with the headset. Once you've paired a PlayStation 5 DualSense controller you can also game with it too.
11. Can I do work with it?
Yes. There's a virtual keyboard that floats in the air (we'd think it's better flat on the table though or your arms are going to get tired) but you can also use a bluetooth keyboard, MacBook or other compatible Apple device to type and thus do work. The display on the MacBook will be mirrored and enlarged on the Vision Pro.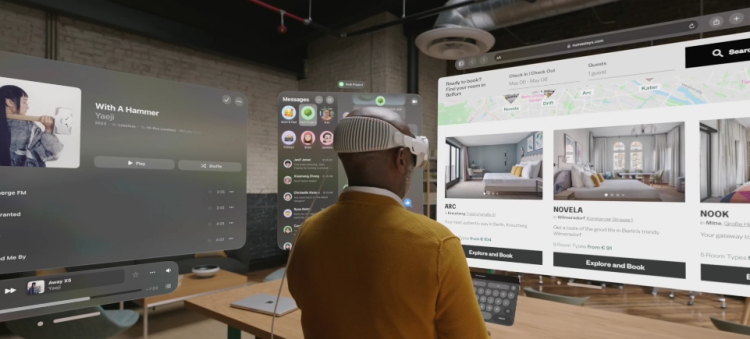 Typing in the air sounds tiring though
12. Can I still use Facetime when I'm wearing it?
Yes. The Vision Pro reconstructs a virtual version of you while internal sensors will track your eye movements and facial muscles, so your Facetime still looks somewhat natural even if a bit virtual.
13. How long is the battery life?
Up to 2 hours.
14. How secure is it?
As secure as any Apple device as it uses Optic ID iris scanners to ensure that you're the one using it.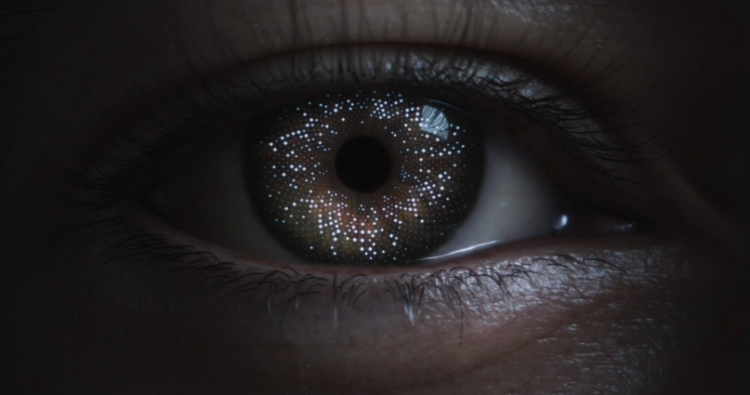 15. When is it coming to Malaysia?
While the US will get the Apple Vision Pro by early next year in 2024, other countries like Malaysia will likely receive the headset a year later in 2025. There's no Malaysia release date just yet though, so it could be the end of 2025. Or it could come in early 2025, nothing has been confirmed yet as far as dates are concerned.


So, that's it for us for now about the top questions you're wondering about the Apple Vision Pro headset. Did we miss any or have you thought of something else? Then let us know in the comments or our Facebook page and we'll add them on. So, keep watch on this space and stay tuned to TechNave.com