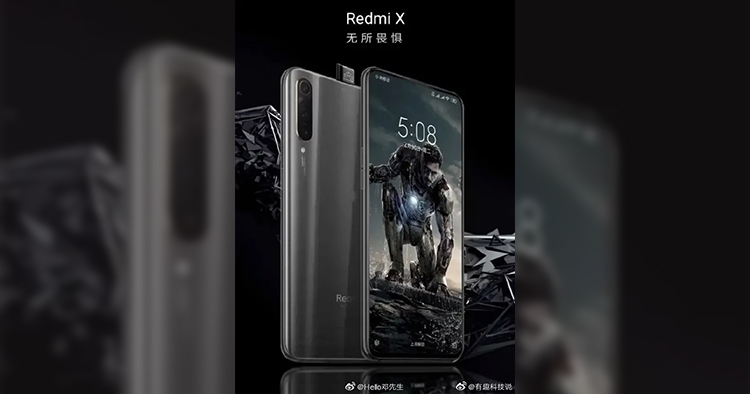 A teaser was shared on Weibo showing off the upcoming Redmi smartphone. The poster shows clearly the name Redmi X which features a full infinity display, a triple rear camera setup and a pop up selfie camera positioned top and center of the device similar to the OPPO F11 Pro and not towards the left like shown in the first teaser video which emulates the vivo V15 Pro.
Beside the poster, a Xiaomi Mi 9 smartphone was shown off, possibly to show the similarities between the Mi 9 and Redmi X's backs (which are pretty similar). Both have a vertical triple camera setup on the top left with the LED flash at the bottom of the setup. The finish of the Redmi X's back does seem a lot shinier with the gray looking almost like pure metal.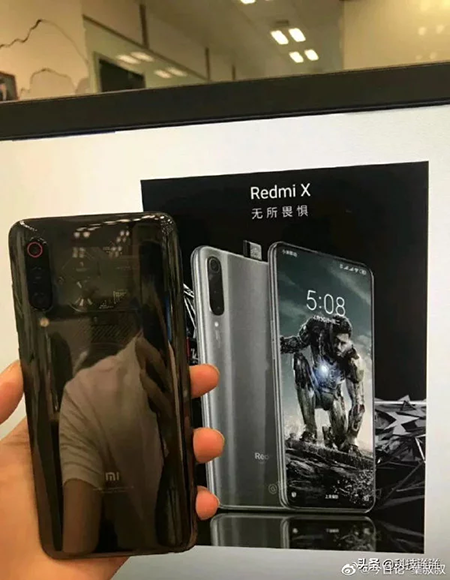 Speaking of the back, both devices don't seem to have a rear mounted fingerprint scanner. While most of us would quickly jump to the idea of an in-display fingerprint scanner, Lu Weibing, Redmi's general manager had hinted that the device may not be released with the feature. Some fans had mentioned that they hoped the device would not be released with a rear mounted fingerprint scanner. Lu Weibing responded "he on-screen fingerprint is very expensive," which likely means we're not going to be seeing it on the phone.
As we didn't see a rear mounted fingerprint scanner on the poster, perhaps we might be getting a side mounted fingerprint reader like the Samsung Galaxy S10e and Razer Phone instead? The Mi 9's in display fingerprint sensor costs about 150 Yuan (~RM92) which is already more expensive than traditional capacitive readers. Also, in-display readers also only work on OLED display which are also pretty expensive. Since this is the case, it is likely that device may be shipped with a LCD display to keep costs low.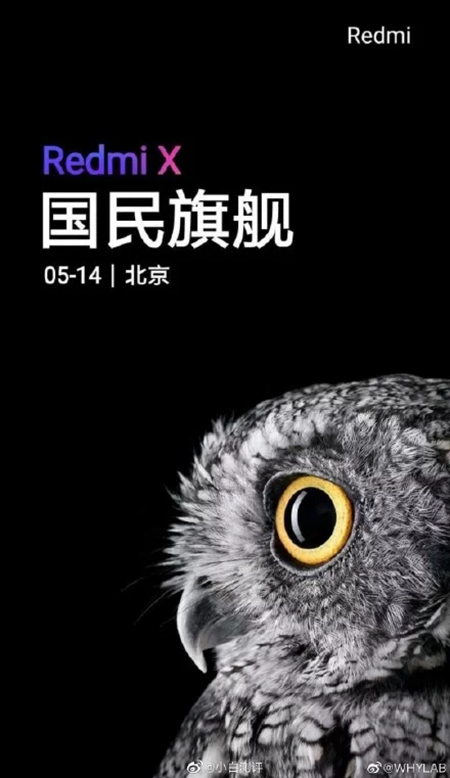 The second teaser poster for the Redmi X
It has been rumoured that the Redmi X may come with tech specs that include a 6.3 inch display, 8GB RAM + 128GB internal storage and a 4000mAh battery capacity coupled with their rapid charging technology. As for its camera, we'll find the triple rear camera to be released with 48MP + 8 MP + 13MP sensors whereas the selfie camera may come with a 32MP sensor.
Besides that, we may be seeing this device announced on the 14th of May in China (according to leaks) which is on the same day as the OnePlus 7's launch. The questions is, can the Redmi X overtake the OnePlus 7? As no official announcement has been done in regards to the device, make sure to inhale this info with a grain of salt. Keep up with the latest smartphone releases on TechNave.com!